Jacob Aagaard on his bets with Sam Shankland and more!
We all know that Jacob Aagaard is one of the world's most prolific author and trainer from Scotland. He is the only one to win all four major book of the year awards! And if you follow him on Facebook then you would know that he is a die hard fan of rock music and known to give free guitar lessons along with high quality chess training classes. Earlier this year he was appointed as the coach of the Indian women team for the upcoming Olympiad in Batumi and he was recently in New Delhi for a pre-olympiad preparation camp. This article is about the blog which he wrote recently with the title "Sam Shankland in the news" sharing some of his secret memories with the current US champion! Thumbnail Photo: David Llada

This article is based on the blog originally published in the Quality Chess Blog by Jacob Aagaard
Sam Shankland in the news
by Jacob Aagaard
Hi guys. I am in Delhi at the last day of a training camp with seven wonderful Indian ladies. It is a wonderful experience and I have to say that despite knowing most of them in advance, I have been blown away by the dedication, enthusiasm and skill these ladies possess. I should also add that each and every one of them are an excellent human being. David Llada correctly called me extremely lucky to be allowed to work with them. And yes, I am also getting paid…
I have commented on it only briefly on Facebook, but I have been very ill lately. I contracted a virus in Guwahati in December that totally floored me. A little boy was coughing on me for three hours from the front row of a lecture and I had a respiratory infection. I had blood tests, two treatments of antibiotics, X-rays and so on. For two months I was throwing up blood daily and felt unable to swallow or breathe. I had been down to 80.2 kg just before, but general frustration and depression with a never ending illness ruined both by fitness and my kitchen training took my weight to 87 kg. I have been more vegetarian than vegan the last two months. Just because being vegan is difficult and my only focus was on managing to do the things I had to and delay the things I wanted to do.
My bet with Sam Shankland is famous by now. And so is he.
The current leader of the US Championship is at +5 going into the last round of the tournament. ( Ed - Subsequently Sam not only won the tournament, but also crossed 2700 Elo and also took back home USD 50,000).
His performance so far is nothing short of fantastic, even if not all moments have been great. For example, he missed a one move win yesterday:
But still managed to win the game slowly. Steady performance has indeed been the cornerstone of his performance.
[Ed- Sam is one of the best students of Jacob and they have been in collaboration since 2013! He was the World U-18 championship bronze medallist in 2008 and also US Junior Champion in 2010. One of his best results was winning the individual gold medal as a member of the United States team on the reserve board at the 41st Chess Olympiad in 2014. He also was member of the American team which created history by winning the gold medal for the first time in forty years at the 42nd Chess Olympiad in 2016. But the biggest achievement of his career till date was winning the US Championship just a day ago and that too with a +6! His 8.5/11 final score is tied for the most points in the event since the tournament became a 12-player round robin in 2013 and with this now he got a spot on the American team at the next Olympiad.]
Sam has also been a good poster boy for Quality Chess, remembering to mention his book constantly, as well as our website. If you live in the US you can get a signed copy from his website, if you live elsewhere, you can get an unsigned copy from our website, or your local chess specialist store.
The bet with Sam happened when I was visiting him in the Bay Area in 2016. We had lunch, watching the Euro Semi-finals. I suggested we bet the cost of lunch and took France. "But Germany is the best team in the World. They are the World Champions," Sam said, apparently not understanding the curse of Sports Illustrated: Your best result is not your future results… Free lunch is tasty.
For the final I picked Portugal, but Sam refused. "F…ing tired of losing bets to you," he said. When Ronaldo was taken to the hospital after 18 minutes I said: "You got to take it now…" He did and subsequently refused to ever do a bet with me.
So we have challenges instead. I have to get under 79.5 kg, which was my weight briefly in 1997 and the lowest I have weighed since the 1980s and he has to get past 2700. If I win he has to write a book for us and, if he wins, I have to take him to a Wimbledon final.
What about a Delhi cricket match instead Sam?
So here I am, post work-out. At the moment I am just happy I can breathe again. I go on the treadmill for 20 minutes, put it on 5% incline (yeah, getting back into shape is an uphill struggle) and walk for 5 minutes (6km/h), then 4 minutes at 9km/h, walk for 2 minutes, then 3 minutes at 10 km/h, walk for 2, and 2 minutes at 11 km/h, before walking for 2 minutes and feeling desperately thirsty.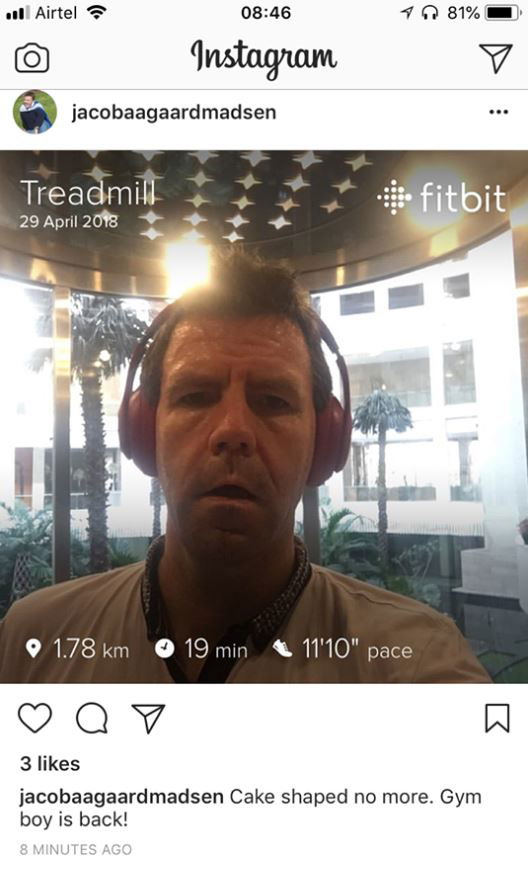 I intend to make it under 79.5 kg this year and claim that Giant Steps to Small Improvement was written solely for personal gain and that he needs to write another book for us. Partly because of my great achievement, and partly because I need help financing the Wimbledon tickets!
Back to the chess!
Some rounds into the tournament Wesley So said that the winning score would be +3, maybe +4. Well, I guess World number 2, Fabiano Caruana would like that.
But it seems likely the winning score will be +5 or (hopefully) +6! Either way, outperforming the World no. 2 in 10 rounds of the strongest national championship of the World is a great feat. I have a strong preference for how tonight's game should go, I am proud and happy already.
In Caruana's game in round 10 his opponent should have taken on e6 at move 12. It leads to interesting complications.
What Caruana had planned to play (but not what he would have played, which is anyone's guess) did not work out. He analysed it with Maurice Ashley and Yasser Seirawan at the post game interview (I really like this relaxed format) and they missed a few funny continuations.
Maurice Ashley screamed for a bishop in best bughouse style, while cooler heads will notice that 19.Qf3! is a nice effective double threat. But can you find the forced mate?
A more relevant position for the understanding of the position arises here:
White clearly has a shot. Caruana wanted to go 18.Qh5 (xh6), which is strong, but leads to complications after 18…Qd7!-f5. White has something clearer, can you find it?
Jacob and his love for Music!
If at any point you decide to add music in your list of activities and want to club it with your chess trainings, then Jacob Aagaard is the man!
Solutions:
Did you know?
With the success of Quality Chess Books, Quality Chess India has been launched where you can currently find 55 titles of Quality Chess available for just Rs.999/-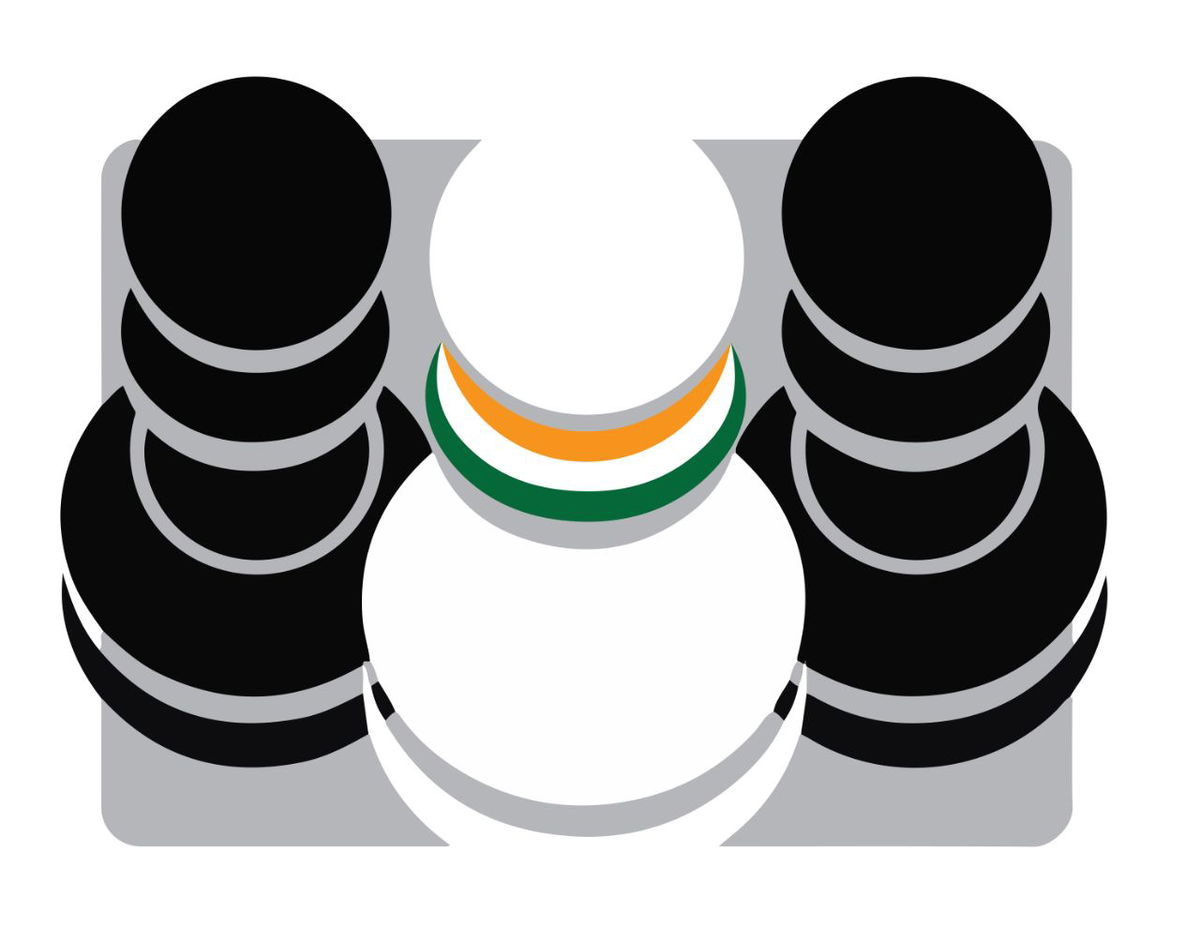 ---