My aim is to become the World Champion!
Two-time National Challengers Champion, Asian Continental Champion 2016, Commonwealth women's gold medalist, Commonwealth U-18, U-20 gold, Asian U-14, U-18, U-20 gold, two times National Junior champion, World school U-17 gold - sounds like the achievements of a few players, right? Just that these are the attainments of a very talented 25-year-old from Goa! The current National Challengers Champion Bhakti Kulkarni. C.K. Muralidharan interviewed Bhakti after her tournament victory and the girl has bravely proclaimed that her aim is to become the World Champion soon! 
Interview with National Challengers winner - Bhakti Kulkarni
By C.K.Muralidharan
WGM Bhakti Kulkarni, aged 25, a former National 'B' champion in 2011, winner Asian Continental Women's championships at Uzbekistan in 2016, Commonwealth women's gold in 2014, Commonwealth U-18, U-20 gold, Asian U-14, U-18, U-20 gold and two times National Junior champion, World school U-17 gold in 2008, the winner of this edition of the 44th National women's challenger chess 2017, is one among the top women chess players in the country. Bhakti spoke to "ChessBase India" after her magnificent feat of winning the title at the 44th National Challenger Chess Championships.
How do you feel after winning the title in the 44th National women challenger chess tournament 2017 in Mysore?
Bhakti: It's an amazing and really happy feeling. I am very thrilled to have won the title coming back after losing the first round to Rindhya V (TN). I was determined and knew that I can come back with wins. Thanks to Rindhya I got a early wake up call and the loss really stirred me to give my best in the coming rounds and now I am the champion.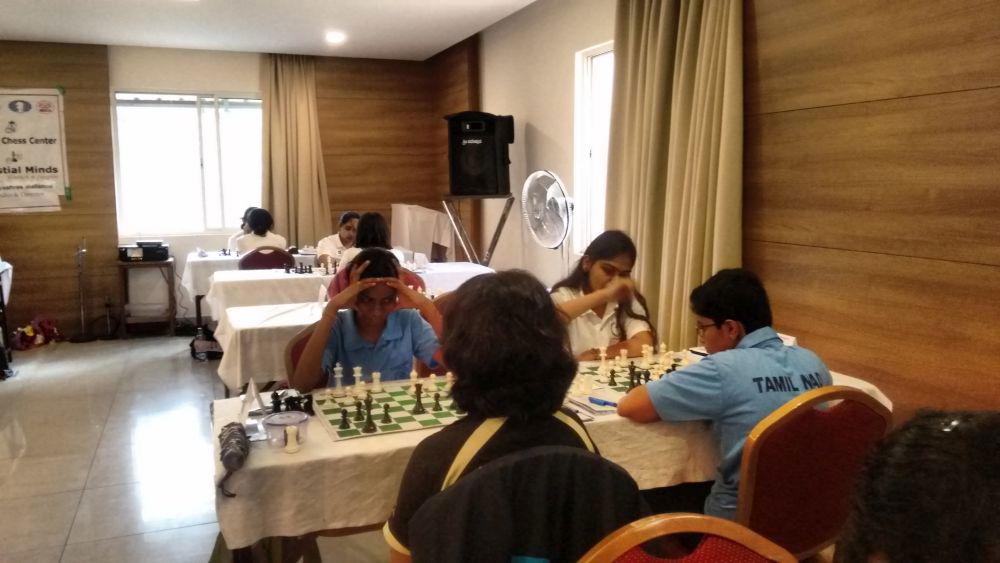 Any specific preparations for this championships?
Bhakti: Yes. I was a little disappointed with my performance in the recently concluded Commonwealth Championship 2017, but worked with focus under the guidance of my coach Dronacharaya Award winner Raghunandan Ghokhale. I trained hard under his guidance for one week with special sessions online which helped me a lot.
After your first round loss, you came back strongly to wins nine out of ten games and drew one to clinch the title. How did this turnaround happen?
Bhakti: I lost to Rindhya V in the first round and she really outplayed me with an excellent game. All credit to her. I was optimistic in my approach after that and I knew that I had the capacity to win. I believed in myself and my ability which helped me and kept me in positive frame of mind. I had good wins against Lakshmi C and Bala Kannamma P (both TN) and from then on I did not look back. The win against Soumya was the turning point for me to go ahead and clinch the title.
Your performance so far representing India?
Bhakti: I won the Asian Continental women's championships 2016 at Uzbekistan. I won the gold in the Commonwealth women's championship in 2014. I won the National 'B' title in 2011 and finished runner-up in the National'A' championships in 2012. I am a two time National junior title winner. I won the Commonwealth U-18, U-20 girls gold and Asian U-14, U-18 & U-20 gold. I won the world schools U-17 title in 2008.
About the support from Air India?
Bhakti: I am on a scholarship with Air India. They provide me with the domestic air fare for the travel. Mr. Srinivas Dempo of Goa Carbon Limited are my sponsors and I am thankful for their support. I am also thankful to the encouragement given to me by my parents Pradeep and Priya Kulkarni and also from GM Ankit Rajpara (Gujarat).
About your future aim?
Bhakti: I want to become a World champion. I also want to get my IM and GM titles. I have two IM norms and I need to get the other and the required rating. I will work hard under the guidance of my coach Ghokhale Sir. Later after achieving the above said goals I want to start a chess academy.
About your coach?
Bhakti: My association with my coach Sri.Raghunandan Ghokhale is great and he and his wife Anupama Ghokale are a great inspiration to me. It's 15 years now that I am coached by Sir, and he knows my plus and minus points and works with me according to the tournaments I take part and plans the openings I have to play against each and every player. He is a great support to me.
About the support from AICF? 
Bhakti: AICF has been very helpful and are encouraging us. We need to have more women specific tournaments to be conducted often in regular intervals, so that the women get more opportunities to play more in our own country.
Thank you Bhakti and congratulations on your win.
About the organization:
The organization of the 44th National Challengers was excellent. This event in Mysore was an eye opener in many ways and all the players were extremely happy with the environment, venue and hospitality provided by Mysore Chess Centre (MCC) under the guidance of UKCA and AICF. Here's what Soumya Swaminathan, the second runner-up at the event had to say about the organization:
Stay tuned to ChessBase India! Interview with Bhakti's coach and Dronacharya award winner Raghunandan Gokhale will follow shortly.
Also Read:
Bhakti's interview on ChessBase India after she became the 2016 Asian Champion.
---