The struggle of a village boy who became a World Champion!
Shashikant Kutwal became the World Disabled Champion 2017 just a few days ago. It was a monumental day in his life as he not only got the World Champion's title, but also became an International Master. In this article we take you through the story of this great fighter. Shashikant was born in a small village, he was attacked by Polio, he faced financial difficulties and never got the right guidance in chess. But he never gave up. He kept fighting hard and today he has achieved his dreams. A motivational true story.
Shashikant Kutwal's story from Bhondvewadi to Slovakia
It was the last round of the 17th International Physically Disabled Chess Association (IPCA) World Championship 2017. The tournament was taking place in Ružomberok, Slovakia. Shashikant Kutwal was playing on the second board. With 6.5/8 he not only needed to win his game, but he also needed the leader IM Andrei Gurbanov, who was on 7.0/8, to not win his game. "After leading the tournament comfortably for seven rounds with 6.5/7, I messed it up badly in the eighth round and lost to Nikolay Mukha, who completely outplayed me. That night I couldn't sleep. There was a lot of pressure on me. Was I going to miss my IM title again?"
Shashikant had won the silver medal in 2016. But it was not of any use. Only the winner (or the joint winner) of the IPCA World Championship gets the IM title. For Shashikant more important than becoming the World Champion were the letters IM being placed before his name. It had been a dream he was nurturing for eight years now. He had achieved all his three IM norms by January 2009. But crossing the barrier of 2400 had been extremely difficult. With a rating of 2265, it would take him at least another year to gain those 135 points.
The end was just like a fairy tale. Shashikant managed to beat his opponent Jennitha Anto in the final round and IM Andrei Gurbanov could only draw his game. With both players tied on 7.5/9, Shashikant was assured of his IM title, but the tiebreak also favoured him, making him the IPCA World Champion.
Congrats Sashikant & Jenita pic.twitter.com/ufFxQIgdNl

— Viswanathan Anand (@vishy64theking) June 9, 2017
Shashikant was born in 1979 in Bhondvewadi, a small village around 65 kilometres from the city of Pune. His father was a school teacher who taught mathematics and science. He inculcated strict discipline among his four children (Shashikant was the third child in the family of four siblings). "He would make us wake up at four in the morning," recalls Shashikant with a smile on his face. "Perhaps, it was this very ritual that has stayed with me until this very day. I always begin my chess practice early in the morning."
It was quite unfortunate how Shashikant was attacked by the Polio virus. It was not that his family didn't vaccinate him, but the vaccine was outdated. "It all began when I was one and a half years old. When I was young everything seemed alright, but as my height started to increase, my legs started becoming disproportionate to each other. This is when I started to have problems while running or even walking."
Appaso Kutwal, Shashikant's father, was determined that one of his children should become a sports player. He was quite attracted to the game of tennis, but seeing Shashikant's physical condition, he decided that chess would be the perfect game for him. So around the age of eight, Shashi (as his friends call him) was introduced to the game of chess.
"I don't exactly know what attracted me to the game. Right from my early days I would be with the chess board for nearly eight hours each day! Those days we had the "Chess Mate" magazine. Each issue would have around 300 games. I would sit with it and play through all the moves on a board. Not that I understood much about strategy or the moves, but I would anyway make them. After each game I saw, I would place a tick mark next to it. And within two days I would have breezed through all the 300 games! The next issue came out only after a month. So what is to be done now?! Well, I played through the games again and this time put a tick in the other direction! In this way the entire magazine would be filled with my ticks!"
The first big breakthrough for Shashikant came around the year 1998 when he won the strong state championship ahead of players like Sanjeev Kumar, Ketan Khaire and others. "I remember that Sanjeev Kumar was rated above 2300. I was unrated and it was a fantastic victory for me. With my modest practice of playing over the moves from a magazine I had managed to become the state champion! This was a big achievement."
Shashikant's growth in chess was supported by Pune based coach Joseph D'souza. "I used to travel to Pune on the weekends, stay in a lodge, attend the class and come back home on Sunday. This helped me improve technically. Also during the period of 2000 I was recruited by Indian Railways. I had a gold medal on board two at the Inter-University and this was good enough to get employment with the Railways in Mumbai."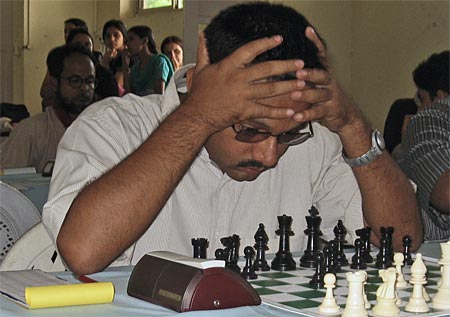 "At one of the tournaments I was paired against Rahul Shetty who was an IM elect back then. He had made all of his IM norms, but was struggling to reach 2400. I attacked his king with all my energy. Pieces were hanging all over the board. He somehow managed to beat me, but I had made a good impression as a player on him and Konguvel. After that game Rahul invited me to his place for practice."
At that point Shashikant was living in Lalbaug, Mumbai with his friends Amardeep Bartakke and Pankaj Joshi. "I would wake up at 4.30 a.m. in the morning and work on chess for around three hours. Then get ready and go to the office. My work would end around 11.30 a.m. and I would quickly have my lunch, catch a train and reach Rahul Shetty's place. He would come back from his work and we would start practicing from 1.30 p.m. This would go on until nine or ten in the night. This is where I really started to understand what positional chess meant, or even how accurate calculation is to be done. Someday Rahul would say, let's look at the games of Zurich Interzonal 1953 and we would do that for the next few sessions. I benefitted from the work with Rahul tremendously and I think he too found it useful. When he became an IM, he and his wife thanked me and gave me a part of the credit! I think it was really kind of them."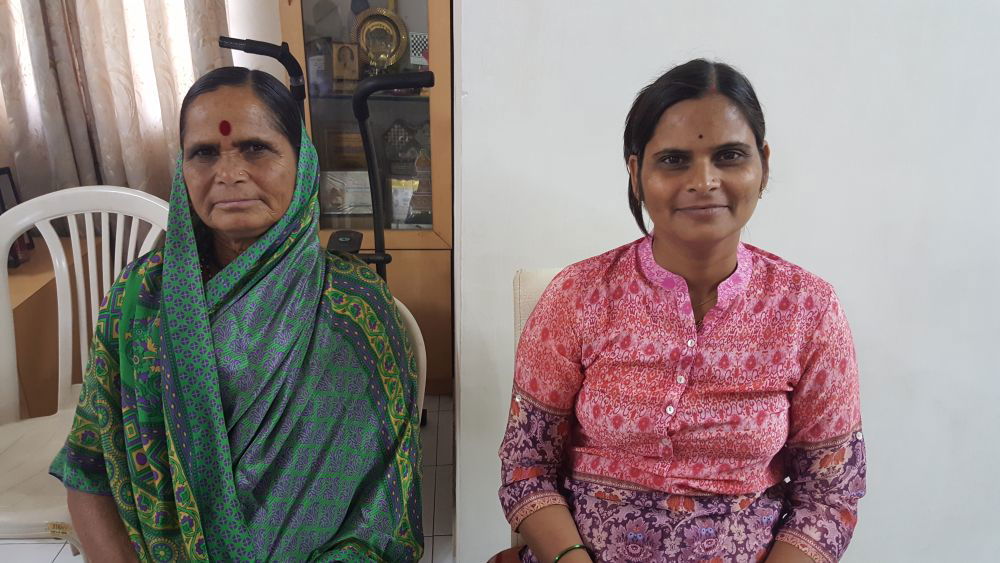 Shashikant married Nita in the year 2003. "I was absolutely no one in the chess world. I was already 24 years old and had a rating of around 2100. Many people told me that my chess career is now over since I was married. But I think nothing can be farther from the truth. Chess has its own place and marriage has its own. Nita took care of everything in my life which let me focus on chess. I think without her I would have never improved as a player."
"Vikramaditya was recruited in railways around 2007. When I saw him at work there was always an urgency to the way he behaved. He was all the time saying that his time was getting wasted! He couldn't wait to finish the office hours and start working on chess. I could see Viku's seriousness towards the game of chess and learnt a lot from him."
Shashikant made his first IM norm at the Delhi Commonwealth in 2007. It was a great event for him as he scored wins over strong players like IM Ashwin Jayaram, GM Pravin Thipsay and GM Deepan Chakravarthy. 2008 wasn't particularly a successful year, but 2009 was just terrific. At the start of 2009 Shashikant played two Grandmaster events in Delhi and Gurgaon and made his remaining two IM norms in back to back events! He was able to beat players like IM B.T. Muralikrishna, GM Safin Shukrat, GM Petr Kostenko and draw against many grandmasters. Things were looking really upbeat for him. He had even reached the live rating of 2375.
"Everyday I would spend nearly three hours commuting from home to work and back. In order to save my time I started to move around on a scooter. While I did save some time, it gravely affected my health. Due to long hours of riding the scooter, my back started paining. Due to the traffic, commute and health issues, my mind was diverted from chess. I just wanted to move out from the city and come to Pune, but Railways had a rule of compulsory 10 years of service at one place. In 2011, as soon as the 10-year period came to an end, I left Mumbai and came to Pune. Well, I cannot tell you how happy I am right now! (laughs)"
"When I came to Pune I became very realistic in life. I realized that a good chess player can earn quite decently through coaching and teaching. And that too in a legal and authorized way. So why not? I started training quite a few students and started earning well. We bought a new car and things were improving financially."
In order to get his energy flowing in the right direction Shashikant enrolled Puranjay in a tennis class. Seeing her brother, even Sanjivani got attracted to the game. She was already eleven years old, which is quite a late age to start any sport these days. "I asked Sanjivani to exercise for a week and show me her dedication towards the sport. Only then would I buy her a new racquet. She surprised me by indulging in physical fitness for the next entire week for three hours each day! According to me, it is this fire which is extremely important, even more than talent. I got her a racquet, enrolled her in the best tennis class and we are now on a pursuit to making her into a world class player.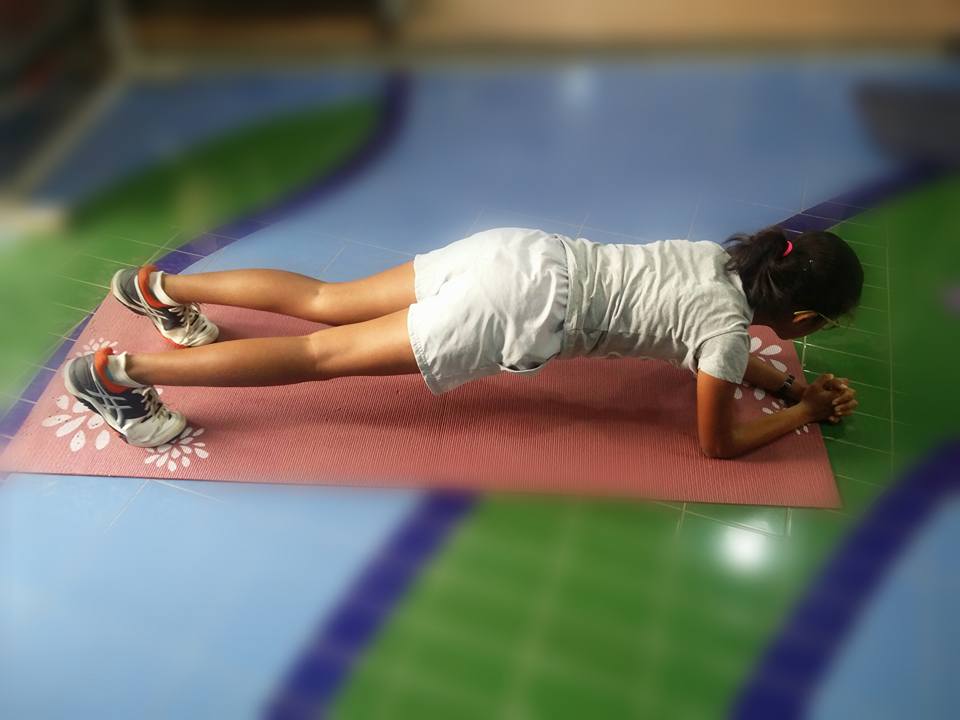 Seeing Sanjivani's dedication and quick improvement Shashikant made a bold decision. He changed the school and enrolled her in an institution that would support her tennis career. And what do you mean by support? Sanju (as everyone calls her) goes to school only one day in a week. Rest of the days, she practices tennis for six hours each day. "I do not think this is a bold decision", says Shashikant. "I think bold are the people who indulge in a lot of things (laughs). Doing one thing will all your energy is a very logical decision. I indulged in a lot of things in my life and I also got rewards accordingly. The same shouldn't happen with my daughter."
"I worked really hard all through my life. But I lacked direction. I wouldn't be wrong to say that it was all "donkey work". There was no thought behind the work I was doing. I was just flowing with the flow. I think all the people with whom I worked were a bit similar to me. For eg. Rahul Shetty, Prathamesh and Amruta Mokal, Akash Thakur and others were all tremendously hard working people, but lacked guidance. I was the biggest donkey for sure though (laughs heartily). I think with the correct direction and guidance and the same level of effort we would have all easily become grandmasters. And this is what I am really careful when it comes to Sanjivani's career. She is ready to work hard, but the direction matters a lot."
When asked about whether she misses school or not, Sanjivani replies with a smile, "No! I just want to play tennis!" Kutwal House is filled with posters of tennis players. On a wall little Puranjay has written 'I want to be a tennis player'. Shashikant makes sure that he ends all his work by 6 p.m. Next three hours are with his kids. He goes to the tennis training centre and watches them working. "It is one of the pleasures of my life. I feel that we as a family have a goal. Every day is so exciting." And does he not fear becoming an interfering parent, who puts too much pressure on the kids? "Well, as a sports player I know that results are never in our control. Anything can happen during a game. However, I get angry when I see lack of dedication or if she doesn't eat her food properly. The focus is always on improvement and never on results."
Shashikant is 57% disabled, which makes him eligible to participate in the World disabled Championship (you need to be 50% or above). The 37-year-old has never considered himself to be disabled and has always tried to compete with his opponents on an equal footing. However, in 2016 he decided to take part in the IPCA World Championship. "As I said, I became very practical and realistic. In order to support the tennis career of Sanju I needed money and winning the event would help me achieve that."
On 5th of June Shashikant won the event, became an International Master and a World Champion. At the same time he is eligible for awards from both the state and national government. "Whatever money that I will be receiving will go towards the tennis fund!", he says with a smile on his face! "My daughter's tennis career is secured to some extent thanks to my victory!"
"The contribution of Indian railways to my life has been huge. When I was young everyone in the village would say, "Khelun pot bharta ka?" (Can playing a sport ever fill your stomach?). I got a job in the Railways thanks to my chess skills and I managed to make a career out of it. I think it changed the perception of the people in my village."
Now that the IM title is done, does Shashikant have his eyes on becoming a grandmaster? "I would definitely like to be a GM some day. But I have also understood one thing by playing chess all these years. As long as you give your 100%, results do not matter. It's only when our effort falls short that sadness and dejection sets in. I am going to try my best, not just for myself but also for my kids!"
Related links:
---