IIFL Wealth: Stories from the Maximum City (1)
The turn of the year a couple of weeks back witnessed a grand chess tournament in Mumbai. Mount Litera School International of Bandra hosted the second edition of the IIFL Wealth Mumbai International Open. The players who played in the event know of many of these stories. Why would you want to miss them? In this illustrated article, we tell you some of these stories. Part One…
IIFL Wealth: Stories from the Maximum City (1)
Mumbai is a city full of stories. The people around the world know some, and some are buried deep under the boulders of time. An untold story is an unjustified travesty. So if you are a Mumbaikar of any form whatsoever, or simply a chessplayer who loves the Maximum City, this three-part series of articles is dedicated to you.
When Mumbai hosts a tournament of as high standards as the IIFL Wealth Mumbai International Open, there is no chance that we would let the many chess stories from the tournament be forgotten. Would you not want to know what happened?
Unlike many of his colleagues, the seventh-seeded Ukrainian Tukhaev started the tournament with three wins. But he had to slow down in the middle with three draws. He then upped his game with three straight wins to become the winner. He was never leading the tournament until the final round when he beat his country mate GM Vitaliy Bernadskiy (2540).
His Ukrainian counterpart Neverov displayed solid chess throughout the tournament and was runner-up. He started with five wins and ended with four draws.
Although most polls on 'India's most talented youngsters' tend to forget to even mention Diptayan, the fact is that for a long time, he has remained the highest rated Indian junior in the rating charts (being pipped only recently). It is only curious then, that people tend to underestimate his caliber.
He is often criticized by many to be too solid—choosing to take the safer route instead of being combative. But this is precisely the approach to chess that made him a strong player in the first place. If you compel him, Diptayan can be frighteningly powerful. Currently, the race is on between him, Karthikeyan Murali and Aravindh Chithambaram to see who is the youngest 2600+ player in India.
One of the key lessons David learned from his games in India in the past few years is that the Indian juniors usually do not bother if the position is good or bad. They remain indifferent and play moves that maximize their chances of survival. Often, the tables are turned.
In the 2016 Italian Championship, he was in a worse position in a crucial game that would have decided the title. David comments that he would have gotten depressed earlier and would have just crumbled. But during this game, he remembered his lessons from India and just made moves that kept his chances alive.
He survived eventually and won the championship. 
10-year-old Gukesh D., who was white and completely winning, was about to promote his pawn to make a second queen. His friend and opponent Pranav V. offered him a rook!
Gukesh smiled and took the piece from Pranav and promoted his pawn to a rook instead!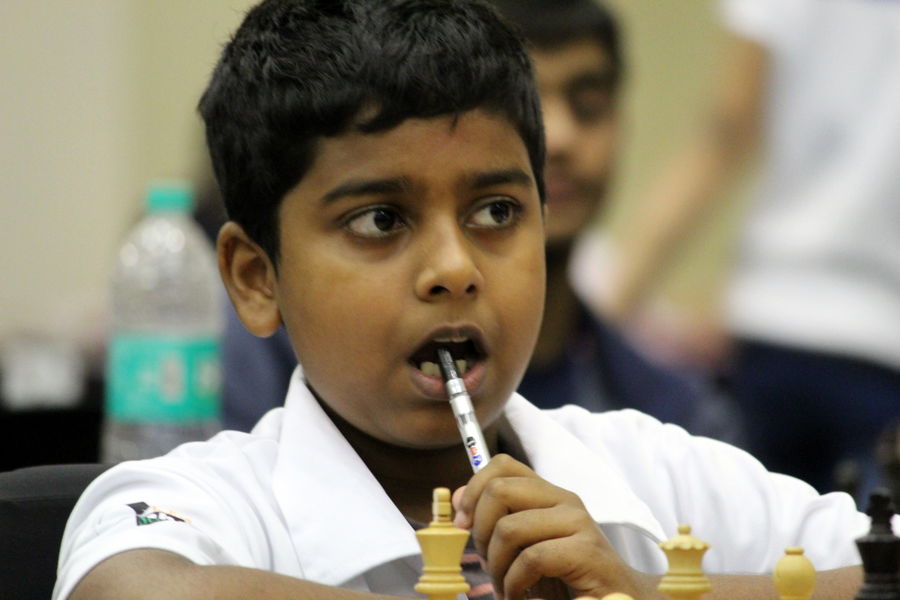 Shailesh comes from the village of Nerli, situated some 10 km from Kolhapur. Nerlikar cannot walk or sit up due to extremely fragile bones, a result of a calcium overdose. His mother Sarla puts it precisely: "When he was six, doctors thought he lacked calcium and gave him heavy dose injections of the same. That had a reverse effect on him, leaving him permanently bedridden. He has not been able to move around freely since the age of six and needs someone to help him with that."
Does that make your blood boil in anger? It is not your fault—just that the system continues to rot while we are fast asleep.
Yet, Shailesh continues to live happily. Chess is his life.
To be continued in part two...
---
All photos and text by Priyadarshan Banjan (Editor, ChessBase)
Spread the Stories by Sharing:
---