IBCA Asian Visually Challenged Ch.: Kishan Gangolli leads
IBCA Asia Pacific Chess Championship for Visually Challenged is taking place in Manipal University. An eight rounds event, it commenced on 22nd of March and will be concluded on 31st March. With two more rounds to go, Kishan Gangolli has emerged as sole leader. The first of its kind Radio Chess Broadcasting has been introduced in this tournament - an internet chess radio app made especially for blind players. We bring you pictures, games and more.
IBCA Asian Visually Challenged Ch.: Kishan Gangolli leads
International Braille Chess Association (IBCA) and All India Chess Federation For The Blind (AICFB) have joined hands together to organize the IBCA Asia Pacific Chess Championship for Visually Challenged at the Manipal University in Mangalore, Karnataka.
A total of 23 participants are playing in this event, out of which 15 are Indians. The event saw players representing from Asian countries like Philippines, Sri Lanka and Bangladesh. 
Top Seed of the Tournament - Ejaz Hussain from Bangladesh. It will be a tough fight with the top Indian Players.#asianchesschampionship pic.twitter.com/4OJJFdrqyP

— Charudatta Jadhav (@charudatta64) March 26, 2017
AICFB started an innovative initiative World's first Dedicated Internet Radio for Blind Chess - RadioChess(https://t.co/Y9TvKuuOfi) #aicfb

— Charudatta Jadhav (@charudatta64) March 26, 2017
The games are being broadcast on Radio Chess application online. This is the first time in the history of the visually challenged that a move by move live audio commentary is being broadcast.
The 24-year old had a smooth start by winning five games consecutively and had to settle for a draw in the sixth round against Swapnil Shah of Maharastra. Two players are trailing behind him with 5 points each. 
Kishan played Queens pawn opening. The position was slightly better for him from the beginning but he could not convert into a win. Swapnil defended the game and on the 60th move, it ended in a draw by agreement. 
[Event "IBCA Asian Chess Championship for Visua"]
[Site "Manipal University,Manipal, U"]
[Date "2017.03.29"]
[Round "6.1"]
[White "Kishan, Gangolli"]
[Black "Swapanil, Shah"]
[Result "1/2-1/2"]
[ECO "A00"]
[WhiteElo "1973"]
[BlackElo "1705"]
[PlyCount "119"]
[EventDate "2017.03.23"]
[EventRounds "8"]
[EventCountry "IND"]
1. d4 Nf6 2. Nf3 e6 3. c4 Bb4+ 4. Bd2 Bxd2+ 5. Qxd2 d5 6. Nc3 c6 7. e3 Ne4 8.
Qc2 f5 9. Bd3 Nd7 10. Nd2 O-O 11. O-O Ndf6 12. f3 Nxd2 13. Qxd2 Bd7 14. Rad1
Qe7 15. e4 fxe4 16. fxe4 g6 17. Qg5 Rae8 18. e5 Nh5 19. Qe3 Rxf1+ 20. Rxf1 Rf8
21. g4 Rxf1+ 22. Bxf1 Ng7 23. c5 Qh4 24. h3 Be8 25. Kg2 g5 26. Bd3 Qh6 27. Ne2
Bg6 28. Ng1 Bxd3 29. Qxd3 Ne8 30. Nf3 Qg7 31. Kg3 h6 32. b4 Qf7 33. Kg2 Kg7 34.
Ng1 Nc7 35. Ne2 b5 36. Ng3 Na6 37. Nh5+ Kf8 38. a3 Nc7 39. Qf3 Qxf3+ 40. Kxf3
Kf7 41. Nf6 Na6 42. Ke3 Nc7 43. Kd3 Na6 44. Kc3 Nb8 45. Kb3 Kf8 46. a4 a6 47.
a5 Kf7 48. Kc3 Kf8 49. Kd3 Kf7 50. Ke3 Kf8 51. Kf3 Kf7 52. Kg2 Kg6 53. Kg3 Kg7
54. h4 Kg6 55. Kh3 Kg7 56. hxg5 hxg5 57. Kg3 Kg6 58. Kf3 Kg7 59. Ne8+ Kf8 60.
Nf6 1/2-1/2 
White initiated a premature attack against Black's king in the opening. Black grabbed the tactical opportunity and finished the game in 24 moves.
[Event "IBCA Asian Chess Championship for Visua"]
[Site "Manipal University,Manipal, U"]
[Date "2017.03.28"]
[Round "5.1"]
[White "Krishna, Udupa"]
[Black "Kishan, Gangolli"]
[Result "0-1"]
[ECO "A00"]
[WhiteElo "1761"]
[BlackElo "1973"]
[PlyCount "48"]
[EventDate "2017.03.23"]
[EventRounds "8"]
[EventCountry "IND"]
1. d4 Nf6 2. Nf3 c5 3. d5 b5 4. c4 b4 5. Qc2 g6 6. e4 d6 7. e5 dxe5 8. Nxe5 Bg7
9. f4 O-O 10. Bd3 e6 11. dxe6 Bxe6 12. Be3 Nbd7 13. Nxd7 Bxd7 14. O-O Qc7 15.
h3 Rfe8 16. Qf2 Ng4 17. hxg4 Rxe3 18. Qxe3 Bd4 19. Qxd4 cxd4 20. g5 Re8 21. Nd2
Re3 22. Be4 Bc6 23. Bxc6 Qxc6 24. Rae1 Qe6 0-1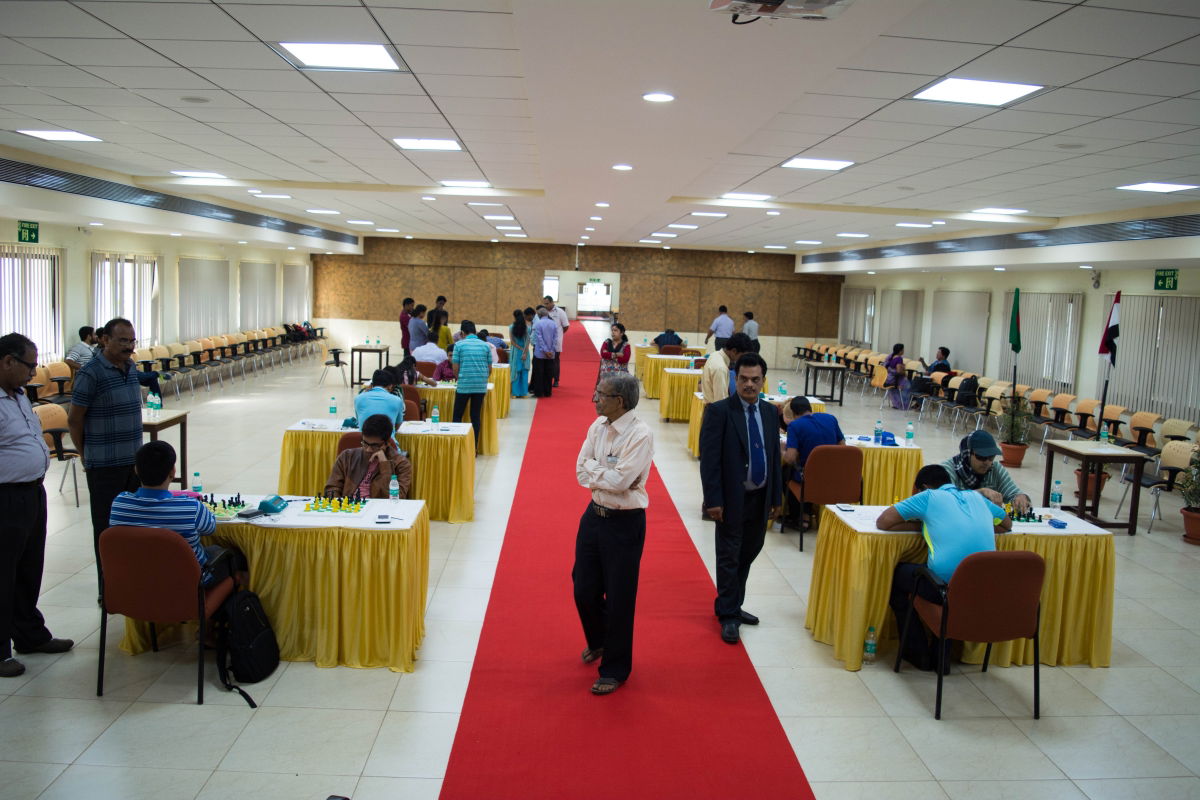 Round 07 pairings: 
Bo.
No.
 
 
Name
Rtg
Pts.
Result
Pts.
 
Name
Rtg
 
No.
1
6
 
 
Yudhajeet De
1725
4
 
5½
 
Kishan Gangolli
1973
 
2
2
3
 
 
Makwana Ashvin K
1811
5
 
5
 
Soundarya Kumar Pradhan
1669
 
9
3
1
 
 
Husain Ejaz
2010
4
 
3½
 
Aryan B Joshi
1665
 
10
4
7
 
 
Swapanil Shah
1705
4
 
3½
 
Marimuthu K
1559
 
14
5
5
 
 
Krishna Udupa
1761
3½
 
3
 
Rodolfo D. Sarmiento
0
 
22
6
13
 
 
Prachurya Kumar Pradhan
1579
3
 
3
 
Patil Shirish
1681
 
8
7
16
 
 
Somender B L
1395
3
 
3
 
Waghmare Sachin Lahu
1600
 
12
8
11
 
 
Samant Milind
1621
2½
 
2½
 
Mrunali Pande
1156
 
17
9
4
 
 
Sarkar Bappi
1809
2½
 
2
 
Tuan Rushdi
0
 
23
10
19
 
 
Hiriyamulla Vithange Sanjeewa Ka
0
0
 
2
 
Vaishali Nrendra Salavkar
1431
 
15
11
21
 
 
Liyana Arachchilage Upul Indraji
0
1
 
1½
 
Jose Antonio M. Maraguinot
0
 
20
12
18
 
 
Arthur M. Letim
0
0
0
 
 
not paired
---
---