Humpy, Harika and Padmini ready to play in Iran
The Women's World Championship 2017, scheduled to take place in Iran, has been mired in controversy. It is a knock-out tournament of 64 players in order to decide the new World Champion. Hou Yifan has already publicly announced her disdain for the format and decided to not take part. However, the real controversy lies in the fact that all the 64 players will have to compulsorily cover their hair while playing. We asked Humpy, Harika and Padmini, the Indian participants at the event, for their views on this subject. Read on to know what three of the best players in our country today have to say.
Pictures by Alina l'Ami
The Women World Championship will be held in Iran in 2017. The reigning World Champion Hou Yifan has already decided to give the event a miss because of the format - it is a 64 player knock-out tournament. The number of players dropping out of the event don't seem to end there. Nazi Paikidze-Barnes, the current US women Champion has decided to boycott the tournament because of the compulsory rule of wearing the headscarf. The laws in Iran dictate that women should cover their hair. Nazi said to the Guardian: "It is absolutely unacceptable to host one of the most important women's tournaments in a venue where, to this day, women are forced to cover up with a hijab."
This Women's World Championship in knock-out format was scheduled to be held in October 2016. However, lack of sponsorship has pushed back the dates of the event to 2017. FIDE finally found backers for this tournament in Iran and decided to award them with the opportunity to host one of the most important women's chess event. Nigel Short spoke up against the decision of FIDE awarding the Women's World Championship to Iran with the tweet: "2017 Women's Wrld Ch. awarded to Iran. Women forced to wear the Islamic hijab, flouting FIDE statutes against sex & religious discrimination" 
For Indian fans this tournament holds great importance. We have three players in Humpy Koneru, Harika Dronavalli and Padmini Rout who have qualified for the event. With ratings of 2557 and 2528, Humpy and Harika would be amongst the top seeds and have excellent chances of winning the tournament and becoming the Women's World Champion.
Speaking to ChessBase India, Humpy said, "I went to Iran for the first time this year to play in the FIDE Grand Prix. For a few days it was a bit awkward to play with the headscarf, but slowly I got used to it. I feel we need to respect their culture and customs."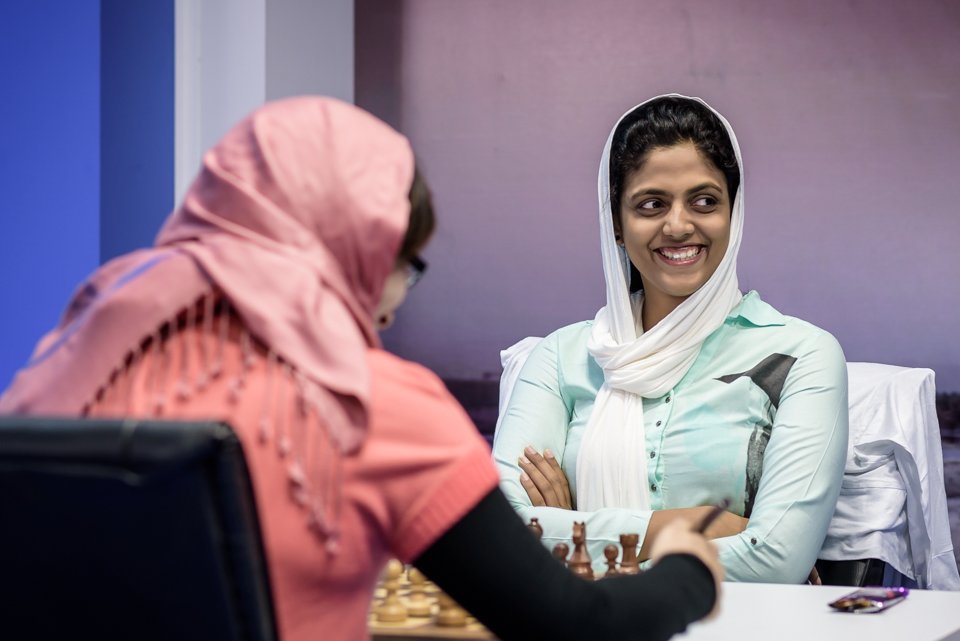 Harika in a conversation with ChessBase India, said, "Of course, it is not comfortable to play with headscarfs but for me most important is the World Championship so wherever it happens, it doesn't concern me much."
When we asked Padmini about the headscarf issue, she replied, "
I have played many times in Iran before! S
o it won't be a new thing and I am just too happy to have got this opportunity to play and that the tournament is finally taking place. She further added, "Iran organizes well. It's not very comfortable to play with a headscarf, but okay, nothing to miss a World Championship for."
Addendum
Subsequently the views of Humpy and Harika that we published in this article were used by BBC. It goes to show how ChessBase India is an important source of chess information not just in India but world over.
Further Reading
Telegraph: Female chess players forced to wear hijab as governing body awards world championship to Iran
Guardian: Boycott of world chess championship 'would hurt women in Iran'
CNN: Female chess players protest wearing hijab at Iran world championship 
ChessBase: Protest against playing the Women's World Championship in Iran
Nazi Paikidze Barnes' Instagram post:
Zero complaints to commission of women's chess
ACP President, Emil Sutovsky's Facebook Post: 
Wikipidea: Participants of the 2017 Women's World Championship
2700chess: Current Women World rankings
---