One in a million - Darpan Inani, the strongest blind player of India - Part II
Darpan Inani is the strongest blind player in India. Rated 2053, he has been a bronze medalist at the 2013 World Junior Championship in Belgrade. In 2010, he became the youngest player to win the National Blind Championship at the age of 16 years, a record which still stands. We caught up with Darpan for an elaborate interview. In this second part, Darpan discusses some of the high points of his career (the National Championship of 2010 and his bronze medal-winning performance at the World Junior Championship), his reasons for not being able to cross Elo 2100 and the role of his parents.
SS: You became the youngest national champion in the history of Indian blind chess at the age of 16 – a record which still stands. How did you achieve it and what was the feeling like after becoming the National champion?
DI: This was way back in 2010; eight years ago! I had just completed my board examinations and the tournament was scheduled just 13 days after this. I hadn't touched chess since the last three or four months prior to this and had very little time to practice. So, I practised in whatever time I had and went to play. Of course, a few results worked my way.
What I remember is Shrikrishna Udappa was leading, I think by a point when he suffered an unexpected defeat at the hands of Shirish Patil and I took the lead. I think I won the championship with a round to spare. And then I won the last round as well. I think I scored something like 10½/13 and was ahead of my nearest rival by one or one and a half points. When I went to play there, I was expecting myself to finish among the top four but since I hadn't any practice, I wasn't really expecting to win the title. Interestingly, this was only my second national championship.
One important detail in this is that I had lost to Shrikrishna Udappa in one of the earlier rounds. This was the only defeat I had suffered in the tournament. But as I said, a few results worked my way in the last three or four rounds. So, you can call it a collective effort!
It was, of course, a happy feeling but it became an idyllic joy when I got to meet Viswanathan Anand! Of course, winning the title was, in itself, a great feeling. But meeting Anand was altogether at another level. I got this opportunity because of my record of becoming the youngest person to win the Blind National A title.
SS: Can you tell us about your bronze medal-winning performance at the World Juniors 2013?
DI: This was the first international tournament where neither of my parents was accompanying me. My father had accompanied me on my first international trip, which was the World Chess Championship in Serbia. In my second foreign trip – the World Junior championship in Greece in 2011 – my mother had come along. The 2013 World Juniors was held in Serbia again. While this was my second trip to the country, it was the first time I was travelling abroad with a manager. In the first eight rounds, I had only managed to muster up a score of 5.0/8. The chances of me bagging a bronze were quite slim at this point. To add to this, I had the black pieces in the ninth round and I needed a win. Just to create an outside chance to contend for the bronze medal, I had to win with the black pieces.
I had begun as the fourth-seeded player in the tournament and, in round 9, I was pitted against the third seed. My opponent was rated around 70-80 points above me and I had to win with black. And even after I had won, I needed a few results to go my way in order to clinch the medal. On the other hand, my opponent only needed a draw for a silver or bronze.
That morning, while having breakfast, Rene Adiyaman, a German player whom I had beaten in the previous round, approached me and said, "You know, you can win a medal." I explained to him even if I won, Rene would have to win his final round game for me to increase my tiebreak and get the medal. He very coolly replied, "Don't worry, you just win your game. I will win mine for you."
I and Rene were good friends. We had met before at the previous World Juniors in Greece and liked discussing chess with each other. Also, I guess, we were the only two players – or perhaps, there was one more – who were completely blind. All others were partially sighted. As much as I wanted to believe him, Rene's opponent was rated more than 100 points above him. But then I thought to myself that I should only concentrate on what I can control. Winning my game was in my hands; I had no control over the result of Rene's game. So when I went to the board, I had just one aim – to win. In that quest, I even ended up in a losing position but since my opponent only needed a draw, he was looking for repetitions and allowed me a better position. In the end, I won. And as Rene had promised, he also won his game for me and I won the bronze.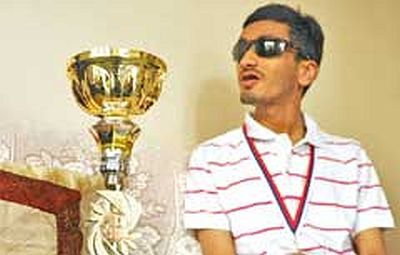 SS: You have participated in many open-for-all events and played against strong opponents. Can you tell us what the difficulties you face are when playing strong opponents? What is stopping you from going beyond the rating of 2100?
DI: Actually, it's not right to say that I have played many open-for-all events. In fact, I don't think I have played more than four open events a year. Also, I started playing the game too late – at age 13 – as I had mentioned before and I also took many breaks of one or two years along the way. So, I think, the answer to this question lies in the question itself if you remove the word 'many'. I think me not being able to play many tournaments has deterred me from breaching the 2100 Elo mark.
Just a couple of years after I started chess, I had my class 10 board exams, then the class 12 exams; I also took a three or four-month break to study for IPCC and then another year or year and a half for my CA finals. Unlike others, I wasn't able to play all through the year. Also, being completely blind, I have to devote a bit extra time to academics. So if let's say it takes you an hour to complete a balance sheet or a sum, it would take me an hour and fifteen minutes. Of course, this is just an example, it doesn't take anyone an hour to complete a sum. So, I had to takes breaks from chess from time to time and that hindered my rating progress.
Another important reason has been my health issue. I have already told you about my esophagus problem and everything else. Because of this, I had to choose tournaments very carefully. I had to keep in mind that I had doctor's appointments and everything. I could not just pack my bags and go wherever I wanted to play.
As far as my problems while facing a strong opponent are concerned, I don't think the problems are different whether I face a strong or a weak opponent. One big problem against sighted or even partially sighted opponent is that of time. For example, if it is my move, my opponent could look at the board and calculate. If it is my opponent's move, however, I could not keep touching the board all the time to calculate. Of course, I could do that when we use two boards but in some tournaments, when just one board was used, it wouldn't be possible to touch every time. And anyway, touching the board to understand the position takes much longer than just having a glance at it.
People often don't understand this as it comes so naturally to them – just glancing at positions. This also helps in their chess learning which I am deprived of. Like, a sighted player could go around the tournament hall and look at several games and see how players find their way through complications in different scenarios. This helps a lot in pattern recognition – you just absorb by observing. I could only do this a day after the tournament has ended when the PGNs are uploaded online. But this again takes me a lot more time than a sighted player does. I have to go through the entire game while the sighted or the partially sighted player would have just glanced through the important parts while the game was on. I often find this surprising that no one talks about these fine points.
SS: Please tell us about the role of your parents in your chess career.
DI: I think I have already answered this in my previous answers, at least with regard to their contribution towards my chess. But what's all the more important is their complete support all of my endeavours. Also, they never let me feel that I was blind or that I was any different than others while raising me. They enrolled me in co-curricular activities like Karate – even though I did not pursue it for too long – and chess. It is because they raised me like a normal child that I never really understood the process of integrating with the mainstream. I never had to make an extra effort to integrate. It just came naturally to me.
Part III of the Interview will follow soon
---