Harika: I hope it's just the beginning
July was a magical month for GM Dronavalli Harika — she climbed to the fifth position in the FIDE ranking list thanks to victory at the Chengdu Grand Prix 2016. What is more impressive is that there seems to have occurred a qualitative leap in her play, so things can only get better from this point. ChessBase's Niklesh Kumar Jain caught up with Harika for a brief interview.
Harika: I hope it's just the beginning
From the 2008 World Junior Championship title to playing in the crème de la crème today, Dronavalli Harika has come a long way in her pursuit of her ultimate goal — to become the world champion. After her bronze medal winning effort in the 2015 title scramble, she took another leap forward when she comfortably won the 2016 Chengdu Grand Prix.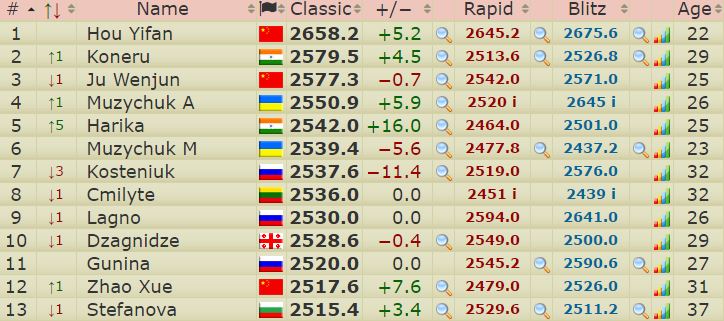 Interview with Harika:
Congratulations for your victory. How do you rate this performance as compared to your earlier achievements?
It's my first Grand Prix title and I hope it's just the beginning. I have to rank it second, although, after my World championship bronze medal.
After the win, you tweeted 'Feeling numb and exhilarated after listening to the national anthem'. Your thoughts?
A satisfying and emotional moment for any sportsperson.
What has changed in your training, attitude and playing style? What has suddenly clicked into place?
It didn't come suddenly, but all the hard work that has been put in since a long time has helped to achieve it.
Do you agree that the victory in Eurasia blitz prepared some positive ground for you ?
Not exactly. That was a totally different one. But yes, it did give a positive feeling which is good and useful.
What was going on in your mind before the final round, because there was a chance you could even lose the title? 
I just felt confident that I would win the title. I didn't even think of another option.
How difficult is it to play against your senior teammate who may have been an idol to you at one point?
I guess you are speaking about Humpy. It isn't difficult at all, nor is it any different from playing with other opponents. For spectators it's interesting but for us, it is just like every other game.
In many sports, sometimes, results affect relations between the competitors. In chess, is it on the board only or can things go sour?
It can be there for a moment after the game but relations can't be affected generally.
Who is your trainer currently?
I don't feel this is the right time to say.
How did you work on your fitness?
I generally do some kind of exercise — either Yoga, Gym, Jogging, and recently I started to learn badminton.
Do you have any team of seconds?
No. But I have a team of trainers who guide me through.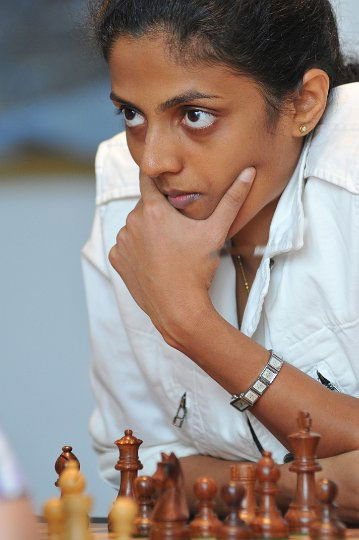 What are the important things in your schedule during the tournaments?
My schedule during the tournaments consist of a good amount of sleep, walking and practice hours.

Do you think India stands a chance to win the Olympiad gold this time?
It's better not to think about it and to just try your best completely and later see the result.
Do you feel chess should be the part of main Olympic games?
Of Course, I feel so, and every chess player would want that to happen.
This year, the National Challengers (men's and women's) was a non-rated tournament. Do you think this idea is good for selection?
I can't say anything about this as I don't have the slightest idea about what's happening.
Do you cook food? And what do you prefer to eat during tournaments?
I can cook and I prefer Indian cuisine during the tournaments and generally, too.
A small story narrated by ChessBase co-founder Frederic Friedel:
Some years ago I met Harika at a chess event and, as always, had a great time chatting with her. Suddenly she said: "Frederic, can I invite you to dinner?" – "You invite me?" I asked incredulously (she was like sixteen at the time). Sure, she said, and when I asked her to what restaurant she said "No, in my room." Turned out she cooked a meal there, in a little rice cooker, with vegetables bought at the local market and homemade spices she carried around with her. The meal was delicious – and all the Indian players were jealous that I go to eat it, not them. I asked Harika why she did this – the meals in the hotel were part of the package. "But they are so bland," she said. "I can't taste anything!" Harika comes from Guntur, a coastal town in the Indian state of Andhra Pradesh. The food from that region is known to be very spicy, but deliciously so.
Read more here.
Do you watch movies? Hollywood or Bollywood, any favorite?
I watch most of the Indian movies. I have many favorites but Chak de India is first in the list.
Any marriage plans yet in your life?
My parents are searching and the day I find the right person, I will marry. No plans or specific timing.
Do you read books? Which type of books do you prefer?
I like to read comics and autobiographies.
What important tournaments you will participate in 2016?
Olympiad, Women Grand Prix, World Rapid & Blitz.
Niklesh Kumar Jain
FIDE Instructor Niklesh Kumar Jain has participated in tournaments in almost in 20 different countries, winning the international tournament in Sri Lanka in 2010. He also worked for a television network as an anchor and news writer for two years and reported in Hindi during the World Chess Championships in 2013 and 2014. Niklesh loves to write about tournaments and take interviews of the players. You can connect with him here.
---