Himal Gusain wins Delhi Open FIDE Rated
Delhi Chess Association is probably the best chess association in India. There simply remains no contest when it comes to the quality and professionalism in the tournaments. Like the Wright brothers who invented the concept of humans flying in airplanes, the Delhi chess fraternity has invented the idea of professional chess players making money with the prize fund. One such tournament finished this week with 727 players and 17 lakhs 17 thousand rupees in prize.
Himal Gusain wins Delhi Open FIDE Rated
The Delhi Chess Association Open FIDE Rated Chess Tournament was held at Jawaharlal Nehru Stadium New Delhi from 25-29 March 2017.
A total number of 727 players which includes seven International Masters and 619 International rated players from different parts of India and four foreign federations participated in the event which was spread over five days with a time control of 90 minutes and 30 seconds increment from move 1. The total prize fund of the event was Rs.17,77,000.
The Tournament was played under Swiss System with nine rounds and had International Master Himanshu Sharma of Railways as the top seed. With Round one starting on time and the players went into their business mode from the start itself.
The tournament progressed on expected lines as seeded players registered comfortable victories on earlier part of the event. Unexpectedly, top seed Himanshu Sharma suffered a shock defeat against Badvath Anand in the fourth round and which changed the complexion of the event.
Delhi youngster Ankit Gajwa emerged as the sole leader after seventh round matches with six and half points but his presence in the leaders table did not last long as he lost crucial eighth round match against second seed Himal Gusain, which made the tournament wide open.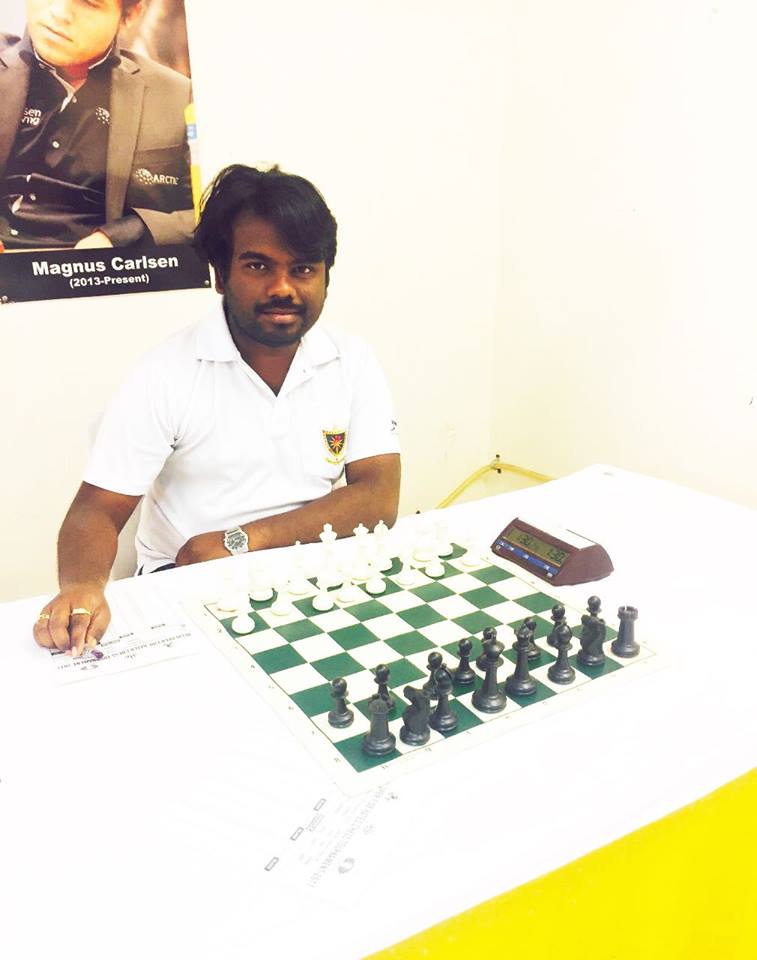 In Below 1599 category, Leeladhar Kachroo of Haryana won the first prize to pocket same amount as cash prize.
Anusha NLV of Andhra Pradesh adjudged as best female player while Rajesh Dwivedi of Madhya Pradesh become best among unrated players.
Akash Sharthchandra Dalvi of Maharashtra, Sourath Biswas of West Bengal and Daaevik Wadhawan of Delhi finished best among Under-15, Under-12 and Under-8 age categories respectively. Herschelle Gupta and Aanya Agarwal become Best Delhi player and Best Delhi girl player respectively.
---
Final Ranking after 9 Rounds
| | | | | | | | | | | | | | | | |
| --- | --- | --- | --- | --- | --- | --- | --- | --- | --- | --- | --- | --- | --- | --- | --- |
| Rk. | SNo |   | Name | Typ | sex | Gr | FED | Rtg | Club/City | Pts. |  TB1  |  TB2  |  TB3  |  TB4  |  TB5  |
| 1 | 2 |   | Gusain Himal |   |   |   | IND | 2453 | CHAN | 8,0 | 0,0 | 54,0 | 48,0 | 46,5 | 52,75 |
| 2 | 4 | IM | Ravi Teja S. |   |   |   | IND | 2377 | RLYS | 8,0 | 0,0 | 53,0 | 47,0 | 45,5 | 51,25 |
| 3 | 1 | IM | Himanshu Sharma |   |   |   | IND | 2494 | RLYS | 8,0 | 0,0 | 49,0 | 44,5 | 41,5 | 47,00 |
| 4 | 3 | IM | Krishna C R G |   |   |   | IND | 2394 | RLYS | 7,5 | 0,0 | 53,0 | 48,0 | 45,5 | 47,75 |
| 5 | 7 | FM | Rakesh Kumar Jena |   |   |   | IND | 2315 | ODI | 7,5 | 0,0 | 53,0 | 47,5 | 45,5 | 46,25 |
| 6 | 6 |   | Saravana Krishnan P. |   |   |   | IND | 2345 | KVB | 7,5 | 0,0 | 53,0 | 47,0 | 45,0 | 47,25 |
| 7 | 15 |   | Pranav Shetty |   |   |   | IND | 2209 | MAH | 7,5 | 0,0 | 52,5 | 47,0 | 44,5 | 46,75 |
| 8 | 14 |   | Lokesh N. |   |   |   | IND | 2211 | TN | 7,5 | 0,0 | 51,5 | 46,0 | 44,0 | 45,75 |
| 9 | 5 | IM | Palit Somak |   |   |   | IND | 2364 | RLYS | 7,5 | 0,0 | 50,5 | 45,5 | 43,0 | 44,75 |
| 10 | 19 | FM | Ramakrishna J. |   |   |   | IND | 2135 | AB | 7,5 | 0,0 | 50,0 | 45,0 | 42,0 | 43,50 |
---