8th ChessBase India show with Alina l'Ami
Alina l'Ami is one of the most famous personalities in the chess world. She is not only an International Master, but a world class photographer and also a globe trotter. Also she is married to super grandmaster Erwin l'Ami. Naturally a person with so many achievements and talents is an interesting personality to know about. IM Sagar Shah caught up with her in Jakarta and did the 8th ChessBase India show where they discuss chess, photography and much more in the one hour fourteen minute video. Free download!
When organizer of the Japfa Chess Festival Kristianus Liem asked me if I would be interested to play in the Round Robin International Master tournament in Jakarta, Indonesia, my initial feelings were negative. 'I am already an International Master why should I go to a tournament where people are going to fight for IM norms.' Well, I thought about it for quite some time and I am glad that didn't listen to my mind and made the decision to go to Jakarta and play at the 10th Japfa Chess Festival. Apart from the brilliant hospitality and witnessing high chess culture of Indonesia, I was able to meet Alina l'Ami!
Alina has been a friend since many years, but it is curious that we had never met in person before! She travels all over the world and so do Amruta and I, but our paths had never crossed. Meeting her was surely one of the things that I was looking forward to on this trip. And I wasn't disappointed. Lively, chirpy, bubbling with energy, friendly, Alina had all the qualities that would make you like her instantly. Being such an interesting personality, I always wanted to know more about her life, which I was able to with the various conversations over breakfast and dinner.
However, I also wanted the world to know more about her. The best way was to do the ChessBase India show with her. Knowing her tight schedule it wasn't easy to find a time slot, but we finally did manage it on 20th of May.
The globetrotter:
In her chess career Alina has visited over 70 countries! Right from the streets of Mexico, to the beaches of Australia, she has been everywhere. It is a pity that she hasn't visited India yet, but she has promised that she would do it by 2018! In this show we ask Alina to share some of her globe-trotting experiences!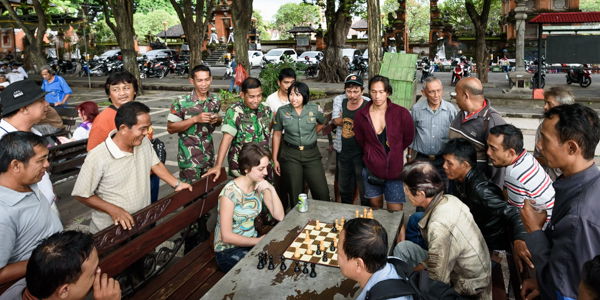 The chess player:
Alina is an International Master with one grandmaster norm. She was the former under-10 World Champion and also the under-18 European Champion. On this show she speaks about her chess development right since the days of childhood and also shows us her favourite game. It was her attacking win over GM Hernandez Holden of Spain at the Barbera Open 2011, where she made her maiden GM norm.
World's best chess photographer:
While this title (world's best chess photographer) is up for debate and Alina herself is of the opinion that there are many good photographers like David Llada, Lennart Ootes etc, it goes without saying that she is definitely one of the best. Just have a look at the picture above and see the pains that Alina is going through to take a good shot. Well, being a good photographer asks for great amounts of physical stamina. You cannot hold that heavy lens for hours and keep moving from one end to another if you aren't passionate about photography. On the show, we ask Alina about how her passion developed and how she keeps improving at the art of chess photography.
The wife:
The most important person Alina l'Ami's life is her husband Dutch grandmaster Erwin l'Ami. On the show Alina speaks a lot about how Erwin has helped her to become better at chess. Erwin is her coach, mentor and inspiration. We also get to know about their love story and how the two met each other! I wouldn't be surprised if after listening to Alina talk about her husband, you too fall in love with Erwin! :)
Check out the opening DVDs of Erwin l'Ami in the ChessBase India shop
How to watch the show:
Click on buy now and get the show with Alina l'Ami free of cost. You will get the download files on your registered email id. This you must open either in your local ChessBase software or with ChessBase Reader 2013 provided in the downloads. Do let us know your feedback in the comments section below.
Previous ChessBase India shows (all available for free):
---