Chess-in-Streets of Hyderabad!
Many players all over India and the world have gained a lot from chess. However, when it comes to giving back to the game not many you do not see many enthusiastic people. However, a group of "Chess Mavericks" from Hyderabad, are here to change that. They not only organized a chess-in-streets without any entry fee, but also distributed prizes. This a beautiful development for the promotion of the game and with this article we give you a feel of what this initiative looks like. Pictures, videos and much more. 
Sports and Indian streets have had an amusing relationship since time immemorial. It's almost an everyday affair for a gang of kids to shatter someone's window-glass while playing cricket or be found running away from a ranting aunty who was hit by their football. What's worth noting, while chuckling over these incidents, is the fact that these streets always feature sports which people love and these very streets can also become platforms for promoting a new sport.
Keeping this in mind, Chess Mavericks, a group of ardent chess enthusiasts, have taken chess to the streets of Hyderabad with the sole intent of spreading awareness about the game in the city!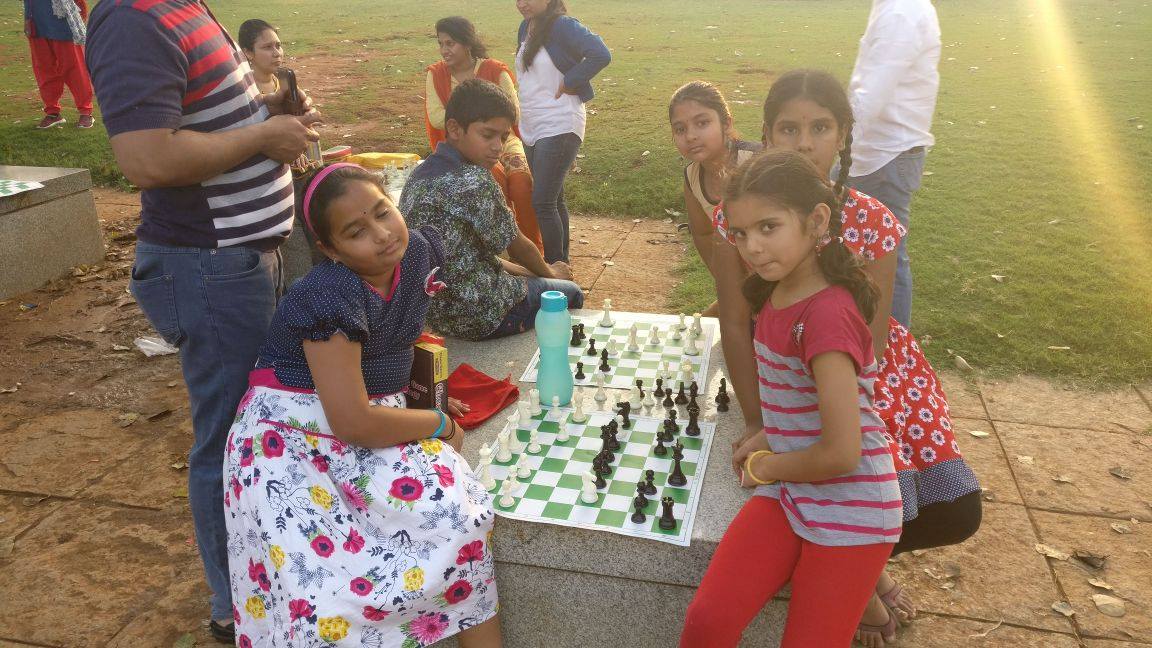 Trying their hand at it for the first time, on the evening of March 25, 2017, the Mavericks were able to gather a crowd of around 50 that included professionals, enthusiasts and onlookers.
And yet again, the inhabitants of the city of Nalli Nihari and zesty biryani shook hands to begin another chess playing spree. This time on 2nd of April 2017, the number of participants had grown exponentially. More than 200 participants had gathered around a 50 feet wide and 800 meters long road that is blocked for all the vehicles on every Sunday between 6 a.m to 9 a.m exclusively for the general public to encourage the physical activities, an initiative by Physical Literacy Days team. Players indulged into the royal game in every way possible, solving puzzles, playing blitz chess, simultaneous chess, and even blindfold!
Around 100 kids got a hands-on experience of playing with senior Chess players followed by one-to-one analysis and guidance. Parents also got an opportunity to talk to these experts and understand the benefits of playing chess, not only from career perspective but also in academics and life in general.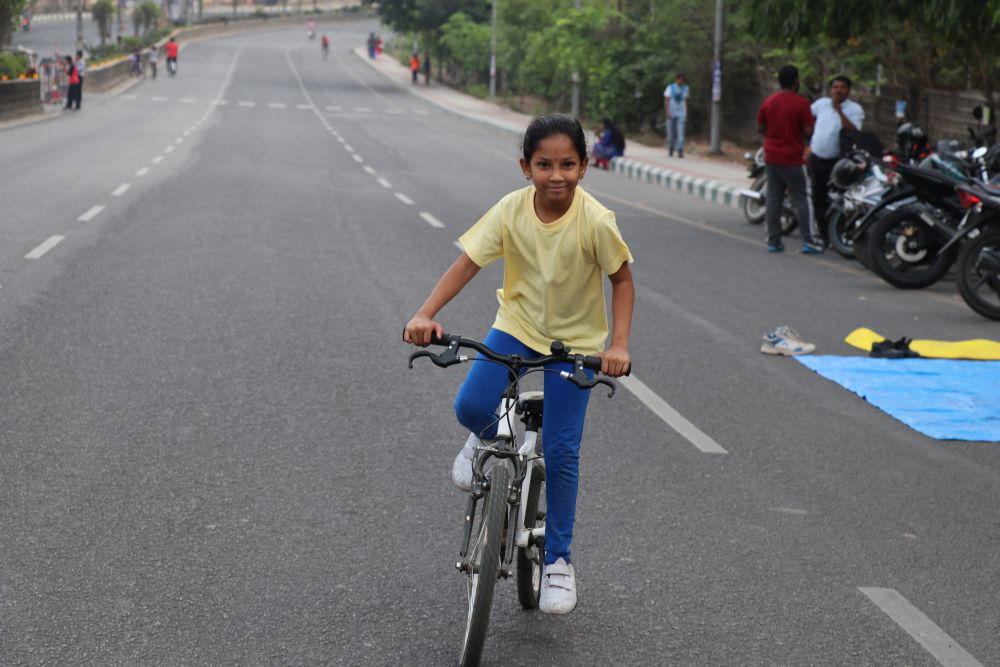 Speaking to ChessBase India, Ramu Kandi said,"The humongous success of the event has given greater motivation to the group that has Telugu rated players, strong chess players and chess lovers and we believe that every town in Telugu state should witness something like Street Chess to promote the game of chess by taking it to masses. As a gesture of giving back to the game that has given us decades of joy and abundant knowledge, the team has more such ideas to promote the game of chess without any expectations."
The team includes some of the yesteryear players such as FM-Ramu Kandi, Sardar Amithpal Singh, Kotha Surya Narayana, SNA-Kandi Ravi, FT-Inaganti Amarnath, Srikanth Somaraju, V. Narsimha Rao, Beenish Bhatia, FM-Sardar Rishipal Singh, Shiek Fayaz, B. Rajasekhar, Chemikala Rajashekhara Reddy, Pravin Mohite, R. Sriram, Prasad Katlamudi to name a few.
Street Chess is truly an excellent way of spreading awareness and increasing the popularity of chess. We, at ChessBase India, therefore, would like to give a shout-out to the Chess Mavericks for their splendid effort and hope that they come up with more of these events. 
About the author: Aditya Pai is an ardent chess fan, avid reader, and a film lover. He has been an advertising copywriter and is currently pursuing a Master's in English Literature at the University of Mumbai. He loves all things German and is learning the language. He has also written scripts for experimental films.
---