Love thy neighbour as thyself
Chennai witnessed a natural-manmade disaster of an unprecedented scale when the wrath of nature descended upon the unsuspecting city. You and I know that Chennai, since its Madras days, has been the capital of the Indian chess scene and home to the best of Indian talents right from kids taking their baby steps to the former world champion himself. Our dear reader Muthu Alagappan, a Chennai resident, sent us his first-hand account of what he witnessed in his city. In addition, we have comments from some of India's best players who reside in Chennai and ended up missing their tournaments.
Love thy neighbour as thyself
A lot has been already said, reported and shown in the mainstream media about the floods, its causes, and effects, etc. Major media houses are reporting that the worst is behind, and the city is slowly limping back to normalcy. The focus is shifting from rescue operations now towards relief operations.
Chennai is the heart of Indian chess. The bad situation in the city, especially the airport itself shutting shop, meant that many of our chessplayers missed their tournaments. Our dear reader Muthu Alagappan, a Chennai resident, sent us his first-hand account of what he witnessed in his city, which in its darkest hour displayed astonishing strength.
Muthu Alagappan's first-hand account
It has been a sad story for the people of Chennai and its surrounding districts for the past three weeks. The northeast monsoon flooded Chennai and by the fourth week of November most part of the city and its surrounding districts viz., Thiruvallur, Kancheepuram and Cuddalore were submerged. The lakes in the city became full.
Nature displayed its furious wrath on Dec 01, 2015 with continuous rains for more than thirty hours. This resulted in power cuts for more than forty-eight hours in most parts of the city. Even worse was the situation in certain low-lying areas, as they did not have power for the fourth straight day! The mobile networks were down in the dumps, barring a few places.
This rain is said to be the worst ever in the last hundred years in Chennai. Chennai and its districts were predominantly isolated from the other part of the world for the past five days. The water level had reached as high as fifteen feet in the low-lying areas. At such places, the only way for rescuing people is via boats.
All the lakes in and around the city had reached its threshold the authorities had no choice but open the reservoirs to avoid their breakage. The water was flowing at more than 60kmps inside the city drowning the buildings and everything else in the process. The Hindu, one of India's leading newspapers, wasn't published on Dec 2, 2015 for the first time in 137 years since its inception! The rail connectivity to other parts of the country was stopped. In addition, the local suburban trains were stopped. The level of impact was unprecedented. Chennai Airport was very badly affected and it had to be closed for the first time in the past ten years!
These testing times – manmade and natural disasters – give birth to the leader within us. Everybody has something to learn from the people of Chennai who joined their hands (Ed.: instead of the countless people who just bothered to join their palms, and update beautiful profile pictures, instead of taking concrete measures) to help their brethren who were seriously affected. Love thy neighbour as thyself.
The people have opened their homes for the affected so they can stay safely until the water levels recede. The malls, cinema theaters, institutions, marriage halls, places of religious worship, etc. opened their arms to welcome the people, providing them safety, food and shelter. The citizens themselves came forward by providing food for thousands of affected people. The people who were away from Chennai also contributed in their own small ways by recharging the mobile phones for communication, sending aid materials, etc. When the common people started contributing in whatever forms they were able to, the corporates also joined the bandwagon.
BSNL provided free calls for a week. Airtel provided free calls, internet for 2 days. OLA, UBER provided free rides for the ones affected. Stars donated from a few lakhs to a few crores. The volunteers are working since more than six days with almost no sleep, risking their lives. NGOs are feeding the people as much as they can. The army, navy, police personnel have been working day and night to save every person they can. The central government has contributed Rs. 1950 crores for the immediate relief work, which is now in full flow.
The good news is that the water level is receding in most parts of the city with some exceptions. Steadily, the power is also being restored in every part of the city. This is the story of the city which believed in itself. We believe that we can bring it back on its feet with every small contribution from every person. This story was a victory for humanity. The people never cared about religion or social stature. Everyone is the same.  All that mattered to us is to save each other's lives.
We would like to take this opportunity to thank the police, the Indian army, navy, our fishermen, government officials, NGOs, Institutions and all the individuals who have done selfless work by risking their lives to save the people by providing shelter, food, medicine and communication facilities.
What about our chessplayers?
ChessBase India was able to contact a handful of chessplayers in Chennai and understand their situation. Here is an account on how some of our players are doing. We will report to you as and when we get more reactions and stories.
GM B. Adhiban was scheduled to play in the ACP Masters Rapid tournament in Ashdod, Israel from December 07-10. The Chennai rains, as you may have guessed, had other ideas. "First of all, there was very little time for the visa. The embassy requested for some documents which I sent by courier. However, due to the incessant rains, it is still in Chennai, and not in Mumbai where the embassy is situated!"
Nevertheless, it appears that even if it had reached the embassy in time, there would have been problems for Adhiban. "When the authorities announced that the airport would remain closed till 06 December, I realized that I won't be able to make it to Israel in time." Of course, since the railway routes were also not working, there was no question of leaving Chennai for some other city.
IM Srinath was hit badly during this Chennai fiasco, and believe me when I say this, in more than one way. Srinath was supposed to leave for the International tournament in Penang, but then this happened: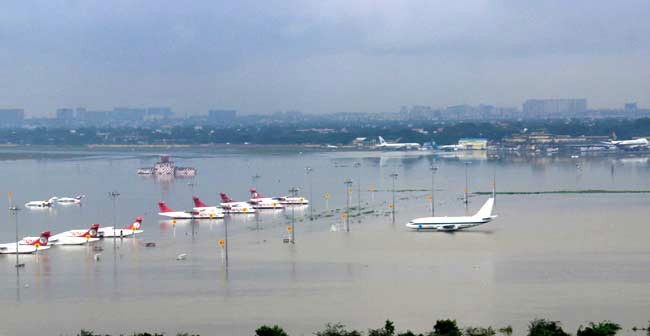 "My family and I were forced to evacuate to a friend's place on Friday evening (December 04). For starters, there was no electricity for 72 hours. We were on the first floor, and hence, were relatively safe."
Srinath describes his situation in the bygone week: "Life went back to the 70's. On Tuesday evening (December 01), as torrential rains began, electricity was cut. By Wednesday morning, Vodafone network began to have problems with connectivity. By Wednesday evening, Vodafone network was completely out. This was when it stopped raining and we went to sleep in the dark, albeit in cheerful spirits, confident that the ankle deep water would recede."
Apparently, the reservoirs holding the water in the lakes were filled to the hilt and the authorities had no choice but to open them! "The Chennai authorities had different plans. They let the overflowing water out of several reservoirs, and by Thursday morning, despite the rain taking a break, we had water up to waist high in the ground! Cars were submerged, bikes were submerged and we were cooped inside, checking in despair for water levels to recede every hour. On Thursday, all networks completely stopped working and our only mode of communication was the quaint BSNL landline."
The lack of electricity hit his family hard. "We stood three-four days without electricity. But the main problem was water. A man can even survive without food for a while, but you need water. And to get water, you need a functional motor. After waiting for electricity for four days, on Friday evening, we were forced to evacuate."
Srinath further reported that the water level is still ankle high. "It's still not completely receded. One more wave means we'll be back to square one, maybe even worse."
Vishy Anand, who is playing in the London Chess Classic, managed to wriggle out of the city just in time. He shares his feelings for his beloved city through our exclusive video:
The former World Champion is an icon of godly proportions in Tamil Nadu. In a wonderful gesture, Anand's family opened their doors for the affected people.
Speaking to the Times of India, a leading English daily in India, Anand's wife Aruna explained that many people, especially women and children, were staying over at their place, where they are cooking food in large amounts, so they can distribute it as a part of their relief efforts.
Amazingly, many of the kids who were offered refuge did not suspect that it was Anand's house they were living in! Read the full story here.
GM Ramesh, who is a coach for numerous Indian talents, reported that the kids are safe and sound. Ramesh said, "All are safe. The flood waters entered the house of Praggnanandhaa and Vaishali, and hence they had to evacuate and shift to their relative's place."
Many Indians are coming forward to help with their donations and contributions. GM Ramesh and his wife WGM Aarthie Ramaswamy are social crusaders at heart and are at the forefront in helping the affected people with food and other basic necessities. "There is a slum near our place which houses more than ten thousand families. Many of them had to leave their houses as the flood water entered inside. Many in Chennai are displaced without shelter, drinking water, food, and clothes. Even the middle-class people have been hit badly."
Ramesh also talked about the goodness of people coming forward to help. "The Chennai citizens are displaying heroic acts. Thousands of volunteers are helping the needy. I have seen people slogging it out, helping the affected, without sleeping for two-three days!"
"We are distributing relief materials in the slum at night, because, in the day, the people will simply mob us. However, in many areas, the help has not reached yet," Ramesh says.
He points out that all is not well for the city, even in the coming days. He explains the dangers that lie ahead. "In many areas, the electricity has not been restored yet. If there are no further rains, things can be sorted out gradually. In the slums, the water-borne diseases are the next big threat. The municipal corporation employees, who clear the garbage in the city, are also doing badly because they live in these slums as well! The garbage is piling up on many streets around Chennai, and only today, the municipal workers from other districts have begun to clean the city. Apart from that, there is a shortage of cleaning trucks too."
An appeal for Chennai
With our help and support, we can uplift our fellow human beings. Helping hands are always better than praying lips. Even a tiny bit of help from you can make a difference. If you would like to contribute, you can follow any of the below links and see what you can do to take concrete measures.
Go Fund Me for Tamil Nadu floods
GM Ramesh is distributing flood relief material in Chennai for the affected, and you can contribute your own bit to this initiative. Here is his message: "Our bank details for anyone who wants to donate for the flood relief material is given below. Money can be transferred from banks within India only. We need an email with full details of the donors, and address so we can send the receipt back as is mandatory. If this is agreeable then please send your contributions into the accounts detailed below.
Donations being made from the banks within India:
Chessgurukul Charitable Trust,
Indian Overseas Bank, T-Nagar Branch,
Current Account,
A/c no: 009102000006280
IFSC CODE: IOBA0000091
Donations being made by donors out of India:
PayPal: payments@chessgurukul.com
Email ID for emailing your details: rbramesh1@gmail.com
You can follow GM Ramesh's updates on Facebook.
We will support each other. We will ensure that we are with each other. We will make the world a better place to live.
---