Life of "tent"ative chess players!
The Dutch Open 2016 was held from the 26th of July to 4th August 2016 in the small town of Dieren in Netherlands. Indian GM Sandipan Chanda won the tournament in style and we will be reporting on it pretty soon. As of now we have a wonderful story sent to us by Sahil Tickoo. He and his friend Vaibhav went to the tournament without any hotel bookings. The result was an adventure of a lifetime! They now share it with you through this entertaining article. 
After a successful tournament in Leiden, Netherlands, where both I and Vaibhav gained decent rating points, it was time for the Dutch Open in Dieren. I was relatively excited to be playing in the Open group. Being the third last seed, it was a great opportunity to play some great chess against strong players.
But a few surprises awaited us in Dieren. After walking for half an hour from the train station with our heavy luggage, we arrived at Polysport, the only accommodation option for the tournament.
When we spoke to the person at the reception, he told us that the rooms there were sold out. So we had to settle for camping instead. Contrary to what we expected, we were supposed to get our own tents and set them up in the camp site.
So we set off to the city centre of Dieren to buy the best tent. We managed to locate a shop and were stunned when the most basic tent for two people would cost us 89 Euros. But we had no choice, so we bought it and headed back to the hotel.
Buying the tent was the easy part, now came the difficult task of setting it up. When the description guide comes only in Dutch, there's not much you can understand anyway! It was a pretty scene, we were experimenting with different parts of the tent when a local noticed our predicament and offered to help. Surprisingly, the tent was set up within just two minutes. Magic!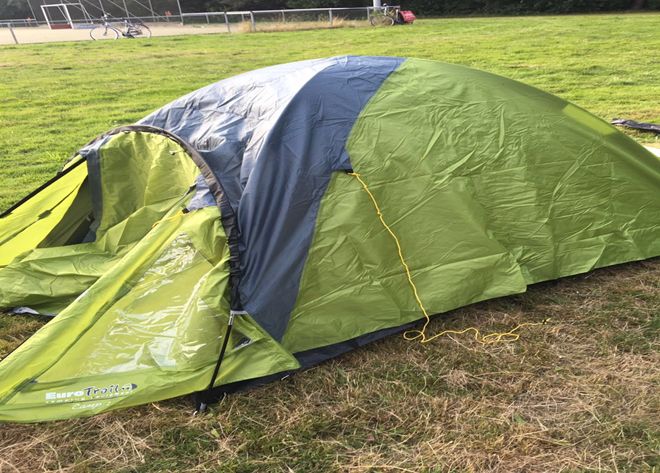 The locals staying at the camp site have chairs and tables with them. Playing chess with them at the beautiful camp site was relaxing. After that I got inside our new home, and found some inhabitants already inside. Bugs! That's the other side of camping.
The rest of the day was spent wondering whether to spend the whole night awake and taking a bye for the first round or to spend a night sleeping next to the dear bugs! But as it turned dark (which happens quite late here, sometimes as late as 10 p.m.), we finally decided to try and sleep.
As soon as midnight hit, the cold wind made our entire tent flutter, and we wondered whether it would stand the test of time. We slept for a couple of hours, and woke up feeling extremely cold. With no blankets with us, we covered ourselves with three to four layers of clothing from the head to the toe and finally shivered to sleep. One of the most exciting nights ever!
We had a light breakfast and headed off to the venue for registration and the first round. The venue was beautiful.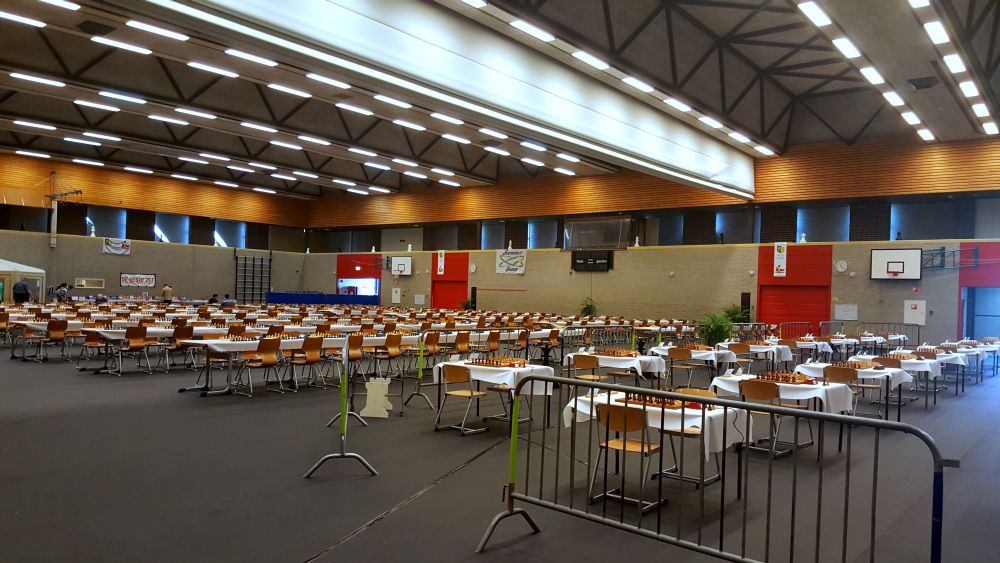 And after all this, both of us won round one. Caissa, the Goddess of chess smiled upon us! In the end, as long as you get to sit in front of your beloved 64 squares, nothing else matters! Although, I would recommend that you confirm your hotel bookings before going to a tournament to avoid adventures like these!
Editorial note: Sahil, rated 2016, performed at an Elo of 2311 and gained 60 rating points. Vaibhav, playing in the second group and rated 1799, gained 70 Elo points! What a fantastic performance. ChessBase India congratulates both of them and thanks them for sharing their story with the readers of our newspage.
---