Why Giving A Bharat Ratna To Viswanathan Anand Would Be A Winning Move For PM Modi
New York City 1995, Tehran 2000, Mexico City 2007, Bonn 2008, Sofia 2010, Moscow 2012, Chennai 2013, Sochi 2014 — these are the World Chess Championships that Viswanathan Anand has fought in his career. And he has won five of them. With his numerous tournament successes, he has put chess in India's map, and India on the world map. SHRINJAN RAJKUMAR investigates why Anand should be conferred with the Bharat Ratna in his latest blog for The Huffington Post.
Why Giving A Bharat Ratna To Viswanathan Anand Would Be A Winning Move For PM Modi
by Shrinjan Rajkumar
The clamour to award the Bharat Ratna, India's highest honour, to chess grandmaster Viswanathan Anand began in 2012, when the Madras Tiger triumphed at the World Championships for the fifth time, an unprecedented feat. The then Chief Minister of Tamil Nadu, the late J. Jayalalithaa, and former Sports Minister of India Ajay Maken joined in the chorus and said he deserved to win the Bharat Ratna. I too had the same opinion, which I cast publicly in July 2012 to the then Law, HRD, IT & Communications Minister of India Kapil Sibal. In a public forum, I requested him to convince then Prime Minister Dr. Manmohan Singh to recommend Viswanathan Anand for the Bharat Ratna—a suggestion which was welcomed by thunderous applause by the audience at a time when the Anand vs Tendulkar debate was at its peak. Tendulkar eventually got his Bharat Ratna in 2014, but this recognition still eludes Anand.
Viswanathan Anand is to chess what Roger Federer is to tennis and Sachin Tendulkar is to cricket. Let's begin 2017 with "anand" (joy) by decorating him with the top medallion.
Why does Anand deserve a Bharat Ratna? While it may take me several more pages than I have at my disposal here to list all of his tournament conquests, I will stick to notable awards/honours. He won the Arjuna Award at the age of 16 (and still remains the youngest Indian sportsperson to have received it), the country's fourth highest civilian award, the Padma Shri, at 18 (again, he remains the youngest Indian to have received it) and the inaugural Rajiv Gandhi Khel Ratna Award (India's highest sporting honour) at 21. The Padma Bhushan and Padma Vibhushan came at the ages of 31 and 37 respectively. In fact, he's the first Indian sportsperson to be bestowed with the second highest civilian award. Hold on, don't say "wow" yet! Post his fifth world title in 2012, he was declared the "Indian of the year". Message to lobbyists: you don't necessarily have to be in the media often to win a media award. Anand is a six-time Chess Oscar winner, he was awarded the Russian Order of Friendship for the development of economic, scientific and cultural ties with Russia in 2014, and was also honored with Spain's top award for eminent foreigners. The same year a minor planet was named "4538 Vishyanand", making him the first Indian sportsperson in history to have been thus honoured. Indeed, if we look back at his achievements, he seems to be from a different planet altogether!
Despite being beaten by the current world champion Magnus Carlsen, Vishy at 47, continues to be at the top, and often beats young elites with his supercalifragilisticexpialidocious chess. Vishy has transfigured his game like no other Indian has ever done. Today India boasts 44 grandmasters, close to 100 international masters, women grandmasters and numerous world junior/youth champions—it is Vishy who sets a shining example and gives them the conviction that they too can take on the world.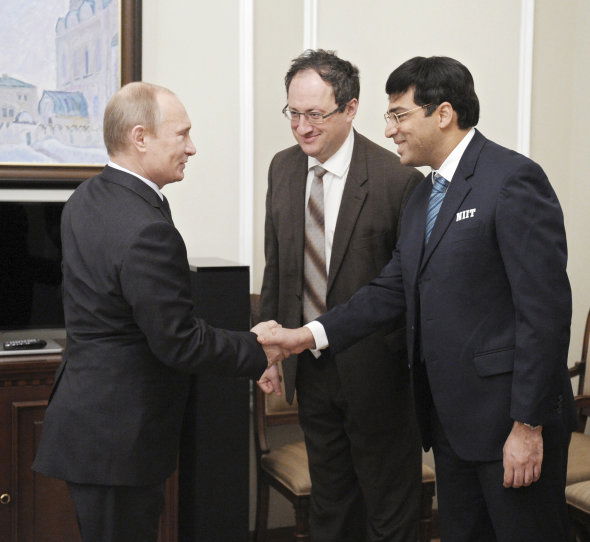 The gentle, soft-spoken Anand has been making sound moves off the chess board as well. He supports multiple NGOs, donated his 2008 World Championship gold medal to be auctioned off and raise a corpus of funds for underprivileged children. During the Chennai floods in 2015, Vishy and Aruna Anand opened up their residence to nearby slum dwellers and gave them shelter, besides making monetary contributions. If this isn't noble what is?
Message to Prime Minister Modi: As the Chief Minister of Gujarat, you were ambitious in promoting chess across the state. Now that you're PM, it delights me to see that your government has placed chess as a priority sport. Perhaps you don't follow the sport itself, but you follow the success of the star. From 2000 through 2012, he has won five world championships, and for six straight years (2007-012) there's been an Indian world champion—who else in Indian sport has achieved anything like this? Doesn't he deserve the highest proof of our pride?
Some may argue that the Bharat Ratna must be conferred for a lifetime achievement and Vishy still has time left in his professional career, but has this colossus not already achieved several lifetimes' worth? Viswanathan Anand is to chess what Roger Federer is to tennis and Sachin Tendulkar is to cricket. Let's begin 2017 with "anand" (joy) by decorating him with the top medallion. It will unite millions since most of us can relate to his achievements and serve to circumvent skepticism about our national honours and their recipients. If the messiah of Indian sport at the "global" stage doesn't deserve the Bharat Ratna, who does?
With hope,
Shrinjan
---
The article was originally published in the Huffington Post
---
Previous Articles:
---