#BeBoldForChange: Celebrating women's chess in India
The chess world saw plenty of action in the women's chess arena recently, with the month-long Women's World Championship 2017 coming to a breathtaking finish a few days back. There was a lot of controversy surrounding the tournament. But, all said and done, Chinese GM Tan Zhongyi is the new World Champion—amen. This year's ideal for Women's day around the world has been #BeBoldForChange and we look at some of the biggest names in Indian women's chess history.
#BeBoldForChange: Celebrating women's chess in India
Women's chess began to rise in India thanks to the famous Khadilkar sisters—Jayshree, Vasanti, and Rohini—who virtually monopolized the female chess competitions in India. In the first decade of the Indian women's championships, from 1974 to 1984, the eldest, Vasanthi won in the first year, Jayshree won four times and the youngest, Rohini, won the title five times.
In fact, Rohini truly revolutionized women's chess. It's true that she became the National Champion at 13 itself and also became a WIM, but more importantly, she was also the first female to compete in the Indian Men's Championship when she participated in 1976.
Her involvement in a male competition caused a furor that necessitated a successful appeal to the High Court! It caused the then World Chess Federation president, Max Euwe, to rule that 'women cannot be barred from national and international championships'. Thank you, Mr. Euwe. In that tournament, she beat three state champions - Gaurang Mehta of Gujarat, Abdul Jabbar of Maharashtra and A. K. Ghosh of West Bengal.
After the success of the Khadilkar sisters, India produced a handful of women players who made a mark on Indian chess, for example, Bhagyashree Sathe and Anupama Abhyankar, and all these legends of the game were products of Maharashtra.
And then, the Subbaraman sisters of Tamil Nadu arrived. While Meenakshi and Bhanupriya were also strong players, Vijayalakshmi redefined women's chess in India by becoming the country's first woman to become men's International Master.
Viji rather opened the floodgates as talented female players began to crop up across the country. Always overshadowed by Vijayalakshmi, but by no means any less talented, was Maharashtra's Swati Ghate who became the first woman to qualify for the Open National-A tournament in 2002 by winning one of the 12 spots in the Open National-B. She was ahead of Viji by a couple of hours!
Here are some more stars of women's chess in India, who have made a dent: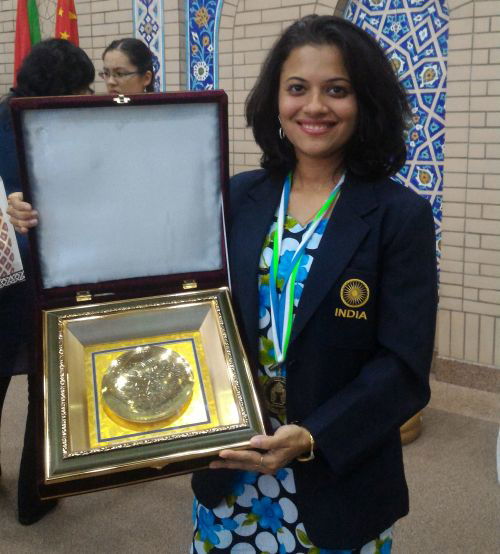 ---
To celebrate this women's day, we have been giving a discount of 10% on every purchase made from the ChessBase India Online Shop on March 08, 2017. Make the most of it while the offer lasts. Your coupon code is 9KY4QWZZNWZV.
---