Asian Junior & Girls Under-20 Championships, 2015
The city of Bishkek in the Kyrgyz Republic hosted the 2015 Asian Juniors & Girls Under-20 Championship. Although the tournament has not been too famous among the Asian countries – most players just give it a miss – it has always been attractive to some due the customary GM norm awarded to the winner of the tournament. Although India dominated this competition in 2014, this year we could only see a silver performance.
Silver finish for India

The Jannat Regency Hotel, Bishkek, Kyrgyz Republic, hosted the 2015 Asian Juniors and Girls Championship from 2 October 2015 to 12 October 2015. The event was a nine round swiss, with the Open and Girls section held separately, and forty players from nine Asian countries competing.
Open
Iran's Masoud Mosadeghpour (2420) won the tournament with 7.5/9, half a point clear of the second placed Indian IM SL Narayanan (2476).
Final Standings:

| | | | | | | | | | |
| --- | --- | --- | --- | --- | --- | --- | --- | --- | --- |
| Rk. | SNo |   | Name | FED | Rtg | Pts. |  TB1  |  TB2  |  TB3  |
| 1 | 2 |   | Mosadeghpour Masoud | IRI | 2420 | 7,5 | 0,0 | 6 | 47,5 |
| 2 | 1 | IM | Sunilduth Lyna Narayanan | IND | 2476 | 7,0 | 0,0 | 5 | 48,5 |
| 3 | 3 | FM | Javanbakht Nima | IRI | 2401 | 6,0 | 0,0 | 5 | 47,5 |
| 4 | 5 |   | Yuan Qingyu | CHN | 2382 | 5,5 | 0,0 | 4 | 46,0 |
| 5 | 6 |   | Yakubboev Nodirbek | UZB | 2342 | 5,5 | 0,0 | 4 | 43,0 |
| 6 | 4 |   | Harsha Bharathakoti | IND | 2384 | 5,5 | 0,0 | 3 | 44,0 |
| 7 | 7 |   | Turar Dastan | KAZ | 2243 | 5,0 | 0,0 | 4 | 48,0 |
| 8 | 12 |   | Mamatov Melis | KGZ | 2096 | 5,0 | 0,0 | 4 | 39,0 |
| 9 | 9 | IM | Chakravarthi Reddy M | IND | 2195 | 5,0 | 0,0 | 4 | 38,0 |
| 10 | 8 |   | Taalaibekov Tagir | KGZ | 2202 | 5,0 | 0,0 | 3 | 42,0 |
Girls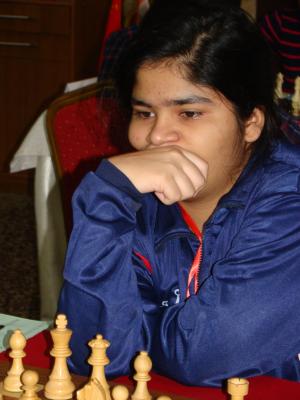 Final Standings:

SNo.
 
Name

FED

.
Rtg.
Pts.
 TB1 
 TB2 
 TB3 
1
2
WFM
Tokhirjonova Gulrukhbegim
UZB
2188
7,5
0,5
7
50,0
2
1
WIM
Ivana Maria Furtado
IND
2259
7,5
0,5
6
50,0
3
6
WIM
Nandhidhaa Pv
IND
2102
6,5
1,0
6
48,5
4
3
WFM
Saranya J
IND
2137
6,5
0,0
6
50,0
5
5
WIM
Monnisha G K
IND
2103
6,0
0,0
5
50,0
6
12
 
Omurbekova Diana
KGZ
1704
5,0
0,0
5
45,5
7
9
 
Mahdian Anousha
IRI
1757
5,0
0,0
5
42,5
8
10
 
Hotami Mutriba
TJK
1718
5,0
0,0
5
30,0
9
4
WIM
Parnali S Dharia
IND
2130
5,0
0,0
4
43,0
10
13
 
Samudin Elina
KGZ
1623
4,5
0,0
4
41,0
Some choice positions:
Sunilduth Lyna, Narayanan - Javanbakht, Nima 1-0
Ajygulov, Nurmat - Isaev, Chyngyz 0-1
Saranya, J. - Parnali, S Dharia 1-0 
Tokhirjonova, Gulrukhbegim - Monnisha, G K. 1-0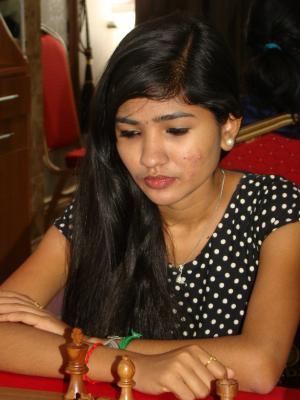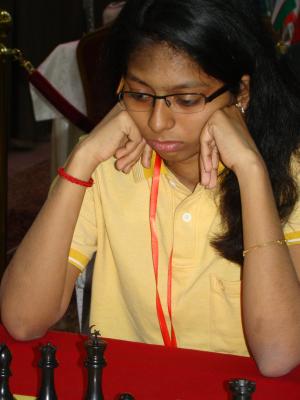 Solutions to tactics:
Sunilduth Lyna, Narayanan - Javanbakht, Nima 1-0
43. Kd5 a5 (43... Ke7 44. Kc6 a5 45. f6+! Ke6 (45... Kxf6 46. Kd6 a4 47. c6 a3 48. c7 a2 49. c8=Q a1=Q 50. Qh8+ +-) 46. Kb7 a4 47. c6 a3 48. c7 a2 49. c8=Q+ +-) 44. Kd6 a4 45. c6 a3 46. c7 a2 47. c8=Q a1=Q 48. Qh8+ 1-0
Ajygulov, Nurmat - Isaev, Chyngyz 0-1
29... Nxf2 30. Nxf2 Qe2!{The point!} 31. Rf1 Be3 32. Qd1 Bxf2+ 0-1
Saranya, J. - Parnali, S Dharia 1-0
38. Qxh7+ 1-0
Tokhirjonova, Gulrukhbegim - Monnisha, G K. 1-0
27... Bxa3 28. Re1+ Be6 29. Bb5+ Ke7 30. Bd8+ Kf8 (30... Rxd8 31. Qc7+ Rd7 32.
Qxd7+ Kf8 33. Qe8#) 31. Be7+ 1-0
Links:
Official Website: http://www.asianchess20-2015.com/
All photos from the official website
---