Asian Continental: Top Seeds Struggle
The Asian Continental Championship 2017 has begun in Chengdu, China with most of the brightest stars of Asia in contention for the five World Cup spots in the Open and the Women's section. While India has Padmini Rout in the women's section, she suffered a painful defeat in the first round itself. Meanwhile, Vidit and Adhiban have also had sub-par starts. Report.
Asian Continental: Top Seeds Struggle
Photos by Lennart Ootes
The story developing in Chengdu, China, at the Asian Continental Championship 2017 is one with a curious narrative. Five spots at the upcoming World Cup are up for grabs and the biggest names from India and China are in contention.
But surprisingly, both the top two seeds, Yu Yangyi and Wei Yi, have already been held to draws by 2400 opponents. They are trailing the leaders by half a point. Speaking of leaders, there remain three--Surya Shekhar Ganguly of India, China's Bai Jinshi, and...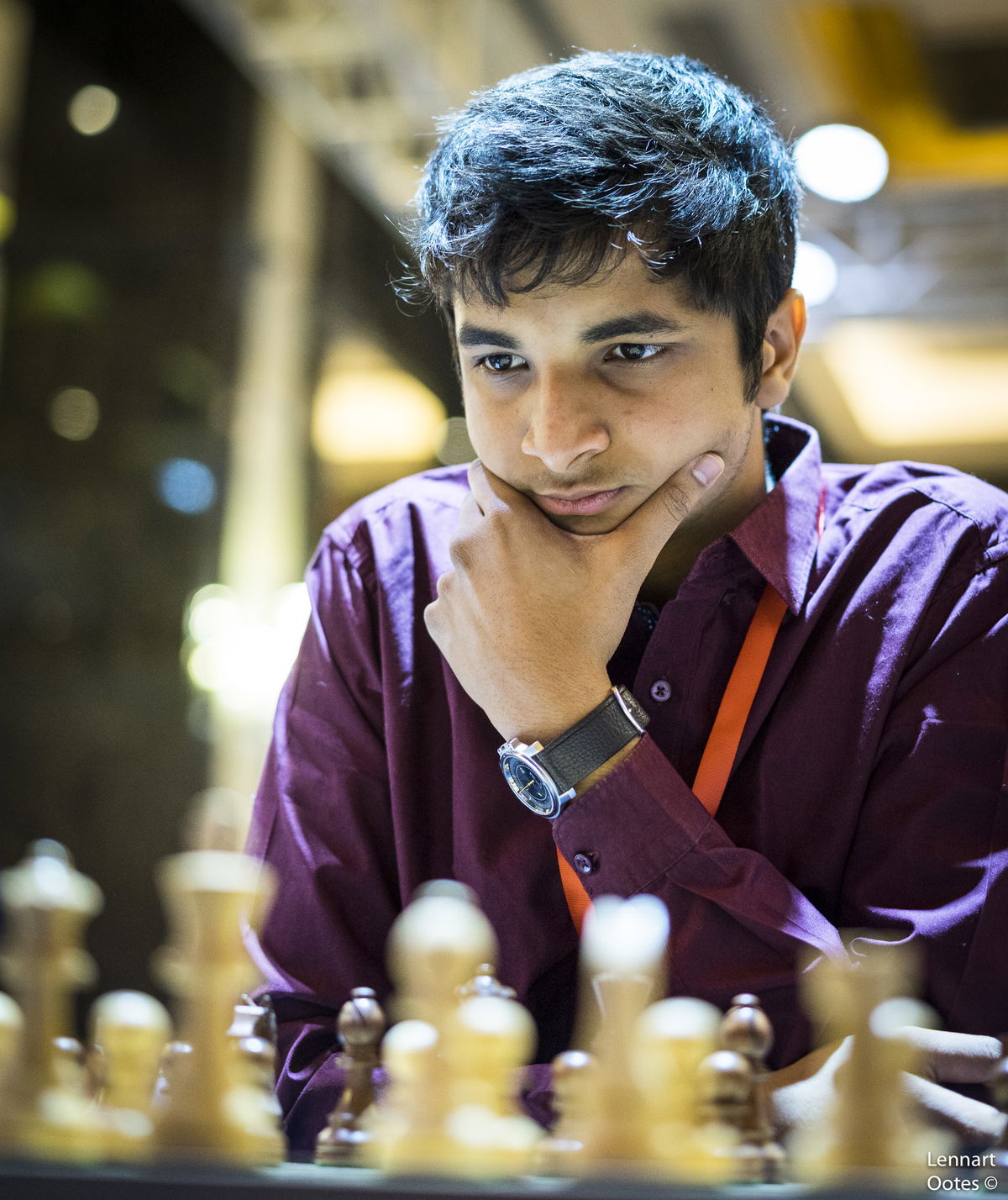 [Event "Asian Continental-ch Open 2017"]
[Site "Chengdu"]
[Date "2017.05.12"]
[Round "1"]
[White "Liu, Guanchu"]
[Black "Vidit, Santosh Gujrathi"]
[Result "1/2-1/2"]
[ECO "B12"]
[WhiteElo "2448"]
[BlackElo "2687"]
[Annotator "TA"]
[PlyCount "153"]
[EventDate "2017.??.??"]
1. e4 c6 2. d4 d5 3. e5 Bf5 4. Nc3 e6 5. g4 Bg6 6. Nge2 c5 7. h4 h5 8. Nf4 Bh7
9. Nxh5 Nc6 {B12: Caro-Kann: Advance Variation} 10. dxc5 Bxc5 11. Bb5 Qc7 {
White must now prevent ...d4.Black is slightly better.} 12. Bxc6+ (12. Nxg7+ $2
Kf8 $17) 12... Qxc6 13. Qf3 (13. Nxg7+ $2 Kf8 $19) 13... O-O-O 14. Nxg7 Ne7 15.
Bg5 $1 d4 16. Qxc6+ Nxc6 17. Na4 {[#]} Bf8 $146 18. Bxd8 Kxd8 19. O-O-O {
Strongly threatening Nh5.} Bxg7 20. f4 $1 Bh6 {Black has compensation.} 21. g5
Bf8 22. Nc3 $1 Ke8 23. Ne2 $1 Be4 24. Rh2 Bf3 25. Rd2 Bb4 $36 {Black is
pushing.} 26. c3 dxc3 27. Nxc3 Bh5 28. Rd3 Bg6 29. Rdh3 $1 Bf5 30. Rg3 Rh5 31.
Ne2 (31. a3 $11 Bc5 32. Ne2) 31... Be1 $17 32. Rb3 b6 (32... Rxh4 $6 33. Rxh4
Bxh4 34. Rxb7 $11) (32... Bxh4 $17 33. a3 (33. Rxb7 Nxe5 34. Rb5 Nd3+ 35. Kc2
Bg6 $17) 33... Kf8) 33. Ng3 $11 Bxg3 $1 34. Rxg3 Nb4 35. Kd2 a5 36. a3 (36. Rc3
$11) 36... Nd5 $17 37. Rf3 Kf8 38. Ke1 Kg7 39. Kf2 Be4 40. Rg3 Kg6 {...Kf5 is
the strong threat.} 41. Rg1 $1 Rh8 (41... Nxf4 $2 42. Ke3 $18) 42. Kg3 Kh5 43.
Re1 (43. Re2 $1 $15 Bg6 44. Rc1) 43... Bf5 (43... Bg6 $1 $17) 44. Rc1 $1 $11 a4
45. Rd2 Rb8 $2 {[#]} (45... Bg6 $11) 46. Rc6 $2 (46. Rxd5 $1 $18 exd5 47. Rc6)
46... Rh8 $2 {[#]} (46... Ne3 $11 47. Kf3 Nf1) 47. Rxd5 $1 $18 exd5 {Endgame
KRB-KR} 48. Rf6 $1 Bc2 49. f5 $2 (49. Rxf7 $18 {is the precise move to win.}
Kg6 50. e6) 49... d4 $2 (49... Rh7 $16) 50. Rxf7 d3 51. Rd7 $2 (51. g6 Kh6 $11)
({Only move:} 51. e6 $1 $18 {Threatening mate with e7.} d2 52. e7 Bxf5 53. Rf8)
51... d2 $1 $11 52. Rxd2 Bxf5 53. Rd6 {White wants to play e6.} b5 $2 (53...
Rh7 $11) 54. Rf6 $2 (54. e6 $18 {aiming for Kf4.} Kg6 55. e7+ Kg7 56. h5) 54...
Bg6 55. e6 Rd8 $2 (55... Rh7 $11) 56. e7 $1 $18 Re8 ({Weaker is} 56... Rd3+ 57.
Kf4 $18) 57. Re6 Rb8 58. Kf4 $2 (58. Kf3 $18) 58... b4 $1 $11 59. Ke5 bxa3 60.
bxa3 {Threatens to win with Rf6.} Rb5+ $2 (60... Re8 $11) 61. Kd4 $2 ({White
has to play} 61. Kf6 $18 Be8 62. Kg7) 61... Rb8 62. Kc5 {next Rf6 is good for
White.} Rc8+ $2 (62... Ra8 $11) 63. Kd6 $1 $18 Rg8 {[#]} 64. Ke5 $2 (64. Rxg6
$1 $18 Rxg6+ 65. Kd7 Kxh4 66. e8=Q Rxg5 67. Qe7) 64... Rb8 $2 (64... Re8 $1 $11
) 65. Kf6 $2 ({Better is} 65. Rd6 $18) 65... Be8 $2 (65... Rg8 $11) 66. Rd6 Rb3
67. Rd8 $2 (67. Kg7 $18) 67... Rf3+ $11 68. Ke5 Re3+ 69. Kd6 Bg6 70. Rh8+ Kg4
71. Kd7 Rxa3 72. Rg8 Rd3+ $2 (72... Bf5+ $1 $11 73. Kd6 Rd3+ 74. Kc6 Rc3+ 75.
Kd5 (75. Kd6 Rd3+ 76. Kc6 Rc3+ 77. Kd6 Rd3+ $11) 75... Rd3+ 76. Kc6 (76. Kc4
Re3 $11) 76... Bd7+ 77. Kc7 a3) 73. Ke6 $18 Bf5+ $2 (73... a3 74. Rxg6 a2) 74.
Kf7 {White is clearly winning.} Bd7 75. e8=Q {Qe4+ would kill now.} Bxe8+ 76.
Rxe8 Rd7+ 77. Kg6 {Precision: White = 53%, Black = 40%. . An unexpected result.
} (77. Kf6 $142 Rd6+ 78. Kg7) 1/2-1/2
[Event "Asian Continental-ch Women 2017"]
[Site "Chengdu"]
[Date "2017.05.12"]
[Round "1"]
[White "Kiran, Manisha Mohanty"]
[Black "Padmini, Rout"]
[Result "1-0"]
[ECO "C02"]
[WhiteElo "2160"]
[BlackElo "2380"]
[Annotator "TA"]
[PlyCount "93"]
[EventDate "2017.??.??"]
1. e4 e6 2. d4 d5 3. e5 c5 4. c3 Nc6 5. Nf3 Qb6 6. a3 f6 7. Bd3 fxe5 {C02:
French: Advance Variation} 8. dxe5 c4 9. Bc2 g6 10. h4 {LiveBook: 3 Games} Bg7
11. h5 Nge7 12. hxg6 hxg6 13. Rxh8+ Bxh8 14. Qe2 Bd7 15. Be3 {[#]} Qa5 $146 16.
Bf4 O-O-O ({Black should play} 16... Qb6 $11) 17. Nbd2 $14 Bg7 18. O-O-O Rh8
19. g4 b5 20. Bg5 Qd8 21. Bxg6 (21. Qe3 $142) 21... Qf8 22. Bc2 Be8 23. Bh4 (
23. Qe3 $16) 23... Ng6 $11 24. Bg3 (24. Bxg6 $5 Bxg6 25. Qe3 $14) 24... Bh6 (
24... Nf4 $11 {keeps the balance.} 25. Qe3 Ng2) 25. g5 $16 Bg7 26. Qe3 $1 Kb7 (
26... Kb8 $16) 27. Nd4 Nxd4 28. Qxd4 {Strongly threatening Ne4!} ({Reject} 28.
cxd4 $6 Ne7 $11) 28... Ne7 29. Qc5 Nf5 {[#]} (29... Nc8 $16 30. Qxf8 Bxf8) 30.
Qxf8 (30. Ne4 $1 $18) 30... Rxf8 {[#]} 31. Bxf5 $1 Rxf5 32. f4 Rf8 33. Rh1 Bg6
34. Rh2 Kc6 35. Nf3 Kd7 36. Kd2 a6 37. Ke3 Re8 38. Nd4 Bf8 {[#]} (38... Rf8 $16
39. Rh1 Be4) 39. f5 $1 $18 exf5 40. Kf4 Bg7 41. Re2 Rh8 (41... Kc7 $142 42. Re1
Bf8) 42. e6+ ({Don't blunder} 42. Nxf5 $2 Rf8 $19) 42... Ke8 43. Nc6 Rh1 44.
Re1 Rh5 $2 (44... Rxe1 45. Bxe1 Bf8) 45. Rd1 {White is clearly winning.} Bf8
46. Rxd5 Be7 47. Ke5 {Precision: White = 57%, Black = 34%.} 1-0
---
Pairings of the next round for IND
Games
---