'In chess, 40 is the new 50'
Susan Ninan met Vishy Anand at his home in Chennai to do an interview for the ESPN website. The thing which separates this interview from many of the other ones we have read in the past is the detail and candour with which Vishy anwers the questions related to age and aging, tackling younger opponents, fatherhood, staying relevant in an evolving sport - and, inevitably, to retirement. We now reproduce this interview, published on ESPN, for the readers of ChessBase India, along with some very interesting historical pictures.
It is no typical year. At least not for Viswanathan Anand.
For the first time in close to a decade, he finds himself not in contention for the world title. For the first time in his career, age seems to be a factor; at 46 Anand is clearly the elder statesman in a sport that is increasingly peopled by players roughly half his age. Magnus Carlsen's world title match with Sergey Karjakin, slated for November in New York, will in fact be the youngest-ever World Championship clash by a yawning distance.
At his most recent major tournament, the Candidates in March this year, Anand had some decisive games but his unimpressive showing with black pieces led him to finish with 7.5 points out of a possible 14.
When Susan Ninan of ESPN meets him, on a typically ruthless Chennai afternoon, Anand is at home, in every sense of the word. He breaks into a laugh when he realises that the inscription on the door leading to his room - "Vishy in da house" - has not gone unnoticed. Settling into a chair against a giant wall cabinet packed with trophies and memorabilia; he rests his hands on the table, leans forward and listens to the questions intently, sometimes with furrowed brows, smiling often, even at the unflattering ones.
The conversation turns swiftly to age and aging, tackling younger opponents, fatherhood, staying relevant in an evolving sport - and, inevitably, to retirement. He handles it all with humour and grace, and not a little wistfulness - understandable, since this is the only kind of life he has lived and known.
Susan Ninan: This is the first time in close to a decade that you are not part of a World Championship match. How do you deal with a year that does not revolve around the WC?
Anand: It's funny but I've almost forgotten. It's true that in 2009, '11 and '15 I didn't have World Championship matches so it's not that I've forgotten the feeling of a non-WC year, but basically from 2007 I've been involved in every single one. I think I played extremely well at the Candidates.
Obviously I was inconsistent and there were severe problems, especially with the black pieces. So I should take some time and focus on those things, apart from my rating. The WC is a difficult thing to qualify for and play so you shouldn't assume that you'll always be there. The moment you're not there it's not a disaster.
Five of the eight players at Candidates this year were in their 20s. Do you feel the age gap in chess has widened over the years?
This was happening all the time in chess. Topalov also made this point that 15 years ago, people like (Anatoly) Karpov and Ljubojevic, the generation of the 50's, were struggling against us. For them it was happening when they were 50-plus, and for us, slightly earlier maybe. It's a constant process in chess, just that it's happening at a slightly earlier age now.
I played my first Candidates before three of them were born or maybe one was a toddler. That's how long I've been playing Candidates and it was the first one for many of them.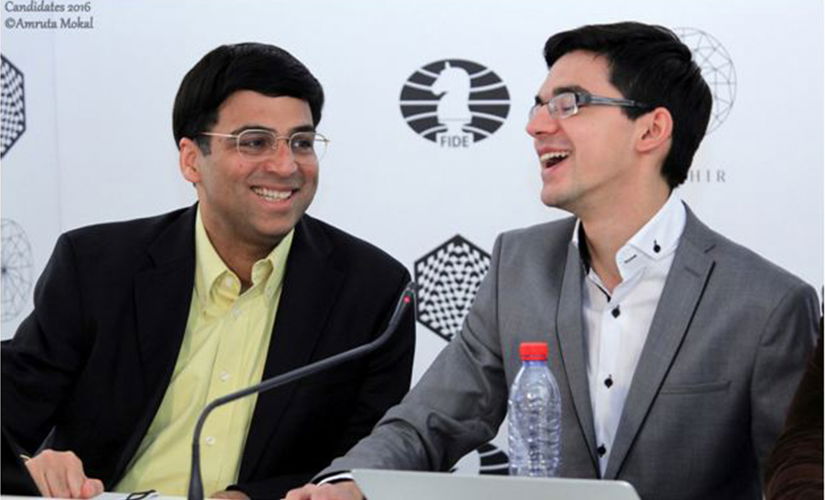 Roger Federer said a couple of months ago that the likes of him and footballer Francesco Totti belong to a special breed of athletes and should be protected like pandas. Your thoughts? Do you feel you too belong to that league?
Yes. It's a witty remark. Earlier it used to be thought that in chess it didn't matter so much till you were 60. But now it's clear that 40 is the new 50. The average age is dropping. Chess players though I think are a decade further than players in physical sports. There are very few of us in the top 10. Two or three of us who've even frequented that.
(Vladimir) Kramnik, (Boris) Gelfand, (Vassily) Ivanchuk, me and (Veselin) Topalov - this was the group that was there in the 90s and is still there. But slowly you can see some new ones are breaking through like (Fabiano) Caruana, Maxime Vachier-Lagrave and (Anish) Giri. I still find it interesting to compete against them and others.
"What is beginning to become clear to me is that I'll play as long as I enjoy it. So far I'm having enough good results that I feel motivated to keep playing"

 
How did you view older players when you were young? Has it changed over the years?
Young players are always very cocky and I probably was as well. For me the older players just seemed to be part of the furniture, part of the background. I grew up reading about (Anatoly) Karpov and (Lev) Polugaevsky and they were always there and then I was quite surprised when suddenly they were no longer around.
When I reached the top, I played against them which was a natural thing to do. Then one fine day you realise that they are dropping out. They haven't qualified for one event or another and soon enough they're not playing anymore.
When you're young you don't sit and think about these things too much. But one day these things accumulate and they suddenly drop out and you wonder what happened. Obviously that will happen to every generation.
What are the greatest challenges for players of your generation today?
Probably the same challenges as faced by everyone else. No unique challenges. Maybe we just find it harder. So everyone is drowning in all this computer information, learning new things. The speed in which chess evolves, if you generate an idea you can probably use it just once since everyone else figures it out then. These are general trends which affect all players; it's just that it's possibly harder for our generation of players.
As someone who has been bred on the chessboard, how have you adapted to new-age technology-powered chess?
Clearly I've migrated as well. I was a junior when computers started to come around and I'm fairly used to it. But the thing is that my thought process at the very base is slightly different from those who have been bred on computers. In general, what's happening in today's chess is that there are no dogmas anymore. Your judgement is not as important as facts. For instance, you can no longer can say you don't like a particular move. If it works, somebody will play it.
Today's generation is less dogmatic and more open to all sorts of unusual experiments and are much more flexible thanks to the effect of the computer. My generation does that with a little bit of lag or hesitation. Everyone works with computers now so there are no hold-outs anymore. But yes, to the extent of the thought process, there's a little bit of a lag, and it's something you have to fight against. You have to learn to see the world in a new way which the younger generation I feel finds slightly easier.
What can players like you can learn from the current generation?
We need to learn to be more open minded, less dogmatic and not be obsessed with our own view points about the game. The computer is constantly showing exceptions to every rule and you have to keep an open mind.
How difficult is it to shed knowledge to adapt to changing conventions?
It's not as much about shedding knowledge as it is about shedding certain habits. Like when you look at a position, if your own likes and dislikes about that come very strongly first, then you are very resistant towards it. It is about re-ordering your way of thinking to take into account more possibilities.
Consistently what I've learnt over the years is that chess is much richer than we thought it used to be. Computers have played a huge role in showing us that and you genuinely have to force yourself to look broader.
How would you define your fitness regimen and how has the thrust on the physical aspect in chess evolved over the years?
One of the biggest changes in chess is the growing importance of the physical aspect. Even during a game you'll see players bringing some special juice, concoction, energy buzz or even a banana. At some point, maybe in three hours, suddenly you see them go and consume these stuff and return.
All this focus on diet and fitness is starting to come in. Maybe 20 years ago it was not all that important. It was just very basic. A good walk in the evening to clear your head.
Then people started going to the gym, playing sports just to be able to cope. Now they're even doing things in slightly more scientific ways like paying attention to one's diet among other things. As for me, I do whatever I can. For me it's as much as about getting rid of tension where you've still not detached yourself from the game that's finished.
I find cardios very useful and running in the gym helps clear thoughts and aids in good sleep. I also find things like stretching helpful for paying attention to my posture because even when I'm sitting there during a game for long hours, I want to be comfortable.
One of the more fascinating things you've said about reading your opponents has to do with listening to their breathing. What's that about?
When you're sitting across someone, you unconsciously tend to listen to their breathing and become attuned to it. Invariably, at that level of proximity, if your opponent holds his breath or moves, or stops moving, you tend to take notice. If this is in an innocent position, I don't give it much thought, but, in a tense position, if my opponent suddenly holds his breath I ask myself 'Did he make a mistake, let me have a look'. So this information is in addition to what I get on the chess board.
How relevant do you think your 'Lightning Kid' epithet is in today's age?
I don't play that fast anymore. Occasionally out of habit I feel like playing fast but I've found that there's a lot to think about. Some of it is due to the fact that preparation has changed. There is so much preparation work you do that at the board you're constantly straightening your thoughts.
Since you remember all sorts of ideas from all sorts of things you looked at in the morning, you spend a lot of time trying to make it coherent and understand the precise sequence in which it has to be executed. So you need to spend some time on that and there's also the fact that I've found that I take better decisions when I spend a few minutes on each one so it's possible now that I'm much slower than I used to be.
Has the importance of remembering games from memory lessened over the years?
That's evolving. My memory used to be very good when there were lesser games to remember. Now, maybe it's happening naturally - getting better at remembering only the things I need to. A non-chess example would be earlier, before mobile phones came about, I knew at least 30 phone numbers by heart - embassy, sponsors, parents, friends etc.
Now there are possibly just three that I can recall from memory. The same has happened in chess. It's more important to remember the critical moments and what you're supposed to play rather than every move of every game. So over time your brain switches.
Is there a conscious tendency to work with young seconds when you're facing younger players?
It's not specifically for my opponent that I do it. It's good to work with new players because you get exposed to different ways of thinking and these days, that is the also the dominant trend. There are far more younger players floating around so you tend to work with them. But the nature of work has changed. It's almost impossible to find someone exclusive anymore. If you work with someone you find that he has worked with 40 others already (some of it may just be a weekend session or over the internet), possibly with every single person you can think of. So it's a much looser way of working than it was 20-30 years ago when one would have dedicated seconds who would stay with you for 10 years and so on. Nowadays everybody has worked with everyone.
What was running through your head when Harikrishna briefly overtook you as the No. 1 Indian?
To be honest, Hari has had a very impressive year and was winning points in almost every game which shows his consistency. Sasikiran once got to 2718 I think. As for myself, I thought blowing off 25 points in one tournament (Gibraltar 2016) was expensive.
Even if he was 2765 I would have been 20 points ahead of him. Still, it shows the depth in Indian chess. Even if you leave aside Hari, there's Sasi who's very strong, there's Surya (Sekhar Ganguly) who's winning tournaments and then there's Adhiban, Sethuraman, Aravind Chithambaram.
They're all pushing each other so I'm hoping Hari and I will be joined by quite a few guys. Earlier it was Hari and Sasi in the 2600s and the next group in the 2500s. Now it's thickening in the 2600s and not only pushing upwards, but they're all doing it together which suggests that their rivalries are also playing apart.
Of course the chess scene is very crowded these days. We are definitely getting stronger in the qualitative sense if not in numbers.
So if you put any of these players in a top tournament, they wouldn't be out of place and there are more and more Indian players of whom you could say that. They'll need the right breaks at the right time to show their strength. It's only when they get a chance that we will really know.
When do you think would be the right time for your Indian successor to take charge?
I'm hoping it won't happen. Well, it might happen very quickly that I stop or it may take a few more years. I would want a few guys to be there though when I'm on my way out. It's nice when Hari is close on my heels, that way I'm fired up to do even better.
How has fatherhood changed your approach towards the game?
I think the dominance of chess in my thoughts is lower now. I tell myself that 'I can spend an hour playing with Akhil now and work later'. Also, I don't want to look back after a few years and think I didn't spend all the time I could with him. It's such a delightful age that you can let yourself go and I definitely don't want to miss out on that. I rearrange my day to work on chess according to his naptime or when he's away in school. So there's less time for chess in a sense.
"What's happening in today's chess is that there are no dogmas anymore. Your judgement is not as important as facts. For instance, you can no longer say you don't like a particular move. If it works, somebody will play it."
How many more years of competitive chess do you see in yourself?
I don't know. I don't see that I have to make that decision nor do I see that I have to plan for it. What is also beginning to become clear to me is that I'll play as long as I enjoy it. Clearly, enjoyment implies a certain amount of results. I mean, you can handle some bad results but if you're mostly having bad results you're not having fun. So if at some point it stops being fun, I'll stop. So far I'm having enough good results that I feel motivated to keep playing. Otherwise I enjoy playing chess and it's not that I'm just ticking boxes. It could all turn suddenly.
Do you dwell on life after chess?
Yes I do. Nowadays very often when I'm at tournaments, I wonder what it would be like if I'm not playing. It's not that such thoughts never crossed my mind before it's just that it's happening with greater frequency now. My mind does wander in that direction. I would want to be involved with the game even after I've stopped playing at the competitive level. What I've observed is that if something has dominated your life, it's very hard to walk away 100% from it. So you might want to be associated with it or interact in other ways and then gradually lessen the time it dominates your life. But I think it's a mistake to do a cold turkey where you leave the sport and completely switch to something else. An academy is one of the things I'd be certainly looking at. Also I'll continue trying to get chess into schools.
When you're not playing, how do you unwind?
Nowadays it's just whatever we get time for. If it's a short break, we do that or go out with friends. It's not that I don't have free time, it's that I don't have big chunks when there's nothing to do. Now it's just more opportunistic. I actually liked several movies I watched recently - Martian, The Big Short, Bajirao Mastani, Bridge of Spies. As far as music goes, nowadays I just put the radio on and let it go wherever it goes.
What could be a possible trigger to call it quits at this stage of your career?
If I feel that I'm not getting anywhere anymore. If I feel that I'm not progressing and only going downwards. I don't know exactly what that looks like, but it should be fairly obvious when it happens. I don't see a situation where I'm having great tournament results and not having fun. So if my results take a permanent dip downwards it might be a good time to stop.
Source: espn.in
About the Author
Susan Ninan works at ESPN. She writes on different sports, chess and Vishy Anand being her favourites. In the past she has also worked for the Times of India.
---