World Cadets 2017: Indians so near yet so far
The World Cadets has been an event where India has dominated in the past. We have youngsters who are so good that they are able to show their superiority at the world level. However, the World Cadets 2017 at Brazil from 22-31 August turned out to be an exception. India returned with only one medal - Divya Deshmukh won the gold in girls under-12. It was a case of being so near yet so far as two of our boys finished fourth. FI Praful Zaveri was with the team and he sends us a report.
You can say it as 'Home Advantage' or being in the familiar turf as United State of America returned with a rich haul of 3 Gold, 3 Silver and 1 Bronze medal to completely dominate the World Cadets Chess Championship 2017 for Under-08, 10 & 12 which concluded in the southern American city of Brazil on 31 August 2017.
As for India, it was a case of being so near and yet so far as players faltered in the last stage in almost all the categories to miss out on the medals. The only silver (gold!) lining for India came from multiple world age-category winner, WFM Divya Deshmukh who won Girls' U-12 section in a close race.
The overview of each of the 6 sections is as under:
Under-08 Open:
It was Abhimanyu Misra of US all the way as he raced to 8/8 however; he drew round 9, lost to the Russian Vetokhin in 10 and his compatriot (and ultimate winner) Aren Emrikian in the last round to finish second. Chess can be cruel! The best Indian in this category was A R Ilamparthi who missed the medal by a whisker .
Final Standings: (Top six who were awarded medals/trophies)
Under-08 Girls:
While Abhimanyu Misra let it slip in the U8-Open, WCM Rouda Essa did not! The girl, who was seeded ninth, played solidly throughout to clinch the title with an unbeaten run of 9.5/11. She has certainly brough UAE chess in the limelight. A.N. Shefali for the host nation faltered in the last two rounds to finish 11 with a score of 6.5/11
Under-10 Open:
Bharath Subramaniyam started as the top-seed with an enviable rating of 2209 for a 10 year old. However a loss in round 7 to the ultimate winner, Zhou Liran and a draw with the Xu Arthur made him content with a heart-breaking 4th place – one more case of so near and yet so far. The US duo of Zhou and Xu made it 1-2 for the team while Islombek Sindarov got the bronze.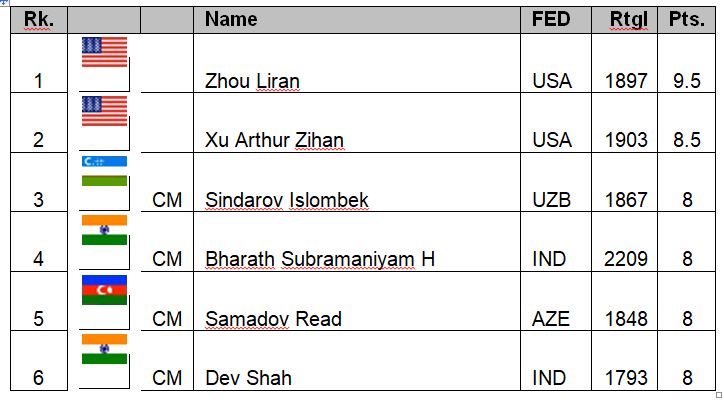 Under-10 Girls:
This category was won the Wei Yaging of China while the top-seeded, Gaal Zsoka managed to get a silver after scoring a crucial win over Sahiti Varshini in the last round. The last-round loss to Gaal pushed Sahiti to the seventh place Wang Ellen of USA got the Bronze.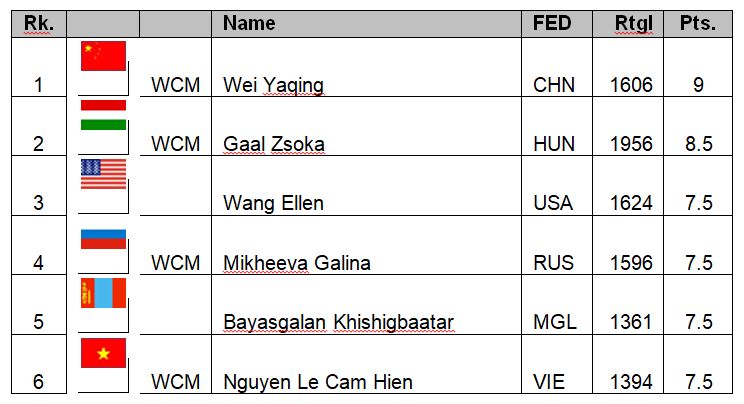 Under-12 Open:
We often see that ratings and title does not matter as the super favourite, Javokhi Sindarov with a rating of 2399 struggled in the championship and managed a silver after two consecutive losses in round 6 and 7. The surprise winner of this event Tsay Vincent from USA who played solidly throughout to win with a score of 8.5/11. Murzin Volodar of Russia won the bronze while the best Indian player was M. Pranesh, who stood eleventh after a strong finish of 5/6 in the 2nd stage.
Under-12 Girls:
This was the section in which India was the overall favourite. Rakshitta Ravi was the top-seeded player while Divya Deshmukh was seeded 3rd and both had tasted victories at world cadets earlier. However, Rakshitta was not in her elements and got bogged down with two consecutive losses in round 4 and 5.
This paved the way for a two-way thrilling race between Divya and Nastassja of USA after the former missed an easy win in their 6th round encounter. The dust was settled in round 8 as Divya was lucky to win against Annapoorni of US while Nastassja only managed a draw followed by a loss in the last round, which pushed her to 2nd place. The bronze was won by Amina Kairbekova of USA.
The final medal tally witnessed a whopping 3 gold, 3 silvers and 1 bronze for team USA to win the overall championship comfortably while China finished 2nd with one gold and 1 bronze. India and UAE were tied to 3-4 with one gold each. Uzbekistan finished an impressive 5th with two silver and 1 bronze.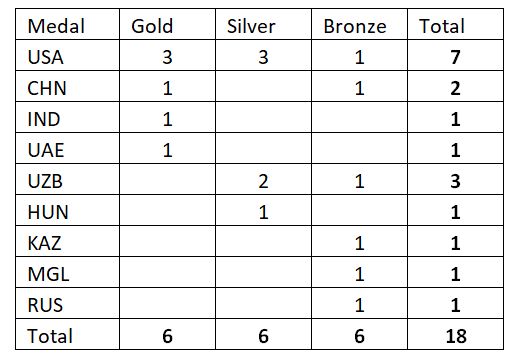 The event was conducted in an impressive manner by the Chess Federation of Brazil in a competitive but festive atmosphere. The baton is now passed on to Spain who will host this event in 2018.
Chess-results:
Photo Gallery:
Photos by Praful Zaveri on Facebook
About the author:
FI Praful Zaveri is the founder of Indian Chess School Academy. He is a popular trainer in Mumbai and also the author of the critically acclaimed Chess Course book for beginners. His vision is to build the chess culture in his hometown Mumbai as well as India and help the country produce many more grandmasters in future.
---