World Juniors 2018 Round 6+7: Can Karthik Venkatraman stop Parham Maghsoodloo?
The Indian team at the World Juniors has had a mixed bag of performance. Our star players Aravindh Chithambaram, Karthikeyan Murali and S.L. Narayanan have not been able to reach the top. But there is one guy who is simply in cruise mode at this event - that's GM Karthik Venkatraman - India's latest GM. Karthik has beaten three extremely strong juniors in the last three rounds - Haik Martirosyan of Armenia, Aravindh Chithambaram of India and Amin Tabatabaei of Iran. With three wins in last three rounds he is now on 6.0/7, just half a point behind the leader Parham Maghsoodloo. On 12th of September 2018 at 5.30 p.m. IST he takes on Parham Maghsoodloo on the first board. Will Karthik manage to stop the Iranian super talent?
In the seventh round of the World Junior Championships 2018, three Iranians took fort on boards one, two and three. On board we had Parham Maghsoodloo, on board two it was Alireza Firouzja, and on board three it was Amin Tabatabaei. Parham managed to beat the young sensation of the tournament Javokhir Sindarov. Alireza was just too strong for Maxim Vavulin on board two. But on board three the Iranians found their match. It was Karthik Venkatraman who gave a great fight to Amin Tabatabaei and checkmated his king in 29 moves.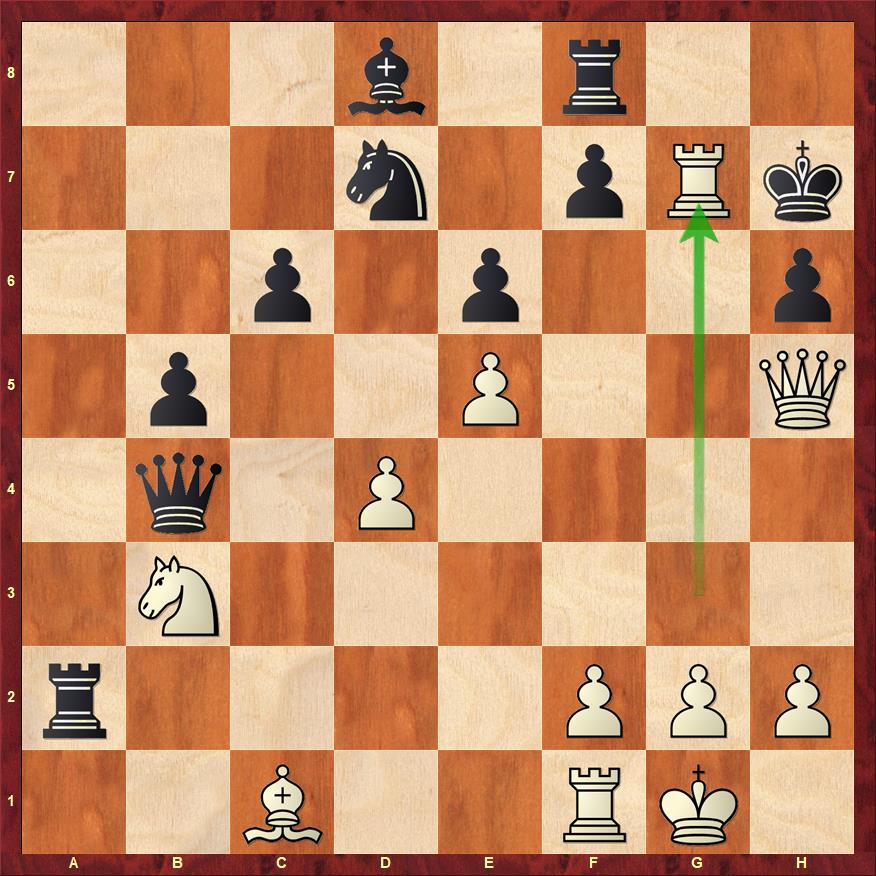 After the game we managed to speak with Karthik about his game against Aravindh:
Overview of Indian performances:
| | | | | | | | | | | | | | | | | |
| --- | --- | --- | --- | --- | --- | --- | --- | --- | --- | --- | --- | --- | --- | --- | --- | --- |
| SNo | | Name | Rtg | FED | 1 | 2 | 3 | 4 | 5 | 6 | 7 | Pts. | Rk. | K | rtg+/- | Group |
| 4 | GM | Karthikeyan Murali | 2605 | IND | 1 | 1 | ½ | ½ | ½ | 1 | ½ | 5,0 | 11 | 10 | 2,70 | Open |
| 10 | GM | Aravindh Chithambaram Vr. | 2578 | IND | 1 | 1 | 1 | 0 | 1 | 0 | ½ | 4,5 | 24 | 10 | -1,50 | Open |
| 13 | GM | Sunilduth Lyna Narayanan | 2573 | IND | 1 | ½ | 1 | 0 | 1 | 1 | 0 | 4,5 | 25 | 10 | -3,30 | Open |
| 23 | GM | Puranik Abhimanyu | 2524 | IND | 1 | ½ | 1 | 1 | 0 | 1 | ½ | 5,0 | 12 | 10 | 4,60 | Open |
| 27 | IM | Karthik Venkataraman | 2519 | IND | 1 | 1 | ½ | ½ | 1 | 1 | 1 | 6,0 | 3 | 10 | 24,60 | Open |
| 40 | IM | Harsha Bharathakoti | 2474 | IND | 1 | 1 | 1 | 1 | 0 | 0 | ½ | 4,5 | 23 | 10 | 8,90 | Open |
| 50 | IM | Mohammad Nubairshah Shaikh | 2443 | IND | ½ | 1 | ½ | 0 | 1 | ½ | ½ | 4,0 | 57 | 10 | -3,50 | Open |
| 56 | IM | Raja Harshit | 2419 | IND | 1 | 0 | ½ | 1 | 1 | 0 | 0 | 3,5 | 78 | 10 | -6,70 | Open |
| 77 | IM | Krishna Teja N | 2356 | IND | 1 | 0 | 0 | 1 | 1 | 0 | 1 | 4,0 | 56 | 10 | -6,80 | Open |
| 94 | FM | Shailesh Dravid | 2325 | IND | 0 | 1 | 1 | 0 | ½ | 0 | 1 | 3,5 | 83 | 20 | -13,60 | Open |
| 12 | WIM | Chitlange Sakshi | 2279 | IND | 1 | ½ | ½ | ½ | ½ | ½ | 1 | 4,5 | 20 | 40 | -23,20 | Girls |
| 21 | WIM | Mahalakshmi M | 2213 | IND | ½ | 1 | ½ | 1 | ½ | ½ | 0 | 4,0 | 34 | 20 | -0,60 | Girls |
| 32 | WIM | Varshini V | 2173 | IND | 1 | 0 | 1 | ½ | 0 | 1 | 1 | 4,5 | 18 | 20 | -1,40 | Girls |
| 36 | WIM | Ivana Maria Furtado | 2144 | IND | 1 | ½ | 1 | 0 | ½ | ½ | 0 | 3,5 | 41 | 20 | 15,60 | Girls |
| 55 | WCM | Isha Sharma | 2012 | IND | 1 | 0 | ½ | 0 | 1 | 1 | 1 | 4,5 | 17 | 40 | 99,60 | Girls |
| 65 | | Meenal Gupta | 1963 | IND | ½ | 0 | 1 | 1 | ½ | 1 | 0 | 4,0 | 31 | 40 | 83,20 | Girls |
Follow round 8 live on 12th of September 2018 at 5.30 p.m. IST
Watch live commentary:
Live commentary from the venue of the World Junior Championships 2018
---