World Juniors Rd.05: Shtembuliak beats Praggnanandhaa
Praggnanandhaa had unbeaten streak of quite some games having won the under-18 gold at World Youth and playing some inspired chess in first four rounds of the World Juniors. However, this came to an end at the hands of Ukrainian GM Evgeny Shtembuliak. Pragg sacrificed yet another exchange in the game, but it was not enough. Shtembuliak is now the sole leader with 4.5/5, with three players following him on 4.0/5. In the girls section Mobina Alinasab joined the leader Boldbaatar Altantuya at the top. Something from Iran to cheer amidst their player Aryan Gholami withdrawing from the event and Amin Tabatabaei facing Or Bronstein. In this report we bring you detailed analysis, photos and videos from New Delhi.
Evgeny Shtembuliak refutes Pragg's exchange sacrifice
Praggnanandhaa has been sacrificing exchanges at the World Juniors, and quite successfully as well. In round five he tried it once again. But this time without success. His opponent Evgeny Shtembuliak made a lot of moves which were all about ensuring that his opponent doesn't get activity and he succeeded to outwit the young Indian talent.
Shtembuliak vs Praggnanandhaa
A move that really surprised me was h4. Why did Shtembuliak play a move like h4 when he had simpler ideas like Bxc5 Bxc5 and Bd3 in hand. What is the reason to push the pawn and create light squared weaknesses? Well, I have not been able to understand concretely why Evgeny did this, but the general idea could be to stop his opponent's pawn from coming to h4 and clamping his kingside pawns. Whatever was the logic behind this move, it worked really well in the game!
Praggnanandhaa made the not so useful move Qg6-f5. The queen on f5 doesn't really do much to improve Black's position. Instead the critical line, that should have been looked at is ...c6 Bxc5 Bxc5 Bd3 Bxd3 Qxd3 Qxd3 Rxd3 Re8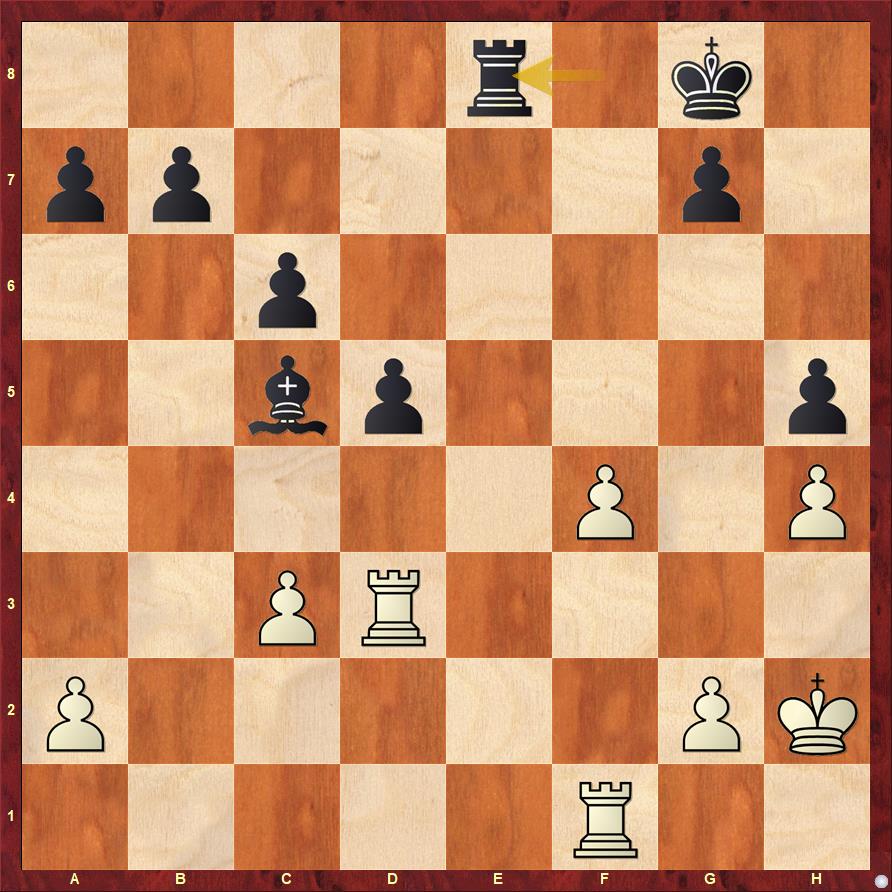 One thing that has been quite impressive about Evgeny Shtembuliak is his level headed approach to the game. Often there is nothing flashy about his play, but he is consistent with his plans and approach and is extremely good at playing common sense chess! His conversion of winning positions is also quite good and this has helped him to take the sole lead in the event with 4.5/5.
Within a year Evgeny has moved from being a 2470 player to a 2577 GM. "I would say our director and head coach of Texas Tech chess Alexander Onischuk is guilty for this improvement!", says Shtembuliak. The shift from Ukraine to USA has truly worked out in favour of the youngster as he is showing unprecedented level of play in his games. His live rating is already 2590 and he would be aiming to breach the 2600 barrier in this event.
When 1868 rated Toshali beat 2507 rated Zhu Jiner!
There are days when you lower rated opponent plays quite well. At that point you have two options - take a draw, lose some rating points and say that it's part of the game. Or you can try to push hard hoping that your opponent will show why her rating is low, make a mistake and you will get your chance. While the second approach is preferred by many, there is a danger that lies in it - you may well lose your game if you lower rated opponent keeps playing one good move after another! This is exactly what Toshali did against Zhu Jiner! She made no real mistake and before the Chinese girl could recover, she had already landed in an utterly lost position. There was a moment in the game when Toshali was clearly better, but was still repeating the moves. Zhu Jiner should have grabbed the half point there. She wanted more, but it was not to be!
Toshali vs Zhu Jiner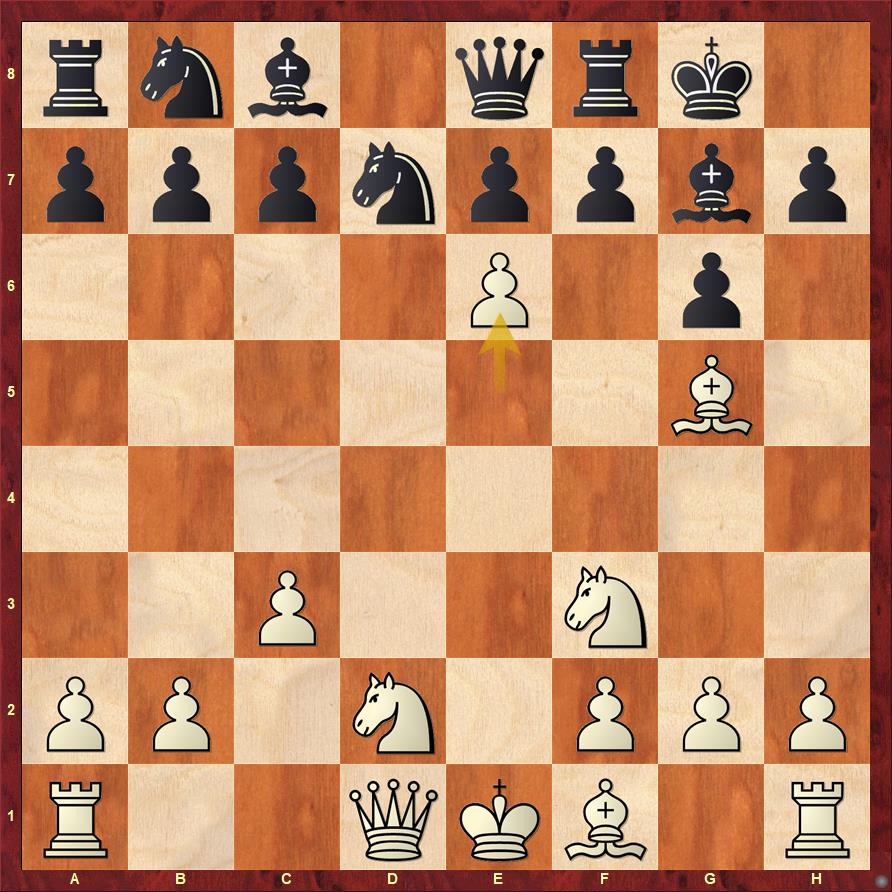 Iran has been facing a tough time at the World Juniors 2019. Aryan Gholami forfeited his game against Israeli opponent Alexander Zlatin and subsequently withdrew from the tournament. The poor luck of the draw continues as in round six Amin Tabatabaei is paired against Or Bronstein. Another point will be lost for the Iranians. In all of this gloom, it is Mobina's performance that is providing the much needed cheer for the Iranian fans. And Mobina has to currently keep performing well and keep a distance from her Israeli players, in terms of points, so that she is not paired with them.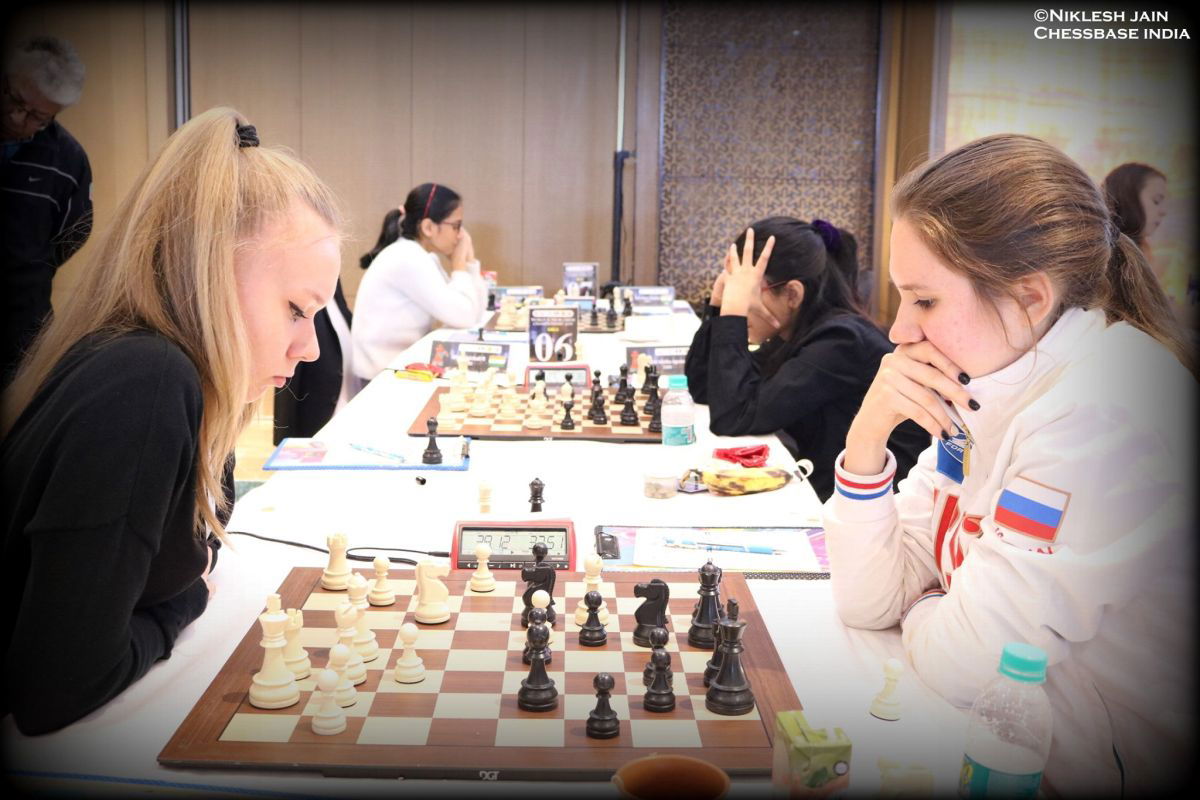 Aram went into the deep thinking mode and came up with a nice solution. He played the move a4! here. Black would not like to take on a4 and so he cemented his structure with c6. Now the b4 pawn is hanging.
This is where the knowledge of classics comes in handy. Let me show you a famous position from the game between Karpov and Spassky from their Candidates Semi-final in 1974.
Karpov vs Spassky
Coming back to Aram vs Miguel, this is exactly how the Armenian GM continued!
Annotations by WIM Angela Frank Jain:
Annotations by WIM Angela Frank Jain:
Volodar Murzin, just 13 years of age, is one of the biggest hopes of Russian chess. He played a very nice endgame in round five against IM Neelash Saha. We invited him to the media room for an interview and the boy agreed. This was a great gesture on his part. Even though Murzin is not very fluent in English, it is a treat to see him analyze variations. We really are impressed with his endgame skills and after watching the video, we are sure you too will be of the same opinion.
Mihnea Costachi vs Wang Shixu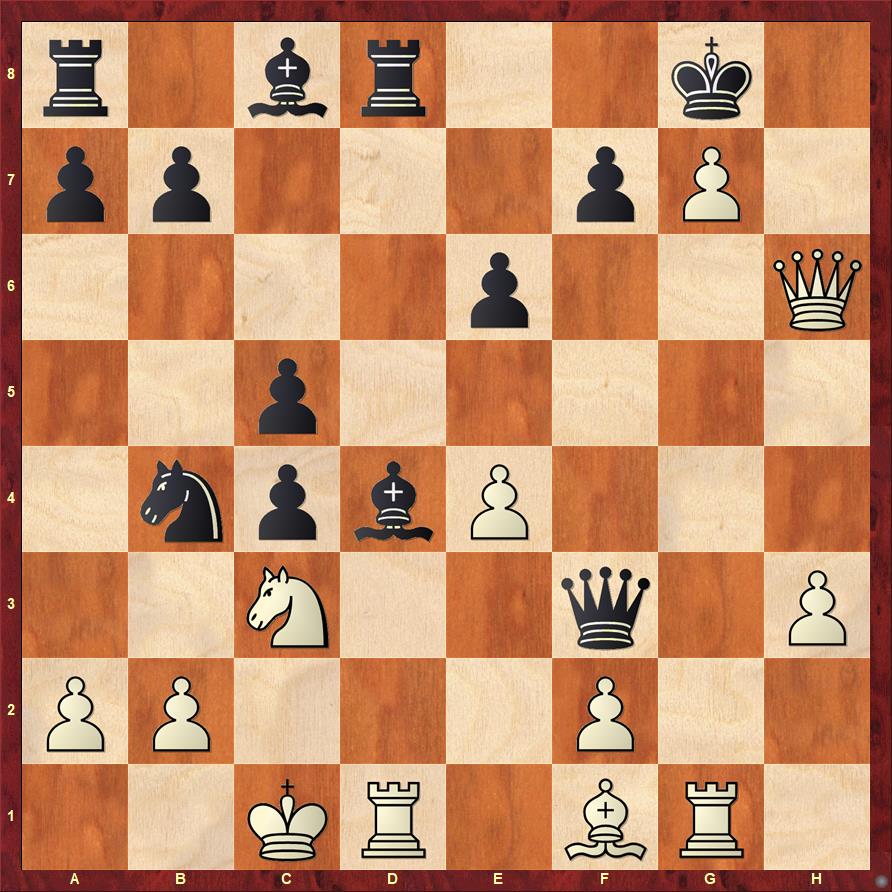 Results of round five in the open section
Standings after round five in the open section:
| | | | | | | | | | | | |
| --- | --- | --- | --- | --- | --- | --- | --- | --- | --- | --- | --- |
| Rk. | SNo | | | Name | FED | Rtg | Bdld | Pts. | TB1 | TB2 | TB3 |
| 1 | 7 | | GM | Shtembuliak Evgeny | UKR | 2577 | | 4,5 | 0,0 | 13,0 | 15,0 |
| 2 | 9 | | GM | Hakobyan Aram | ARM | 2561 | | 4,0 | 0,0 | 13,0 | 15,0 |
| 3 | 2 | | GM | Karthikeyan Murali | IND | 2617 | | 4,0 | 0,0 | 12,5 | 14,0 |
| 4 | 16 | | GM | Iniyan P | IND | 2509 | | 4,0 | 0,0 | 11,0 | 12,5 |
| 5 | 38 | | IM | Agmanov Zhandos | KAZ | 2403 | | 3,5 | 0,0 | 15,0 | 15,5 |
| 6 | 10 | | GM | Santos Ruiz Miguel | ESP | 2560 | | 3,5 | 0,0 | 14,5 | 17,5 |
| 7 | 6 | | GM | Sargsyan Shant | ARM | 2580 | | 3,5 | 0,0 | 13,5 | 16,5 |
| 8 | 8 | | GM | Praggnanandhaa R | IND | 2567 | | 3,5 | 0,0 | 13,5 | 16,0 |
| | 70 | | FM | Aaryan Varshney | IND | 2239 | | 3,5 | 0,0 | 13,5 | 16,0 |
| 10 | 17 | | IM | Khanin Semen | RUS | 2507 | | 3,5 | 0,0 | 13,0 | 15,0 |
Results after round five in the girls section
Standings after round five in the girls section
| | | | | | | | | | | |
| --- | --- | --- | --- | --- | --- | --- | --- | --- | --- | --- |
| Rk. | SNo | | | Name | FED | Rtg | Pts. | TB1 | TB2 | TB3 |
| 1 | 25 | | WIM | Alinasab Mobina | IRI | 2239 | 4,5 | 0,0 | 13,5 | 15,0 |
| 2 | 20 | | WFM | Altantuya Boldbaatar | MGL | 2277 | 4,5 | 0,0 | 12,5 | 14,5 |
| 3 | 6 | | FM | Assaubayeva Bibisara | KAZ | 2381 | 4,0 | 0,0 | 14,0 | 16,5 |
| 4 | 14 | | WIM | Rakshitta Ravi | IND | 2310 | 4,0 | 0,0 | 14,0 | 16,0 |
| 5 | 5 | | WGM | Vaishali R | IND | 2385 | 4,0 | 0,0 | 13,5 | 16,0 |
| 6 | 4 | | WIM | Shuvalova Polina | RUS | 2412 | 4,0 | 0,0 | 13,5 | 15,5 |
| 7 | 21 | | WIM | Arpita Mukherjee | IND | 2271 | 4,0 | 0,0 | 13,0 | 15,5 |
| 8 | 17 | | WIM | Solozhenkina Elizaveta | RUS | 2283 | 4,0 | 0,0 | 11,5 | 13,0 |
| 9 | 2 | | IM | Tsolakidou Stavroula | GRE | 2431 | 4,0 | 0,0 | 10,5 | 12,5 |
| 10 | 9 | | WIM | Divya Deshmukh | IND | 2358 | 4,0 | 0,0 | 10,5 | 12,5 |
---