Vishy Anand to record training lectures for Run Adam platform
Every chess student has a dream - the dream is to learn chess from the finest chess players in the world. Let's say some like Vishy Anand. But the problem is that these players are just very busy and even if they get time they are too expensive to learn from. However Run Adam, a sports management company, has made the dream of every chess player come true. They will be recording twelve videos of Vishy Anand, where the five-time World Champion speaks about his 12 most memorable games of chess, and this six hours of content will be absolutely free for chess players all over the world.
I was sitting in the cafeteria at the Russian Museum of Impressionism. It was on the third floor of the building. On the ground floor, the eighth round of the Tal Memorial 2018 was in progress. Anand was facing Grischuk. I had taken a short break for a quick sip of coffee. But the game with Grischuk had developed quite fast. Anand had sacrificed a pawn for a dangerous attack against the black king. I left my coffee half way and ran down to the playing hall. I took my video camera and made my way next to Anand's board. Both players still had quite some time left, but I felt it was the right moment to start the recording the video. Perhaps this was the best thing that I had done in quite some time. I recorded those final moments of Anand's scintillating attack against Grischuk's king and this video went viral all over the internet.
The first thing that I wanted to do after watching this brilliant combination was to ask Anand as to how he found those moves. It was not just Ng5+! or Rxf7! but the idea began much before when Vishy put his rook on g5. After Anand won the Tal Memorial 2018 I asked him about the variations that were going on in his mind in his game against Grischuk and this is what he had to say:
I think these points that a top player makes about his thought process are so useful for players like you and me. It helps us understand better what we lack in our game and how we can improve to slowly climb to their level of play. But getting players like Anand to comment on their games in a deep manner is quite rare. Time constraints, lack of energy, preparation for the next game, the reasons are many.
That's the reason I was extremely happy when I got to know about the "Grandmaster Class" - an initiative by Run Adam where Vishy Anand would be doing 12 lectures of 30 minutes each. These lectures would have Anand talking about some of his best games of chess!
What is Run Adam?
Run Adam is India's first ever sports platform that will connect you to various stakeholders in the sports ecosystem. They are here to transform the way you experience sports and to help you reach the finish line! Backed by a team passionate about sports and making a change, Run Adam works with the aim of integrating the entire sporting community under one roof. With sporting legends like Mahendra Singh Dhoni and GM Viswananthan Anand as part of the company, they take their vision of helping realize every single sporting dream in the country very seriously.
Why are they doing this?
Run Adam wanted to take chess to every person who aspires to learn. India's first grandmaster GM Viswanathan Anand was the obvious choice. The Grandmaster Class will be a 12-episode series, each episode running for 30 minutes, and will teach the viewers how to play chess. By learning from the Chess Grandmaster himself, aspiring chess players will learn the passion, attitude and skill to thrive in the game of chess.
Who is the technology partner?
How can you watch the 12 Masterclasses for free?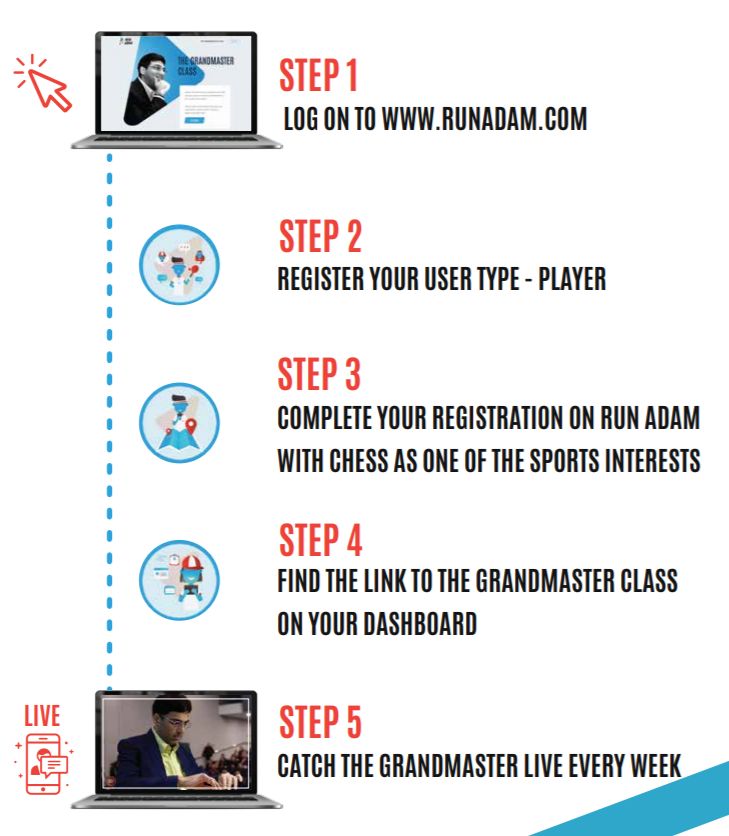 The first lecture will be open for the public to view from 15th May onwards. If you have signed up on the link above then you will be notified on your mail address.
Who is Vishy Anand!
Of course, we all know who Vishy Anand is! But it doesn't hurt to know more about his phenomenal achievements!
• Five-time World Champion, Winner of Arjuna Award (1985), Padmashree (1987), Rajiv Gandhi Khel Ratna (91-92). Padma Bhushan (2000), Padma Vibhushan (2007), six-time Chess Oscar winner. Perhaps the only award now left to be conferred to Anand is Bharat Ratna!
• National Citizens Award and Soviet Land Nehru Award in 1987
• British Chess Federation "Book of the Year" Award in 1998 for his book My Best Games of Chess.
• Sportstar Millennium Award in 1998, from India's premier Sports magazine for being the sportperson of the millennium.
• "Global Strategist Award" for Mastering many formats of World Chess Championships by NASSCOM in 2011.
• In 2012, he received the "Indian sportsperson of the year" and "Indian of the year" awards.
• In 2014 Anand was awarded the Russian Order of Friendship for the development of economic, scientific and cultural ties with Russia.
• In 2015 Anand was honored with the top country award at the Spanish embassy, Delhi on January 8.It is given to the eminent people of Indian origin who helped to bring glory to both India and Spain.
• In 2017, Anand won the World Rapid Championship in Riyadh.
In case you cannot wait until 15th of May, you always have Vishy's ChessBase DVD on his career!
---