Vila de Sitges 2018: Anuj Shrivatri finishes joint third!
The Sitges International "Vila De Sitges" Chess Open is believed to be one of the most beautiful stops of the Catalan Chess Circuit. This year, the talk of the event was the performance of Anuj Shrivatri, a 14-year-old boy from Madhya Pradesh, India. Scoring 6.5/9, Anuj not only ascended his rating past the 2350 mark but also finished with a rating performance of 2481 and earned his first International Master norm! What's more, he also finished joint second in the tournament. After tiebreaks were applied, Anuj had taken the third spot on the leaderboard. Another Indian who impressed with his performance in Sitges was Abhishek Das. Abhishek also scored 6.5/9 and finished 6th in the final standings after the application of tiebreaks. The champion's trophy was lifted yet again by Azerbaijani GM Gadir Guseinov. With a score of 7.5/9, Guseinov remained a full point ahead of his nearest rival to complete his 'hat-trick' of title prizes at the Catalan circuit. Gifted with immense natural beauty, the town of Sitges made a perfect setting for the event and every participant enjoyed the tournament to the fullest.
In the final round of the third tournament of the Catalan Chess Circuit, the 44th Vila de Sitges, Anuj Shrivatri managed to hold Abhishek Das to a draw and move to 6.5/9. With this, Shrivatri finished third in the final standings.
Top seed, GM Gadir Guseinov from Azerbaijan defeated the Cuban IM Luis Lazaro in the final round and made a record by winning his third straight tournament at the Catalan circuit. Before this, Guseinov had won in Barbera and Sant Marti.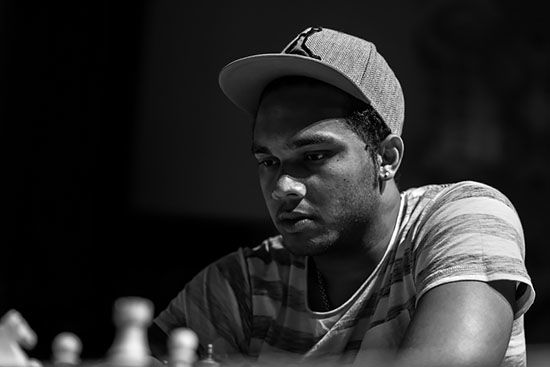 An interesting detail about Rolando's performance was that he had lost to Guseinov in the antepenultimate round. But after this, luck smiled upon him and he got a walkover in the final round that propelled him straight up to the second place on the leaderboard!
अनुज के खेल जीवन में फिलहाल यह उनका सबसे बेहतर परिणाम रहा और अब इंटरनेशनल मास्टर बनने से वह कुछ रेटिंग अंक और दो इंटरनेशनल मास्टर नार्म पीछे रह गए है । मध्य प्रदेश के छोटे से नगर कटनी के रहने वाले अनुज नें वर्ष 2016 में राष्ट्रीय अंडर 13 में तीसरा तो विश्व यूथ शतरंज चैंपियनशिप में चौंथा स्थान हासिल किया था ।
For Anuj, this was the best performance of his chess career so far but he is still two norms and a few rating points away from achieving his International Master title. Hailing from Katni, a small town in the central Indian state of Madhya Pradesh, Anuj had clinched third place in the National Under-13 Championship and fourth in the World Youth (U-14).
That moment comes in the life of every chess player when he gets a measure of his potential. The seventh round of the Sitges Open was that moment for Anuj Shrivatri. He was pitted against the experienced Cuban GM Kevel Oliva and managed to bring down his Grandmaster opponent! This win kindled a new confidence in the young lad, something that he hadn't felt before.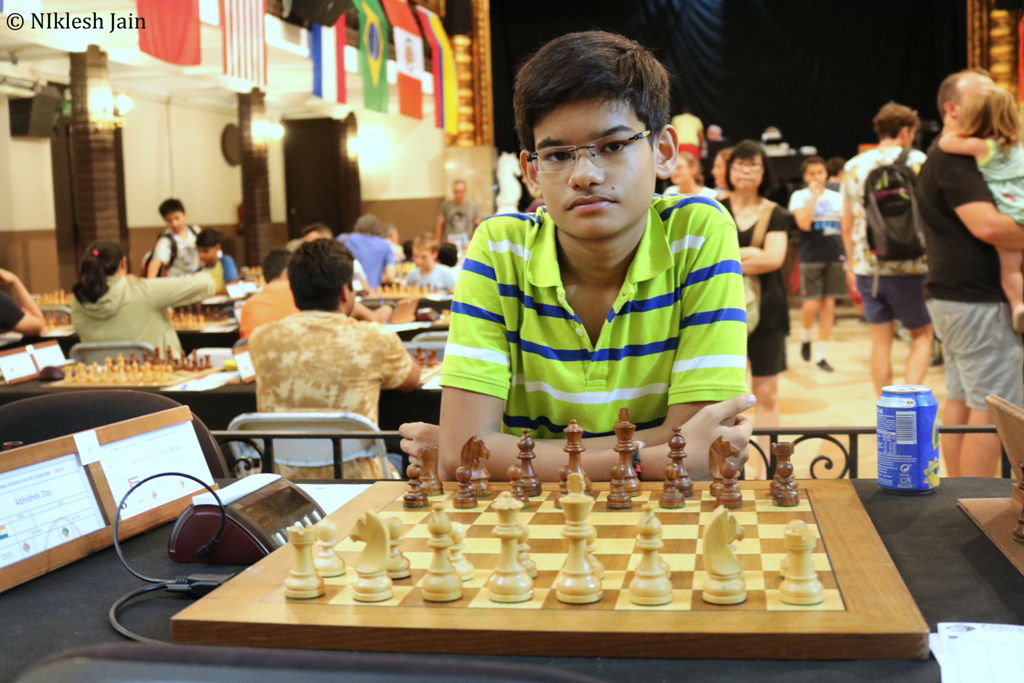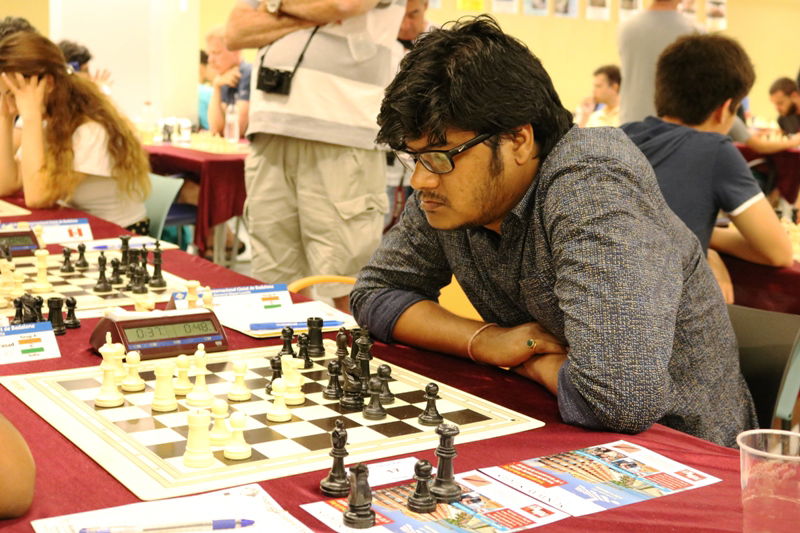 Final Standings
| | | | | | | | | | | | | | | | |
| --- | --- | --- | --- | --- | --- | --- | --- | --- | --- | --- | --- | --- | --- | --- | --- |
| Rk. | SNo | | | Name | Typ | Gr | FED | RtgI | RtgN | Club/City | Pts. | TB1 | TB2 | TB3 | TB4 |
| 1 | 1 | | GM | Guseinov Gadir | | | AZE | 2654 | 0 | | 7,5 | 0,0 | 2425 | 2642 | 2696 |
| 2 | 10 | | IM | Alarcon Casellas Rolando | A | 2399 | CUB | 2389 | 0 | | 6,5 | 0,0 | 2444 | 2455 | 2459 |
| 3 | 52 | | | Anuj Shrivatri | C-18 | | IND | 2094 | 0 | | 6,5 | 0,0 | 2427 | 2481 | 2474 |
| 4 | 3 | | GM | Munoz Miguel | | 2486 | ESP | 2500 | 2486 | Sant Andreu C.E. | 6,5 | 0,0 | 2399 | 2496 | 2550 |
| 5 | 2 | | GM | Volkov Sergey | | | RUS | 2574 | 0 | | 6,5 | 0,0 | 2376 | 2494 | 2585 |
| 6 | 17 | | | Abhishek Das | A | | IND | 2325 | 0 | | 6,5 | 0,0 | 2304 | 2404 | 2480 |
| 7 | 8 | | IM | Argandona Riveiro Inigo | | 2408 | ESP | 2423 | 0 | Eus | 6,5 | 0,0 | 2267 | 2362 | 2365 |
| 8 | 5 | | IM | Aguero Jimenez Luis Lazaro | | | CUB | 2473 | 2474 | Tora C.E. | 6,0 | 0,0 | 2395 | 2444 | 2461 |
| 9 | 57 | | | Kumar Gaurav | C-18 | | IND | 2074 | 0 | | 6,0 | 0,0 | 2278 | 2319 | 2266 |
| 10 | 32 | | | Blasco Coll Andreu | B | 2242 | ESP | 2242 | 2335 | Castelldefels, C.E. | 6,0 | 0,0 | 2258 | 2299 | 2347 |
| 11 | 9 | | IM | Miciano John Marvin | 18 | | PHI | 2411 | 0 | | 6,0 | 0,0 | 2245 | 2304 | 2372 |
| 12 | 20 | | WGM | Frayna Janelle Mae | A | | PHI | 2315 | 0 | | 6,0 | 0,0 | 2222 | 2289 | 2343 |
| 13 | 14 | | IM | Grafl Florian Dr. | A | 2364 | GER | 2364 | 2423 | Escola D'escacs De Barcelona | 6,0 | 0,0 | 2193 | 2261 | 2291 |
| 14 | 18 | | IM | Hernandez Cristian Andres | A | | COL | 2323 | 0 | | 6,0 | 0,0 | 2094 | 2181 | 2307 |
| 15 | 40 | | | Harikrishnan.A.Ra | B-18 | | IND | 2204 | 0 | | 5,5 | 0,0 | 2355 | 2295 | 2326 |
| 16 | 49 | | | Deepak Katiyar | B | | IND | 2108 | 0 | | 5,5 | 0,0 | 2341 | 2292 | 2268 |
| 17 | 38 | | | Glimbrant Torbjorn | B | | SWE | 2213 | 0 | | 5,5 | 0,0 | 2293 | 2286 | 2321 |
| 18 | 7 | | IM | Fernandez Cardoso Alexey | | | CUB | 2439 | 0 | | 5,5 | 0,0 | 2281 | 2349 | 2477 |
| 19 | 21 | | FM | Nitish Belurkar | A-18 | | IND | 2306 | 0 | | 5,5 | 0,0 | 2258 | 2273 | 2317 |
| 20 | 22 | | FM | Mitrabha Guha | A-18 | | IND | 2299 | 0 | | 5,5 | 0,0 | 2255 | 2234 | 2348 |
---
And once again, Oscar Stober invites you with a prize fund of €25000 to the 2018 edition of the Sitges International in December this year! If you would like to participate in the tournament this December, do contact ChessBase India Power to get some amazing travel packages. You can contact us via phone or email. Below are our details:

Hotline and Whatsapp: 09106908500 (10 a.m to 8 p.m. IST)
Email: accommodations@chessbase.in
Do like ChessBase India Hindi on Facebook enjoy more pictures from the Vila de Sitges Open
Translation from Hindi by Aditya Pai
---