Vijay Kumar clinches 37th Himachal Pradesh State Open 2021
Top seed Vijay Kumar scored 6.0/7 to win 37th Himachal Pradesh State Championship. Suryansh Verma and Vishal Kant also finished with 6.0/7, however Vijay won the title due to better tie-breaks. Only Suryansh remained undefeated among the podium finishers. The three-day seven-round tournament witnessed the participation of 75 players from various districts across Himachal Pradesh. Check out some photos from the event and a game of the unbeaten runner-up Suryansh Verma in this report. Photo: Rajesh Verma
Three players finish at 6.0/7
Vijay Kumar, Suryansh Verma and Vishal Kant - all three of them finished with 6.0/7. Vijay won the tournament due to better tie-breaks, Suryansh and Vishal had to settle for second and third position.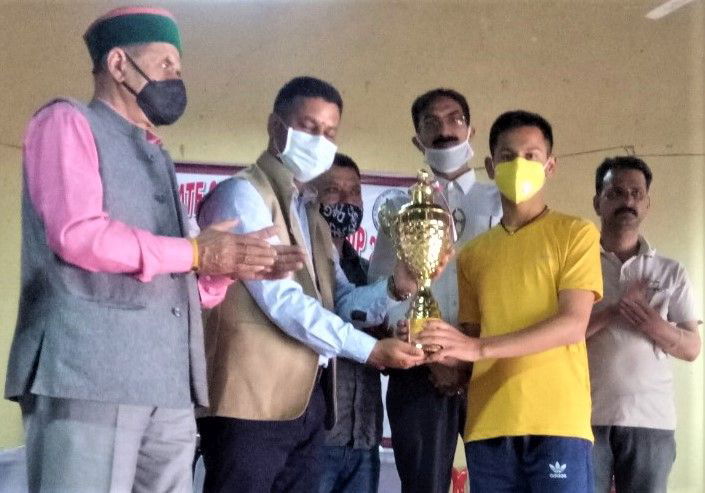 Suryansh Verma won against Aman Kumar in the last round to finish the tournament with an unbeaten 6.0/7.
Photo Gallery
A total of 75 players participated from various districts across Himachal Pradesh in this three-day seven-round Swiss league event. The tournament was organized by District Mandi Chess Asociation from 2nd to 4th April 2021.
Final Standings
| | | | | | | | | | | | | | | | | | | | |
| --- | --- | --- | --- | --- | --- | --- | --- | --- | --- | --- | --- | --- | --- | --- | --- | --- | --- | --- | --- |
| Rk. | SNo | | | Name | sex | Gr | FED | Rtg | Bdld | Club/City | Pts. | TB1 | TB2 | TB3 | TB4 | TB5 | Rp | K | rtg+/- |
| 1 | 1 | | | Vijay Kumar | | | IND | 1916 | | Shimla | 6,0 | 30,5 | 25,0 | 28,00 | 0,0 | 6 | 1688 | 0 | 0,0 |
| 2 | 22 | | | Suryansh Verma | | | IND | 1199 | | Shimla | 6,0 | 30,0 | 24,0 | 27,25 | 0,0 | 5 | 1592 | 40 | 90,8 |
| 3 | 86 | | | Vishal Kant | | | IND | 0 | | Shimla | 6,0 | 25,5 | 19,5 | 21,00 | 0,0 | 6 | 1514 | | |
| 4 | 4 | | | Aman Kumar | | | IND | 1699 | | Shimla | 5,5 | 30,5 | 24,5 | 25,50 | 0,0 | 5 | 1581 | 20 | 1,4 |
| 5 | 2 | | | Smeeru Thakur | | | IND | 1843 | | Kullu | 5,5 | 29,0 | 23,0 | 23,00 | 0,0 | 5 | 1565 | 20 | -7,4 |
| 6 | 5 | | | Sanjeevan Sarswat | | | IND | 1673 | | Chamba | 5,0 | 28,5 | 22,5 | 19,50 | 0,0 | 4 | 1517 | 20 | 19,0 |
| 7 | 11 | | | Jatin Sharma | | | IND | 1345 | | Mandi | 5,0 | 27,5 | 21,5 | 18,00 | 0,0 | 4 | 1233 | 40 | 13,2 |
| 8 | 6 | | | Thakur Sanjeev | | | IND | 1633 | | Shimla | 5,0 | 26,5 | 20,5 | 18,75 | 0,0 | 4 | 1465 | 20 | 3,4 |
| 9 | 84 | | | Vijay Kumar | | | IND | 0 | | Bilaspur | 5,0 | 26,0 | 20,0 | 18,00 | 0,0 | 5 | 1381 | | |
| 10 | 3 | | | Chandel Jagdish | | | IND | 1752 | | Kangra | 5,0 | 25,5 | 20,5 | 19,00 | 0,0 | 4 | 1391 | 20 | -22,2 |
| 11 | 14 | | | Yasar Abdullah | | | IND | 1295 | | Sirmour | 5,0 | 24,5 | 19,0 | 17,00 | 0,0 | 5 | 1278 | 20 | -1,6 |
| 12 | 9 | | | Sood Sachin | | | IND | 1425 | | Kullu | 5,0 | 24,5 | 19,0 | 15,50 | 0,0 | 5 | 1296 | 40 | 4,8 |
| 13 | 10 | | | Romit Verma | | | IND | 1409 | | Shimla | 5,0 | 23,5 | 19,0 | 16,50 | 0,0 | 5 | 1162 | 20 | 5,0 |
| 14 | 12 | | | Kuldeep Singh | | | IND | 1338 | | Bilaspur | 5,0 | 23,0 | 17,0 | 15,50 | 0,0 | 5 | 1289 | 20 | -1,6 |
| 15 | 7 | | | Lalit Vaidya | | | IND | 1485 | | Kullu | 5,0 | 22,5 | 16,5 | 14,00 | 0,0 | 5 | 1251 | 40 | -15,2 |
---