Under 9 Nationals: Vidit Jain scores a major upset
Lately, chess talents are not only cropping up from the southern part of India but also from the north. This also includes states like Bihar, Madhya Pradesh, Uttar Pradesh, Punjab, Assam etc. where the chess culture isn't that great. Thanks to the advent of the internet and other technological advancements, knowledge is no longer inaccessible to those who do not come from places where chess is a big thing. And of course, the efforts of the All India Chess Federation could also not be discounted. A very recent example of this is the Punjabi boy, Vidit Jain, who got the better of the top seed, A R Ilamparthy from Tamil Nadu in the second round of the National U-9 Chess Tournament and caused a major upset. A short report.
Braveheart from Jalandhar, Vidit Jain has been learning chess since the last three years and has, by nature, been an aggressive player. His coach, Dinesh Ghera, thinks that the tournaments organised by the Punjab Kesari Group have been instrumental in giving Vidit and other young talents like him an opportunity to showcase their skills while encouraging them to prepare harder for their upcoming events.
All three entrants from Jalandhar -- Vidit Jain and Ayan Sabarwal in the boys' section and Anahita Verma in girls, who are all students of class 4 -- have won both of their first two games and are going ahead strongly. Their coach, Dinesh, said the kids had been practising really hard over the last month for the event and he is, therefore, expecting them to perform well.
ChessBase India is proud to present an audio coverage for the first time.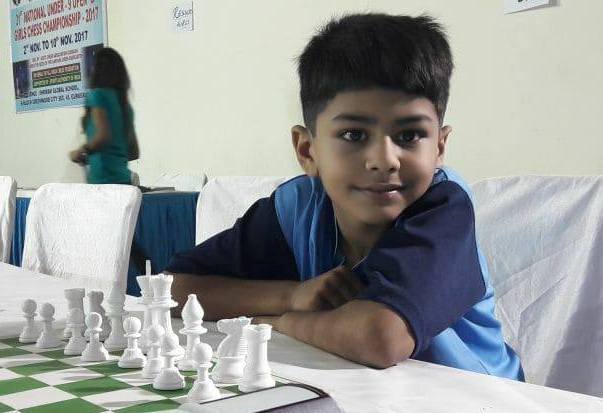 The National U-9 Championship, under the aegis of All India Chess Federation and Haryana Chess Association, is being held at the Shriram Global School, Gurgaon from 2nd to 10th November 2017. In just the second round, the top seed of the event, Ilamparthi A R, fell prey to an upset at the hands of Haryana's Vidit Jain. From the black side of the board, Ilamparthi countered Vidit's king's pawn opening with a Sicilian. But Vidit seemed to be well prepared and countered by generating a strong attack on his opponent's king by the 15th move. Soon, Vidit was dominating all over the board. While Vidit's queen and knight harassed the black king, Ilamparthi's pawn weaknesses on the other side of the board added to his miseries.
The struggle between Vidit's offence and Ilamparthi's defence went on for 29 moves. In this time, Vidit was able to keep improving the position of his pieces. By move 30, Vidit was able to hack his opponent's queen while shattering Ilamparthi's pawn structure at the same time. Even though better moves could be suggested for both players in their play after this point, it is important to keep in mind that since both players are merely 9 years old, their effort matters more than their precision. By the end, Vidit's two rooks and a knight proved to be superior to Ilamparthi's two rooks and a bishop and by the 70th move, the former had scored a major upset by beating the top seed of the tournament.
---
350 participants from all parts of the country have gathered in Gurgaon for the National U-9 Championship. Of these, three title winners willl be representing India at the World U-9 chess Championship in Santiago, Spain next year. So far, two out of this 11-round event have concluded while 9 more rounds of action await to be played.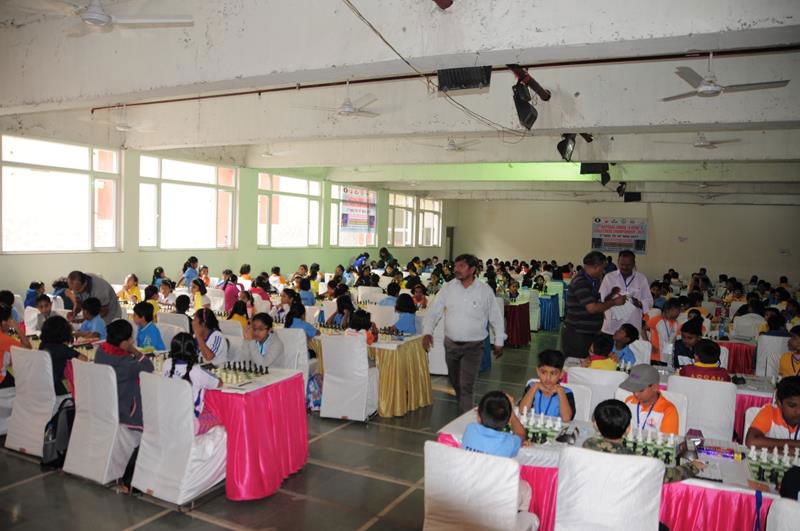 Boys' Section - Pairings/Results
Round 3 on 2017/11/04 at 09:30 AM
Girls' Section - Pairings/Results
Round 3 on 2017/11/04 at 09:30 AM
---