A super talent spotted! 7-year-old Advitiya from Meghalaya
India is a land of amazing talents in chess. And the talents are sprouting from different corners of the country. Meet 2016-born 7-year-old Advitiya AG, who lives in Shillong, Meghalaya. The boy became the under-12 state champion when he was just 5 years old. Currently, he has a rating of 1182. IM Sagar Shah speaks with Advitiya and asks him some questions based on the different positions he has selected, while Advitiya has his own list of questions he wants to ask IM Sagar Shah. Advitiya is soon to play in the under-7 nationals happening in Kolkata. If groomed well, this boy could very well become a future GM of India and perhaps the first from Meghalaya!
Not every day does it happen that the interviewer becomes an interviewee. IM Sagar Shah recently had a super fun conversation with a young, talented chess player from Meghalaya, Advitiya AG. Advitiya was born in Karnataka and currently lives in Shillong, Meghalaya. The 7-year-old boy started playing chess when he was 5, and in just 2 years he has grown very well. In this fun 68-minute conversation, Sagar and Advitiya speak about his journey and solved some amazing positions. In return, Sagar answered a few questions posed by Advitiya.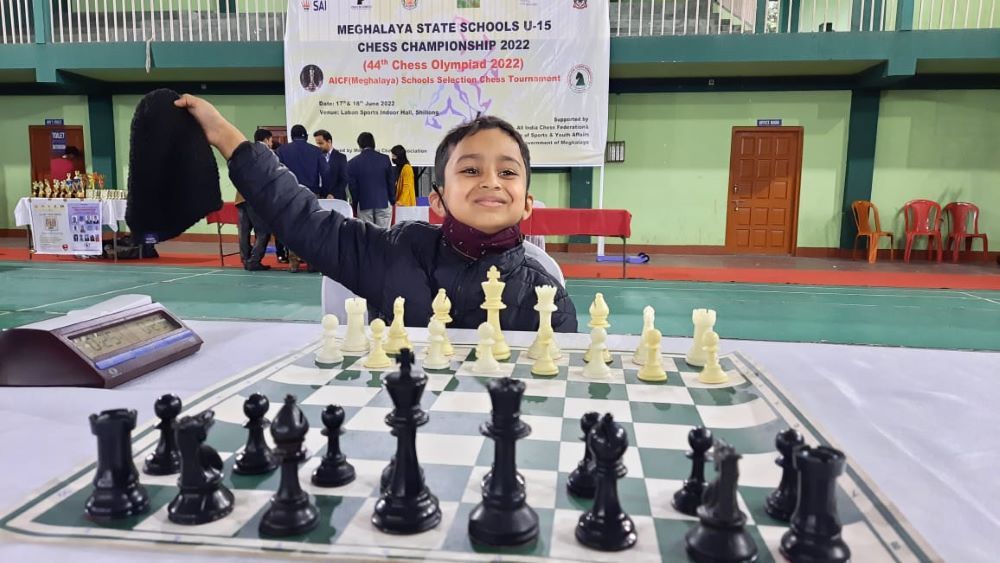 The Journey
It has not been long since Advitiya started playing chess. As his mother told us, he was introduced to the game by her when he was just 5 years old. Advitiya's mother works as a chief medical officer in the Central Government, and one day, as Advitiya was a little restless, his mother played a YouTube video for him related to it, to pass some time. However, things took a turn that wasn't expected. Advitiya took a liking to the sport, and soon couldn't sleep without playing 2-4 games every day.
After playing for a few months by himself, Advitiya became the under-12 champion of the state of Meghalaya at the age of just 5 years! On seeing that, his parents decided to provide him with proper training, so they got in touch with a coach from Bangalore and from that point onwards began his official online coaching. Soon after, he began in-person training with a coach Mr Rijed Katrai, from Meghalaya and recently finished 1st in the under-7 category at a FIDE rating tournament. Currently, Advitiya is 1182 FIDE-rated, and his journey will only go up from here.
Questions posed by Advitiya to Sagar
Advitiya: How do you manage time so that one does not come under time pressure in a game with no increment?
A very common question asked by many chess players, Sagar answered it by quoting a famous chess player: "Try not to come under time pressure." When one plays under time pressure, their level of play reduces and their chances of making mistakes increase; thus, it is advisable not to reach that stage.
Advitiya: What is the easiest way to see tactics, apart from checks, captures, and threats?
SS: In any position, it is a good idea to look for pieces that are loosely protected or unprotected. These are often the pieces that become tactical weaknesses. To develop a feel for tactics, Sagar advises that it is best to solve many positions and puzzles.
Here's an example of how unprotected or loosely protected pieces can become tactical targets:
Abdusattorov vs Gukesh
Yes, Qa4! That's the winning move.
Advitiya: How do you handle stress in a game?
Sagar answered this question by saying that there is a lot of difference between tiredness and stress. Feeling tired after a long chess game is a common problem faced by many chess players. In order to avoid that, it is very important to inculcate sports or some sort of exercise into one's daily routine. Chess requires a lot of physical energy, and even the top players play some sports to condition their bodies into playing long-hour games. As far as stress is concerned, it is best not to think about winning or losing at that time. The stakes are always high in any game, and the pressure that comes with that usually leads to stress for most players. Hence, focusing on the best moves in any given position can give a far better result than focusing on the outcome of the match.
Advitiya: Is it good to walk around during a game in any tournament?
SS: Every player has a different way to focus and think during a game, and it varies in any given situation. Many players like to walk while playing and think over the position over and over in their heads, and many like to sit and focus. There is no harm in walking around during a game until and unless one doesn't get distracted.
Advitiya: How do you plan the last few days before a tournament?
SS: It is often advisable to plan one's time according to their lifestyle. Create a timetable and follow that. Play a lot of games, analyze lines, solve puzzles, and revise openings, but do what works best for you.
When Advitiya asked Sagar how many hours of chess practice are required each day, he answered by saying what many famous chess players said: "Practice as long as you like." When one does something they love, work and effort flow instantly to it. It is not a compulsion that one must practice for a given number of hours in order to be good at that. Some days can be long, and some days can be relaxing. One can work according to their pace, as long as they are putting in their best efforts.
Advitiya also asked many questions regarding what to do when a certain position comes up in a game. For example, two bishops end the game. For such questions, Sagar took him through the ChessBase software and showed him how to use it for his chess growth. The last question that Advitiya asked Sagar was how to divide time effectively so that one can solve puzzles, analyze games, work on openings, and play games. For this, Sagar advised him to analyze his games, work with his coach, who can guide him regarding his strengths and weaknesses, and focus on areas that are weak.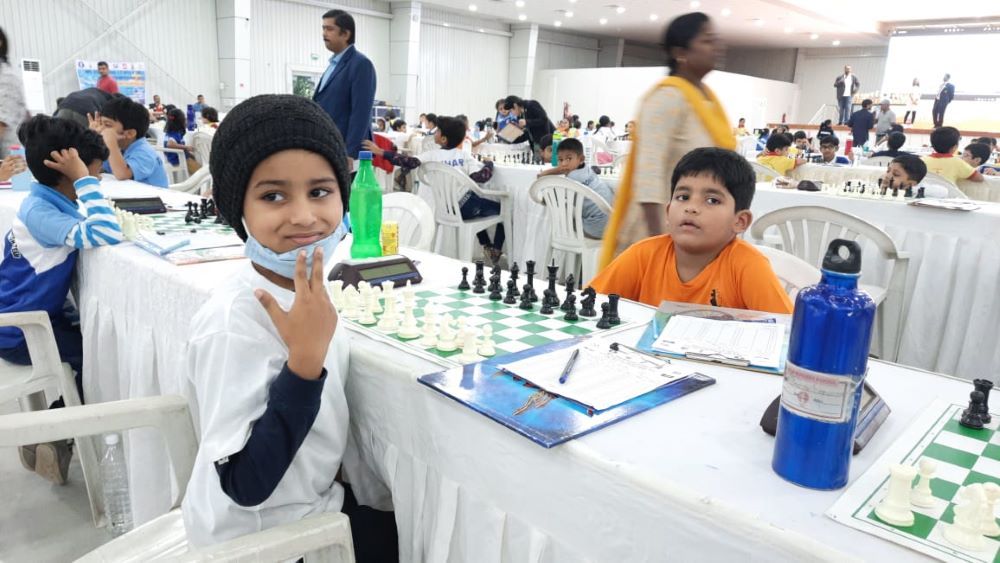 Sagar and Advitiya solved many interesting positions from a lot of games. To have a look at them, and increase your chess calculation, go through the whole interview linked down below.
---