P.V. Nandhidhaa: Engineer, India no.7 and a future GM
Today is P.V. Nandhidhaa's 25th birthday! She is one of India's top female chess players and is currently ranked 7th in the country with an Elo of 2365. She is already a WGM and has 4 IM norms to her credit. But did you know, she is also an Electronics and Communications Engineer? With multiple national titles under her belt and a brave aggressive player Nandhidhaa is surely a player to watch out for. ChessBase India's author Saishyam Srikanth got in touch with Nandhidhaa and brings to you an in-depth portrait of this young talent. How did Nandhidhaa reach where she is right now? Who are the people who have helped and inspired her? What are her future plans? All this and much more!
P V Nandhidhaa: A Rising Star and the Ultimate Fighter
15 years ago, a young girl from Tamil Nadu would play Snakes and Ladders during her summer and winter vacations. This was a daily routine and at some point, she asked her mother to buy a Snakes and Ladders board for her. As fate would have it, the shop that her mother went to, didn't have a Snakes and Ladders board. A chess board was chosen instead. The chess board sat idle for six months until the girl's dad saw a newspaper advertisement for a chess tournament. After learning the basic moves, this girl took part in the tournament. There were 10 prizes allocated for girls in the event and out of the 6 girl participants she finished last, but got a prize for her efforts.
Little did anyone know at that time that this would be the start of the journey that has led P.V. Nandhidhaa to the title of Woman Grandmaster and one of the finest chess players of our country. The young chess player from Sankari in Salem district has earned 4 IM norms and is only a few rating points away from becoming a full-fledged International Master.
One of Nandhidhaa's greatest achievements came at the World Junior Chess Championship (under-20) 2016. She remembers that event very fondly. "One of my most memorable games came during that tournament. I was in the lead until the end of the 11th round and there were 13 rounds in total. In the 12th round, I was in a completely losing position but somehow, I managed to come close to a winning position and then I fell into a small trap and lost the game. I lost all hope. In the last round I was playing against the previous year's World Junior Champion, Nataliya Buksa. In that game, I was just fed up with everything and played super-fast. I ended up winning that game in two hours which was unbelievable." Despite this victory, Nandhidhaa didn't feel like she had a shot at a medal finish. After the 12th round she had fallen well below the podium and in the best-case scenario she expected bronze. In the end, things panned out perfectly for her and she won the silver medal. Till today she considers this as one of her most memorable moments.
College and Finding her Way Back
In 2013, Nandhidhaa began her journey as a college student, and this marked a very difficult period in her career. She says, "In College in the first one year, I completely stopped playing and played in just a couple of tournaments." Post this first year, she realised that academics wasn't her cup of tea and she played a few more events in the following years. Yet, even in these years she couldn't play as much as she wanted to. The college required her to maintain at least 65% attendance while also completing all her assessments and assignments. Despite the support of a few teachers, the system itself wasn't very supportive to her and her chess took a backseat. It is sad to see how even those who have been given admission on the basis of their sports achievements aren't given a chance to excel at their sport.
Nandhidhaa graduated in 2017 and slowly worked her way back into the sport. It took her two years, to get back to a good level and she says, "I started doing well in 2019 and then the pandemic struck and everything has stopped. It's very hard for me and you do lose motivation sometimes, but I am managing and working (on chess)." During the period after her graduation, Nandhidhaa was trying very hard to get her WGM norms. "Actually at that time I was only focusing on my WGM Norms. Whenever I played a tournament, I would tell myself I needed to play well and get a WGM norm." Despite this focus, something wasn't working out for her and she wasn't able to get her norm even after 8 attempts. "I was very sad when I missed those WGM norms 8 times and at one point, I was really fed up with chess."
HD Bank Tournament 2019
It was after this frustration that the turning point in her career arrived. Nandhidhaa won in the women's section at the HD Bank tournament in Vietnam in 2019. Her victory was made even sweeter by the fact that she also got an IM norm for her efforts. For someone who had been working towards her WGM norms for so long, to finally get a norm and that too an IM norm was very special. "Maybe that might have been my last tournament. I was that fed up. Coming into that tournament after missing my norms 8 times, I didn't expect anything. I had 0 percent expectations. (During the tournament) I was actually enjoying myself; I would travel around; I would go to the spa every day. I hardly prepared and still managed to play well."
It's interesting to note how the one time, Nandhidhaa didn't put any pressure on herself, everything worked out well. As they say, form is temporary, class is permanent. There's also a lesson here for every sportsperson. One should not lose hope and should keep persevering. Eventually, your hard work will help you achieve success.
The Support System
Nandhidhaa's parents have been the constant pillars of support throughout her career. She notes, "Till today they are supporting me financially and mentally. Despite the ups and downs they have always been with me through the journey. I also have a few friends who have supported me throughout."
When the WGM from Tamil Nadu started her career, she couldn't find a coach for a year or so. After a lot of effort, she got in touch with Coach Zahir and enjoyed working with him till she was 11 in 2008. Then, in Vietnam at the World Youth Tournament, she met GM Ramesh R.B. For the next seven years, she trained with him and even though classes weren't very regular she would ensure that at every tournament, she would spend some time training with him. From 2015 – 2017, she worked with GM Deepan Chakravarthy. When GM Deepan decided that he wanted to work more on his own play, she began training with GM Shyam Sundar. This successful partnership with Shyam Anna, as she calls him, is going strong even today. "He's (GM Shyam Sundar) like a coach as well as a brother, it has been good working with him. Actually, with all of them it was good."
When asked if she has siblings, Nandhidhaa responds quickly, "I told you no, Simba. I treat him as a sibling. Otherwise, I am an only child but right now my sibling is Simba." Simba is the name of Nandhidhaa's pet dog, and his presence helps her relax. "I love spending time with him. We are too close, and I irritate him and play with him. He's the best! Whenever I am with him, time passes really quickly. I really love him so much. No words only (to describe their relationship)."
Challenges
Coming from a small town has brought its own set of challenges for Nandhidhaa. "I don't get much support here (Sankari in Salem), it's kind of a small town, so you know, people aren't very broad minded." But her family and some of her friends have made up for this lack of support by being by her side throughout her career. She recounts how challenging the initial part of her chess career was, "During my school time, it was very difficult for me. My academy was in Salem and I used to train there - 3 days a week. I would travel with my parents or grandmother and the journey (one way) would take 90 minutes. It was very difficult to travel, back then. You wouldn't get convenient transport, every time. 15 years back, without the internet, it was very hard to find out things."
Another difficult time that she faced was when she finished her Bachelor's in 2017. She had to decide what career path she wanted to take and since she didn't want to go into engineering, she chose chess. After she struggled for a year and a half, she started getting success once again. Then, the pandemic arrived and now she's trying to conquer this challenge. She hopes to be able to play some over the board (OTB) tournaments soon and here's hoping that she's quickly able to discover the form that she had in 2019-20.
Inspiration and Chess Career thus Far
The WGM's all-time inspiration has been her Grandmother. She narrates, "She has faced so many problems in her life. When I compare her with myself, I haven't even faced 1% of the problems that she has seen. She's not here with us anymore but I continue to get inspired by her."
As for her inspiration on the board, "Chess wise, I am inspired by Humpy Akka (Koneru Humpy). She is a superstar and even though she stopped playing chess for some time, she has come back very strongly." Nandhidhaa also draws inspiration from the fact that even after Koneru Humpy got married she has continued to excel in the sport.
In 2020, Nandhidhaa was part of the team that won a Gold Medal at the Asian Nations Online chess tournament. This also marked the first time that she had represented the Indian team at an open level. She remembers the tournament very fondly. "When I was growing up, I used to dream of playing for India and getting a medal. Winning a team tournament for the Indian team was a dream come true moment."
Earlier last year, Nandhidhaa played against Praggnanandhaa at the Gibraltar Masters and this tuned out to be a memorable game for her. She says, "During the game my focus was to go move by move and to go with the flow. I was just focussing on my moves and wasn't thinking about winning or anything else. It was the first time I had beaten a 2600 Grandmaster, so it was special and memorable for me."
Nandhidhaa is also an Asian Under-16 gold medallist and a National U-11, U-15, U-17 gold medallist. She recently received the Outstanding Sportsperson award from the Tamil Nadu Chief Minister, Edappadi Palaniswami as a token of recognition for her achievements on the board.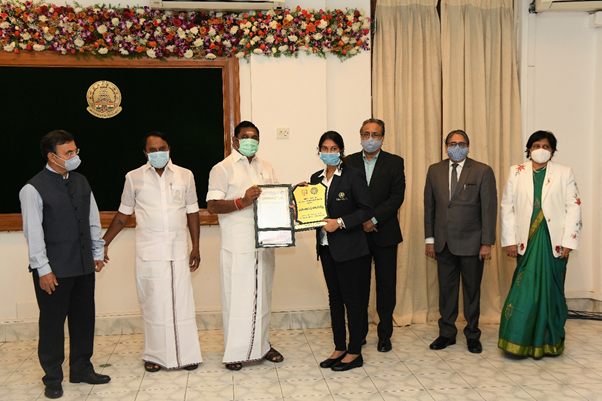 Looking Ahead
When asked about her own chess style, Nandhidhaa says, "My style is dynamics. I love to play and attack in unbalanced positions. I do admire some positional games, but I always prefer dynamics." The young WGM presents an interesting case in that she doesn't train all that much during tournaments. During tournaments aside from the chess, she watches comedy shows, cooks for herself and ensures that she gets enough sleep to be ready for her games. Thus, her major preparation for tournaments around the world happens before and after the event.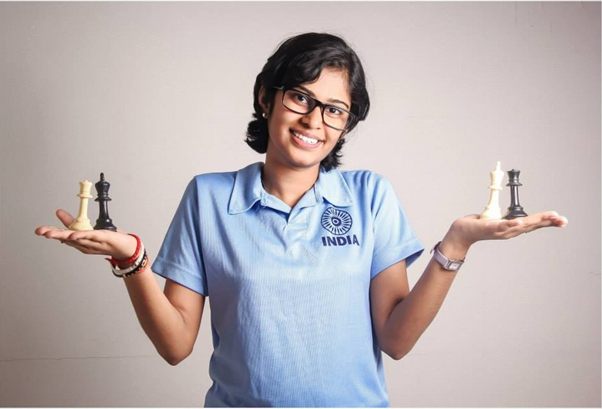 Out of all the places that she has travelled to, she really enjoys travelling to Vietnam. "I really love Vietnam and I have travelled there, 3 times. My first world youth in 2008 was in Vietnam actually." Nandhidhaa enjoys the country, its culture, and the people. As mentioned above, she has many chess related memories from the country too and that makes it an even more special place for her.
What is Nandhidhaa's goal in her chess career? "Actually, I want to become a GM so, that is my goal right now. I am not focussing on the IM title. I am happy if I get the IM title along the way, but my aim is to become a GM." Today, PV Nandhidhaa is a 2365 rated WGM, has earned four IM norms, and is ranked 7th in India. This despite the fact that she hasn't gotten much support or sponsorship. If provided the right support, Nandhidhaa can become the next star of Indian chess. Here's hoping that she receives the right kind of help and with this help, she can focus all her energies on achieving her true potential as a chess player.
About the author
Saishyam Srikanth is a journalism student who is currently studying in the final year of his bachelor's programme at St. Joseph's College, Bengaluru. He has been a sports fan from the time he can remember and one day, aspires to translate this love for sport into a career as a media professional.
Previous coverage of Nandhidhaa on ChessBase India
---