The man who just won't back down: Karthik KVK
Kuchibhotla Venkata Krishna Karthik aka Karthik KVK - who recently won the Super Heroes Cup online event- has been a shining star in the chess world since the time he picked up chess in the year 2001. His story is one of struggle, one of determination, and one of success. Throughout, tragic events befell him and his family, and Karthik has braved it all, focusing all his energy solely on the game of chess. His achievements have been numerous, and time spent on preparation long. In this article, we explore the life and journey of this 36-year-old man from Andhra Pradesh. We thank Narasimha Murthy, Shaik Khasim, and Karthik himself for the time given for help with this article. Photos: Karthik KVK
A real life super hero
Soon after Karthik was born in 1986, his father Narasimha Murthy, and mother Kuchibhotla Venkata Bala Saraswathy began to worry about Karthik and his behavior. They believed that he had an intellectual disability and were under that impression for many years. It was much later in 2006 that they discovered, after a hasty visit to a doctor, that Karthik was 75% physically disabled, and had Cerebral Palsy since birth. It affects his limbs and makes it difficult to keep control of them, as well as slurring his speech. This came as a hard shock to the family, but Karthik would soon find something to help keep him calm.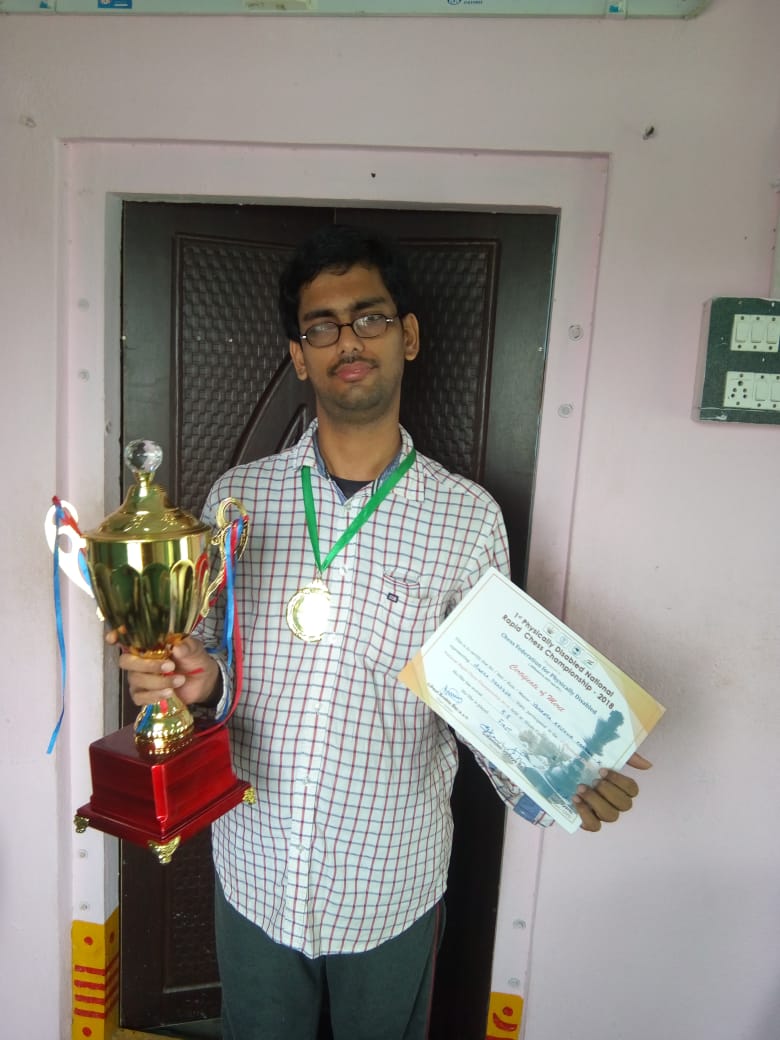 Karthik had an interest in board games ever since he was a kid. He had an interest in carrom, and one day discovered chess. Little did he know that this black and white game would dictate the future of his life hugely. Murthy had noticed his interest in the game and was able to get him in touch with a coach by the name of V.R. Bobba, the AP Chess Association Secretary. After a short period, Karthik was introduced to Shaik Khasim of Global Chess Academy. By then Karthik's interest in the game was piqued and he would spend several hours working on improving his game. However, he would become uncomfortable when in a class with a group. Khasim took notice of this and did his best to involve him as much as he could, but the barrier was there, and it stuck. Only when Khasim began to teach Karthik privately were improvements made. And yet, the initial days were not easy.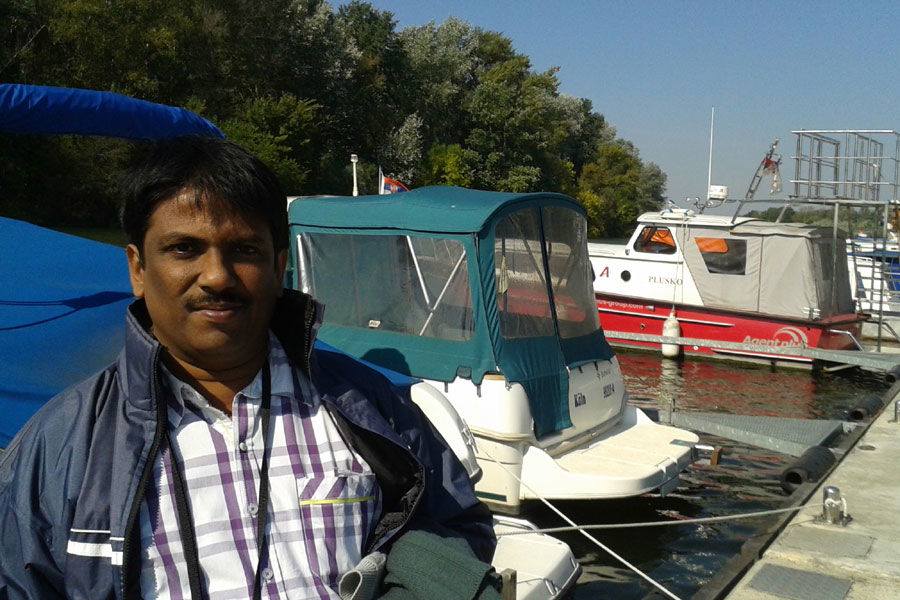 "Communication was one of the hardest parts of our early preparation back then," says Shaik. "I knew that he had low self-confidence, and as a result, he would speak as little as he could. He had seen how others sometimes reacted to being around him, which made him even more upset about his plight." Khasim slowly but surely indicated to Karthik that he was more than welcome to practice chess in a safe space and encouraged him to learn more. However, when Karthik was given a special consolation award in the physically disabled section at the State Open in Vijayawada in 2006, he flared up in anger and threw the prize away, vowing to himself and Khasim that he would finish in the top 10 the following year, which he did. In moments like those, Khasim had to console and motivate Karthik and teach him to not get frustrated. From there, Karthik would only get better.
Karthik made his rating climb to 2060 ELO over time and consequently his playing strength as well. Khasim describes Karthik's playing style as 'dynamic, shifting from solid positional play to sharp tactical play.' He can easily pose a challenge to even higher-level players. However, he faced limitations even in chess. After much observation, it was noted that a major reason for Karthik's loss in games was the drop-off in mental power nearing the endgame. This is because he would become anxious, and his body temperature would rise to a hundred degrees. Despite this, Karthik focused only on his chess. People began to discover his talent and looked to fund it. With this financial support and the moral one from his parents and coach Khasim, Karthik was set to travel internationally to take his chess to the next level.
One day, during regular preparation with Khasim, Karthik brought up that he was having trouble with telling how far an object was. He also complained that he was having to focus on something to see it. They rushed to a Doctor, and not long after found out the terrible truth: that Karthik was rapidly losing vision in his right eye, leaving only his weak eye to see from. It shook all of them and hit Karthik the worst. "I remember him telling me that he couldn't do it anymore and that he'd quit chess for good," recalls Khasim. "It was completely unexpected, and at that point, I thought his career was over for good." And so, for nearly 4 years, Karthik completely vanished from the chess scene.
However, if there's one thing Karthik had learned from his own life and people around him, was that to pick himself up and fight was the best thing to do. Karthik had missed chess terribly and yearned to return to it again, despite the new inconvenience he had to get used to. Khasim was delighted to hear this, but still wanted what was best for Karthik, and ultimately what he chose. Karthik did indeed return to chess, with a greater impact than when he first learned the game.
The coach and student duo traveled to London, Serbia, and Glasgow in the next few years. He became the Commonwealth Chess Champion in the physically disabled section at Glasgow in 2014 and clinched the bronze medal at the IPCA World Individual Chess Championship in Serbia of the same year. Not only did he acquire the title of Fide Master, but he also bagged his maiden IM norm! It was an incredible feat that served as a testament to how much strength a person can come back with, despite some of the worst things life throws at them. Karthik continues to do well. He became the 3-time physically disabled national chess champion in 2015, 2017, and 2018. He represented India at the Asian Para Games in Jakarta, Indonesia, in 2018. He did the same at the 1st FIDE Online Olympiad for people with Disabilities more recently in December of 2020.
Even with these great achievements, Karthik still does face hardships that temporarily put a stop to everything. In 2015, at the World Championship for the Physically Disabled, Karthik was up against an IM on the last round, where a simple draw would have made him an International Master and World Champion of the Physically Disabled. However, he lost the game, and the opportunity was lost, leaving him in 3rd place. Two years ago, Karthik's father fell deeply ill and had to be admitted to a hospital. The entire family was worried for Murthy during this time, and so it came as a cruel shock when Karthik's mother was hospitalized in a case of heart failure. She passed away soon after. Karthik needed emotional and mental support in times like these, and apart from his father, his coach Khasim was there for him as much as he could. "I've looked after him, lived with him, cooked for him, cried with him, and consoled him over the years to my best efforts. I've tried my very best to make him comfortable and give him someone to talk to. It makes me happy to see him happy, and I get upset when he is too."
Karthik has reinvested a lot of his time into chess yet again, despite being in a dark state of mind for a very long time. Ever since the COVID lockdown, he had been looking for some kind of opportunity to show his strength yet again. He had indeed played a few tournaments since but lacked the breakthrough he was looking for. This came in the form of none other than the ChessBase India Super Heroes Cup, hosted on May 17th of 2021 featuring 16 differently-abled chess players in a knockout tournament. Karthik finished first place amongst some of the best disabled players in the country. "It was wonderful to see Karthik's improvement in this tournament, and he was naturally on cloud nine that day! He had prepared for countless hours the days before, and it made me feel relieved to see the payoff, for his benefit," said an elated Murthy.
Karthik's story has by no means reached an end. He still has a long way to go, and his dreams remain ambitious. However, with every victory, Karthik's motivation and confidence in his own abilities increases, as does his playing strength. He is a man who has faced hurdles all his life, and yet continues to compete at international levels to make his country proud! By his own words, he is forever grateful for the efforts of all those that have supported him, including his parents, his mentor, and any donors that help him. As Murthy himself also confirmed, Karthik's acceptance over his own body has grown, and he rarely feels lesser of himself. He is proud of how far he has come. As a result, he is that much bubblier and more vibrant than before. Chess has been one of the best things to have happened to him and has given him an outlet. In those early years, chess was just a way for Karthik to forget about the things that troubled him daily like an escape from the real world, whereas now it is a way for him to hone his thoughts and explore his creativity. "The Karthik I know today is nothing like the man that he was all those years ago, with severe under-confidence and quieter demeanor. He has changed for the better, which I am more than glad to see," says Khasim. As both Khasim and Murthy have said, chess can be said to be responsible for saving his life in those dark moments. Karthik has a bright future ahead of him, and he is very clearly building upon his chess knowledge. It is only a matter of time before the title of International Master is finally bestowed upon him.
Karthik's Achievements:
Commonwealth Chess Champion in the Physically disabled section at Glasgow in 2014
IPCA World Individual Chess Championship - Bronze medal in 2014 Serbia
3-time Physically disabled national chess champion in 2015, 2017 and 2018
Represented India in Para Asian Games in Jakarta, Indonesia in 2018
Represented India at the 1st FIDE Online Olympiad for people with disabilities
Support to Karthik
After Karthik won the Super Heroes Cup 2021, he was given all the funds collected via the ChessBase India YouTube memberships for the month of May. This amount along with an additional Rs.20,000 donated by two ChessBase India viewers Shikhar and Siddharth, made the total amount come to Rs.75,000. We were able to get in touch with the well-known trainer N. Ramaraju, Harika's long time coach, and he has been working five days a week with Karthik from 27th of May.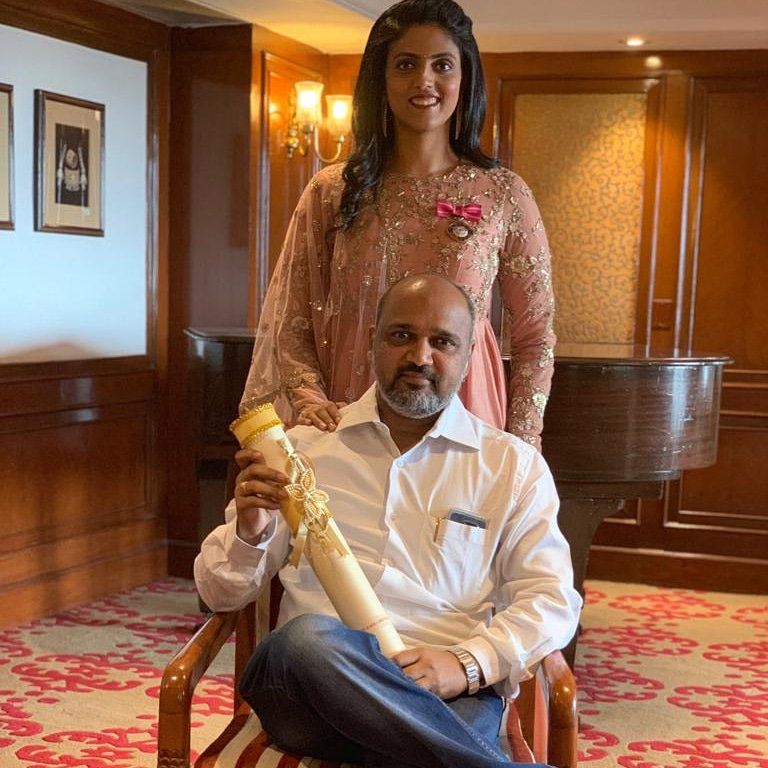 Karthik has dedicated his life to chess, and we believe he is amazing young talent. In the years to come, he will surely win several laurels for the country!
About the Author:
Avathanshu Bhat is a 16-year-old from Mumbai. He is the Editor-in-Chief for ChessBase India Juniors and Manager for ChessBase India's Elite Pass. He recently began a new series called 'Off the Board Tales' on ChessBase India's social media pages. He is a voracious reader, a Nolan film enthusiast, and is passionate about everything tech and games.
---