How the love of his life inspired Thejkumar to become a Grandmaster
On 6th of September 2017, India got its 50th and Karnataka its first grandmaster in M.S. Thejkumar. A fantastic positional player who has a deep understanding of chess. But did you know when was it that Thejkumar achieved his final GM norm? 2008! The man had to wait nine years to achieve the magical 2500 Elo mark. He was down and out many times, but there was one person who made Thej believe in himself and never let him give up. It's a story of grit, determination, persistence and true love. He is the golden jubilee GM of India and his story is simply awe-inspiring.
"I fell in love with her at the inter-university tournament", says India's 50th and Karnataka's first grandmaster M.S. Thejkumar. "I was one of the top seeds at the tournament, while Jayashree was just a beginner. Jayashree's confidence and liveliness was something that I was instantly attracted to. When parting from the tournament she asked me to fill her slam book. Just to impress her I wrote that my aim is to become a grandmaster. I was rated something like 2257 back then, and I never thought that I could become a GM."
"Soon our relationship began in 2004. In general I was not an ambitious person. I used to enjoy being with Jayashree and never really worked hard on chess. Every few days Jayashree would remind me about what I had written in the slam book. She would ask me how do I plan to become a grandmaster. I started regretting about what I had written. I hoped she would forget about it, but she was really serious. One day she told me that her parents would allow me to marry her only if I became a grandmaster. For me Jayashree was everything. Marrying her and living with her was my dream."
"Slowly and steadily I began working on chess. I was not a hard worker, but I ensured that I spent some hours on chess each day. What I really did with great conviction was to give 100% effort during the tournament. I would make sure that I gave the last bit of my energy on the chess board and not give up. I decided that I will do everything in my power to move towards the direction of becoming a grandmaster."
"In December 2007 I played the Commonwealth Championships in Delhi. I was rated 2355 but didn't have any IM norms. I played the tournament of my life beating strong players like Tejas Bakre and M.R. Venkatesh and achieved my first GM norm! It was a great feeling. I hadn't made any IM norms and to score a GM norm directly gave me faith that I could become a GM. My good form continued and in February 2008 I made my second GM norm at the National Premier tournament in Chennai. In Kolkata Open in March 2008 I made my final IM norm and immediately at the Mumbai Mayor's Cup in May 2008 I achieved my third GM norm. My rating had shot up to 2441, and I had all my GM norms. Things were looking good and I believed that I could complete my GM title soon."
"I wanted to become a grandmaster without having claimed the IM title. Something similar was done by great players like Vladimir Kramnik and I also wanted to be a part of history. But somewhere around 2009, I realized that it was practical to claim my IM title. I wasn't getting conditions (free entry and stay) in tournaments and also the GM title was taking unusually long to achieve. So in 2009 I became an IM and also got a job in Railways."
"After becoming an IM, we got married in 2010. I can say it was one of the happiest moments in my life."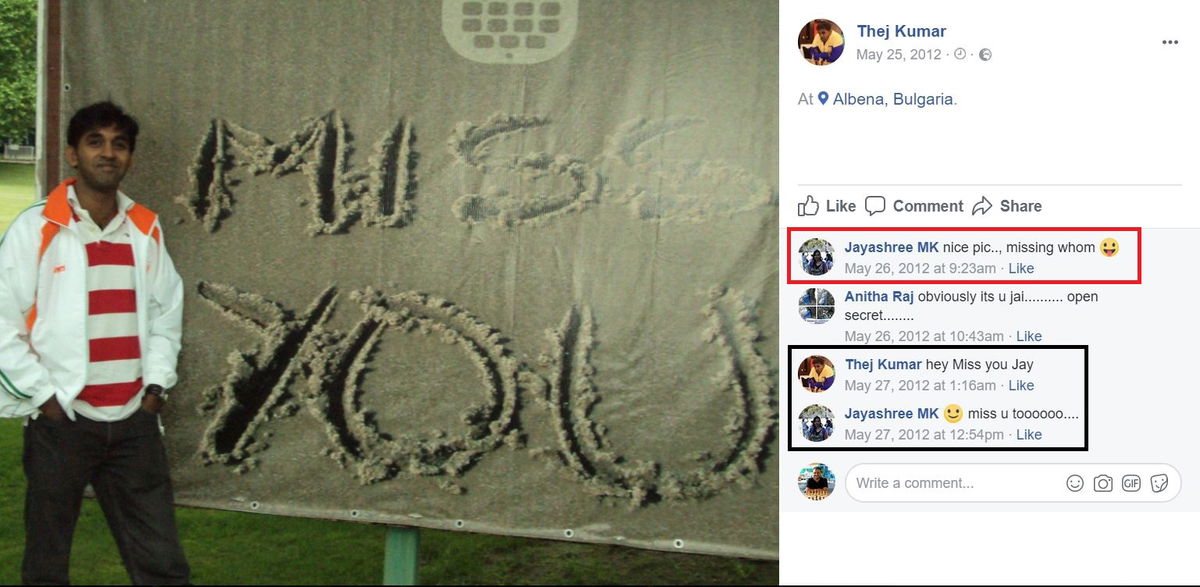 "Yes, I was now with the love of my life. But the journey that was started had to be completed. I kept working on chess, but the results were just not coming. From 2010 to 2016 I fluctuated between the rating of 2410 to 2450. Somehow things which worked for me in 2007-08 didn't work any more. It was as if the magic touch was lost. But Jayashree never lost faith in me or my abilities. I would fail and fall, and she would help me get back on my feet. She always told me that I would become a grandmaster, even though I had started losing faith in my abilities."
"Jayashree too had a personal goal of becoming a Chartered Accountant (CA). She had cleared her inter examinations, but she was stuck at the last hurdle - the CA finals. She would give her exams, but the results were never favourable. I tried to motivate her to become a CA. It was as if we both were chasing a goal which was running away from us."
"I think the problem for me was two fold. I was not improving my middlegame and endgame play and more importantly my selection of events was pretty dismal. I played in events which were not ideal for gaining rating. Nine years after achieving my final GM norm I was still stuck there. From a 27-year-old I was now a 36-year-old man. When there is something you want to achieve and it is at the back of your mind for so many years, it is not a great feeling."
"But the big breakthrough came in March 2017. I was playing the National Team Championship and scored 6.0/6, thereby gaining 20 valuable Elo points. I gained a few more points in some other events and reached an Elo of 2482. This time I was determined not to let go of the opportunity. And then came the next big moment of my life - my son was born on 2nd of April 2017."
"Jayashree and I carefully selected the tournaments that had to be played and I was able to complete the required 18 points. On 6th of September 2017 I became a grandmaster. The first thing I did was to call Jayashree after becoming a GM. She was the reason that I achieved my GM title and she is the one because of whom I never gave up. I dedicate my title to her."
Thejkumar's journey from being a 2250 player to becoming a grandmaster is simply awe-inspiring. It is a story of grit, determination, dedication, persistance and true love. Nine years! The man waited for nine years after his final GM norm to become a grandmaster. Perhaps everything happens for a good reason, Thejkumar will always be remembered as India's golden jubilee grandmaster! Karnataka chess got its first grandmaster and I would say there could have been no better candidate than Thejkumar.
Words do not do justice to what Jayashree has done for Thejkumar and Indian chess. She motivated a man to bring out his best chess. She inspired him to play games that would be replayed by generations of players as positional masterpieces. When the champion was down, she made him believe in himself. Yes, the adage behind every successful man there is a woman, is one that is cliched, but for Thejkumar it couldn't have been more appropriate. If it was not for Jayashree, India would never have got a player like Thejkumar. A big salute to her.
PS: Jayashree was also able to make a breakthrough in her professional career and cleared one group (four papers) in the CA final examination. Only one group remains for her. Expect an article on her when the golden jubilee woman of Indian chess becomes a full-fledged Chartered Accountant.

---