Vaishali is 10th Indian woman to become an International Master
On 4th of August 2021, 20-year-old Vaishali scored her final norm at the Biel Masters Open 2021 and became the 10th female player of India to achieve the IM title. While growing up, Vaishali was one of the biggest talents in Indian chess winning two World Youth Gold medals. She has shaped up brilliantly and now at the age of 20, she has cemented herself as India no.3 behind Humpy and Harika. In this article we get to know more about the ingredients that have led to Vaishali's success, which include strong support from her family, including her GM brother Praggnanandhaa, coach R.B. Ramesh, Ramco as the sponsor, huge appetite for hardwork and extreme love for chess!
Vaishali R: The Rising Star of Indian Chess
The year is 2013, and only a few days are left for the World Chess Championship match between Magnus Carlsen and Vishy Anand. Magnus Carlsen, who had arrived in Chennai for a customary check of the arrangements, decided to play a simultaneous exhibition against 20 junior players of India. One of the junior players managed to beat this world championship contender. It was a moment of shock and awe for this player, Vaishali Rameshbabu. She had just beaten the man who was going to rule the chess world in the years to come. Vaishali was just 12 years old back then.
Fast forward to today, Vaishali is ranked Number 3 in the Indian Women's rating list and is only behind Grandmasters Humpy and Harika in terms of her Elo rating. The youngster from Chennai recently achieved her IM title and became the 10th ever woman player from the country to achieve the International Master title. Before her the women players of India who have achieved the IM title are Humpy, Harika, Vijayalakshmi, Tania Sachdev, Soumya Swaminathan, Eesha Karavade, Nisha Mohota, Bhakti Kulkarni and Padmini Rout.
Vaishali's chess career began as a means for her parents to distract her and to reduce the amount of time that she spent staring at the television. She says, "When I was 6 or 7 years old, I used to watch a lot of TV, so my parents decided to put me in chess and drawing classes near our home. Then, I just went for a tournament and got the youngest participant prize in my first event." This prize attracted her to the sport and since then, chess has been a constant part of Vaishali's life.
The Support System
The young star has been aided throughout by her school, Velammal Matriculation Higher Secondary School and her college, MOP Vaishnav Institute. Due to her sports achievements, the college offered her a chance to get admission to their Bachelor of Commerce programme even before she had gotten her 12th Standard results. Today, Vaishali is a 2nd year commerce student and balances this academic life with her career as a chess player.
Her other constant sources of support have been her parents, Rameshbabu and Nagalakshmi. Vaishali tells me, "My father works in a bank as a manager and has been a great support and does everything for me apart from travelling." Her father was afflicted by polio when he was young, and this has impacted his ability to travel with Vaishali. But he compensates for this by looking after all the arrangements including travel tickets, accommodation etc. Her mother is also actively involved to help Vaishali and travels and cooks Indian food for her whenever she is at a tournament. Thus, we see the kind of partnership that both parents have, to aid their daughter's career.
The Brother Sister Duo – Rising stars of Indian Chess
Vaishali is not the only chess player in her family. Her brother Praggnanandhaa is a Grandmaster and is one of the strongest junior players in the world. Vaishali narrates, "My brother, he's 15 years old and is a Grandmaster. He is a huge-huge support for me. In terms of chess, he will clarify whatever doubts that I have and make it very easy (for me). Of course, we fight a lot but when we work on chess its always interesting and I get to learn a lot."
In the Women's Speed Chess Championship in 2020, Vaishali performed very well and got the chance to play against several top players in the world. She recounts, "My brother helped me a lot for all those games and he used to analyse all the games and suggest what openings to play. There was also the match segment where we played 5+1-time control for one hour, had a short break and then played 3+1-time control for some time. When I was playing the 5+1 portion, he would analyze the games during the break and would tell me where I went wrong." Thus, we see how the duo has taken their partnership to the next level.
Despite all the time they share on the board, Vaishali says that she and Pragnanandhaa have many disagreements. "Chess wise, he's stronger than me so whatever he says will be mostly correct and I will agree with it. Other than chess we fight a lot. He is completely opposite to me and you can imagine, we fight for every small thing."
Chess Journey so Far
One of Vaishali's greatest moments came in the year 2012 in Maribor, Slovenia. "It was my first world youth event, and it was the first European country that I travelled to as well. We went to Slovenia; it had a 5.5 hours' time difference (In comparison to India). It was completely new to us; rounds would start at 5PM there and it'll be like 10:30PM in India. After 1 or 2 rounds, we used to be tired and sleepy." Despite all these challenges, Vaishali emerged victorious and was the World u12 girls champion when she was just 11 years old.
Three years rolled by and another world youth tournament came along. This time Vaishali was in Greece and her brother was there too. Unlike in 2012, she was not an unheralded player anymore. She was the top seed this time, in the World u14 Championship. Vaishali lived up to her seeding and managed to add another world title to her trophy cabinet. This in itself would have been special but the tournament had more to offer. Praggnanandhaa also won the World u10 Title at the same tournament. It was a huge moment for the family and two world champions had emerged from the same household.
Vaishali has since not looked back and her success has continued even in the post-covid online chess world. She was part of the Gold Medal winning Online Olympiad team, the women's team which won a Gold at the Asian Championship. The Indian youngster also won the Individual Gold Medal at the Asian Championship for her exploits as the board 1 player for Team India.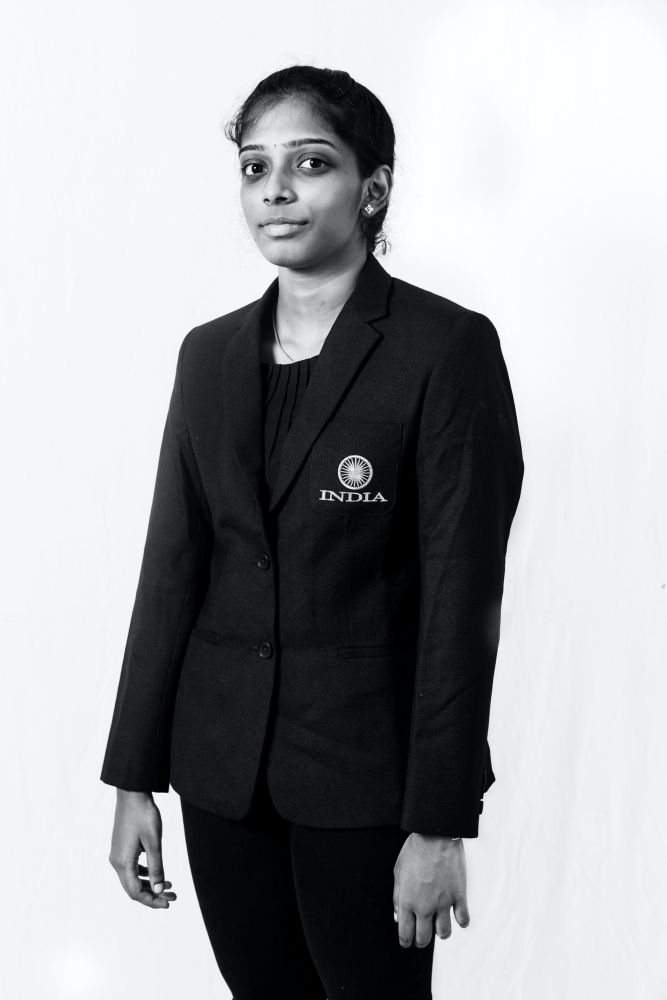 During the pandemic period, Vaishali played in the Women's Speed Chess Championship. She says, "I attended 5 qualifiers and wanted to qualify (for the event) badly and somehow I qualified in my 5th attempt and got into the Top 20 Grand Prix. I got to play against all the top women players and that was one of the fabulous things that happened last year." During the course of this tournament, she beat former World Champion Antoaneta Stefanova and she has a very interesting anecdote about this. "It was one of the first match events I played, and I didn't expect it all. I kept thinking that she's experienced (and will win). In fact, I have also worked with her for some time. She was taking classes for some girls in 2016 and I was one of them. It was a nice experience and I managed to beat her." It is interesting to think of how the student had grown to a level where she was able to beat her own teacher.
Constant Guidance from Coaches
Vaishali began her initial training under coach S Thiyagarajan and then in 2014, she began training with Grandmaster R.B. Ramesh who continues to coach both the siblings even today. The young star says, "Ramesh sir has been a huge support for us, and we are training under him since 2014. We have regular classes with him and most of the time, he decides the tournaments in which we play. He helps us off the board as well and helps us deal with things such as mental issues."
In addition to training with Coach Ramesh, Vaishali is part of the group that trains at the Westbridge Anand Chess Academy. Vaishali says, "My inspiration has always been Anand sir. I remember in 1st or 2nd standard there was this thing where they used to invite sports champions for annual days in our school. It was the first time I saw him, and I didn't know that I would get to train with him later. I think he has been a great inspiration for every Indian chess player." She also trains with GMs Artur Yusupov, Sandipan Chanda and Grzegorz Gajewski who are affiliated to the academy.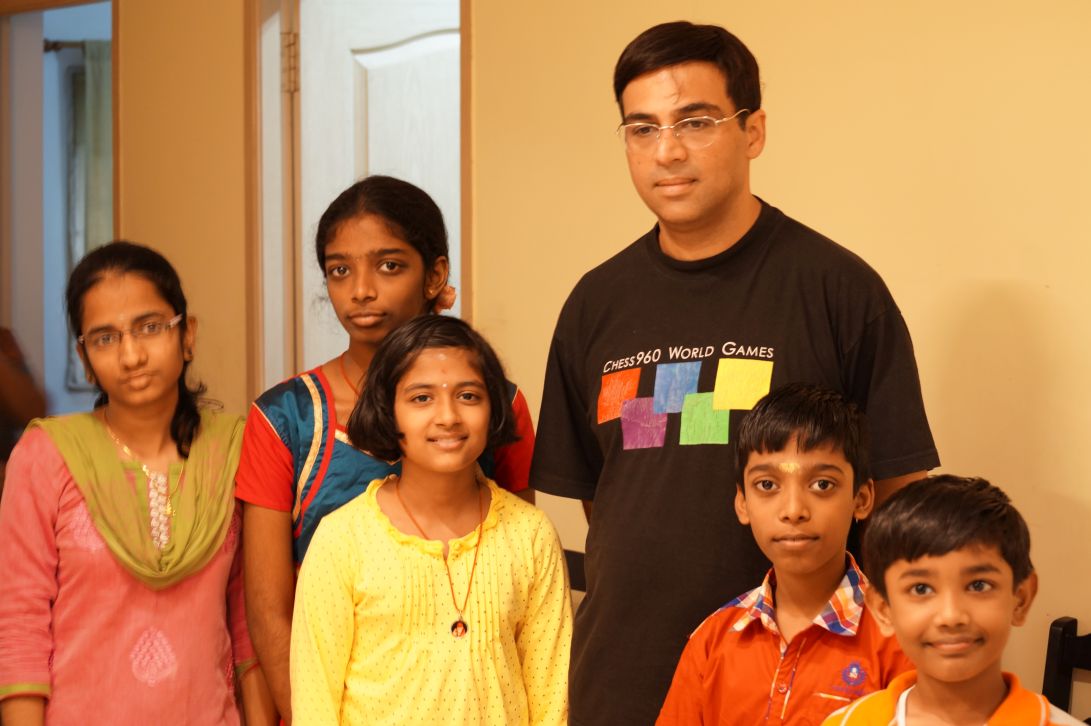 Looking into the Future
When asked about her style of play, Vaishali remarks, "I think I am an aggressive and attacking player. Also, over the past one year I have been working on other things like opening preparation and endgame. I think I have become a universal player and that is what every player aims (for) - to be able to play well in all positions and circumstances." Vaishali played the Aeroflot open in Russia, last February and needed a draw in the last round to complete her IM title but she lost that game and had been waiting for more than a year to get her final norm. This happened at the Biel Masters Open where Vaishali managed to score her final IM norm. She also beat strong GMs like Gukesh, Daniil Yuffa etc. This just shows how strong she is. "Another goal is the GM title. I already have one GM norm and I need two more and want to increase my rating as well." She believes that once she achieves the GM title, the other bigger things will fall in place and she will try to set newer goals for herself at that point.
To achieve these goals, she will need the support from many people. Two years ago, the sibling duo was given a central government sponsorship. The government also supported Praggnanandhaa and helped him get a server to run a chess engine. Vaishali acknowledges the role of Ramco Cements in her career and says that they have been a huge support for her from initial days of her chess journey.
Aside from the chess, you may wonder what the Chennai youngster does to relax. Vaishali relaxes by listening to music, playing badminton with her brother Prag and by going cycling with him. During tournaments, she listens to devotional songs to help calm her nerves. When at tournaments, she talks about how she gets inspired very easily. Many a time during events, she will look at the people playing on the boards near her and will try to learn their openings and implement these in her matches on the following day.
One memory of that that stands out for her from one such tournament is meeting GM You Hifan. "Currently, Women No.1 is Hou Yifan from China, the first time I saw her was in an open tournament where she was participating. I took a picture as a chess fan and she didn't know me. The second time I approached her was a few years later and she knew me as Prag's sister since he was the one taking the picture. Next time I meet her, I want to introduce myself as Vaishali and hopefully she'll get to know me."
Vaishali is one of the top woman chess players in India and it is only a matter of time before she is able to achieve her goals. One day in the future, she will probably inspire youngsters and they would want to take photos with her. Like she hopes to introduce herself to Hou Yifan today, in the future, many will hope to introduce themselves to Vaishali R.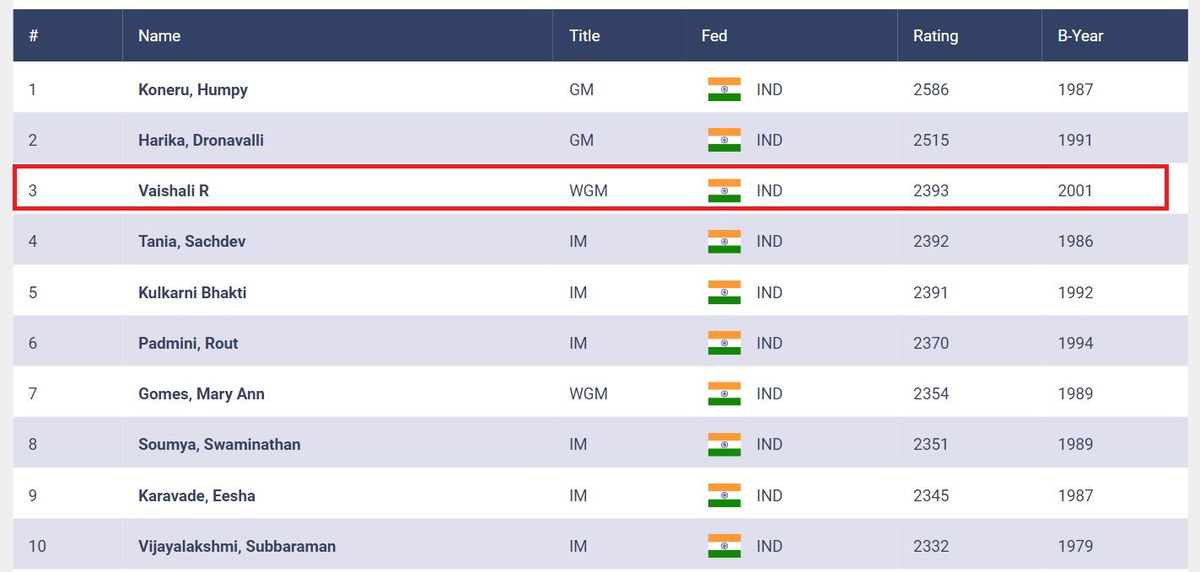 A beautiful combination
Vaishali is tactically very strong and spots beautiful combinations with ease. One of her favourite games comes against Michal Jelinek from the World Youth Olympiad under-16. Speaking about the game Vaishali says, "I like my game against Jelinek Michal World U-16 Olympiad 2016 because I sacrificed my Queen and Rook for 3 pawns and mated with 2 Knights and a Bishop! It was a beautiful game! I have seen many games like this but never got it in my game! It was a very nice feeling."
Jelinek vs Vaishali, World Youth Olympiad 2016
Previous coverage of Vaishali on ChessBase India
Videos:
About the author
Saishyam Srikanth is a journalism student who is currently studying in the final year of his bachelor's programme at St. Joseph's College, Bengaluru. He has been a sports fan from the time he can remember and one day, aspires to translate this love for sport into a career as a media professional.
---