57-year-old Michal Krasenkow wins Sheikh Russel GM 2021
The legendary Polish GM Michal Krasenkow beat GM Vugar Rasulov (AZE) in the final round to win Sheikh Russel International GM 2021. He scored 7.0/9, finished a half point ahead of the competition at the age of 57 years. Six players finished at 6.5/9. GM Vitaliy Bernadskiy (UKR), GM Srinath Narayanan, IM Mitrabha Guha, GM Shyam Sundar M, IM Seyed Khalil Mousavi (IRI) and GM Vugar Rasulov were placed second to seventh respectively according to the tie-breaks. Three IMs finished in top ten, and they all scored a GM-norm each. They are - Mitrabha, Mousavi and Koustav Chatterjee. Photo: Bangladesh Chess Federation
Mitrabha and Koustav score GM-norms
Tournament champion Krasenkow won US$ 10000, Bernadskiy got $7000 and Srinath won $5000 cash prize. To understand the strength of the tournament, apart from the fact of tournament average rating of players being 2268 and the participation of enormous number of titled players, here is another interesting fact - only two players remained undefeated throughout the tournament among top 20. They are - GM Vugar Asadli (AZE) - 9th and IM Aditya Mittal - 14th.
Rasulov - Krasenkow: 0-1
GM Vugar Rasulov (AZE) was already in a precarious position against GM Michal Krasenkow (POL).
While both players are trying to push their isolated passed pawns to the farthest, it is White who is in a relatively difficult position, because of the lack of space on the queenside. 27.d7 allowed Black to change the diagonal of the bishop 27...Bg7 28.Rab1 Bc3 and now 29.Rxd2 seems to be the only way to end the suffocation momentarily. However, it probably would not have changed the outcome anyway.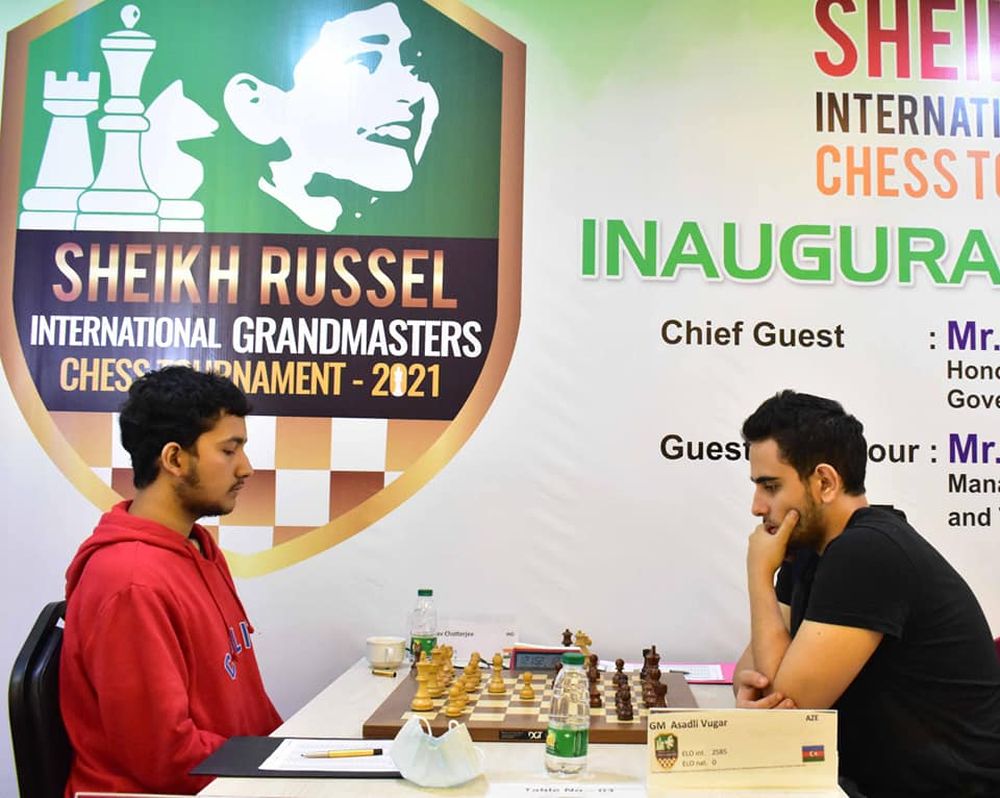 Tiviakov - Laxman: 0-1
GM Laxman R R beat the top seed of the tournament, GM Sergei Tiviakov (NED) after the latter made a big mistake in the final moments of the endgame.
Both 58.Nd5+ and c6 leads to a draw, the former being an easier one. However, 58.Kd6 turns things completely in Black's favor. Find out how.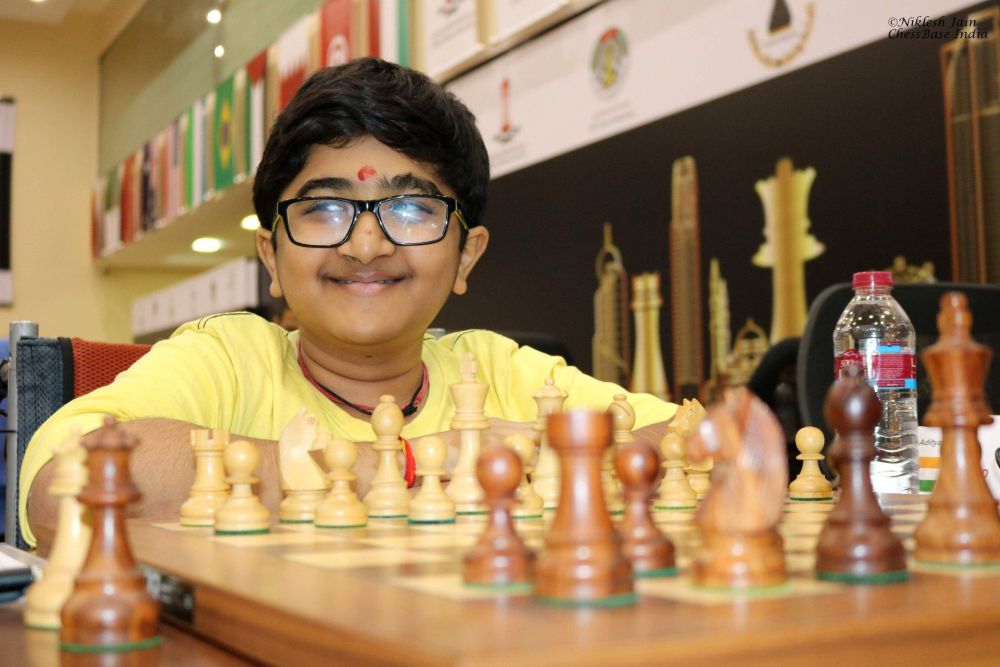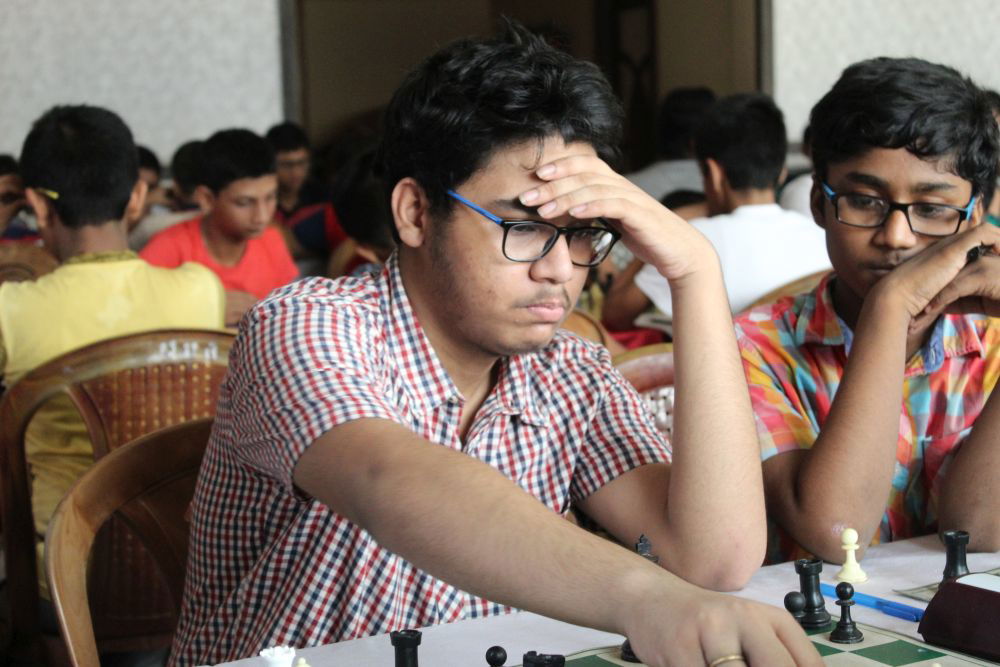 Highlights
A few interesting finishes from Round 9
Replay Round 9 games
The tournament is taking place at Hotel Purbani International, Dhaka in Bangladesh from 19th to 27th October 2021. Time control is 90'/40 + 30' + 30" per move. All round starts at 3 p.m. local time (2:30 p.m. IST)
Round 9 results
Final standings
| | | | | | | | | | | | | | | | | | | | | | | |
| --- | --- | --- | --- | --- | --- | --- | --- | --- | --- | --- | --- | --- | --- | --- | --- | --- | --- | --- | --- | --- | --- | --- |
| Rk. | SNo | | | Name | Typ | sex | Gr | FED | Rtg | RtgI | Pts. | TB1 | TB2 | TB3 | TB4 | Rp | n | w | we | w-we | K | rtg+/- |
| 1 | 4 | | GM | Krasenkow Michal | S50 | | | POL | 2578 | 2578 | 7,0 | 0,0 | 43,5 | 47,0 | 2429 | 2626 | 9 | 7 | 6,44 | 0,56 | 10 | 5,6 |
| 2 | 3 | | GM | Bernadskiy Vitaliy | | | | UKR | 2580 | 2580 | 6,5 | 0,0 | 50,0 | 54,5 | 2490 | 2636 | 9 | 6,5 | 5,82 | 0,68 | 10 | 6,8 |
| 3 | 7 | | GM | Narayanan Srinath | | | | IND | 2540 | 2540 | 6,5 | 0,0 | 48,5 | 52,5 | 2501 | 2641 | 9 | 6,5 | 5,25 | 1,25 | 10 | 12,5 |
| 4 | 18 | | IM | Mitrabha Guha | U20 | | | IND | 2479 | 2479 | 6,5 | 0,0 | 46,5 | 51,0 | 2506 | 2632 | 9 | 6,5 | 4,59 | 1,91 | 10 | 19,1 |
| 5 | 10 | | GM | Shyam Sundar M. | | | | IND | 2518 | 2518 | 6,5 | 0,0 | 46,0 | 50,0 | 2454 | 2595 | 9 | 6,5 | 5,53 | 0,97 | 10 | 9,7 |
| 6 | 13 | | IM | Mousavi Seyed Khalil | | | | IRI | 2510 | 2510 | 6,5 | 0,0 | 46,0 | 49,5 | 2485 | 2622 | 9 | 6,5 | 5,11 | 1,39 | 10 | 13,9 |
| 7 | 22 | | GM | Rasulov Vugar | | | | AZE | 2452 | 2452 | 6,5 | 0,0 | 44,5 | 49,0 | 2461 | 2589 | 9 | 6,5 | 4,79 | 1,71 | 10 | 17,1 |
| 8 | 17 | | GM | Mosadeghpour Masoud | | | | IRI | 2486 | 2486 | 6,0 | 0,0 | 50,0 | 53,5 | 2529 | 2615 | 9 | 6 | 4,38 | 1,62 | 10 | 16,2 |
| 9 | 2 | | GM | Asadli Vugar | U20 | | | AZE | 2585 | 2585 | 6,0 | 0,0 | 49,0 | 54,0 | 2472 | 2579 | 9 | 6 | 6,05 | -0,05 | 10 | -0,5 |
| 10 | 33 | | IM | Koustav Chatterjee | U18 | | | IND | 2431 | 2431 | 6,0 | 0,0 | 47,5 | 51,0 | 2524 | 2597 | 9 | 6 | 3,89 | 2,11 | 10 | 21,1 |
| 11 | 6 | | GM | Iskandarov Misratdin | | | | AZE | 2552 | 2552 | 6,0 | 0,0 | 46,0 | 50,5 | 2463 | 2566 | 9 | 6 | 5,82 | 0,18 | 10 | 1,8 |
| 12 | 25 | | GM | Malakhatko Vadim | | | | BEL | 2444 | 2444 | 6,0 | 0,0 | 45,0 | 48,5 | 2443 | 2530 | 9 | 6 | 4,90 | 1,10 | 10 | 11,0 |
| 13 | 38 | | GM | Laxman R.R. | | | | IND | 2411 | 2411 | 6,0 | 0,0 | 44,5 | 47,0 | 2483 | 2556 | 9 | 6 | 4,12 | 1,88 | 10 | 18,8 |
| 14 | 23 | | IM | Aditya Mittal | U16 | | | IND | 2447 | 2447 | 6,0 | 0,0 | 42,0 | 45,5 | 2450 | 2538 | 9 | 6 | 4,84 | 1,16 | 10 | 11,6 |
| 15 | 15 | | GM | Sumets Andrey | | | | UKR | 2497 | 2497 | 6,0 | 0,0 | 42,0 | 45,5 | 2425 | 2526 | 9 | 6 | 5,59 | 0,41 | 10 | 4,1 |
| 16 | 12 | | GM | Visakh N R | | | | IND | 2515 | 2515 | 6,0 | 0,0 | 42,0 | 45,5 | 2404 | 2509 | 9 | 6 | 6,02 | -0,02 | 10 | -0,2 |
| 17 | 24 | | IM | Aronyak Ghosh | U18 | | | IND | 2445 | 2445 | 6,0 | 0,0 | 41,5 | 45,5 | 2427 | 2517 | 9 | 6 | 5,08 | 0,92 | 10 | 9,2 |
| 18 | 39 | | GM | Murshed Niaz | S50 | | | BAN | 2410 | 2410 | 6,0 | 0,0 | 41,5 | 45,0 | 2389 | 2472 | 9 | 6 | 5,09 | 0,91 | 10 | 9,1 |
| 19 | 20 | | GM | Rios Cristhian Camilo | | | | COL | 2457 | 2457 | 6,0 | 0,0 | 40,5 | 44,0 | 2376 | 2474 | 9 | 6 | 5,74 | 0,26 | 10 | 2,6 |
| 20 | 16 | | | Pranav V | U16 | | | IND | 2489 | 2489 | 6,0 | 0,0 | 39,5 | 42,0 | 2346 | 2452 | 9 | 6 | 6,33 | -0,33 | 10 | -3,3 |
Links
---