Shashini Puvi - the best under-5 girl in India
She was born on 24th of April 2013. Barely five years old Shashini Puvi has already achieved two national titles! She has been the under-5 national schools champion at Bhubaneshwar in February 2018 and the national under-5 champion at Tumkur in July 2018. At an age where people learn the game of chess, this youngster has already taken massive steps in the direction of becoming a strong player. Shashini's favourite player is Vishy Anand and her dream is to meet the five-time World Champion some day! Well, we presume that this is going to happen very soon. Judging from the speed at which she is winning her national titles, we won't be surprised if she becomes one of the strongest junior players of Indian chess in a few years from now!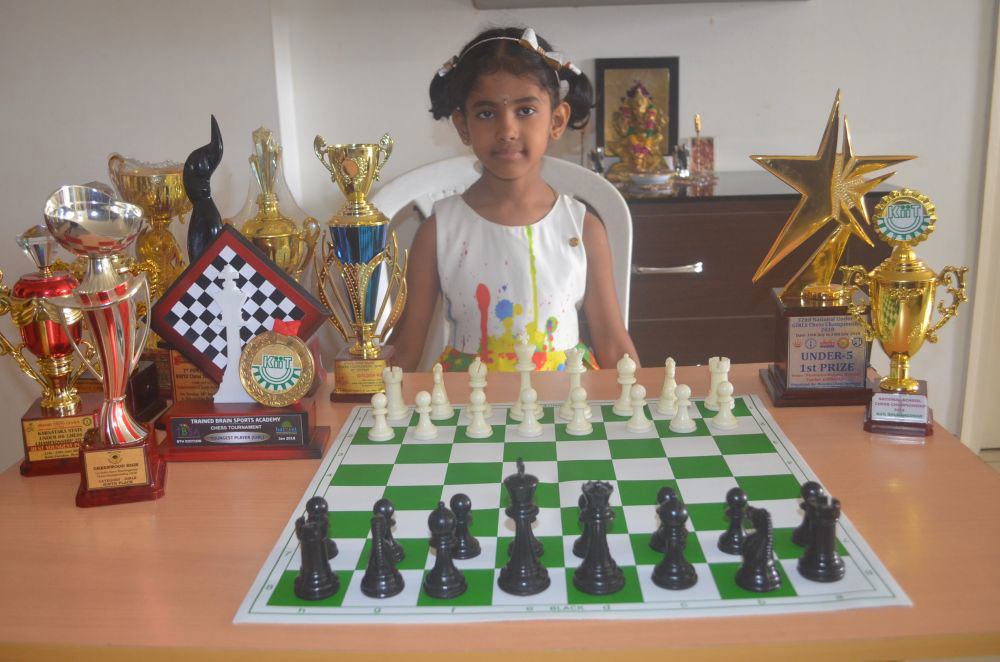 Shashini Puvi from Bangalore secured her 2nd National title in the Under-5 Girls Category at the 32nd National U-7 Open and Girls Chess Championships 2018 held in Tumkur, Karnataka. There is no separate under-5 national tournament that is held in India yet, but the best three players under the age of five get prizes at national under-7. Earlier in Jan 2018 Shashini had won her 1st National title in the Under-5 category of 7th Nationals Schools Chess Championship 2018 held in Bhubaneswar, Odisha. Shashini started playing chess at the age of three and half and undertook professional coaching last year from Chess Shoots Academy in Bangalore. Her coach Anjan H believes that the youngest girl stands out for applying various gambits during play in tournaments.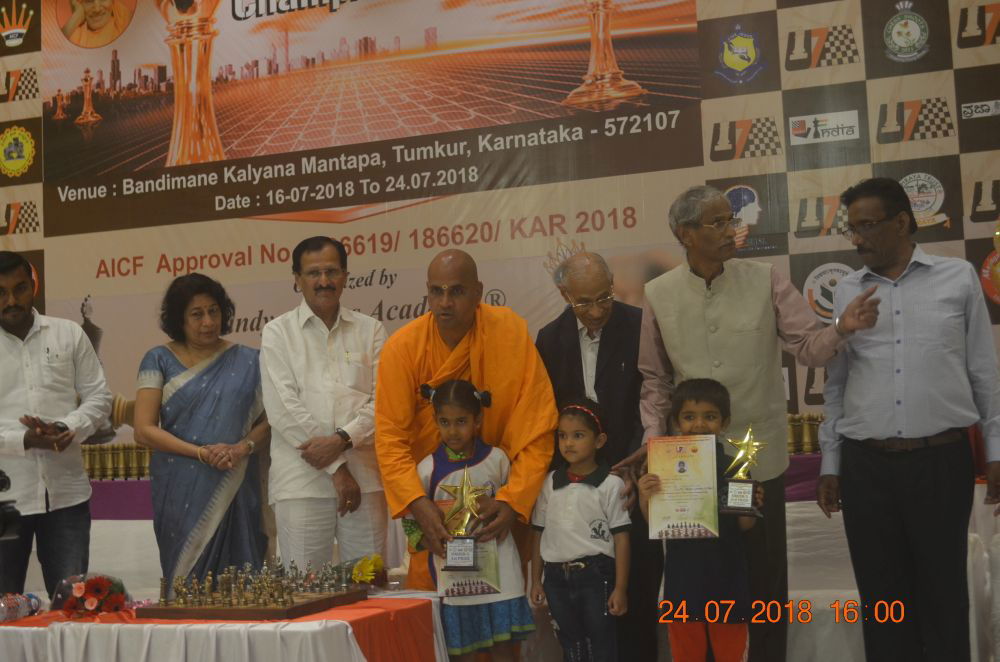 "When she started playing chess, she did not even know how to read or write notations and could not understand the various positions in chess. In Tumkur, Nationals Under-7 she was always eager to play against U-7 players and it boosted her confidence and proved her potential" said her parents. In Nationals Under-7 chess championship she played 2 hours long game in round 10 and a one and half hour game in round 11. Chess is helping her to develop her patience and play long games which is rarely seen in chess players under the age of 5.
Currently she practices under her coach for two hours weekly apart from practicing at home for an hour daily. On weekends, she plays chess for three-four hours at home. She follows all the opening principles and knows the various gambits like Scotch Gambit, Italian Gambit, French Defense, Scandinavian Gambit, Budapest Gambit, Smith Morra Gambit, English opening and Fried Liver Attack. She knows how to punish when opponents do not follow the opening principles. She knows all the basic concepts like Pin, Fork, Skewers, Trapping, Removing the guard, Discovered Check, Discovered Attack, Double Check, Decoy, Sacrifices, Special rules in Chess (Enpassant and Castling), six types of draw. She is familiar with rook end games and bishop and knight mate.
Here are Shashini Puvi's 2 best games from Nationals Under-7 Chess Championship 2018:
3rd round of Nationals Under-7 2018:
9th round of Nationals Under-7 2018:
Know more about Shashini:
1. Born on 24th April 2013
2. Studies in UKG in St.Peters School in Bangalore
3. Coached by Anjan H, Chess Shoots Academy, Bangalore.
4. Favorite Player: Viswanathan Anand. Would love to meet him!
5. When she was 4 years old she secured 9th place in the 1st State Kindergarten Chess Championship 2018.
6. Till date she has participated in 2 Nationals, 6 State level chess tournaments and 5 other local tournaments.
7. Best tournament was the Nationals Under-7 Chess Championship 2018.
8. Loves to solve the puzzles from the book Bobby Fischer Teaches Chess
9. Loves to solve the jigsaw puzzles at home and solves 108 pieces jigsaw puzzles in 15-20 minutes.
10. Loves to draw
11. Loves to watch Bahubali movie and co-relates with chess on the strategies used in the movie to attack the enemies.
---