Sambit Panda becomes the latest International Master of India
18-year-old Sambit Panda became the latest International Master of India on the second week of December 2022. The teenager from Bhubaneswar crossed 2400 in the live ratings, just a week after India got its latest IM in the form of Jubin Jimmy. He fulfilled the rating criteria at Torino International Open - Master in Torino, Italy, nine months after scoring his first IM-norm at MPL 58th National Senior Championship. The second IM-norm was earned at 22nd Dubai Open in September first week. A little less than two months later, he secured his final IM-norm at Asian Continental Chess Championship 2022. He is now the ninth IM from Odisha. Photo: Aditya Sur Roy
From 2059 to 2405 and three IM-norms in nine months
Sambit Panda started the year with a 2059 Elo rating. In the first week of March, he gained 136 rating points at the 58th National Senior Championship, although he dropped about 72 rating points in the following 50th National Junior Championship, resulting in only a gain of 64 points. In the August FIDE Rating list, he gained a staggering 222.6 Elo rating points - 96.25 in Serbia Masters, 121.8 at Paracin Open A 2022 and 4.55 at Svetozar Gligoric Memorial Open 2022. Thus he jumped directly from 2123 to 2346.
First IM-norm: 58th National Senior 2022
Sambit Panda earned his first IM-norm at MPL 58th National Senior Chess Championship in March 2022. He defeated GM Deepan Chakkravarthy, IM P Saravana Krishnan and IM Vignesh N R, draws with GM Abhimanyu Puranik, GM Laxmana R R and IM Koustav Chatterjee.
Sambit - Deepan, Round 5
Sambit does not shy away from taking chances. He obviously played 24.Rd5 seeing the following sequence Nd4 25.Nf6+ Kg7 26.Nxh5 gxh5 27.Qg5+ Kh7 28.Qxh5+ Qh6 29.Qxe5. White got three pawns for a knight and Black's king is quite vulnerable too. Eventually Black erred, lost the knight and dropped another pawn with no compensation.
Second IM-norm: 22nd Dubai Open 2022
Sambit secured his second IM-norm at 28th Dubai Open 2022 in Dubai, UAE in September 2022. He scored 6/9 including wins over GM Sandro Mareco (ARG) and GM Thej Kumar M S, draws with GM Adly Ahmed (EGY).
Sandro - Sambit, Round 8
It was a sharp battle between GM Sandro Mareco (ARG, 2657) and Sambit Panda (2346). Despite both players being at 4/7, neither was showing any signs of slowing down. Sambit threatened checkmate at g2 and offered his a8-rook for sacrifice. 22...Rg6 23.Qxa8+ Kf7 24.e6+ Kf6 25.Kf1 Qxg2+ 26.Ke2 Qe4+ 27.Kf1 Qd3+ 28.Re2 Qh3+ 29.Ke1 Bb4+ now 30.Rc3 was the only way for White to secure a draw Bxc3+ 31.bxc3 Qxc3+ 32.Rd2 Rg4 33.Qf8+. Instead, White blundered 30.Rd2 and there is a forced checkmate in four. 30...Rg1+ 31.Ke2 Qg4+ and White resigned as mate is unstoppable in the next two moves.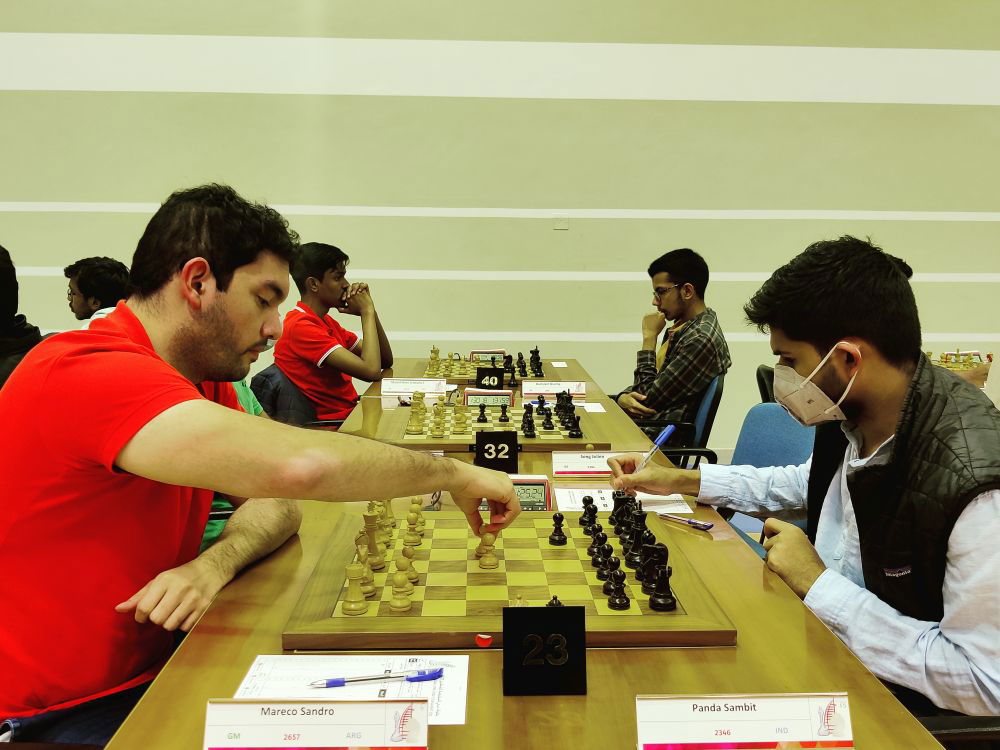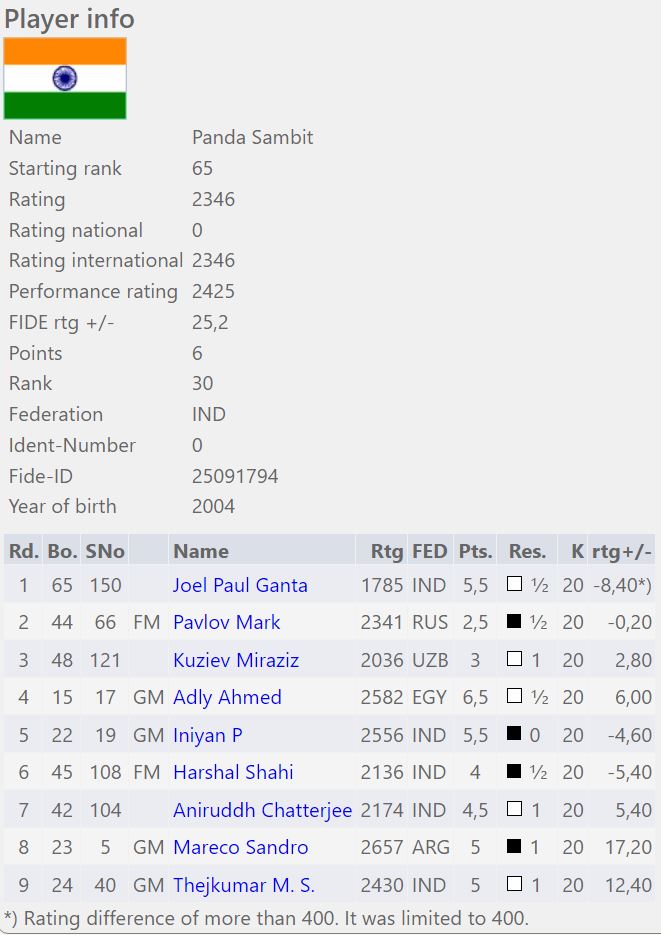 Third IM-norm: Asian Continental 2022
A little over two months after scoring his second IM-norm, Sambit scored his final IM-norm at Asian Continental Chess Championship 2022 in New Delhi. He scored 4/9 including a win over GM Iniyan P, draws with GM Deep Sengupta, GM Tsegmed Batchuluun (MGL), IM L M S T De Silva (SRI) and IM Vignesh N R.
Sambit - Iniyan, Round 2
Iniyan capturing the c3-pawn and venturing out with his queen cost him a lot of tempi. First five out of ten moves were by the queen only. Sambit had no trouble converting his advantage into a win, finishing with a nice discover checkmate by promoting his pawn.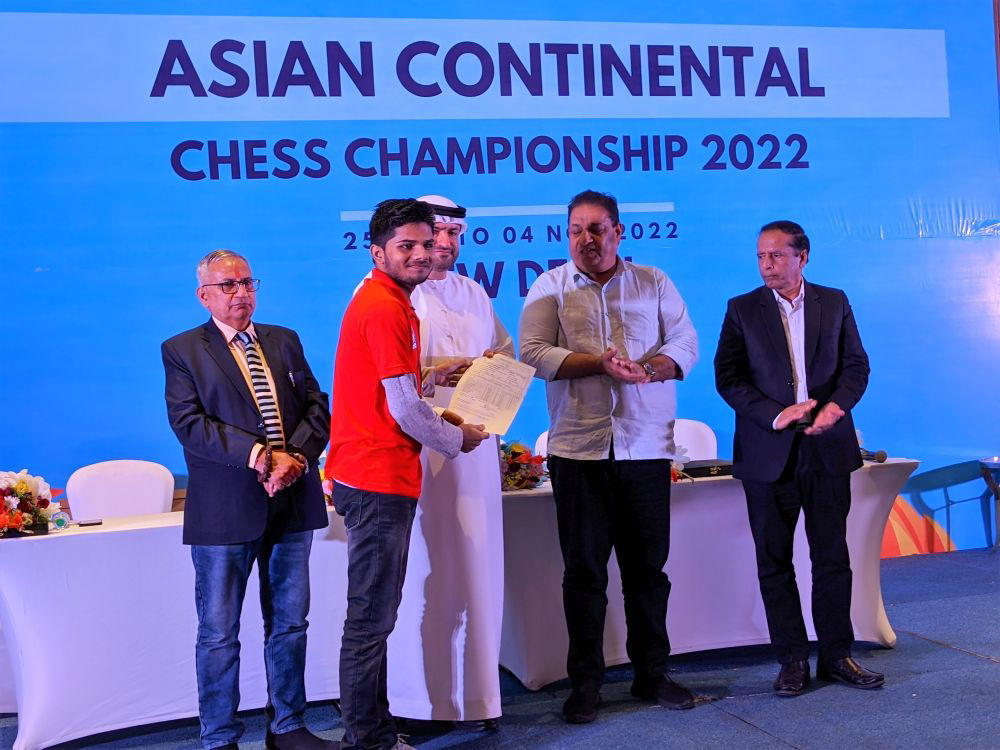 Live rating 2400+ : Torino Open - Master
Sambit Panda crossed 2400 in the live ratings at Torino International Open Master 2022 in Torino, Italy. He scored 6/9 and gained 21.4 Elo rating points. The 18-year-old defeated GM Sabino Brunello (ITA), IM Giulio Borgo (ITA) and drew with GM Michele Godena (ITA). The teenager's live rating is now 2405.4.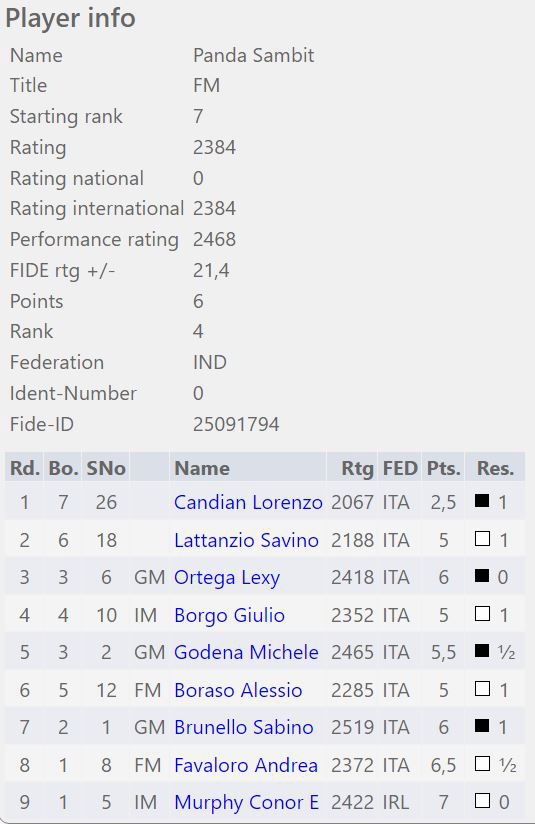 "Very talented and hardworking youngster, I like his attitude. He has a creative, inquisitive and sensible mind on his shoulders. My friend Satyapragyan was his trainer for a long time before. His talent will take him further on, this is just the beginning!" - GM Sundararajan Kidambi on India's latest IM Sambit Panda.
Replay Sambit's games
---