Rodrigo Schroeder wins the biggest open in Northeast history
Top seed Chilean GM Rodrigo Vasquez Schroeder scored an unbeaten 9.0/10 to win 3rd RGS Guwahati Open. He finished a half point ahead of the runner-up IM Koustav Chatterjee. Six players finished with a score of 8.0/10, IM Dhulipalla Bala Chandra Prasad claimed the second runner-up position due to a better tie-break score. This is Rodrigo's second tournament win in India in consecutive months after winning Lakecity Open in September. Total 345 players from seven different countries including Bangladesh, Belgium, Chile, Nepal, Philippines, Thailand and India. The tournament is the biggest in the Northeast history both in terms of the total number of participants and total prize fund. Photo: IA Biswajit Bharadwaj
Rodrigo wins his second tournament in India in consecutive months
Seven-time Olympian Chilean and top seed of the tournament GM Rodrigo Schroeder Vasquez won Lakecity Open last month, finished second at 2nd Gujarat GM Open and now won 3rd RGS Guwahati Open with an unbeaten score of 9.0/10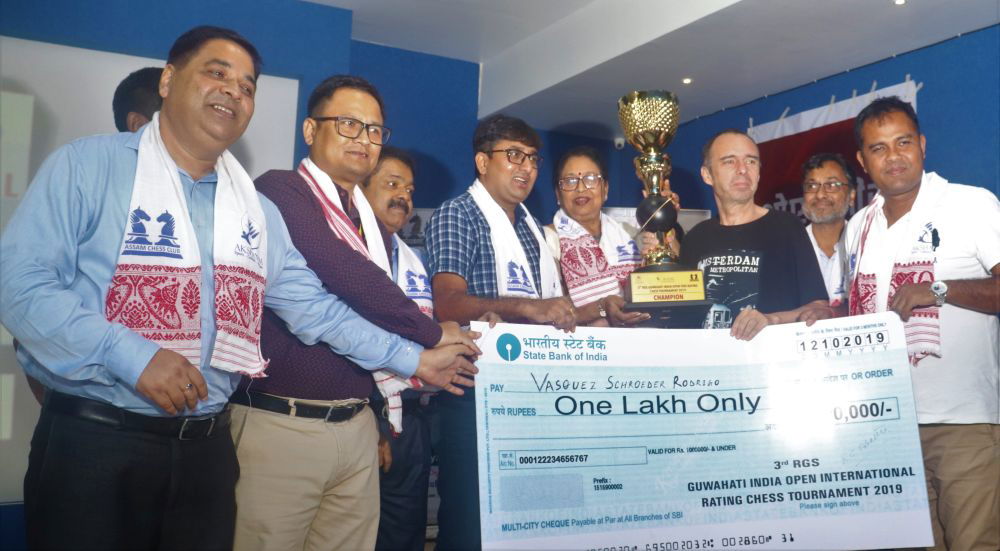 Rodrigo's best win was against local lad Rajib Dhar in the penultimate round of the tournament.
Runner-up Koustav's best game was against state-mate GM-elect IM Sayantan Das in the penultimate round.
The 3rd RGS Guwahati 2019 was inaugurated by Mr. Keshab Mahanta, Honourable Minister, Government of Assam in the presence of Arjuna Awardee Mr. D V Prasad; first International player from north east A B Meetei of Manipur; Amitabh Basumatary, Additional SP, Assam Police and host of players officials and guest.
The Prize Distribution ceremony was attended by Member of Parliament Queen Ojha, Lakhya Konwar Member Secretary (SLAC) Govt. of Assam, Mridul Kumar Mahanta, Additional Secretary (WPT&BC), Govt. of Assam, Deba Kumar Mishra Director of Tourism, Govt. of Assam, Ritubaran Sharma, Vice Chairman, Amtron, IM Atanu Lahiri, Joint Secretary, All India Chess Federation, Santanu Kalita, Vice President, Assam Boxing Association, Ankur Deka, Sr. Journalist, Assam Tribune and Amitabh Basumatary, President, Organizing Committee and host of other guest and officials.
The tournament was supported by Government of Assam, Life Insurance Corporation of India Limited (LIC), ONGC, Assam Tourism, Numaligarh Refinary Limited (Limited) and Indian Oil Corporation Limited among others. The event has been supported by Asomiya Pratidin, The Telegraph, NortheastLive and Prag Channel as Media Partner.
National Chess Champion from Assam, CM Shahil Dey was the best performer from Assam as he managed to secure the 13th position in the final standings. Y Dhanabir Singh of Manipur who secured the 7th position was the best performer from the Northeast. The tournament is the biggest ever international chess tournament of the entire northeast till date both in terms of prize money and number of total number of participants 345, was organized by Assam Chess Club and Royal Global School at Royal Global School, Guwahati from 7th to 12th October 2019.
Final Standings
| | | | | | | | | | | | | | |
| --- | --- | --- | --- | --- | --- | --- | --- | --- | --- | --- | --- | --- | --- |
| Rk. | SNo | | | Name | FED | Rtg | Club/City | Pts. | TB1 | TB2 | TB3 | TB4 | TB5 |
| 1 | 1 | | GM | Vasquez Schroeder Rodrigo | CHI | 2465 | CHILE | 9,0 | 0,0 | 65,0 | 69,5 | 61,25 | 8 |
| 2 | 2 | | | Koustav Chatterjee | IND | 2442 | WB | 8,5 | 0,0 | 67,5 | 72,5 | 60,00 | 7 |
| 3 | 4 | | IM | Dhulipalla Bala Chandra Prasad | IND | 2415 | AP | 8,0 | 0,0 | 69,0 | 73,5 | 56,25 | 7 |
| 4 | 8 | | FM | Kulpruethanon Thanadon | THA | 2216 | Thailand | 8,0 | 0,0 | 65,0 | 69,5 | 53,25 | 7 |
| 5 | 9 | | IM | Ramnathan Balasubramaniam | IND | 2201 | TN | 8,0 | 0,0 | 64,0 | 69,0 | 53,50 | 7 |
| 6 | 27 | | | Panta Sumit | NEP | 1971 | NEPAL | 8,0 | 0,0 | 60,0 | 65,0 | 51,25 | 7 |
| 7 | 15 | | | Singh Y. Dhanabir | IND | 2088 | MAN | 8,0 | 0,0 | 59,5 | 64,5 | 50,25 | 7 |
| 8 | 31 | | | Trivedi Karan R | IND | 1930 | GUJ | 8,0 | 0,0 | 54,0 | 58,0 | 44,25 | 7 |
| 9 | 3 | | IM | Das Sayantan | IND | 2440 | WB | 7,5 | 0,0 | 66,0 | 71,5 | 50,75 | 7 |
| 10 | 19 | | | Prakash Ram | IND | 2060 | PUN | 7,5 | 0,0 | 62,0 | 67,0 | 48,00 | 6 |
| 11 | 6 | | IM | Sidhant Mohapatra | IND | 2355 | ODI | 7,5 | 0,0 | 61,5 | 67,0 | 49,25 | 5 |
| 12 | 14 | | | Vipul Subhashi | IND | 2091 | BIH | 7,5 | 0,0 | 61,5 | 66,5 | 47,00 | 7 |
| 13 | 13 | | CM | Shahil Dey | IND | 2095 | ASS | 7,5 | 0,0 | 61,5 | 66,0 | 46,50 | 6 |
| 14 | 12 | | | Singh Soram Rahul | IND | 2098 | ASS | 7,5 | 0,0 | 57,5 | 62,0 | 43,00 | 7 |
| 15 | 25 | | | Imtiaz Islam Bora | IND | 2018 | ASS | 7,5 | 0,0 | 56,5 | 61,5 | 43,25 | 7 |
| 16 | 33 | | | Subedi Rajan | NEP | 1912 | NEPAL | 7,5 | 0,0 | 56,5 | 61,0 | 44,50 | 6 |
| 17 | 24 | | | Lama Surbir | NEP | 2029 | NEPAL | 7,5 | 0,0 | 56,5 | 61,0 | 44,25 | 7 |
| 18 | 60 | | | Elangbam Shashikanta Singh | IND | 1677 | MAN | 7,5 | 0,0 | 56,5 | 60,5 | 42,00 | 7 |
| 19 | 17 | | | Portugalera Ric | PHI | 2077 | Philippines | 7,5 | 0,0 | 55,5 | 60,5 | 43,00 | 6 |
| 20 | 29 | | | Gurung Rohit | IND | 1935 | SIK | 7,5 | 0,0 | 55,0 | 59,5 | 42,50 | 7 |
| 21 | 36 | | | Mayank Chakraborty | IND | 1863 | ASS | 7,5 | 0,0 | 55,0 | 59,0 | 42,75 | 7 |
| 22 | 11 | | | Dhar Rajib | IND | 2117 | ASS | 7,0 | 0,0 | 64,5 | 69,0 | 44,75 | 6 |
| 23 | 5 | | GM | Sriram Jha | IND | 2385 | DEL | 7,0 | 0,0 | 63,5 | 69,0 | 45,50 | 6 |
| 24 | 20 | | | Barbe Tom | BEL | 2059 | BELGIUM | 7,0 | 0,0 | 63,0 | 68,5 | 45,50 | 6 |
| 25 | 16 | | | Apollosana Mangang Rajkumar | IND | 2084 | MAN | 7,0 | 0,0 | 62,0 | 66,0 | 43,00 | 6 |
---