Rakshitta Ravi becomes the 24th Woman Grandmaster of India
On 7th of April 2023, 17-year-old WIM Rakshitta Ravi defeated GM Sahaj Grover to score her final WGM-norm at First Saturday GM April in Budapest, Hungary. With three rounds to spare, she fulfilled the title requirements and became India's 24th Woman Grandmaster. Rakshitta did not slow down after becoming a WGM. She drew her seventh round game against GM Milan Pacher (SVK) to earn her maiden IM-norm. Last year, the teenager from Chennai won the 36th National Junior Girls, Silver and Bronze at Asian Junior Girls 2022 in her long list of laurels. The first WGM-norm was earned at Pardubice Open 2019 in Czech Republic. She crossed 2300 in August 2019 FIDE Rating list. A little over four months later she secured her second WGM-norm at Sunway Sitges Open 2019 in Spain. After three years and nearly four months later, she became a Woman Grandmaster. Photo: Shahid Ahmed
Final WGM-norm in six games and maiden IM-norm at the same event
Rakshitta Ravi is the daughter of IM Ravi T S and WIM Sai Meera Ravi. They are the first titled Indian chess family in history. With Rakshitta becoming a WGM, in terms of title, we can say, she has already surpassed her mother. Now that she has an IM-norm and a live rating of 2318.4, it is just a matter of time before she ties with her father and becomes an International Master. Her journey towards the IM title continues as she starts her next event - Vezerkepzo Easter IM 2023 from today.
First WGM-norm: Pardubice Open 2019
WIM Rakshitta Ravi earned her first WGM-norm at Pardubice Open in July 2019. Despite starting with a loss, she scored 6/8 in the remaining eight games with a performance of 2443 and also gained a staggering 155.2 Elo rating points. She defeated IM Igor Gazik (SVK) and IM Yong Hoon De Rover (NED) en route her first norm.
Yong Hoon - Rakshitta, Round 9
The above position looks quite balanced. IM Yong Hoon De Rover (NED, 2391) played 37.a5. Find out why it is a blunder and how his opponent, WIM Rakshitta Ravi (2212) found the winning continuation.
Second WGM-norm: Sunway Sitges Open 2019
Almost five months later, WIM Rakshitta Ravi secured her second WGM-norm at Sunway Sitges Open 2019. She defeated GM Kaido Kulaots (EST), drew with IM Benjamin Haldorsen (NOR), then IM Igor Janik (POL) and IM Zhen Yu Cyrus Low (SGP).
Third WGM-norm and First IM-norm: First Saturday GM April 2023
Rakshitta scored her final WGM-norm at First Saturday GM April 2023 in just six rounds. In the same event, she also earned her maiden IM-norm in seven games. The reigning National Junior Girls champion, defeated GM Vasilios Kotronias (GRE), GM Sahaj Grover, IM Ajay Karthikeyan, IM Ilamparthi A R, drew with GM Lajos Seres (HUN) and GM Milan Pacher (SVK).
Kotronias - Rakshitta, Round 1
GM Vasilios Kotronias (GRE, 2471) decided to bring his queen to the queenside of the board. His opponent, WIM Rakshitta Ravi (2264) made the correct decision of transferring her queen to the kingside, the important action point of the board. 20.Qa3 Ng6 21.Kf2 and the king cannot escape its way into a better square. 21...f5 22.Rh1 Qg4 23.exf5 Qxf5 24.Nxc6 g4 and White resigned.
Ilamparthi - Rakshitta, Round 3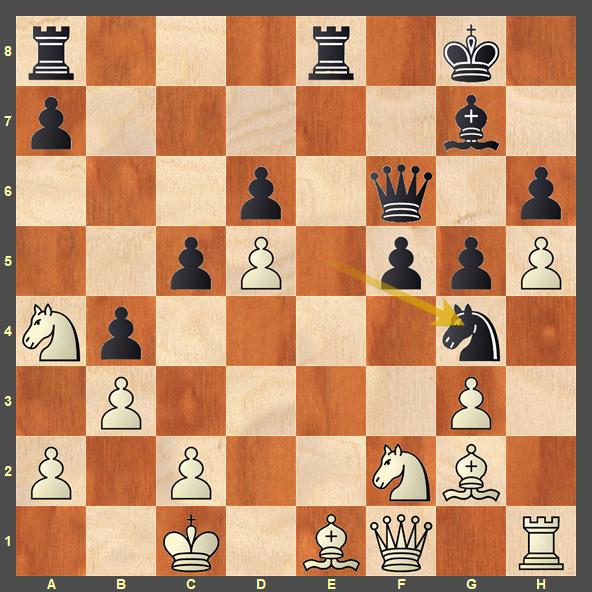 Black is completely winning positionally as her pieces are in perfect harmony, while her opponent IM Ilamparthi A R's (2408) pieces are all over the board. 25.Nxg4 Qa1+ 26.Kd2 Bc3+ 27.Kd3 Qd1+ 28.Kc4 Qxg4+ 29.Kb5 Rab8+ 30.Ka5 Rxe1 and Black won the game in eight more moves.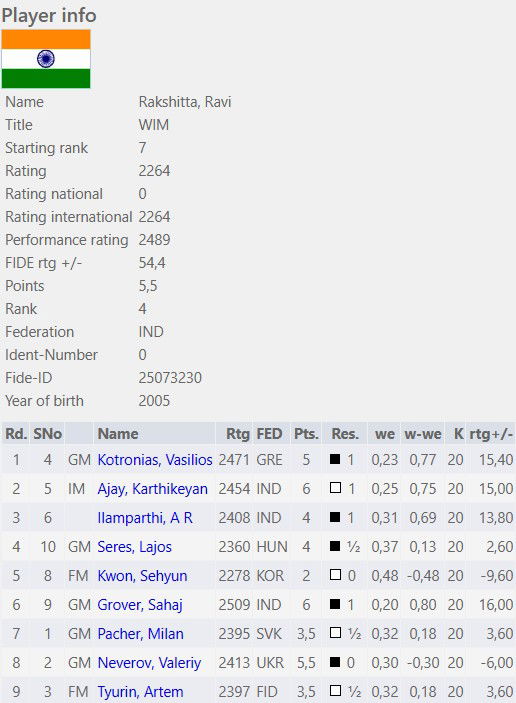 The 23 Indian woman who became Woman Grandmasters - Subbaraman Vijayalakshmi (2001), Koneru Humpy (2001), Aarthie Ramaswamy (2003), Nisha Mohota (2003), Harika Dronavalli (2004), Subbaraman Meenakshi (2004), Swati Ghate (2004), Tania Sachdev (2005). Eesha Karavade (2005), Padmini Rout (2007), Mary Ann Gomes (2008), Soumya Swaminathan (2008), Kruttika Nadig (2009), Kiran Manisha Mohanty (2010), Bhakti Kulkarni (2012), R Vaishali (2018), Srija Seshadri (2019), Nandhidhaa P V (2020), Pratyusha Bodda (2020), Varshini V (2020), Divya Deshmukh (2021), Vantika Agrawal (2021) and Priyanka Nutakki (2022).
Replay Rakshitta's games
Videos
---