Can Praggnanandhaa become the youngest GM in the world?
Sergey Karjakin became the youngest GM in the world in 2002 at the age of 12 years and 7 months. Many players have come close to beating the record but none have been able to. Even after nearly 16 years, the record still stands. But, the little boy from Chennai R. Praggnanandhaa has a chance of eclipsing this and he is two GM norms away. Pragg has exactly 59 days left to become the youngest GM in the world. His next tournament begins from tomorrow in USA and after that he will be playing at the Gibraltar Open 2018. We bring you this article that brings you up to speed with all that is happening in Pragg's life right now!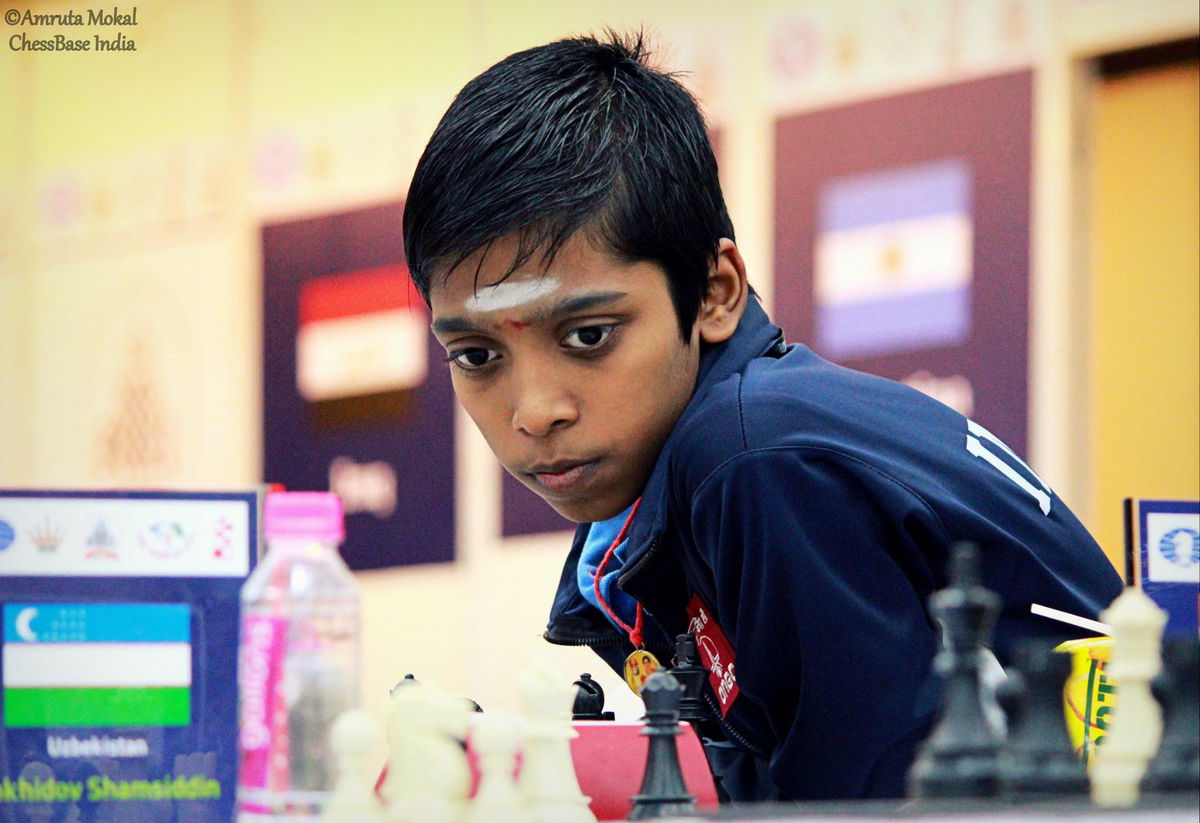 Where is Praggnanandhaa these days and what are his chances to become the youngest GM in the history of the game? This is the question on the mind of every chess fan right now. Well, Pragg is currently in USA and he trying his best to surpass Sergey Karjakin's record of becoming a GM at 12 years and 7 months.
How much time does Pragg have?
Pragg was born on 10th of August 2005, which means that he would have time until 10th of March 2018 to become the youngest GM. He has 60 days to score his two GM norms. This is perfectly doable, but the problem lies in the fact that the boy has been playing chess continuously without a break. It is definitely tiring for a 12-year-old. Not to forget that he constantly has to keep thinking whether he would become the youngest GM in the world or not!
Which is Pragg's next tournament?
After the Rilton Cup 2017-18, where Pragg was unable to achieve a GM norm, the Chennai lad is now in North Carolina, USA to play at the Charlotte Chess Club GM norm invitational. It is a closed 9-round Round Robin tournament where Pragg is the top seed and has to score 6.5/9 in order to get his second GM norm.
ChessBase India will be covering this event in depth.
Who are Pragg's opponents:
Infomation taken from the official website
GM Magesh Panchanathan (India, FIDE 2486, USCF 2559) is from Madurai, India and currently teaches chess in New Jersey. He has won the World Open, DC International, Asian Junior Championship, and the Philadelphia Open. He has defeated many strong GMs, including Sethuraman, Iturrizaga, Mamedov, Akobian, Ehlvest, Shabalov, and Jeffery Xiong. Magesh graduated from UT Dallas, where he was part of the strong chess program there. This will be his second time at the Charlotte Chess Center, having been a coach for our Mega Master summer camps.
GM Angel Arribas Lopez (Spain, FIDE 2483, USCF 2563) is a Spanish grandmaster who currently attends UT Dallas, studying Computer Software. He is a many time Spanish youth chess champion, and is a contributor for the Chess24 platform. This will be Angel's first visit to the Charlotte Chess Center.
GM Alder Escobar Forero (Colombia, FIDE 2482, USCF 2576) is a Colombian grandmaster who has represented his country at four Chess Olympiads. He is the second highest rated player in Colombia, and was the 2007 Colombian Champion. He has drawn former World Championship contender Gata Kamsky, in addition to strong GMs Ni Hua, Jorge Cori, Yuniesky Quesada, and Daniel Naroditsky.
IM John Bartholomew (Minnesota USA, FIDE 2459, USCF 2541) is famous for his work with Chessable and his Youtube Channel, which has 11 million views and almost 50,000 subscribers. John is a frequent guest at the Charlotte Chess Center - this will be his second CCCSA GM norm invitational, and he has coached at many of our Mega Master summer camps. He has one GM norm, and will hope to earn his second in January, having scored 4.5/9 in our March 2017 event.
IM Alexander Kalikshteyn (New York USA, FIDE 2425, USCF 2498) is a former training partner of World Championship contender GM Gata Kamsky. He has defeated strong GMs such as Baskaran Adhiban, Vladimir Belous, Bartlomiej Macieja, Suat Atalik, and Alex Shabalov. This will be Alexander's second norm event in Charlotte - he earned 3.5/9 at our March 2017 GM norm event.
IM Denys Shmelov (Ukraine, FIDE 2420, USCF 2518) is a Ukrainian IM who works as a life insurance actuary in Boston, where he is the 7th highest rated player in Massachusetts. He has one GM norm, and has defeated many GMs including Alex Lenderman and Sergey Erenburg.
IM David Brodsky (New York, FIDE 2405, USCF 2508) is the fourth highest rated 15-year-old in the country and the 48th highest rated player under 16 in the world. He has won against Alex Shimanov, Larry Christiansen, and Mark Paragua. In addition to writing for ChessSummit, David has earned one GM norm from his victory at the 2017 Philadelphia Open, and is currently at his peak rating, being over 2400 FIDE and 2500 USCF. David scored 6/9, including five straight wins in rounds 5-9 at our March 2017 IM norm event, when he was "only" an FM.
IM Kassa Korley (Denmark, FIDE 2387, USCF 2482) is an IM from New York who earned all of his IM norms in a 3 week span in the summer of 2014. A Duke University graduate, he maintains a Youtube channel. He won CCCSA's Southeastern FIDE Championship in 2015 with 5/5, and has taught various summer camps at the Charlotte Chess Center. In November, he defeated World #98 GM Aleksey Dreev (2653). Kassa was once the youngest African-American National Master, and will now seek his first GM norm in Charlotte.
FM Kevin Wang (Maryland USA, FIDE 2380, USCF 2458) is a FIDE Master with four IM norms, thus needing only 20 rating points to earn his IM title. He earned his IM norms at the 2013, 2014, and 2016 World Opens, and has represented Maryland at the Denker Tournament of High School Champions. A student at the University of Chicago, Kevin will return to Charlotte for his second norm event, having scored a solid 4/9 in our November GM norm event.
Gruelling schedule:
It is a 5-day tournament which means Pragg has to play four double rounds.
Round Times:
Round 1: Thursday, January 11, 2018; 7:00PM
Round 2: Friday, January 12, 2018; 12:00PM
Round 3: Friday, January 12, 2018; 6:00PM
Round 4: Saturday, January 13, 2018; 12:00PM
Round 5: Saturday, January 13, 2018; 6:00PM
Round 6: Sunday, January 14, 2018; 12:00PM
Round 7: Sunday, January 14, 2018; 6:00PM
Round 8: Monday, January 15, 2018; 10:00AM
Round 9: Monday, January 15, 2018; 4:00PM
North Carolina is 10.30 hours behind India. So the first round will begin on 12th of January at 5.30 a.m. IST
After playing the World Juniors 2017, Pragg went to play a closed GM norm tournament in Australia, then the World Youth Olympiad in Ahmedabad followed by Rilton Cup in Sweden and now he is in USA for the closed norm tournament. This is four different continents in a period of 40 days! And once the tournament in North Carolina ends he will be playing at the Gibraltar Chess Festival from the 23rd of January. But at least he will have a week to unwind.
Take it easy, Pragg!
While the youngest GM record excites most of us, and ChessBase India has been at the forefront trying to give you Pragg's schedule and chances of beating Karjakin's record, we think this is just a small milestone for a player of Pragg's calibre. While for many becoming a GM is a significant moment in a chess career, for Pragg it would just be the beginning. If he becomes the youngest GM in the world that would be great and indeed a moment of pride, but even if he doesn't I do not see how it affects his chances of becoming a world-class player in the coming years. For Pragg every game of chess is an experience where he would like to give his best. Winning or losing doesn't really affect him. I was the first-hand witness to this fact at the World Youth Olympiad 2017. Don't believe me? Have a look:
Good luck, Pragg! Whether you become the youngest GM or not, we all are very proud of you.
Official website of the Charlotte Chess Club Invitational
---