Pardubice Open 2019: Six norms for Indians!
GM Jiri Stocek of Czech Republic scored an unbeaten 7.5/9 to win Pardubice Open 2019. He finished a half point ahead of a group of nine players who scored 7.0/9. Top seed Czech no.3 Viktor Laznicka finished second due to a better tie-break score, followed by Sergei Movsesian of Armenia. Among the Indians, Deepan Chakravarthy was the best finisher with 6.5/9 at 11th position and Shardul Gagare also with the same points grabbed 13th position. The tournament was a big success for the Indians as we scored six norms - WGM norms for Rakshitta Ravi, Shalmali Gagare and Sahajashri CH, IM norms for Dushyant Sharma, Nikhil Dixit and Moksh Doshi. In this report we have annotated games by norm makers and also some very interesting videos shot by Rupali Mullick at the venue!
Young Indians shine and take home norms
The 31st Czech Open International Chess Festival was held in Pardubice from 16th – 28th July 2019. Being one of the strongest and grandest chess tournaments of the Czech tour series, this event attracts some of the sharpest chess talents from around the world. IO Jan Mazuch has over the last 3 decades consistently improved and grown the chess culture in Pardubice, and worked tirelessly to organize international chess tournaments all over the Czech Republic from May to February every year. The Pardubice festival CZECH OPEN is the most famous of the whole series. For more information on the Czech Tour Series, visit here.
The CZECH OPEN Pardubice festival has various categories of chess tournaments amongst which the Grandmaster Open A is the main event for players with Elo >2100 and Open B is a rating tournament for players with Elo between 1700 and 2300. This year, there were 322 participants in the Grandmaster Open A tournament including 29 GMs, 5 WGMs, 58 IMs, 11 WIMs, 86 FMs and 8 WFMs. There were players from 37 countries with 81 players from various regions of the Czech Republic. There were 29 players from India with GM Deepan Chakravarthy at the top of the pack.
There were 6 players with 6.5 points after the eighth round. Draws on the first two boards was all the 8th seeded Czech GM Jiri Stocek needed, as he defeated GM Deepan Chakravarthy on the third board to comfortably secure the first place in the tournament with 7.5/9. ChessBase India spoke to Jiri after the tournament where he stated that this victory was extra special to him, as he had participated in this tournament for 26 years, also tied for first spot, but had never managed to win it with a clear margin! Jiri's patience finally bore fruit!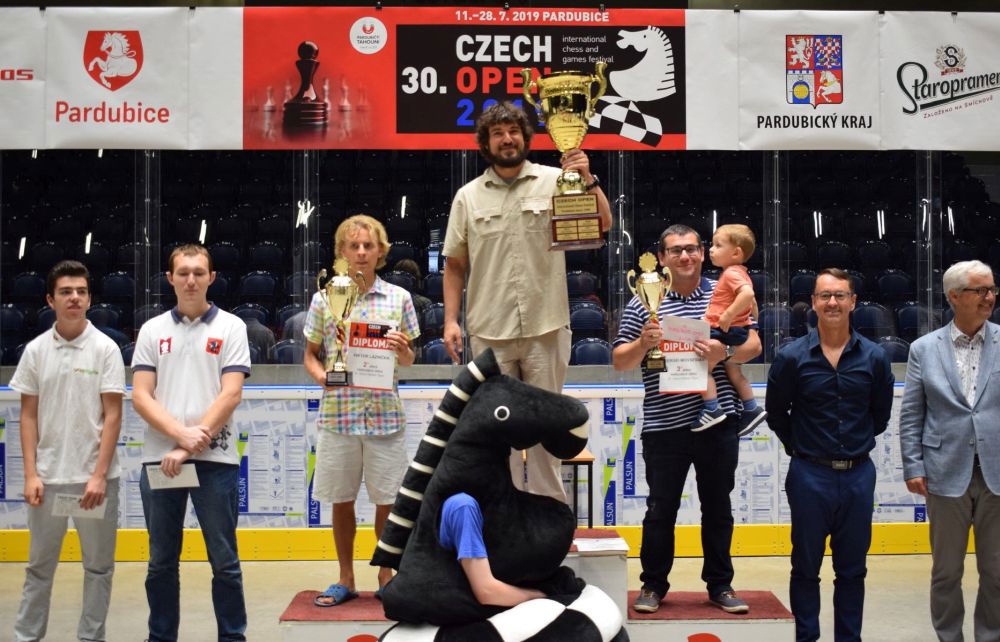 Deepan played a very powerful game in round 8 to beat GM Jan Krejci. Have a look at how he sacrifices an exchange and brings home the full point. The knight was an absolute monster in this game:
Here is an annotated game by Shardul from his last round:
Here is an annotated by WIM Shalmali Gagare from round 5 against FM Grigorii Ter-Saakian of Russia:
When Shardul Gagare began playing chess there was not a single rated player in Ahmednagar. Hailing from the village of Rahuri, Shardul and his family faced extreme difficulties to improve at the game of chess. As there were no players who could practice with Shardul, it was decided that his sister Shalmali should also learn chess! Within a year Shardul went on to become a under-7 national champion. He then won under-10 Asian title as well. Shalmali also moved from strength to strength winning the bronze in under-12 world championships. The brother-sister duo travelled together and annexed many a titles. Subsequently Shardul went on to become a grandmaster, and Shalmali a WIM. Together they have changed the landscape of Ahmednagar chess. From zero rated players, the city now boasts of over 100 rated players. This has been possible because of the untiring efforts of Shardul, Shalmali and their parents. Along their journey they received invaluable help from Narendra Firodia, who is sponsoring their chess journey and making sure that the sport grows in Ahmednagar. Apart from being a WIM, Shalmali is now also a dentist and Shardul is studying in the final year of his B.A course. At the Czech Open 2019 in Pardubice, Shalmali made her first WGM norm, while Shardul finished 13th. ChessBase India caught up with the siblings and did a detailed interview with them.
Dushyant annotates his best game from round 5 against WGM Nurgyul Salimova: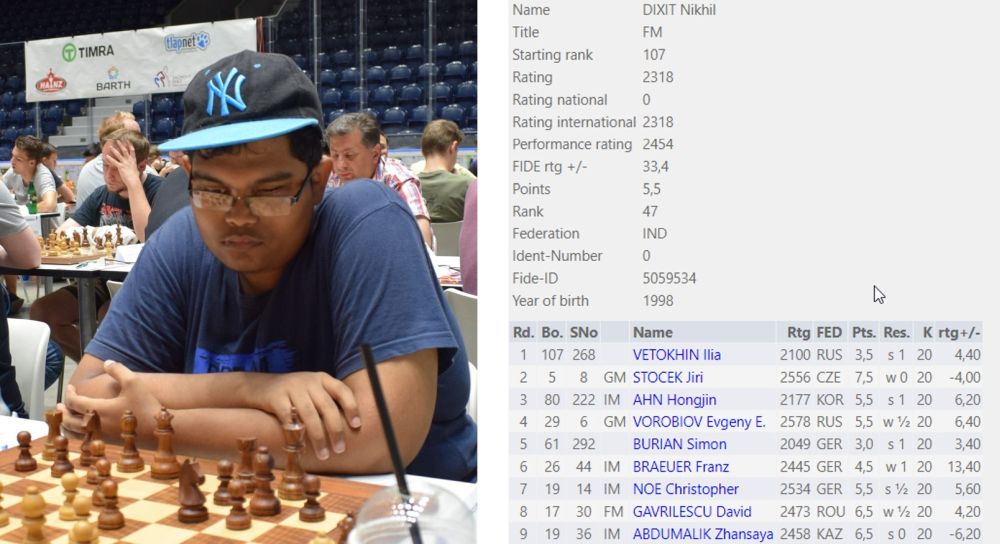 Final Standings
| | | | | | | | | | | | | | | |
| --- | --- | --- | --- | --- | --- | --- | --- | --- | --- | --- | --- | --- | --- | --- |
| Rk. | SNo | | | Name | Typ | sex | FED | Rtg | Pts. | TB1 | TB2 | TB3 | K | rtg+/- |
| 1 | 8 | | GM | STOCEK Jiri | | | CZE | 2556 | 7,5 | 49,0 | 53,5 | 44,25 | 10 | 14,1 |
| 2 | 1 | | GM | LAZNICKA Viktor | | | CZE | 2658 | 7,0 | 51,0 | 55,0 | 41,75 | 10 | 3,0 |
| 3 | 2 | | GM | MOVSESIAN Sergei | | | ARM | 2649 | 7,0 | 50,5 | 55,5 | 41,50 | 10 | 4,5 |
| 4 | 12 | | IM | DEMIDOV Mikhail | | | RUS | 2546 | 7,0 | 48,5 | 53,0 | 40,00 | 10 | 10,0 |
| 5 | 27 | | IM | KOZAK Adam | | | HUN | 2475 | 7,0 | 48,0 | 52,5 | 39,50 | 10 | 20,3 |
| 6 | 9 | | GM | BABULA Vlastimil | | | CZE | 2550 | 7,0 | 46,0 | 50,0 | 38,50 | 10 | 9,1 |
| 7 | 7 | | GM | BASSO Pier Luigi | | | ITA | 2559 | 7,0 | 45,5 | 49,0 | 37,25 | 10 | 5,0 |
| 8 | 3 | | GM | VAN FOREEST Jorden | | | NED | 2612 | 7,0 | 44,5 | 48,5 | 36,25 | 10 | 0,4 |
| 9 | 10 | | GM | PLAT Vojtech | | | CZE | 2548 | 7,0 | 44,0 | 48,0 | 36,50 | 10 | 6,3 |
| 10 | 16 | | IM | GAZIK Viktor | | | SVK | 2525 | 7,0 | 42,5 | 44,5 | 34,75 | 10 | -0,3 |
| 11 | 15 | | GM | DEEPAN Chakkravarthy J | | | IND | 2532 | 6,5 | 47,5 | 50,5 | 35,50 | 10 | 4,4 |
| 12 | 4 | | GM | MARTINEZ ALCANTARA Jose Eduardo | | | PER | 2601 | 6,5 | 46,5 | 51,0 | 36,25 | 10 | -1,6 |
| 13 | 26 | | GM | GAGARE Shardul | | | IND | 2476 | 6,5 | 45,5 | 48,0 | 31,75 | 10 | 9,0 |
| 14 | 13 | | GM | LINTCHEVSKI Daniil | | | RUS | 2534 | 6,5 | 45,0 | 48,0 | 33,25 | 10 | 4,3 |
| 15 | 23 | | GM | POTAPOV Pavel | | | RUS | 2485 | 6,5 | 43,5 | 47,0 | 31,75 | 10 | 9,8 |
| 16 | 46 | | IM | ERENBERG Ariel | | | ISR | 2442 | 6,5 | 43,0 | 47,0 | 33,00 | 10 | 6,1 |
| 17 | 33 | | IM | KARTTUNEN Mika | | | FIN | 2466 | 6,5 | 43,0 | 47,0 | 32,75 | 10 | 7,3 |
| 18 | 25 | | IM | WARMERDAM Max | | | NED | 2480 | 6,5 | 43,0 | 47,0 | 32,50 | 10 | 5,4 |
| 19 | 29 | | IM | SADUAKASSOVA Dinara | | w | KAZ | 2474 | 6,5 | 43,0 | 47,0 | 32,25 | 10 | 7,1 |
| 20 | 20 | | IM | MATVIISHEN Viktor | | | UKR | 2495 | 6,5 | 42,5 | 47,0 | 33,25 | 10 | 5,7 |
| 21 | 45 | | | GALPERIN Platon | U16 | | UKR | 2445 | 6,5 | 42,0 | 45,5 | 30,50 | 10 | 0,4 |
| 22 | 5 | | GM | KREJCI Jan | | | CZE | 2578 | 6,5 | 41,0 | 44,5 | 31,00 | 10 | -3,8 |
| 23 | 36 | | IM | ABDUMALIK Zhansaya | | w | KAZ | 2458 | 6,5 | 41,0 | 44,0 | 31,25 | 10 | 7,2 |
| 24 | 30 | | FM | GAVRILESCU David | U16 | | ROU | 2473 | 6,5 | 38,5 | 42,0 | 31,00 | 10 | -1,7 |
| 25 | 66 | | IM | BRUEDIGAM Martin | | | GER | 2395 | 6,5 | 34,5 | 37,5 | 27,75 | 10 | 1,2 |
| 26 | 47 | | GM | BRYZGALIN Kirill | | | RUS | 2437 | 6,0 | 48,0 | 52,0 | 31,75 | 10 | 11,5 |
| 27 | 40 | | IM | VYKOUK Jan | | | CZE | 2453 | 6,0 | 47,0 | 50,5 | 30,75 | 10 | 8,2 |
| 28 | 28 | | IM | NAGY Gabor | | | HUN | 2474 | 6,0 | 46,5 | 50,0 | 29,75 | 10 | 7,8 |
| 29 | 57 | | FM | HOLLAN Martin | | | CZE | 2416 | 6,0 | 45,5 | 49,5 | 30,00 | 10 | 5,3 |
| 30 | 136 | | FM | KELLER Peter | | | GER | 2279 | 6,0 | 45,5 | 49,0 | 31,00 | 20 | 59,2 |
---