Norway Chess R4: Ding Liren withdraws from the event; So holds Anand
The big news from Stavanger right now is that Ding Liren has withdrawn from the tournament due to his hip fracture. As per the FIDE laws, his results will not be counted for standings or tie-breaks. Meanwhile, in the remaining four games, Levon Aronian and Sergey Karjakin emerged as the two victors of round 4. Interestingly, both players deployed the Exchange Gruenfeld to score their wins. Indian ace, Vishy Anand tried hard to complicate matters against Wesley So but the Filipino-American GM was up to the task and defended with a neat rook sacrifice. As for Magnus Carlsen, his opponent's unambitious play with the white pieces left him no option but to accept a sedate draw. Report.
Ding Liren Withdraws
After a day of rest, the fourth round of the Altibox Norway Chess went underway last evening. Before the start of the round, it was declared that Ding Liren will not be able to participate in round four. The Chinese number one had suffered a hip fracture while bicycling on Saturday afternoon and was immediately rushed to the Stavanger University Hospital.
Ding had to undergo a surgery on Friday and his fourth round game against Caruana was, therefore, postponed to the next rest day on June 4th until further notice. But today, a day after the surgery, the organisers of Norway chess wrote on the official website that Ding had to withdraw from the tournament as his recovery will take time.
Regarding the tournament, they wrote that as per the Article 8 of the FIDE Handbook C – Competition Rules, since Ding hasn't completed 50% of his games, his results will not be counted for standings and tie-breaks. However, they will be counted for rating.
Round 4
The other games resumed as per schedule on Friday. After the dust of the battles had settled, GM Sergey Karjakin had inched half-a-point closer to the tournament leader, Magnus Carlsen. With the white pieces, Karjakin scored a fine win over Maxime Vachier-Lagrave while Magnus Carlsen was held to a draw by the American number three, Hikaru Nakamura. Levon Aronian also scored a win in the round four against Shakhriyar Mamedyarov. Meanwhile, Viswanathan Anand and Wesley So played a nice tactical game that eventually fizzled out into a draw.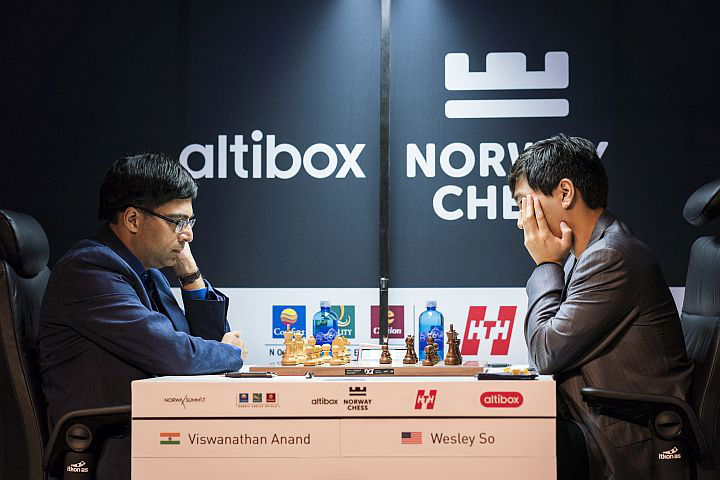 Anand had the white pieces in the game. Instead of the king's pawn, which had been his choice so far in the tournament, Anand went for the English Opening in round four. So, with the black pieces drifted the game into the Four Knights Variation of the opening. Anand went for complications from the word 'go' in the game. First, he made the flashy 16.Qc4 instead of recapturing his bishop on g2. Then again, a few moves later, he grabbed a pawn on b7 and provoked complications when he could just have exchanged queens and had a peaceful game. This just goes on to show that the Indian ace is willing to take a reasonable amount of risk to push for a win. However, Welsey had calculated perfectly. After a long tactical sequence, So whipped out a rook sacrifice that forced a repetition of moves immediately.
Both of the games that finished decisively in round four featured the Exchange variation of the Gruenfeld Defence and both games finished as victories for white.
For Maxime Vachier-Lagrave, the Gruenfeld is one of his favourite openings and he is a known expert in the line. However, in the game, it was Karjakin who was much better prepared. With the white pieces, Karjakin blitzed out as many has his first 24 moves! Looking for counterplay, Vachier-Lagrave gave up an exchange. As compensation, the French grandmaster had two pawns and a weakened enemy king. But as play progressed, Karjakin demonstrated that with his active pieces, he was the one in the driver's seat. As Karjakin's pieces began exerting pressure on black's position, Vachier-Lagrave cracked and got his bishop trapped behind the white pawns. And while MVL made efforts to save his trapped bishop on the queen's wing, Karjakin generated play on the kingside to force tap out.
Although Aronian's game also featured the same opening, it wasn't as deeply prepared by him. In fact, he admitted after the game that he hadn't expected the Gruenfeld and was caught by surprise when Mamedyarov played it with black. "So I improvised to play something I hadn't played in a long time to surprise him back", Aronian said. And he did succeed to a large extent in that he managed to come out of the opening with an extra pawn and secure the advantage. By the 30th move, an endgame arose where white had a rook and a knight against black's rook and bishop. Of course, white (Aronian) had an extra pawn and stopping this pawn from queening cost black his bishop. Some technical difficulties arose in the ensuing position as the number of pawns on the board reduced. At some point, Mamedyarov even had the possibility of holding to a draw. But he failed to find the best continuation in this complex endgame and went down after 70 moves.
While Levon was surprised by his opponent's opening choice, Magnus Carlsen was taken aback by Nakamura's unambitious approach. Talking to Norway's TV2, Carlsen said, "If I had known that he was so unambitious, I would've provoked him more. I tried to play solidly because I thought his opening made sense. He probably has some explanation, but to me this was odd."
In the exchange variation of the Queen's Gambit, Nakamura chose an almost symmetrical setup with the white pieces and went for mass exchanges at the first opportunity he got. Before the 25th move, nothing except queens and a bunch of pawns remained on the board. The ensuing endgame was played out for merely eight moves by the players before the players repeated moves and signed peace.
Halfway into the tournament, Magnus Carlsen still leads with a score of 3.0/4. But his lead margin has halved as Karjakin with his win over Vachier-Lagrave in this round has stepped up to 2.5/4, taking sole second place. So and Aronian are a further half point behind at 2.0/4. Since Anand, Nakamura and MVL had already played Ding Liren, half points have been deducted from their scores. However, they will have an extra game as, from now on, one player will be sitting out in every round.
Standings
About the Author
Aditya Pai is an ardent chess fan, avid reader, and a film lover. He holds a Master's in English Literature and used to work as an advertising copywriter before joining the ChessBase India team.

---