Norway Chess R3: Carlsen demolishes Aronian; Ding holds Anand
In the third round of the Altibox Norway Chess, Magnus Carlsen won his second game of the tournament against GM Levon Aronian. Within the first three rounds, the world champ has established himself firmly into the pole position, a full point ahead of his nearest rivals. Another game that caught eyeballs was Mamedyarov's short but scintillating draw against Sergey Karjakin. The game was admired by players and spectators alike. Vishy Anand tried hard with a novelty in the Ruy Lopez to carve out a win against Ding Liren but the Chinese GM was able to hold ground comfortably. Round three report.
Like the first round, round three of the Altibox Norway Chess 2018 also featured four draws and a decisive game. And yet again, it was the Norwegian superstar, Magnus Carlsen, who registered his second victory in the tournament while the rest of the field remained struggling for their first win. With the white pieces, he defeated Levon Aronian of Armenia to increase his lead over the field to a full point, just three rounds into the tournament. With this victory, Carlsen has also crossed 2850 Elo on the live rating list.
For his third round game, Carlsen deviated from the Bishop's Opening that he had used in round one. This time, it was the Berlin that emerged on the board. But instead of going for the freakishly drawish endgame of this opening, Carlsen chose the 5.Re1 variation that keeps some possibility of play. Although, how much this helps towards achieving any tangible advantage for white is hard to tell. Nevertheless, Carlsen achieved a small space advantage out of the opening; his play was more comfortable than his opponent's, and that is typically enough for the world champ.
Deploying a few quirky maneuvres, Carlsen, in his trademark style, began to put pressure on the slightly weakened black queenside. Aronian defended this but, in his play from around move 20 to 25, he seemed a bit clueless. While Aronian shuffled his pieces back and forth in this time, Carlsen had brought all of his pieces in play. Eventually, Carlsen's pressure along the f-file began to become unbearable and made Aronian crack. Aronian's 28th move, 28…h6 instantly spelt doom as Carlsen temporarily sacrificed a knight and plunged in with his queen into the black camp. Even in the best case scenario, Aronian would have ended up two pawns down with no compensation whatsoever. The Armenian number one threw in the towel at this point.
Talking about his win, Carlsen said he felt he was in control throughout the game: "I felt that very early on I had a very nice position, not a lot better but certainly more pleasant. In positions where you have a slight advantage with more space it's easier to find good moves. For him, it's trying to break out and then it's easy to go wrong."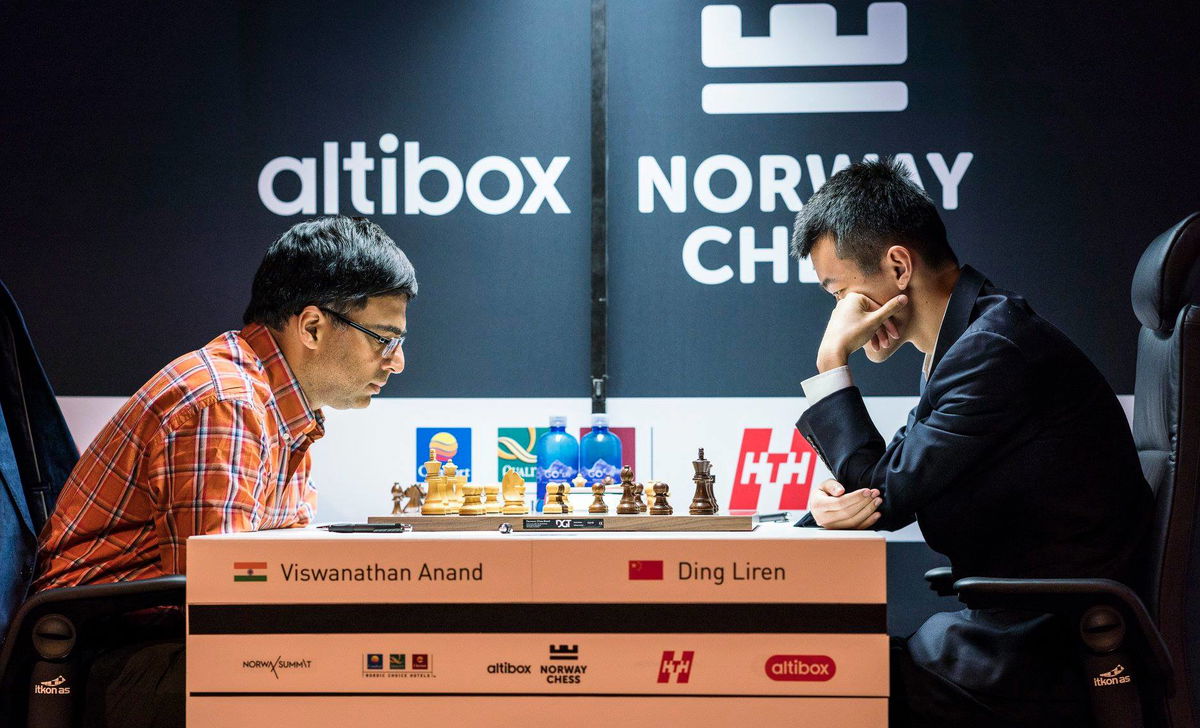 Anand had the white pieces against Ding Liren. The Chinese superstar has been in top form lately. In fact, he hadn't lost a game in his last 74 classical encounters. And this game turned out to be his 75th. Anand chose to repeat a line of the Ruy Lopez which Ding had recently played at the Candidates' Tournament in Berlin. The Indian ace had an interesting improvement prepared to provide his knight a strong outpost.
However, Ding was totally unimpressed. Seeking counterplay on the queenside with his rook, Ding managed to maintain equilibrium and was able to hold Anand to a draw very comfortably.
The all-American clash between Wesley So and Hikaru Nakamura kicked off with some exciting adventures in the Lasker Defence of the Queen's Gambit. Flinging his king knight pawn up the board, So played interestingly in the opening, giving up castling rights. Nakamura also answered energetically by giving up a pawn to complicate the position. But before move 25, queens were traded and the game had drifted into a complex but equal endgame. Peace was signed after 47 moves of play.
The third American in the fray, Fabiano Caruana, played with the black pieces against the French number one, Maxime Vachier-Lagrave. After the Frenchman opened with the king's pawn, Caruana sought his chance to go into the waters of the Petroff Defence. Vachier-Lagrave did not choose the in vogue line starting with 5.Nc3 but went for the old main line that led to a solid, symmetrical position.
Out of the opening, a petite combination won Caruana a pawn. But with his active pieces, Vachier-Lagrave was able to regain it without too much of an effort. More pieces were traded in the next series of moves. In fact, Vachier-Lagrave gave up a pawn to induce this liquidation. By the 38th move, Caruana had an extra pawn but his weakened pawn structure and the presence of bishops of opposite colour made it impossible to make anything of it and a draw was agreed two moves later.
Shakhriyar Mamedyarov's game against Sergey Karkjakin was a really short but very exciting at the same time. The game began with the Italian Opening and turned very sharp, very soon. But the players looked comfortable, indicating, perhaps, home preparation. On his 20th turn, Mamedyarov sacrificed a knight and in a matter of just four sharp and precise moves, a repetition of moves occurred.
The game spiked the interest of not only the spectators but also the players. Talking about this game, Maxime Vachier-Lagrave said, "There were some nice touches in the game between Shakh and Sergey, so that took some of my resting time."
"Yes, I saw this game as well and I, at some point, couldn't take my eyes off it. And then, rather annoyingly, my opponent made a move and I had to go back. If you're a chess player, it's not a position you can tear yourself away from," said Viswanathan Anand.
After three rounds, Magnus Carlsen has put himself in a dominating position in the tournament with a full point's lead over the rest of the pack. Everyone else – except the two victims of Carlsen's phenomenal play, Fabiano Caruana and Levon Aronian – share second place with 1.5/3.
Standings
About the Author
Aditya Pai is an ardent chess fan, avid reader, and a film lover. He holds a Master's in English Literature and used to work as an advertising copywriter before joining the ChessBase India team.
---