The highest prize money National Championship in India has begun!
From this year onwards we have scrapped the model of first the national challengers and then the national premier to determine the national champion. From now on Indian chess will witness only one national championship and this year it has begun in Jammu from the 8th to the 18th of December 2018. The strength of the tournament is excellent with 19 GMs and 24 IMs taking part in a pool of 161 players. 20 players have a rating of above 2450. The top seed of the tournament is GM Abhijeet Gupta. Apart from fighting for the first prize of Rs.5,00,000 and the honour of becoming the Indian national champion, the players are also vying for the World Cup spot that goes to the winner of the event. We bring you a report of the first three rounds from the event and a trivia.
Staying true to equitable growth of chess in India, All India Chess Federation awarded the National Championship 2018 to the state of Jammu and Kashmir. Jammu is situated on the banks of the Tawi river and is one of the most scenic places in India for a tournament to be held.
The national championship 2018 is a thirteen round event with a time control of one hour thirty minutes for 40 moves and then a thirty minute add-on for the rest of the game. 30 seconds increment exist from move one onwards. The total prize fund is Rs.20,00,000 and the first prize is Rs.5,00,000. This is the highest prize ever given at a national championship. Apart from this the winner will also get a direct entry into the FIDE World Cup 2019. With so much at stake it doesn't come as a surprise that a lot of strong Indian players have decided to participate at the event. Top seed is GM Abhijeet Gupta, who is playing the national championships after a long time. He will be given stiff resistance in his bid to become the national champion by youngsters like Karthikeyan Murali, Vaibhav Suri, Aravindh Chithambaram. We also have the experienced campaigners like Deep Sengupta, Sandipan Chanda, Deepan Chakkravarthy, M.R. Venkatesh, Vishnu Prasanna and others.
Starting rank of the event:
Three rounds have been completed at the event and this is how things stand:
Standings after round 3
Rk.
SNo
Name
FED
Rtg
Club/City
Pts.
TB1
TB2
TB3
1
15
IM
Karthikeyan P.
IND
2482
RSPB
3,0
0,0
4,0
5,5
2
5
GM
Sengupta Deep
IND
2565
PSPB
3,0
0,0
4,0
5,0
3
4
GM
Aravindh Chithambaram Vr.
IND
2584
TN
3,0
0,0
4,0
4,0
4
39
Ritviz Parab
IND
2338
GOA
3,0
0,0
3,0
4,0
5
7
GM
Deepan Chakkravarthy J.
IND
2550
RSPB
2,5
0,0
4,5
6,5
18
IM
Vignesh N R
IND
2455
TN
2,5
0,0
4,5
6,5
36
IM
Rathnakaran K.
IND
2366
RSPB
2,5
0,0
4,5
6,5
8
2
GM
Karthikeyan Murali
IND
2591
PSPB
2,5
0,0
4,5
6,0
9
GM
Karthik Venkataraman
IND
2527
AP
2,5
0,0
4,5
6,0
10
GM
Vishnu Prasanna. V
IND
2518
TN
2,5
0,0
4,5
6,0
31
Raahul V S
IND
2381
TN
2,5
0,0
4,5
6,0
12
13
GM
Anurag Mhamal
IND
2491
GOA
2,5
0,0
4,5
5,5
24
GM
Bakre Tejas
IND
2433
AI
2,5
0,0
4,5
5,5
26
IM
Rajesh V A V
IND
2402
TN
2,5
0,0
4,5
5,5
33
IM
Rahul Srivatshav P
IND
2379
TEL
2,5
0,0
4,5
5,5
37
Neelash Saha
IND
2351
WB
2,5
0,0
4,5
5,5
49
IM
Konguvel Ponnuswamy
IND
2282
PSPB
2,5
0,0
4,5
5,5
18
14
GM
Swapnil S. Dhopade
IND
2490
RSPB
2,5
0,0
4,0
5,5
19
3
GM
Vaibhav Suri
IND
2589
PSPB
2,5
0,0
4,0
5,0
12
IM
Stany G.A.
IND
2509
AAI
2,5
0,0
4,0
5,0
Abhijeet Gupta is the top seed of the event. He gave up the Asian continental which was clashing with the national championship. The reason for the same was mentioned by Abhijeet on social media: "This has been happening in Asian championship for the last 10 years at least, barring some in between which happened in Emirates. They charge 5 times the amount for the hotel and don't even get me started on the food. All in all it's been happening forever that's the reason I decided to skip it."
In the second round itself Deepan managed to win a completely drawn rook endgame against the talented Punjab youngster Dushyant Sharma.
More pictures from the tournament venue: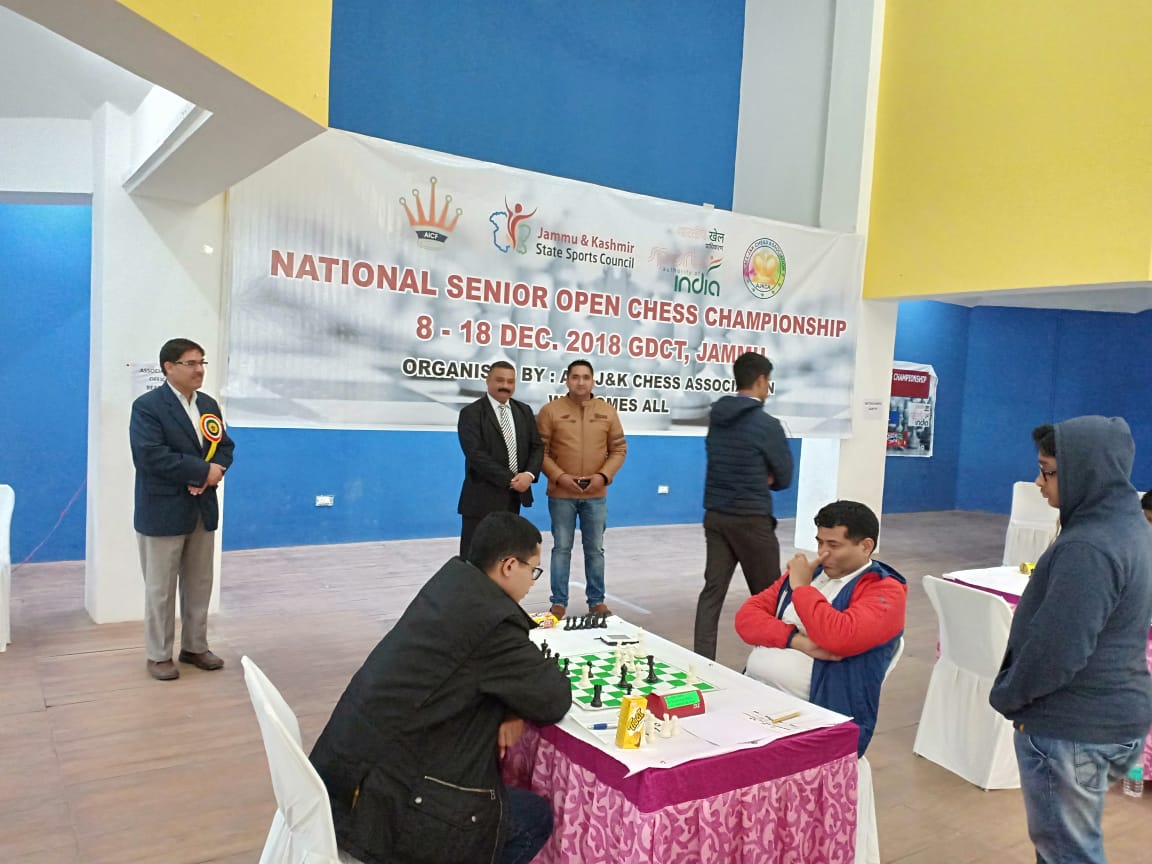 Trivia:
As you can see the tournament is highly interesting and it is very difficult to guess who would win this event. We would like to open a trivia for you. Who do you think will be the National Champion 2018? Write down your answers in the comments section below and the winner will receive one month of ChessBase Premium Account.
---