Preparations in full swing as team India aim for a podium finish at the World Teams in Bulgaria
Top four players of the Indian visually challenged team that will represent India at the World Team Championships in Sofia, Bulgaria got a great opportunity when the organizers of LIC 3rd Kolkata GM International 2018 allowed them to participate at this super strong event. For many it was the first time that they got an opportunity to play in the A category of any GM International. This was the ideal training ground for the players before their big test in July. Prachurya Pradhan, who is 100% blind, writes about the situation of Indian blind chess in 2018. According to him things have changed drastically in the last few months.
What has transpired in the last three and a half months is nothing short of a fairy tale for the Indian visually challenged chess team, which is set to play the World Team Chess Championship for Blind and visually impaired in Sofia, Bulgaria in two months' time. Now, they have a committed coach in IM Sagar Shah, India ranked three Vidit Gujrathi as their brand ambassador, and some of the best chess events of India at their disposal, apart from the support of All India Chess Federation for the Blind (AICFB).
Flashback to February 2018, things didn't look as rosy as this until the commencement of the National Blind Premier, when the happening of this very event was in serious jeopardy. All sponsors but one had backed out, and the tournament finally took off with public support, courtesy ChessBase India.
Some of the brightest prospects in Indian blind chess had already quit chess and were in search of other career options, while many had become part-timers. To add to the woes, Kishan Gangolli, the five-time National Blind Premier Champion, dropped a bombshell, when he announced to renounce chess in pursuit of higher study, with many others in line to follow suit.
But, it turned out to be the dawn of a new era for the blind chess fraternity in India with the presence of ChessBase India team, working day in and day out, covering the event in minute detail. It was unprecedented in world blind chess, let alone Indian blind chess.When asked about the difference between National Premier 2018 and other events in the past, Aryan Joshi, a member of the Indian team said, "The way they (ChessBase India) covered the event, with individual interviews and all, that makes it a class apart. Soundarya, the bronze medalist at National Premier 2018 was quick to point out, "Getting to spend some time with Vishy Anand and having Vidit as the brand ambassador of blind chess were some of the biggest positives."
The international chess calendar for the Indian contingent is going to be busier this year, as there are two more events (apart from World Teams) lining up, in Poland and Indonesia respectively. The Indian squad, which has inducted a new face in Subhendu, has a perfect blend of experience and youth players, making it one of the most accomplished sides India has ever sent abroad.
While India will bank on their spearhead Kishan Gangolli to give them that edge over others, the experienced campaigner Ashvin and Soundarya will give the team the much needed stability. The young sensation Aryan and the newbie Subhendu will also be expected to deliver the goods. The team will be up against big boys like the reigning champion Russia and powerhouse Ukraine in their conquest to get a hold of those elusive medals.
"I'm pretty confident about our chances this time. He (Sagar) has already started training us a month back and the boys are up for the challenge." said Kishan, who has no concerns about his future now, after getting a full-time employment with Akshayakalpa Organic Milk based company in Karnataka. "I don't see why we can't get there. We will start as underdogs but we have enough firepower to topple some of the table toppers." Ashvin is optimistic about India's chances this time. "We are fortunate to have a coach of his stature. We are getting to learn new things each day and I'm personally improving as a player." Soundarya speaks highly of coach IM Sagar Shah.
The players are currently playing at the KIIT International event in Bhubaneshwar after a decent show at the 3rd Kolkata International GM tournament. The Kolkata organizers were kind enough to offer special entry to top four players with no entry fees and accommodation and boarding expenses were also covered. "I'd like to thank Dibendyu Barua Chess Academy (DBCA) and the All Sports Foundation for their generosity." said Aryan on behalf of the team.
After the conclusion of the Bhubaneswar event, the team will get ready for their big challenge - The World Team Chess Championship for Blind and Visually Impaired in July in Sofia, Bulgaria.
Performance of the visually challenged players at the Kolkata International 2018
By Sagar Shah
In between travelling India in a nomadic manner and running ChessBase India, I took it upon myself to try my best to improve the level of play of the top visually challenged players of India. Over a month I have been working with them over Skype in the form of a group call. We decide a time and somewhere around 9 p.m. in the night everyone joins the Skype call and we solve positions, or discuss games or openings. As most of them cannot see the computer screen so well, all of what has to be taught is through voice. I repeat a position usually twice by telling them where each of the pieces belong. At the end of a one hour session (which usually lasts one and a half hour) I get quite drained and tired, but I am back next day on the job, only because of one reason. The energy, enthusiasm and the eagerness to learn shown by all the players. No matter where they are or what they are doing, they make it a point to give priority to our chess class. In fact some of them even gave up their extremely important social commitments just to be able to attend the lecture. When you have people so hungry for knowledge, you naturally get motivated to work with them.
My main work over Skype revolved around fixing their calculations. Because they cannot see the board so well, I had to get inside their mind to understand what they were thinking. One of the most common errors that they made was underestimating opponent's resources or just ending a line without a proper evaluation. These problems are common even among sighted players, but in the visually challenged they are pronounced. The work that I did was bearing fruit as each of the players started to take little nuances in the position much more seriously. They would no longer end a variation prematurely and even tried to look at the most unusual moves to ensure that they were not missing something. Still a long way to go, but surely we had started off in the right direction. The Kolkata GM International 2018 was going to be critical because that was where I wanted to work on the openings with them.
Things worked out well, all the players gained invaluable experience as well as some rating points. Gaining rating was not the main aim. Trying out new things and learning was important, but the fact that each one of them gained rating showed that they are much stronger than what their rating suggests. All that they need are more opportunities. A huge thanks to DBCA and GM Dibyendu Barua for giving them free entry, stay and food at the tournament. This will go a long way in getting them better prepared for the World Team Championships 2018.
Kishan Gangolli:
Kishan played well at the event. He managed to beat three higher rated opponents, all of them pretty strong - Aniruddha Deshpande, Subhayan Kundu and Siddharth Jagadeesh. The consistency needs to be improved, but one can already sense that Kishan is much stronger than what his rating of 1975 suggests. After the tournament, he crossed 2000 Elo mark.
The game with Aniruddha was a well played game. I would like to put up Kishan's game against Subhayan Kundu mainly from the point of view that both the players were in time trouble. Usually when having less time it is the visually challenged player whose chances of making a mistake are higher. But in this game Kishan came out on top.
Ashvin Makwana: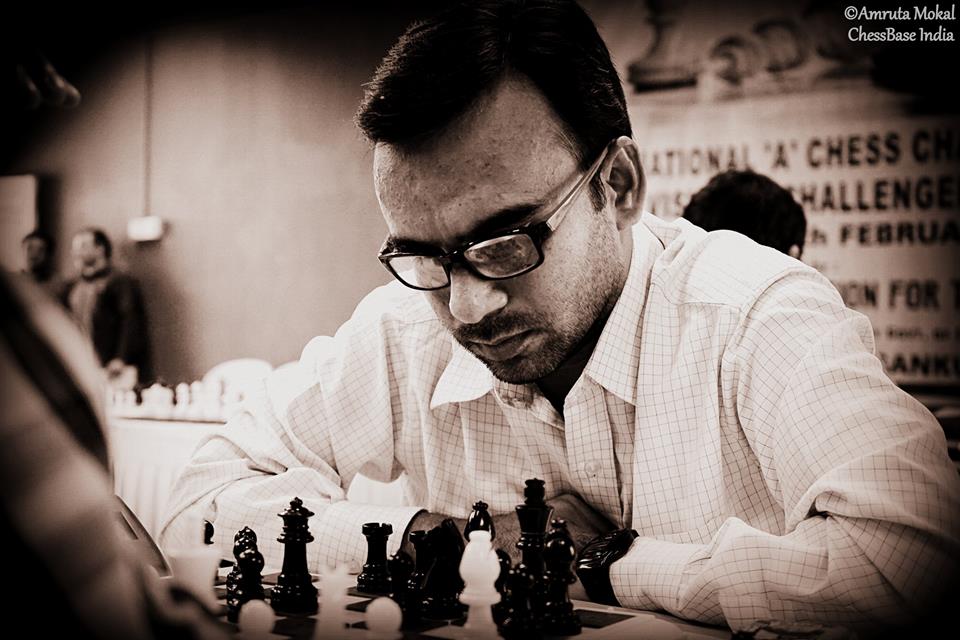 Ashvin booked the ticket at the last moment for Kolkata and came down to play. And it was a good thing, because he managed to score his first win against a WGM. Kiran was completely out of form in the tournament, and Ashvin made sure that he didn't let the chance go by.
Soundarya Pradhan
Soundarya Pradhan is 100% visually challenged. The imagination and courage with which he played the tournament was noteworthy. His win against talented Indian youngster Mrudul Dehankar was a highly exciting game with loads of unusual tactics.
Aryan Joshi
Aryan was the most enterprising of all players! After all he is the youngest. He tried all sorts of different openings in the tournament. His main aim was to play different positions and try to learn more about himself - what are the situations he feels comfortable in, where is it that he is lacking etc. Until you try out new things how are you going to know what you are good at?! His game against Sa Kannan was quite representative of his approach in this tournament.
About the author: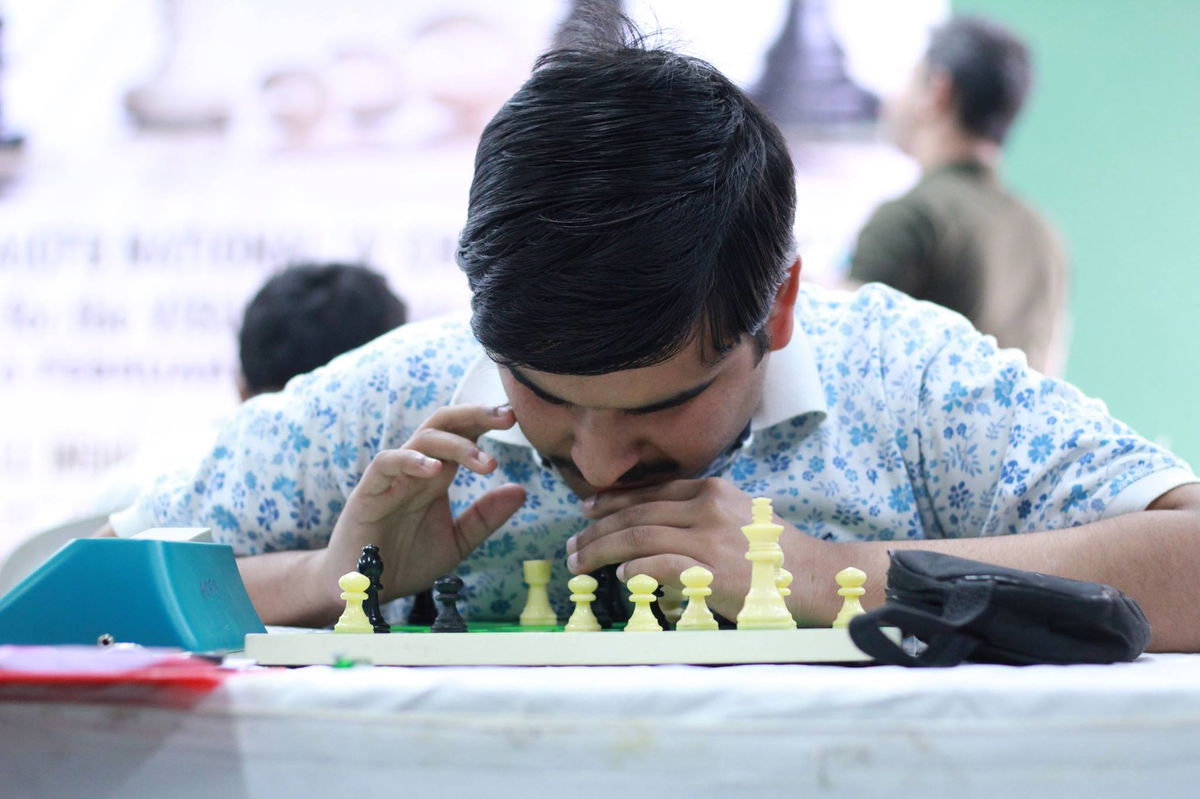 Prachurya Kumar Pradhan, the author of this article, is 100% visually challenged. He is the brother of Soundarya Pradhan and himself an accomplished player. Prachurya finished sixth in the National A blind championships 2018 and has a FIDE rating of 1656. He is currently pursuing Chartered Accountancy and has already cleared one group in IPCC. He will be covering the journey of the Indian visually challenged team in Bulgaria.
---