With three rounds to go, a tense finale awaits at National Sub-Junior 2017
The National Sub Juniors (under-15) is currently in progress at the Rajpath club, Ahmedabad. After eight rounds in the girls section we had Sanskriti Goyal who is leading with a score of 7.0/8, while in the open section it is Koustav Chatterjee. It seemed as if Sanskriti would run away with the tournament with a 7.0/7 start, but Nityata Jain managed to stop her. In both the sections we have a host of players just half a point away from the leaders with 6.5/8, which ensures that the final three rounds will be extremely tense. Report by Niklesh Jain and pictures by Ankit Dalal.
Sanskriti Goyal has been in great form in the under-15 nationals as she has notched up one win after another, scoring 7.0/7. In the eighth round, she met her match in the form of Nityata Jain from Madhya Pradesh, who showed excellent understanding in the Nimzo Indian and was able to win the game.
Because of Nityata's win the tournament is now wide open and the one who will showcase better chess, will emerge as the winner in the last three rounds!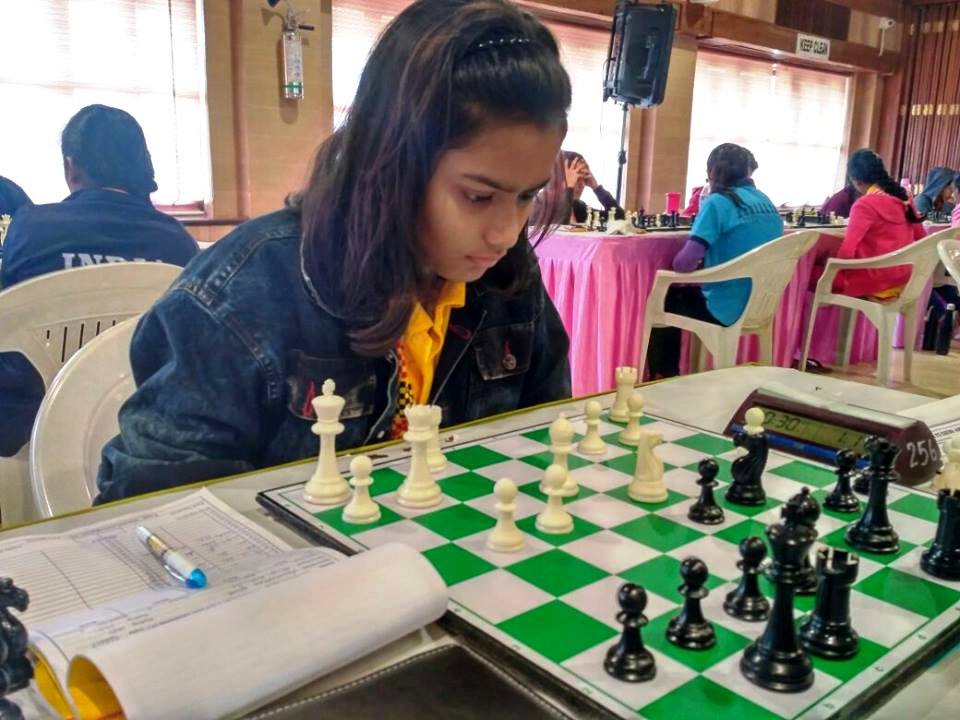 Ninth round at 14.00 hours
Rank after Round 8
| | | | | | | | | | | |
| --- | --- | --- | --- | --- | --- | --- | --- | --- | --- | --- |
| Rk. | SNo | | Name | FED | Rtg | Club/City | Pts. | TB1 | TB2 | TB3 |
| 1 | 10 | | Sanskriti Goyal | IND | 1819 | UP | 7,0 | 0,0 | 39,5 | 43,5 |
| 2 | 2 | WFM | Divya Deshmukh | IND | 2051 | MAH | 6,5 | 0,0 | 42,5 | 47,0 |
| 3 | 8 | | Jain Nityata | IND | 1842 | MP | 6,5 | 0,0 | 39,5 | 43,5 |
| 4 | 3 | WFM | Salonika Saina | IND | 2041 | ORI | 6,5 | 0,0 | 39,0 | 42,0 |
| 5 | 5 | | Ghosh Samriddhaa | IND | 1984 | WES | 6,5 | 0,0 | 37,5 | 40,5 |
| 6 | 24 | WFM | Tanishka Kotia | IND | 1575 | HAR | 6,0 | 0,0 | 34,0 | 38,0 |
| 7 | 17 | | Rajashree Rajeev | IND | 1676 | KER | 6,0 | 0,0 | 34,0 | 37,5 |
| 8 | 11 | WFM | Bommini Mounika Akshaya | IND | 1810 | AP | 6,0 | 0,0 | 33,0 | 36,5 |
| 9 | 7 | WFM | Lakshmi C | IND | 1907 | TN | 6,0 | 0,0 | 32,5 | 36,0 |
| 10 | 1 | | Makhija Aashna | IND | 2137 | MAH | 6,0 | 0,0 | 31,5 | 35,0 |
---
Under- 15 Open section
Round 9 at 14.00 hours
Rank after Round 8
| | | | | | | | | | | | |
| --- | --- | --- | --- | --- | --- | --- | --- | --- | --- | --- | --- |
| Rk. | SNo | | Name | Typ | FED | Rtg | Club/City | Pts. | TB1 | TB2 | TB3 |
| 1 | 7 | | Koustav Chatterjee | U15 | IND | 2222 | WES | 7,0 | 0,0 | 38,5 | 42,5 |
| 2 | 2 | FM | Erigaisi Arjun | U15 | IND | 2354 | TEL | 6,5 | 0,0 | 40,0 | 43,5 |
| 3 | 8 | | Moksh Amit Doshi | U15 | IND | 2222 | GUJ | 6,5 | 0,0 | 39,0 | 43,0 |
| 4 | 10 | CM | Aronyak Ghosh | U15 | IND | 2185 | WES | 6,5 | 0,0 | 37,0 | 41,0 |
| 5 | 12 | | Raahul V S | U15 | IND | 2153 | TN | 6,5 | 0,0 | 36,0 | 40,0 |
| 6 | 9 | CM | Kushagra Mohan | U15 | IND | 2215 | TEL | 6,5 | 0,0 | 31,5 | 34,0 |
| 7 | 1 | IM | Iniyan P | U15 | IND | 2461 | TN | 6,0 | 0,0 | 41,0 | 45,5 |
| 8 | 6 | CM | Raja Rithvik R | U15 | IND | 2237 | TEL | 6,0 | 0,0 | 40,5 | 44,0 |
| 9 | 19 | | Neelash Saha | U15 | IND | 2012 | WES | 6,0 | 0,0 | 39,5 | 44,0 |
| 10 | 13 | | Rahul S | U15 | IND | 2079 | TN | 6,0 | 0,0 | 38,0 | 41,5 |
---