Tani, the 10-year-old who loves miracles | Chess Book Review
10-year-old Tanitoluwa 'Tani' Adewumi is the boy who believes in miracles. The boy who was forced to move to a new country, and the boy who first saw chess at the age of six and knew what he had to do. This is a book about his inspiring story of finding his passion, pursuing it, and never letting go no matter how difficult things are. Despite the troubles of a power-hungry terrorist group looming over his family, and the struggles of being a refugee in America, with the help of his family and mentors Tani stayed strong and won the New York Championships in his age group after playing for a single year. This article is a review on his autobiography, read on for more!
My Name is Tani - Book review
The book's very first chapter - titled "Do you believe in miracles?" - gives a very good idea to the reader on what is about to come. It opens with our introduction to a young boy called Tani through a well written scene in which Tani and his family are waiting for a bus on their way from Dallas to New York, bags in hand, at the crack of dawn. Within a few sentences, it's easy to picture Tani and his mannerisms mentally; a bright and cheery boy, with a lot of questions about the world, who cares a lot for the well-being in his family, and doesn't want to bother anyone for any reason. He is a kid who is curious enough to tire those around him with questions!
I may be a little off on a tangent here, but personally I think this very first sequence is very well put together. Apart from Tani's energy and charisma, you also notice how tired the family is, and you get the gist that as refugees in the United States, life hasn't treated them very kindly. Evidently, Tani's family live in Abuja in Nigeria, and it so happens that a terrorist group by the name of Boko Haram dominated that region, campaigning against casual wear, voting, women empowerment, and even education. Tani's family were repeatedly threatened to print posters supporting those sentiments and spread them all around. Tani's father, who is described by the boy as the embodiment of bravery, finds ways to hide from them, and ultimately flees from their clutch to the US. This backstory - while not stressed too much in the book - is key to Tani's story, and makes his triumphs later on all the more impressive.
Not long since he first heard about the game, Tani was exceptionally quick at learning the fundamentals of the game, and what took people months in his chess club only took 3 weeks of rigorous training with his coaches Shawn and Russ. He has an aggressive style of play and idolizes Paul Morphy, from whom he took inspiration in one of his games, where he sacrificed a Bishop for a pawn. His coaches were shocked, but when he won the game they checked and saw much more depth to the sacrifice. It was this tournament that attracted attention, and spurred multiple reports and interviews on the prodigy. He has played games with multiple top players of the world, featured in many articles, and appeared on Talk shows for interviews too. His goal is to become the youngest GM in the world, and is racing fast towards the title. The book features most of these near the end, and the gratefulness in Tani's family and their dialogue is heart-warming.
There are many different angles of the book that can be talked about, simply because they have a nice touch and are appealing to the reader. Watching the transition from one phase of being a chess player to another is very relatable, and Tani's love for chess is expressed very clearly multiple times throughout the book. He would love to play with anyone who shared his interest for the game, going as far as to almost lose sleep before a major tournament simply to socialize and play chess late at night. He used to solve close to 200 chess puzzles every day, and kept aiming for higher and higher. You can see his adoration of the game grow with every chapter, and you can see his understanding of the game evolve very quickly too.
One of things that really drew me in was how simple the writing was. Not a lot of detail, yet not too shallow, just the right amount to make the reader feel like they know what's going on and yet want to know more. You can sense the innocence and humility behind each word, and that made me appreciate it so much more. Most parts of Tani's story are painted in a positive light, yet it very clearly shows when there is the struggle, such as an unpleasant verbal encounter in an elevator with a stranger, or the strain in his Mom's smile when Tani asks to attend an expensive chess class, it almost makes you want Tani to succeed, and it's always a joy to see people support him in his journey for chess in wonderful ways. As wonderfully quoted by his father:
Sometimes you must be willing to lose something precious in order to protect what you hold closest to your heart.
Overall, there are certainly a lot of pros and cons to the book; some scenes are truly beautiful, others could have been improved. One thing that bugged me occasionally was the cliché, and I was surprised at not seeing a summary of Tani's feats detailed at the end of the book, but these can be easily looked past and do not affect the reading experience. As a final word, I personally would definitely recommend this book for enthusiastic chess readers looking for something unique and interesting. The Young Readers edition comes with explanations of certain terminology and chess tips scattered throughout, perfect for someone new to the game. A story that is not too long, and yet not unnecessarily drawn out either - a great book to read on a nice afternoon, like I did.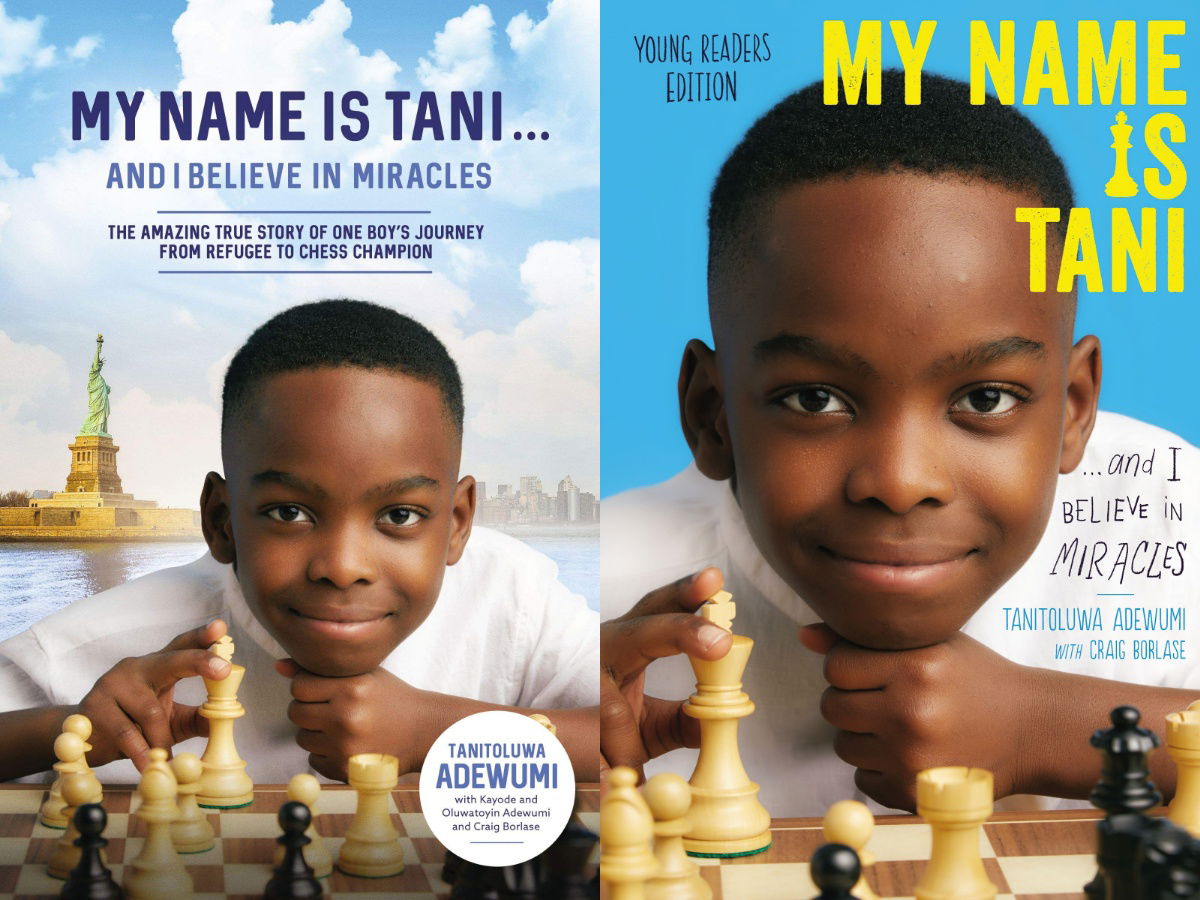 Happy reading!
Read more: The New York Times article which covered Tani's story by Nicholas Kristof
About the author:
Avathanshu Bhat is one of the youngest and finest journalists of Indian chess. He is 15 years old now, but wrote his first article when he was just 11. He is also the head of ChessBase India Juniors and the manager of ChessBase India Elite Pass.
---