Mounika Akshaya becomes the latest Woman International Master of India
Mounika Akshaya scored her final WIM-norm with two rounds to spare at 33rd Roquetas Chess Festival International Open 2022 in Almeria, Spain. She scored 5.0/9, performed at 2244 to become India's latest Woman International master. She scored her first WIM-norm at 17th Delhi International Open in January 2019. The second norm was earned at Vezerkepzo IM group in September 2021, and she crossed 2200 in the live ratings at the same event in Budapest, Hungary. Check out her games from the events where she made norms and also thoughts of her trainers GM FT Swayams Mishra and GM ShyamSundar M. Photo: Rupali Mullick
Scores her final WIM-norm with two rounds to spare
The year 2022 started with two new titled players for India. A day before Bharath Subramaniyam H became India's 73rd GM, on Saturday 8th January, Mounika Akshaya scored her final WIM-norm with two rounds to spare, to become India's latest Woman International Master. She is a multi-time Andhra Pradesh State champion in various categories. She has also won Gold and Bronze in Asian Schools Under-11 in 2014 and U-9 Rapid in 2012, Silver in World Schools U-11 in 2014.
Speaking with ChessBase India, Mounika said, "Thank you 😊. I feel so happy and relieved, my last two tournaments went bad, so I didn't expect to achieve norm in this tournament, but surprisingly I scored with two rounds to spare. Good start of 2022!"
First WIM norm
Mounika scored her first WIM-norm at 17th Delhi International Open 2019. Despite starting the tournament with a loss against Gukesh who became a GM at the very same event, she scored 6 points in the remaining nine games including wins over IM Mohsen Elgabry (EGY), WIM Sakshi Chitlange and WIM Divya Deshmukh.
Elgabry - Mounika, Delhi Open 2019
Black found a nice tactical shot 28...Nc3. White cannot avoid a material loss. 29.Rxd7 Nxe2 30.Rxd8 Nxc1 is the best way to continue for White. However, the game continued 29.Rxc3 Rxd1 30.Nd6 Bxd6 31.Qxd1 Qxe5 and Black went on to win the game eventually.
In Round 5 and 6, Mounika outplayed WIM Sakshi Chitlange and then WIM Divya Deshmukh respectively.
Second WIM norm
The second WIM-norm was scored at Vezerkepzo 2021-09 IM group in September 2021 where Mounika scored 4.5/9, performed at 2256. She drew with GM Attila Czebe (HUN) and IM Zoltan Nemeth (HUN).
Mounika - Mayank, Vezerkepzo IM 2021-09
White is in quite a bit of trouble. 14...f5 was the correct way to proceed. However, 14...e4 was played. White managed to turn things around, 15.Nge2 Bg4 16.Rb1 and eventually won the game.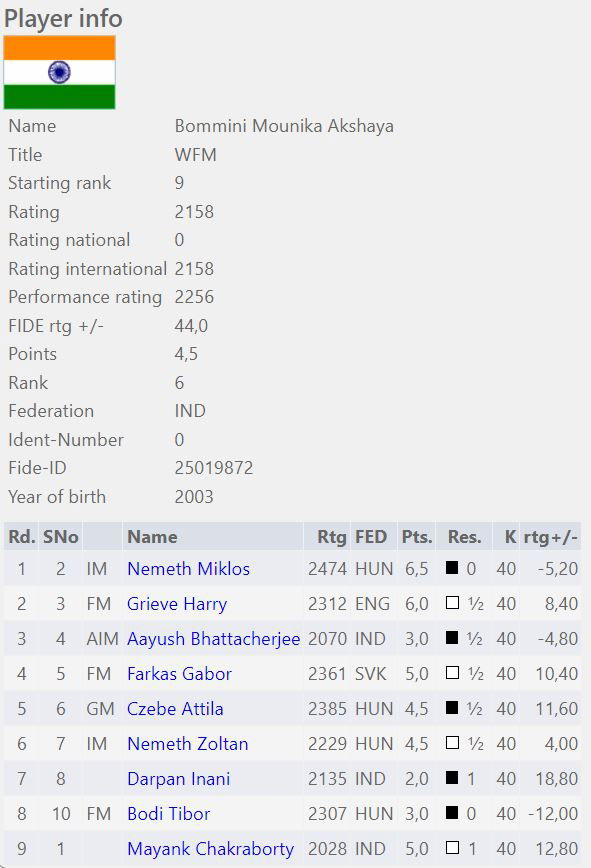 Third WIM norm
Mounika scored her final WIM-norm at 33rd Roquetas Chess Festival International Open 2022 with two rounds to spare. She defeated FM Jianwen Wong (MAS), FM Gaston Manuel Martin Carmona (ESP) and WIM Anna Kubicka (POL).
Mounika - Gaston, 33rd Roquetas Chess Festival
Mounika got a better position out of the opening against FM Gaston Manuel Martin Carmona (ESP). 13...a6 did not help Black's case. Find out the best continuation for White here.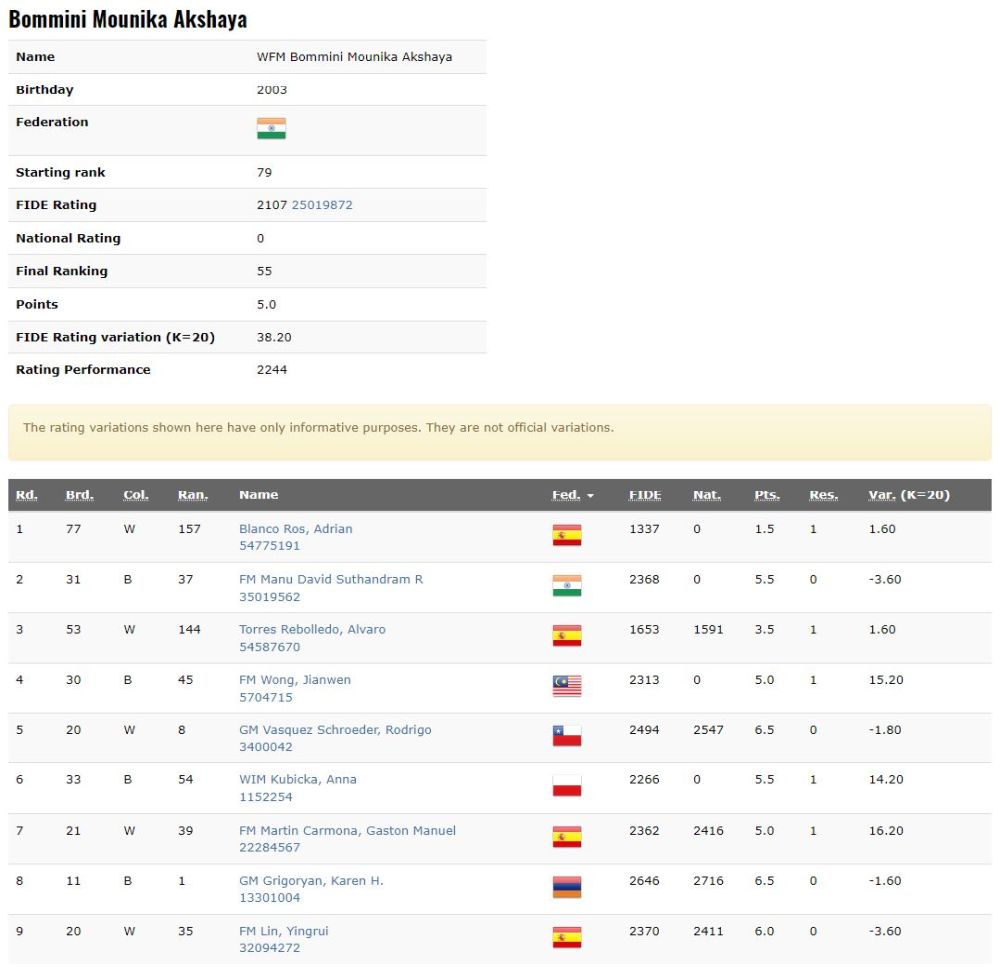 Mounika approached me in the beginning of 2020 for training her. The best part about her is that she has a fighting spirit and is pretty decisive by nature and knows very clearly what she wants to do. Let's say if decides she wants to play tournaments, she will play no matter what the situation is. The same attitude is reflected in her games as well.
After her last two events in Spain - we had a couple of sessions discussing what went wrong and what to improve. I am glad it worked out very well in Roquetas & she achieved her norm, two rounds to spare. I wish her all the best.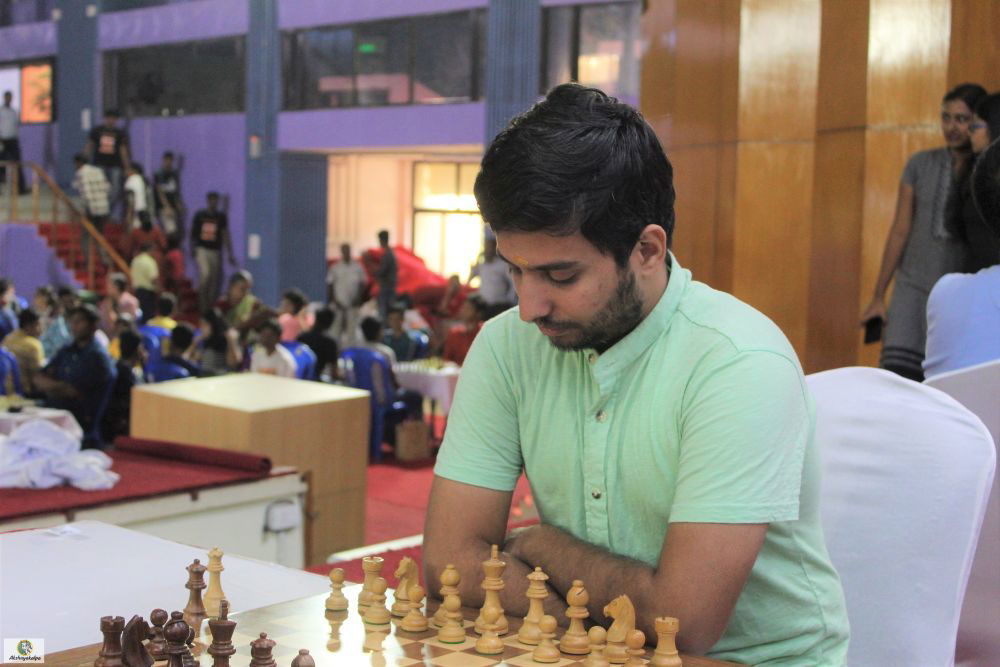 Along with her and her family, it's a big relief for me as well! She's much stronger than that. However, she was inconsistent due to title pressure. Now that it's done, she can play more freely to unleash her potential. By the way, she's working with Swayams also... so equal credit to him as well 🙂
Replay Mounika's games
---