Mallorca GP 01: A spectacular start!
The final leg of the Grand Prix series, Mallorca Grand Prix, began with a bang. Three out of the nine games finished decisively. Pentala Harikrishna, the only Indian in the field, was held to a 45 move long draw by the Norwegian GM Jon Ludvig Hammer. Maxime Vachier-Lagrave, one of the contenders for the top two spots in the GP series, slayed Boris Gelfand's Accelerated Dragon and got off to a flying start. Richard Rapport turned out to be a bit too creative for himself and lost a complicated game after sacrificing a piece against Anish Giri. We have a report with games, pictures and analysis.
The fourth and final leg of the Grand Prix Series got underway in the Spanish Island of Mallorca yesterday. The players here will be fighting not only for a fat share of the €130,000 prize purse but also for the two spots at the Candidates tournament which will be awarded to the top two finishers of the entire Grand Prix Series. Some of the big names in the tournament include Hikaru Nakamura, Maxime Vachier-Lagrave, Levon Aronian and so forth. The Indian contender at the event is the country current number two, Pentala Harikrishna.
The series includes a total of 24 players who were selected to participate on the basis of several criteria. This includes the current world champion and his challenger, semi-finalists of the previous FIDE World Cup, players with the highest average rating in the past one year, the highest placed participant of the ACP Tour, nine nominees nominated by AGON, the commercial partner of FIDE; and replacements, if any player chooses not to participate, from those with the highest average FIDE ratings.
Currently, GM Shakhriyar Mamedyarov and GM Alexander Grischuk are at the top of the leaderboard with 340 and 336.4 points respectively. But since both of them have finished their share of three tournaments, it remains to be seen if their total score could be beaten by someone in this tournament. As of now, the only players who have a realistic chance of doing this are Teimur Radjabov, Ding Liren and Maxime Vachier-Lagrave. However, since Ding has already qualified for the Candidates via the World Cup, the race is really between Radjabov and Vachier-Lagrave.
With the black pieces in hand, Hari had no problems neutralising in a Queen's Gambit Ragozin. Hammer came up with a new move in the opening on move 12 and tried gaining space on the queenside. But Hari's counter in the centre led to a mass exchange of pieces. In no time, the players reached an endgame where, after a few careful moves by Hari, all pawns were exchanged and a draw was agreed.
Teimur Radjabov, who has very good chances of qualifying for the candidates if he finishes sole first or second at this event, decided to take things slow and drew his game against Alexander Riazantsev in merely 12 moves. Since he had the white pieces in this game, he will have one less game now with the white pieces to push for a win. Of course, only time will tell whether or not this will have an adverse effect on his standing.
In the game between Maxime Vachier-Lagrave and Boris Gelfand, the latter put his faith yet again in the Accelerated Dragon variation of the Sicilian. Right out of the opening, the Israeli GM sacrificed a pawn with the hope of rounding it up later and winning it back with a better position. MVL, however, shattered all of his opponent's dreams masterfully. Deploying some neat manoeuvres and tactical tricks, he not only maintained his pawn which had penetrated deep into black's position but also converted it into a strong passer eventually. By the 34th move, it was impossible to stop white's connected passers without losing a significant amount of material. Gelfand threw in the towel at this point.
I don't know what Richard Rapport's middle name is. But if I were to guess, I might say 'entertainer'! Playing from the black side of a Queen's Indian Defence against Anish Giri, the Hungarian let all hell break loose while attacking his opponent's king. Of course, there was a sane way to do it. But that's not Rapport's style. Starting move 31, Rapport went into a frenzy of mating threats, captures and knight forks and sacrificed a piece, on move 33.
So spirited was Rapports play that it seemed to have filled even the engine with emotion. In its annotation after black's 35th move, Fritz says "if only black now had time for c6", as if it were in awe of Rapport's creativity; as if Fritz wished that the sequence had worked for black but, being the all-knowing monster that it is, knew that this was not enough. Due credit also goes to Anish Giri for calculating accurately and bringing home the full point.
Three players -- Anish Giri, Ernesto Inarkiev and Maxime Vachier-Lagrave -- have lept ahead of their rivals by winning their first-round game. Twelve players including Harikrishna, Nakamura, Svilder etc are tied for second with 0.5/1 each while Li Chao, Gelfand and Rapport are at the bottom of the leaderboard having lost their game.
Results of Round 1
About the Author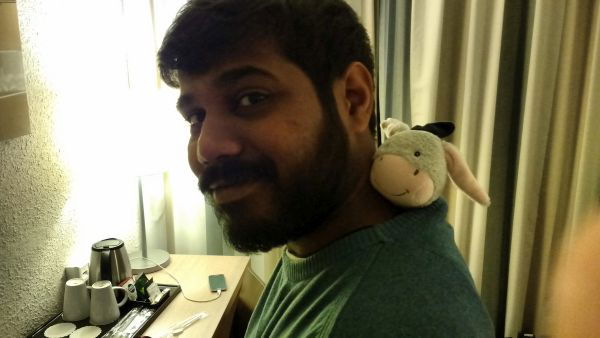 Aditya Pai is an ardent chess fan, avid reader, and a film lover. He has been an advertising copywriter and is currently pursuing a Master's in English Literature at the University of Mumbai. He loves all things German and is learning the language. He has also written scripts for experimental films.
---