Pranesh and Tanisha clinch MPL National Sub-Junior Open and Girls Chess Championship 2022
IM Pranesh M (TN) and Tanisha S Boramanikar (MAH) won MPL 47th National Sub-Junior Open and 36th National Sub-Junior Girls Chess Championship 2022. Pranesh broke out of the pack in the seventh round, took sole lead and finished a half point ahead 7.5/9 of the field in the end. Tanisha got into sole lead after her sixth round victory and maintained it till the very end 7.5/9. Both champions faced the remaining podium finishers. Pranesh won the National Sub-Junior for the second consecutive year. Tanisha won her maiden National Sub-Junior Girls title. The total prize fund was ₹450000. Top three won ₹90000, ₹70000 and ₹58000 each respectively in both events. Photo: Delhi Chess Association
Tamil Nadu dominates the Open event
IM Pranav Venkatesh (TN) and FM Harshad S (TN) were second and third in the Open event scoring 7.0/9 each. Mrittika Mallick (WB) and Shubhi Gupta (UP) secured second and third place scoring 7.5/9 each in the Girls event. Tamil Nadu bagged top four places in the Open, five in total among top ten. In the Girls event, West Bengal got two out of top four and Maharashtra secured two among top ten finishers. Uttar Pradesh, Andhra Pradesh, Delhi, Tamil Nadu, Karnataka and Telangana earned a place each among top ten.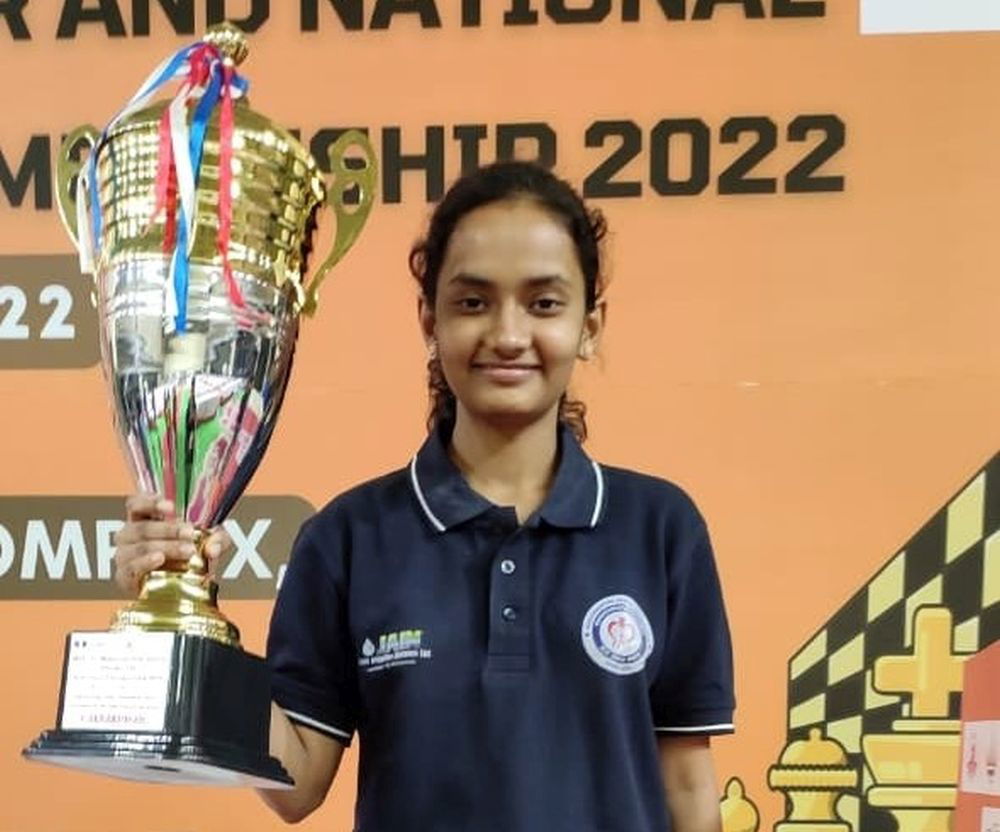 Open Round 8: Mahendra - Pranesh: 0.5-0.5
Both Mahendra Teja Mekala (AP) and IM Pranesh M (TN) had their fair share of chances in the endgame. The former had more and the reason behind that is probably time trouble.
28...Ra2 drops the pawn. The rook at e4 is precariously placed. It makes things difficult for White combined with the fact of back-rank weakness.
First real opportunity White had in the game was after 36...Ke6. Find out what was the best continuation for White here.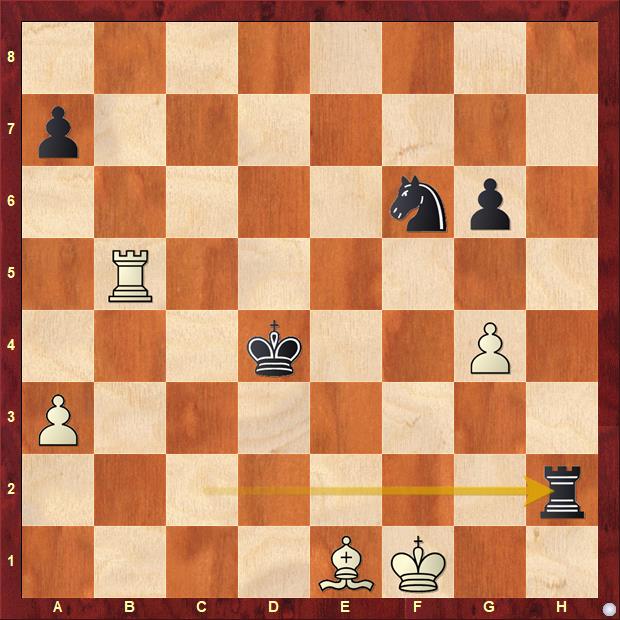 White's final opportunity to score a win was 41.Bg3 threatening Be5+. It is easy to spot these during analysis but that much difficult when the clock is ticking and it's the penultimate round against the tournament leader.
Gaurang - Pranav: 0.5-0.5
Gaurang Bagwe (MAH) was completely winning against IM Pranav V (TN) in the major piece endgame.
White was presented a gift he was not expecting in the form of 48...Rd8. He found 49.Rc7+ however after 49...Rd7 he was unable to follow through correctly. 50.Rc8 Rh6 51.Rc1 and the game petered out to a draw. Find out the win which White missed.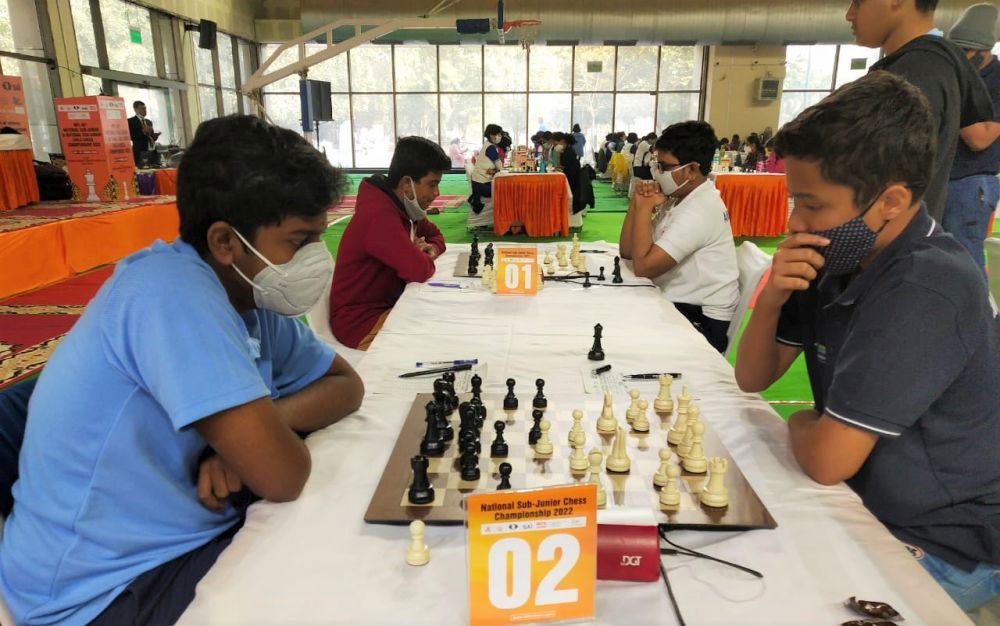 Round 9: Pranesh - Kushal: 0.5-0.5
IM Pranesh M (TN) drew with Kushal R Jani (GUJ) comfortably. It was enough for him to win the championship.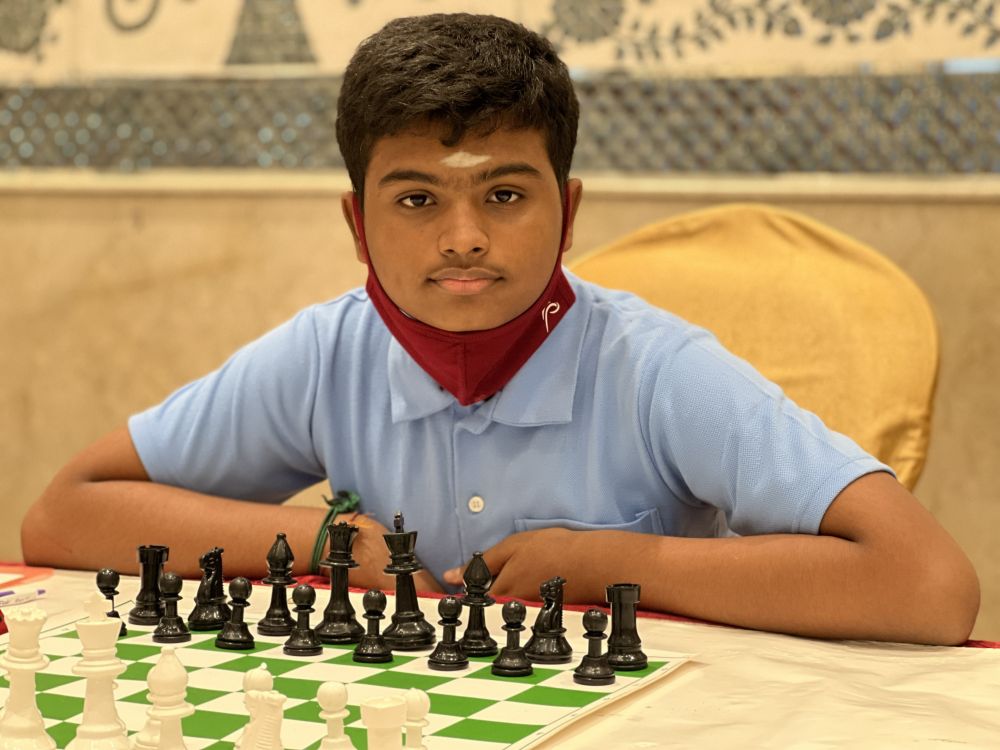 Pranav - Ritvik: 1-0
IM Pranav Venkatesh (TN) scored a convincing victory over Ritvik Krishnan (MAH) to finish second.
Girls Round 8: Mrittika - Tanisha: 0.5-0.5
Tanisha Boramanikar (MAH) got into trouble early in the opening against Mrittika Mallick (WB).
15.Ra8+ Rc8 16.Rxc8 Bxc8 17.dxe5 dxe5 and the attack fizzled out. Instead 16.h3 first would have made things difficult for Black. The king stranded in the middle of the board and the lack of good squares for the bishop and the c6-rook would have created a lot of trouble.
White kept pressing for the majority of the endgame which eventually led to a big mistake 34...Be7. White obviously took the pawn 35.Qxe5 Bf6 but then she did not follow through correctly 36.Qc7 Qxc7 37.Rxc7 and it meandered into a draw. 36.Qf5+ g6 37.Qc5 was the better alternative.
Round 9
Sarayu - Mrittika: 0-1
Knowing that a draw will not be enough to secure a podium finish, Sarayu Velpula (TEL) pushed too hard in the endgame for a win. Mrittika Mallick (WB) overcame a difficult position in the middlegame and waited for her opportunity.
Position after 53.Qg6
It is well-known that the combination of queen and knight is better than queen and bishop. Since the position is closed and White's king is more vulnerable, it was time for Black to seize her chance.
Fatima - Shubhi: 0-1
Shubhi Gupta (UP) defeated Marium Fatima (BIH) with a nice checkmate combination.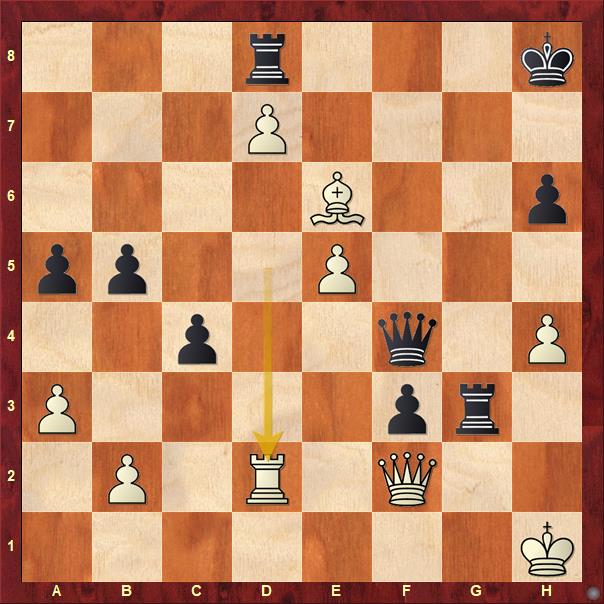 Find out the beautiful checkmate combination for Black.
For more Round 8 and Round 9 photos, please click on the respective links.
A total of 175 players including 2 IMs in the Open and 113 players in the Girls tournament are taking part. It is organized by Delhi Chess Association. Both tournaments are taking place at Indira Gandhi Sports Complex, New Delhi from 4th to 8th March 2022. The nine-round Swiss league tournament has a time control of 90 minutes + 30 seconds increment from move no.1
Replay Open Round 8-9 games
Replay Girls Round 8-9 games
Open Round 9 results
Final standings
| | | | | | | | | | | | | | | | | | |
| --- | --- | --- | --- | --- | --- | --- | --- | --- | --- | --- | --- | --- | --- | --- | --- | --- | --- |
| Rk. | SNo | | | Name | Typ | sex | FED | Rtg | Club/City | Pts. | TB1 | TB2 | TB3 | TB4 | TB5 | K | rtg+/- |
| 1 | 2 | | IM | Pranesh M | U16 | | IND | 2455 | Tamil Nadu | 7,5 | 51,0 | 56,0 | 45,75 | 0,0 | 6 | 10 | -0,6 |
| 2 | 1 | | IM | Pranav V | U16 | | IND | 2493 | Tamil Nadu | 7,0 | 50,0 | 55,0 | 42,00 | 0,0 | 6 | 10 | -9,1 |
| 3 | 3 | | FM | Harshad S | U16 | | IND | 2328 | Tamil Nadu | 7,0 | 49,5 | 53,5 | 39,75 | 0,0 | 6 | 20 | -13,8 |
| 4 | 4 | | | Rohit S | U16 | | IND | 2276 | Tamil Nadu | 7,0 | 47,5 | 52,0 | 39,50 | 0,0 | 6 | 40 | -51,2 |
| 5 | 83 | | AIM | Vaz Ethan | U16 | | IND | 1384 | Goa | 7,0 | 47,5 | 50,0 | 36,50 | 0,0 | 6 | 40 | 208,4 |
| 6 | 6 | | CM | Mayank Chakraborty | U16 | | IND | 2164 | Assam | 7,0 | 47,0 | 51,5 | 39,75 | 0,0 | 5 | 40 | -49,6 |
| 7 | 25 | | | Jani Kushal R | U16 | | IND | 1746 | Gujarat | 7,0 | 44,0 | 48,5 | 37,25 | 0,0 | 6 | 40 | 51,2 |
| 8 | 62 | | | Dishank Sachin Bajaj | U16 | | IND | 1477 | Maharashtra | 7,0 | 43,0 | 46,5 | 35,50 | 0,0 | 7 | 40 | 156,0 |
| 9 | 54 | | | Goutham Krishna H | U16 | | IND | 1541 | Kerala | 7,0 | 38,5 | 41,5 | 30,00 | 0,0 | 7 | 40 | 72,4 |
| 10 | 48 | | | Jai Sankar Subramanian | U16 | | IND | 1570 | Tamil Nadu | 7,0 | 38,5 | 41,5 | 30,00 | 0,0 | 6 | 40 | 38,4 |
| 11 | 38 | | | Colaco Reuben | U16 | | IND | 1627 | Goa | 6,5 | 47,0 | 50,5 | 35,00 | 0,0 | 6 | 40 | 117,2 |
| 12 | 10 | | AFM | Pawar Harshit | U16 | | IND | 1921 | Delhi | 6,5 | 46,0 | 51,0 | 35,50 | 0,0 | 6 | 40 | -49,2 |
| 13 | 12 | | | Mahendra Teja Mekala | U16 | | IND | 1875 | Andhra Pradesh | 6,5 | 46,0 | 50,0 | 34,75 | 0,0 | 5 | 40 | 35,6 |
| 14 | 16 | | | Nagare Kaivalya Sandip | U16 | | IND | 1845 | Maharashtra | 6,5 | 45,0 | 48,5 | 32,75 | 0,0 | 4 | 40 | -6,8 |
| 15 | 53 | | | Samyak Dharewa | U16 | | IND | 1542 | West Bengal | 6,5 | 44,0 | 46,5 | 30,75 | 0,0 | 6 | 40 | 58,4 |
| 16 | 23 | | | Krishnan Ritvik | U16 | | IND | 1761 | Maharashtra | 6,0 | 51,0 | 55,5 | 34,75 | 0,0 | 5 | 40 | -2,8 |
| 17 | 15 | | | Shaik Sumer Arsh | U16 | | IND | 1852 | Telangana | 6,0 | 50,0 | 55,0 | 33,75 | 0,0 | 5 | 40 | 8,0 |
| 18 | 43 | | | Arpith S Bijoy | U16 | | IND | 1613 | Kerala | 6,0 | 47,0 | 50,5 | 31,50 | 0,0 | 4 | 40 | 97,6 |
| 19 | 11 | | | Ankit Ray | U16 | | IND | 1895 | West Bengal | 6,0 | 45,5 | 49,5 | 31,50 | 0,0 | 4 | 40 | -68,4 |
| 20 | 13 | | | Bagwe Gaurang | U16 | | IND | 1874 | Maharashtra | 6,0 | 45,0 | 49,0 | 31,25 | 0,0 | 5 | 40 | -41,2 |
Girls Round 9 results
Final standings
| | | | | | | | | | | | | | | | | |
| --- | --- | --- | --- | --- | --- | --- | --- | --- | --- | --- | --- | --- | --- | --- | --- | --- |
| Rk. | SNo | | | Name | sex | FED | Rtg | Club/City | Pts. | TB1 | TB2 | TB3 | TB4 | TB5 | K | rtg+/- |
| 1 | 8 | | | Boramanikar Tanisha S | w | IND | 1670 | Maharashtra | 7,5 | 50,5 | 54,0 | 43,00 | 0,0 | 6 | 40 | 35,2 |
| 2 | 2 | | | Mrittika Mallick | w | IND | 1848 | West Bengal | 7,5 | 49,5 | 54,5 | 44,75 | 0,0 | 6 | 40 | -5,2 |
| 3 | 21 | | AFM | Shubhi Gupta | w | IND | 1434 | Uttar Pradesh | 7,5 | 47,0 | 50,5 | 39,25 | 0,0 | 7 | 40 | 110,8 |
| 4 | 9 | | | Anushka Gupta | w | IND | 1661 | West Bengal | 7,0 | 46,5 | 50,5 | 38,00 | 0,0 | 6 | 40 | -16,0 |
| 5 | 18 | | | Vakcheri Mohitha | w | IND | 1459 | Andhra Pradesh | 7,0 | 46,0 | 50,5 | 36,00 | 0,0 | 7 | 40 | 73,2 |
| 6 | 25 | | | Sachi Jain | w | IND | 1401 | Delhi | 7,0 | 45,0 | 49,0 | 37,00 | 0,0 | 6 | 40 | 110,8 |
| 7 | 20 | | | Khairmode Dhanashree | w | IND | 1438 | Maharashtra | 7,0 | 42,0 | 45,5 | 33,50 | 0,0 | 7 | 40 | 37,6 |
| 8 | 6 | | | Keerti Shree Reddy | w | IND | 1721 | Tamil Nadu | 6,5 | 44,0 | 48,0 | 33,00 | 0,0 | 6 | 40 | -58,0 |
| 9 | 28 | | | Swara Lakshmi S Nair | w | IND | 1383 | Karnataka | 6,5 | 41,0 | 43,0 | 29,25 | 0,0 | 5 | 40 | 79,2 |
| 10 | 1 | | | Velpula Sarayu | w | IND | 1875 | Telangana | 6,0 | 50,0 | 54,5 | 34,75 | 0,0 | 4 | 40 | -76,0 |
| 11 | 26 | | | Dakshita Kumawat | w | IND | 1395 | Rajasthan | 6,0 | 49,5 | 52,5 | 32,25 | 0,0 | 5 | 40 | 115,6 |
| 12 | 15 | | | Kanishka S | w | IND | 1528 | Tamil Nadu | 6,0 | 48,0 | 52,5 | 33,50 | 0,0 | 5 | 40 | -23,6 |
| 13 | 27 | | | Pournami S | w | IND | 1390 | Kerala | 6,0 | 47,5 | 50,0 | 28,75 | 0,0 | 5 | 40 | 66,8 |
| 14 | 5 | | | Anupam M Sreekumar | w | IND | 1724 | Kerala | 6,0 | 47,0 | 51,5 | 33,25 | 0,0 | 4 | 40 | -82,4 |
| 15 | 34 | | | Debapriya Manna | w | IND | 1305 | West Bengal | 6,0 | 45,5 | 49,0 | 30,25 | 0,0 | 5 | 40 | 109,2 |
| 16 | 37 | | | Yuvika Sehgal | w | IND | 1263 | Delhi | 6,0 | 41,5 | 45,0 | 27,50 | 0,0 | 4 | 40 | 84,4 |
| 17 | 22 | | | Tejaswi R | w | IND | 1416 | Tamil Nadu | 6,0 | 41,0 | 44,5 | 27,50 | 0,0 | 5 | 40 | -14,0 |
| 18 | 16 | | | Marium Fatima | w | IND | 1511 | Bihar | 6,0 | 40,5 | 44,5 | 27,50 | 0,0 | 6 | 40 | -66,4 |
| 19 | 10 | | | Sneha Halder | w | IND | 1647 | West Bengal | 6,0 | 40,5 | 42,5 | 26,50 | 0,0 | 6 | 40 | -86,4 |
| 20 | 7 | | | Meenatchi Rajam V | w | IND | 1692 | Tamil Nadu | 6,0 | 39,5 | 43,0 | 27,50 | 0,0 | 5 | 40 | -90,8 |
---