Carlsen and Nakamura chime on Messi and Ronaldo posing for Louis Vuitton before FIFA World Cup 2022
A little less than 24 hours before the start of the first match of FIFA World Cup 2022, world-famous fashion brand Louis Vuitton shared an image of football icons Lionel Messi and Cristiano Ronaldo posing with a chess board. The first thing that chess enthusiasts do when seeing someone set up a position is to find whether the position ever occurred in a tournament game. It turns out that it actually does. Have you figured it out yet? Let us take a look at the position and what the world's best had to say about it. Don't forget to share your thoughts about the photo and who do you think will win a chess game between Messi and Ronaldo. Photo: Annie Leibovitz/Louis Vuitton
The Hype is Real
While the chess universe is delighted to see two of the best football players pose for a photo to generate more hype before the start of FIFA World Cup 2022, the football universe is also delighted to see Lionel Messi and Cristiano Ronaldo in the same frame. It could very well be their last World Cup. Of course the fans hope that this is not their last hurrah.
First let's see what the caption was shared by Louis Vuitton - Victory is a State of Mind. Cristiano Ronaldo and Leo Messi captured by Annie Leibovitz for Louis Vuitton. In addition to a long tradition of crafting trunks for the world's most coveted sporting trophies, the Maison celebrates two of the most talented football players today. Here is the tweet:
Now, the question which is on everyone's mind is, whether the position ever occurred in a real game. It actually did between Carlsen and Nakamura in the third round of Norway Chess 2017. You just have to ignore the extra two ranks added behind White's back rank in the image to make the position more prominent and for artistic impressions.
Carlsen - Nakamura, Norway Chess 2017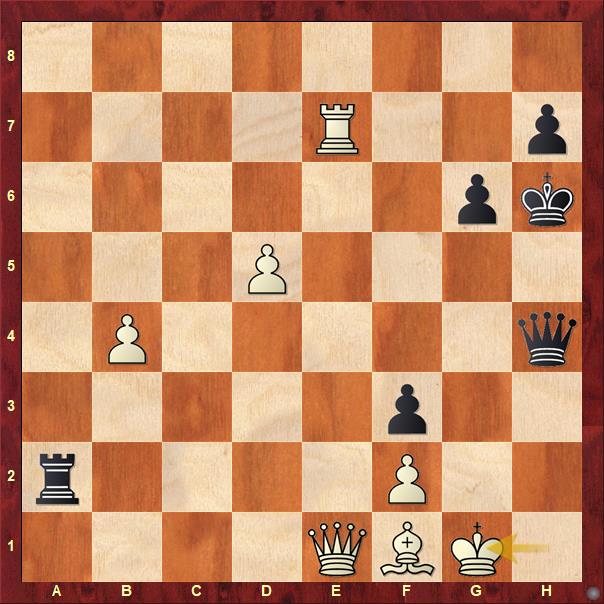 If you are still wondering how the game ended, it was a draw. Check out the entire game below:
Why take this position?
An interesting question to ask is - why pick this game, which was not even a decisive one? There are thousands of interesting positions which have occured throughout chess history, what's the speciality in this one? Well, it is safe to say that the rivalry between Cristiano Ronaldo and Lionel Messi has been one of the most exciting ones to follow through the years. Both of them have achieved several accolades in their career, and are well-known for being one of the best strikers in football history.
Similarly, there have been many such rivalries in the world of chess. Grandmaster Magnus Carlsen is often quoted as the Mozart of Chess, one of the greatest if not the greatest chess player of all time, a player who has been the World Champion 5 times in a row. Hikaru Nakamura, the biggest professional chess streamer and World Fischer Random Chess Champion who has come toe-to-toe with Magnus several times, is widely considered as one of Magnus' strongest peers in Rapid and Blitz. In fact, the only rating list which Magnus isn't topping is the Blitz rating - and it's Nakamura at the top, rated 2909!
The reason of picking a game between these two which was drawn, is to signify that there is no use comparing the stature of these players with one another. Both in football and chess, there are always debates going on as to who is the greatest player of all time. This photograph seems to point out the futility in such discussions, indicating that both of them are equally eligible of the G.O.A.T status.
Why all the fuss over this picture?
Yes, it 's a very beautifully taken picture, featuring two celebrities known all over the world. But why has this become such an iconic moment? The answer is twofold.
For people all around the world
The photo has over 26.5 million likes on Ronaldo's Instagram page and 21.2 million likes on Messi's Instagram Page. This is currently the 6th most popular photo in the history of Instagram and is very likely to become the most popular. Not to forget the Twitter accounts which have thousands of Retweets. There are so many articles being written about this photo. What makes it so special? Well, firstly Messi and Ronaldo have always done work for competing brands. While Messi promoted Adidas, Ronaldo promoted Nike. While Messi wore a Jacob and Co wristwatch, Ronaldo's choice was Tag Heuer.
This was the first time ever that the duo came together for one brand - Louis Vuitton. That's what makes this picture unique. Louis Vuitton has pulled a genius marketing trick before the World Cup 2022 that is scheduled to begin shortly in Qatar. This might well be the last world cup of both these players - Messi for Argentina and Ronaldo for Portugal.
For the chess community
Well, why is the chess community so invested in this photo? Well, big brands like Louis Vuitton have the power to influence the choice of people through advertisements, thanks to their huge customer base. Add celebrities like Ronaldo and Messi, and this becomes a global affair! When chess is promoted in such a large scale, it is always a big growth opportunity for our beloved game. Who knows what amount of people will become interested in chess just by seeing this picture? Another reason to be happy about it is the accuracy of the position shown in the picture. There have been many instances when a chess position shown in a movie/advertisement doesn't make sense, but not this time! One of the ways to make chess more popular is to have big brands become sponsors. Advertisements like these always give the chess community for more brand endorsments!
How the chess universe reacted to it?
Magnus Carlsen's Head Coach and statistically the most successful chess coach of all time, GM Peter Heine Nielsen took almost no time to figure out the position.
The World no.1, Magnus Carlsen quoted his Head Coach's tweet and wrote - Second greatest rivalry of our time mimicking the greatest
The newly crowned World Fischer Random champion, Hikaru Nakamura tweeted - I was wondering why this chess position looked familiar!
---