Liam Vrolijk conquers 57th Groningen Chess Festival, Mary magnificent
17-year-old IM Liam Vrolijk of Rotterdam, Netherlands won his maiden Groningen Chess Festival in the 57th edition after finishing tied first, second place in the previous edition. Liam also scored his second GM-norm in the process. Three players Liam Vrolijk, GMs Shant Sargsyan and Hagen Poetsch also finished at the same score. Liam clinched the championship, Shant and Hagen were placed second and third according to their tie-break scores. WGM Mary Ann Gomes with her no-draw approach played some fantastic chess by beating top seed Sergei Tiviakov and Russian GM Evgeny Gleizerov. She finished shared seventh, tenth place with a score of 6.0/9, gaining 13 Elo rating points. Photo: Harry Gielen
Mary impressive with her no-draw approach
After a brilliant performance at Romania, the former two-times Asian Junior girls and three time National Women's champion WGM Mary Ann Gomes of Indian Oil, had another impressive performance at 57th Groningen Chess Festival 2019. Mary Ann had a no-draw approach, so despite starting the tournament with a loss and suffering another loss at round 4 against compatriot WIM V Varshini, Mary Ann made a strong comeback by winning her next four games including scoring victories over top seed of the tournament GM Sergei Tiviakov (NED, 2615) and GM Evgeny Gleizerov (RUS, 2508), before losing her final round game against eventual runner-up of the tournament GM Shant Sargsyan (ARM, 2601). Mary Ann finished with a score of 6.0/9 and finished at shared seventh, tenth place.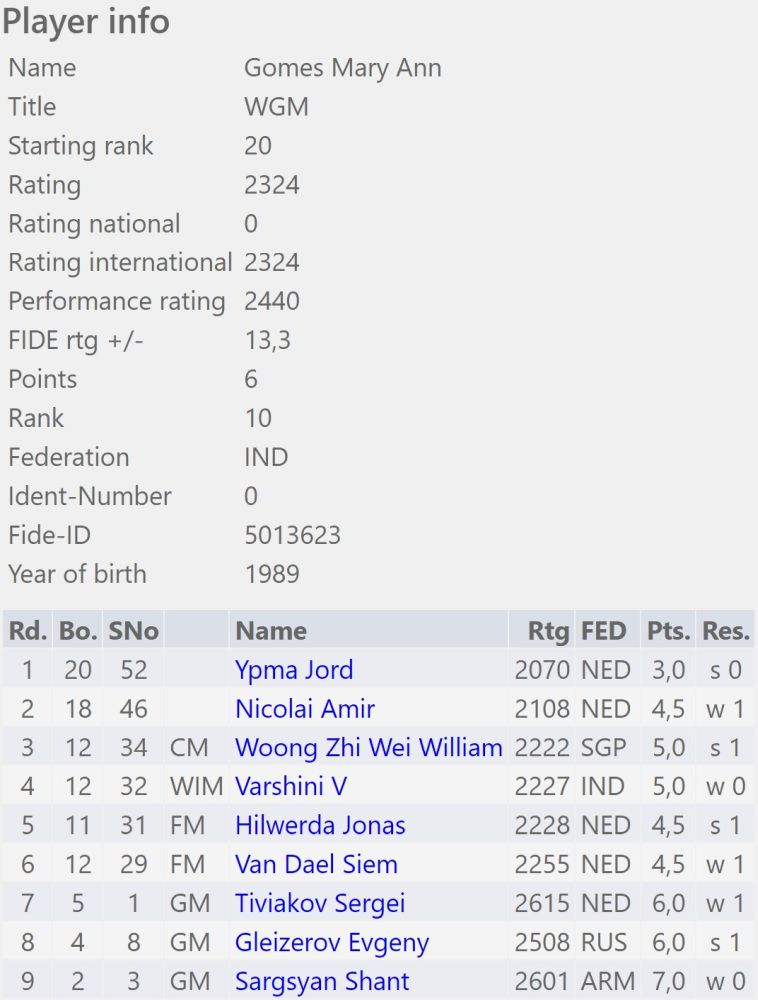 Her best win was against the top seed of the tournament GM Sergei Tiviakov in round 7. Mary showed complete domination at the center of the board using her knight and bishop and eventually the major pieces.
Mary scored another impressive victory against GM Evgeny Gleizerov in the following round with the black pieces in Modern Benoni.
Gleizerov - Mary, Round 8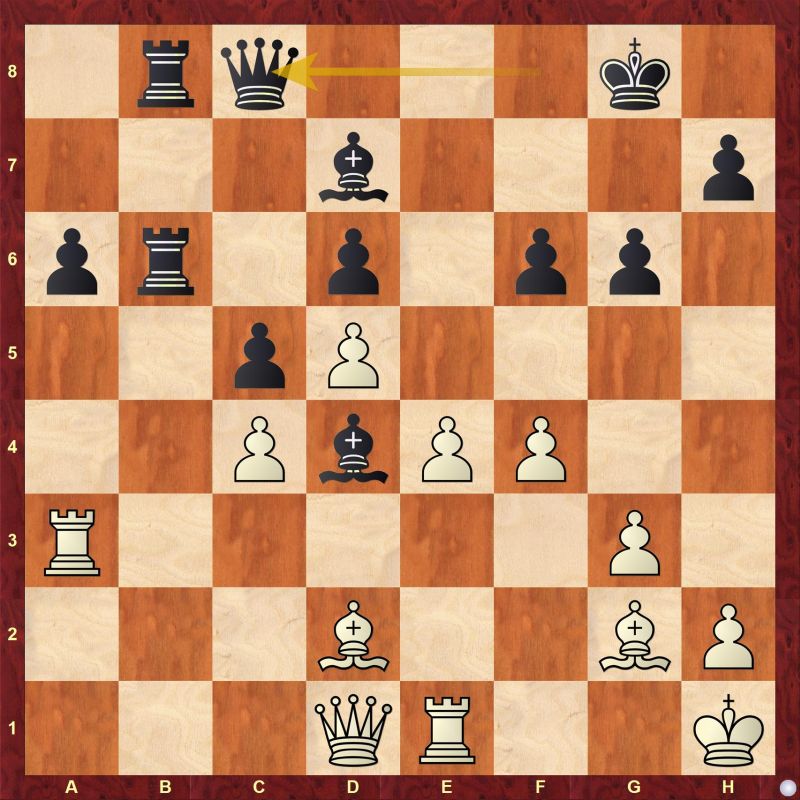 White needs to neutralize black's active pieces, but Gleizerov missed and played 26.Be3 instead which allowed Black to increase her advantage.
Both sides have a pair of bishops and it is evident that black's bishop pair is much stronger than white's, so it is time for black to maximize it.
I caught up with Mary Ann Gomes and asked her a few questions. Here they are:
Shahid Ahmed (SA): How happy are you with your performance at Groningen?
Mary Ann Gomes (MG): I am quite satisfied with my performance in Groningen. Especially as I had a less than ideal start. Last round I was playing on the 2nd board and it felt good to be playing among the top players for one of the top spots in the tournaments. Unfortunately I couldn't win or draw the last game but it was a tough fight and hopefully this experience will help me in my future tournaments.
SA: You scored fantastic wins against Tiviakov and Gleizerov. Which one is your favorite?
MG: Both game I enjoyed but Tiviakov's game was definitely more important because he was the top seed of the tournament and it made me more charged up and confident for my next game.
SA: You had a pretty good ending of the year 2019 with fantastic performance at Romania and Netherlands. What's next for you?
MG: Next I'll be playing the National team followed by Aeroflot Open.
SA: Thank you for taking the time to answer these and I wish you the best in your future endeavors.
MG: You are welcome.
IM Liam Vrolijk wins 57th Groningen Chess Festival
17-year old Liam Vrolijk of Rotterdam, clinched his first Groningen Chess Festival championship with a score of 7.0/9, after finishing as tied first, runner-up in 2018. Poetsch and Vrolijk drew their final round game, despite the Armenian GM Shant Sargsyan winning his final round game, Vrolijk had a better tie-break score. Sargsyan finished second with Poetsch claiming the third place, all splitting their prize money. Vrolijk scored his second GM-norm and he remained unbeaten throughout the tournament. Reigning Dutch champion GM Lucas Van Foreest, GM Mikhail Ulybin and IM Artur Davtyan finished at shared fourth place with a score of 6.5/9 each respectively.
Vrolijk's best win was against Brazillian GM Alexandr Fier (2528) in the penultimate round.
Total 315 players participated in 16 different categories from 20 countries all over the world including Netherlands in this 57th edition of Groningen Chess Festival 2019 at Sportcentrum RUG & Hanze, Groningen, Netherlands from 21st to 30th December 2019 organized by Jan van Os.
Final Standings
| | | | | | | | | | |
| --- | --- | --- | --- | --- | --- | --- | --- | --- | --- |
| Rk. | SNo | | Name | FED | Rtg | Pts. | TB1 | TB2 | TB3 |
| 1 | 10 | IM | Vrolijk Liam | NED | 2467 | 7,0 | 0,0 | 51,0 | 37,75 |
| 2 | 3 | GM | Sargsyan Shant | ARM | 2601 | 7,0 | 0,0 | 48,5 | 32,25 |
| 3 | 7 | GM | Poetsch Hagen | GER | 2522 | 7,0 | 0,0 | 48,0 | 36,75 |
| 4 | 6 | GM | Van Foreest Lucas | NED | 2526 | 6,5 | 0,0 | 50,0 | 33,75 |
| 5 | 11 | GM | Ulybin Mikhail | RUS | 2453 | 6,5 | 0,0 | 47,0 | 32,00 |
| 6 | 13 | IM | Davtyan Artur | ARM | 2437 | 6,5 | 0,0 | 46,5 | 32,00 |
| 7 | 1 | GM | Tiviakov Sergei | NED | 2615 | 6,0 | 0,0 | 49,0 | 30,25 |
| 8 | 2 | GM | Krasenkow Michal | POL | 2611 | 6,0 | 0,0 | 47,5 | 29,75 |
| 9 | 8 | GM | Gleizerov Evgeny | RUS | 2508 | 6,0 | 0,0 | 47,0 | 29,50 |
| 10 | 20 | WGM | Gomes Mary Ann | IND | 2324 | 6,0 | 0,0 | 46,0 | 30,50 |
| 11 | 4 | GM | Ernst Sipke | NED | 2541 | 5,5 | 0,0 | 50,5 | 29,00 |
| 12 | 5 | GM | Fier Alexandr | BRA | 2528 | 5,5 | 0,0 | 50,0 | 28,00 |
| 13 | 15 | IM | Zwirs Nico | NED | 2422 | 5,5 | 0,0 | 49,5 | 27,50 |
| 14 | 9 | IM | Beerdsen Thomas | NED | 2482 | 5,5 | 0,0 | 47,0 | 26,75 |
| 15 | 14 | GM | Pacher Milan | SVK | 2427 | 5,5 | 0,0 | 45,0 | 24,75 |
| 16 | 12 | IM | Lubbe Nikolas | GER | 2451 | 5,0 | 0,0 | 52,5 | 25,00 |
| 17 | 22 | FM | Kumar Nikhil | USA | 2315 | 5,0 | 0,0 | 46,0 | 21,25 |
| 18 | 30 | WIM | Zhou Guijue | CHN | 2238 | 5,0 | 0,0 | 45,5 | 22,75 |
| 19 | 35 | | Grutter Tim | NED | 2214 | 5,0 | 0,0 | 45,0 | 21,75 |
| 20 | 19 | IM | De Jong Migchiel | NED | 2326 | 5,0 | 0,0 | 44,0 | 22,75 |
Links
---