Indians dominating at the halfway mark in Leiden
The Leiden tournament in the Netherlands is one of the well known chess events that takes place in a calendar year. Located in a quiet and idyllic location the place is perfect for a chess tournament. This year we have quite a few players from India who have participated in the tournament. Instead of just having a tournament with groups A, B and C, this year the organizers have also introduced a crown group where they have six GMs and four IMs fighting it out in a 10 player round robin event. Deep Sengupta and Arghyadip Das are leading the event with 3.5/5. In the A group we have Sandipan Chanda who is playing some sharp chess and is leading with a 100% score of 5.0/5. In this article we not only bring you information of how the Kolkata players are dominating in Leiden but also take you back in the memory lane to 2016 when the author of this article Sagar Shah visited Leiden.
This year the organizers have introduced the crown group which includes some of the past winners of the Leiden Open 2019. It is a 10-player Round Robin event.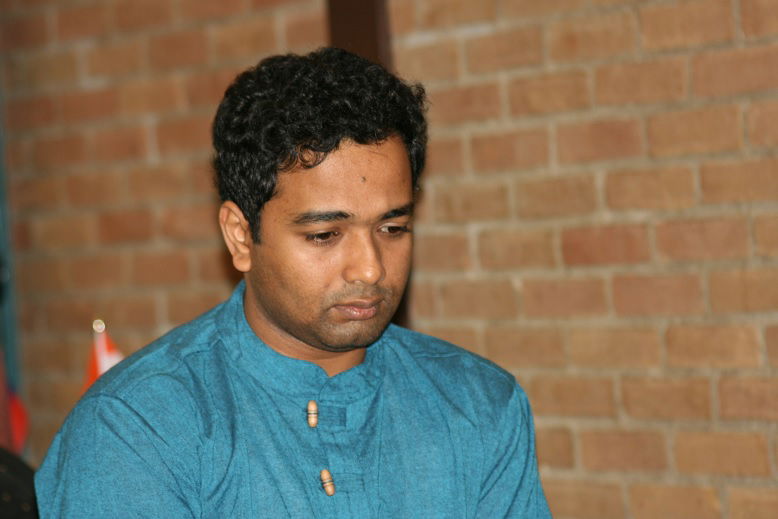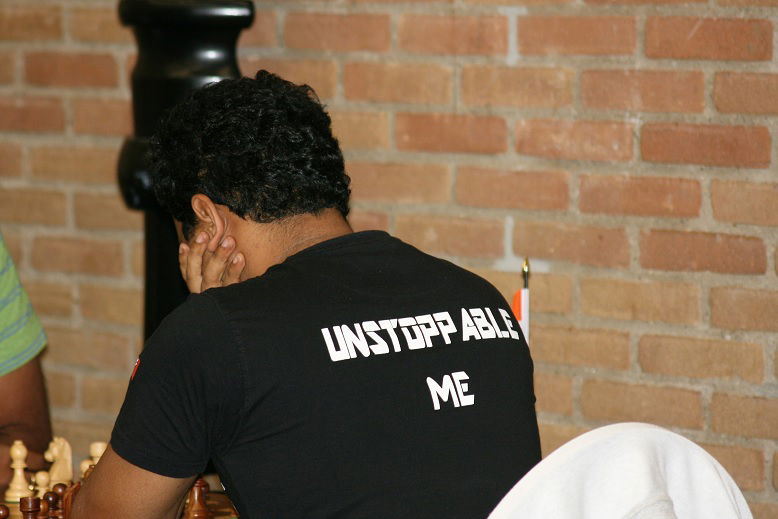 Here is one of Deep's nice win in the Sicilian with the white pieces:
Arghyadip is playing enterprising chess at the event. Look at this game and how his queenside pawns were just too strong! The end is picturesque.
Standings in the crown group
In the open section we have a sole leader who is performing at an Elo of 3126! Sandipan Chanda is on 5.0/5 and is leading the tournament by a full point ahead of rest of the participants.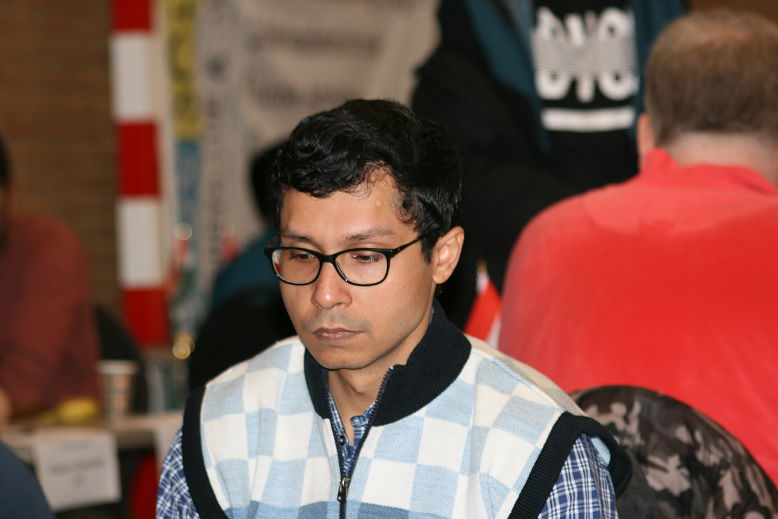 The idea is very typical in such positions. White took advantage of this with Ba6!
Here is another nice win by Sandipan in his favourite line Bd2 against the Nimzo:
Sandipan ended the game in style by sacrificing his queen with ...Qxb2!
Standings in the open
My experience of playing the Leiden Open in 2016
By Sagar Shah
After our tournament in Porticcio, Corsica which ended in the first week of July, Amruta and I made our way to the Leiden Open. The easiest way to reach Leiden is to take a flight to Amsterdam and from the Schiphol airport you have a direct train that reaches Leiden Central station in 15 minutes.
We reached a week prior to the start of the tournament. This gave us enough time to get acclimatized to the place and weather. On a Saturday morning when Amruta and I were strolling through the unusually crowded and lively market of Leiden we saw a man in his fifties walking with his wife. I tried to recollect the face. I had seen him somewhere. In fact I had even written a report on him. And then it struck me! Predrag Nikolic! It was such a joy to see a legend like him in flesh.
The 10th Leiden Chess Tournament was held from the 15th to 25th of July 2016. It was a nine-round Swiss tournament with the participation of 64 players in the A category (>1900). There was also a B category tournament for players below the Elo of 1950. The schedule of the tournament was excellent with a single round each day and a rest day after five rounds. The time control was one and a half hour for forty moves, with an addition of thirty minutes, and an increment of 30 seconds from move one. Eight grandmasters and eight International Masters and players from fourteen countries took part in the event. The prize fund of the A category was €5,500 with a first prize of €1,750.
If you are interested to read the tournament report, I urge you to do so over here. In it I have written about the entire Leiden tournament, about the winner Roeland Pruijssers and other prize winners. However, in this report I would like to focus on the event from a personal point of view. Give you some details, just in case you are planning to play the event in future.
The best way for you to live in a city is to book an airbnb apartment. This (above picture) is a personal room that we booked via airbnb website. Renting a personal room is a good idea because it minimizes your cost and at the same time helps you to stay with the locals. Our hosts Eric and Maria were wonderful and we highly recommend staying at their place if you ever visit Leiden.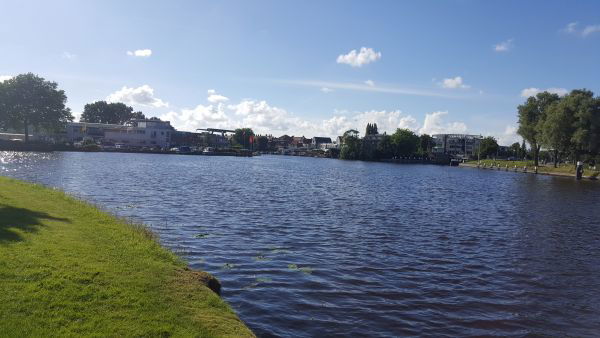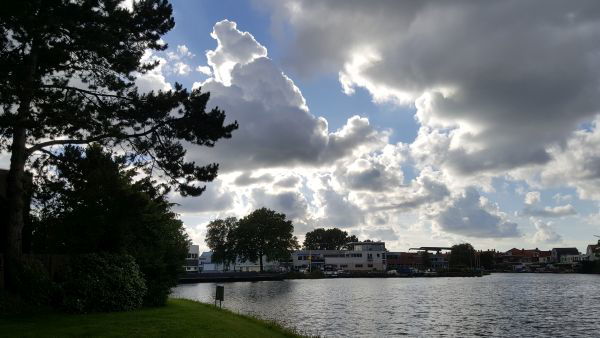 Once your accommodation is done, the next thing you would like to focus on is the transportation. It is ideal to have your place of stay within walking distance of the playing hall. But, in Leiden we were six kilometres away. Bus would be the logical way to travel. However, the rounds began at 7 p.m.! And the bus service ends at midnight. Surprisingly the city has no night buses. In such a situation it is quite likely that you would have to walk six kilometres if your game lasted more than five hours! Hence, we decided to take bicycles on rent! And, it's true - in the Netherlands bicycle is the best way to travel.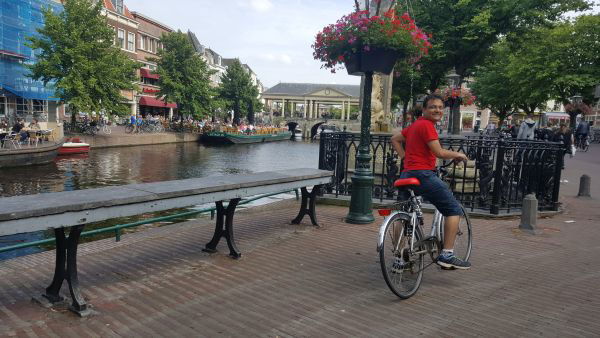 Renting bicycles was the best decision we made. Apart from helping us to keep physically fit, the bicycle gave me and Amruta great freedom to explore the city and we did not have to waste time waiting for the public transport. The best place to rent a bicycle is the Easy Fiets shop in Haagweg. The daily rent of the second-hand bikes is quite high (nearly €7.50 per day). Hence, we rented them for a month and paid €36 per bike, which turned out to be quite reasonable, considering the fact that we were in Leiden for 20 days.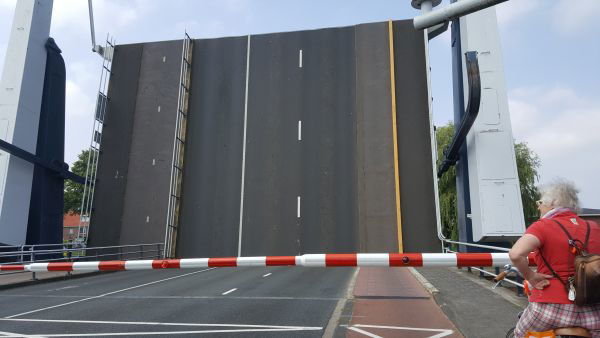 Another important thing that you must always search when you reach a new city is a good supermarket. If you are going to stay there for a long duration, you will need to replenish day to day foodstuffs. Hoogvliets is an ideal supermarket chain in Leiden.
And this machine above was one of my favourites. The bottles are kept next to this juice machine. You just need to place one below the juicer and press the button. Fill it to the brim, close it and there you have it - Freshly squeezed orange juice. I must say they were quite expensive. A normal one litre orange juice bottle would cost you around one euro, while this one was three! But still it was worth trying once!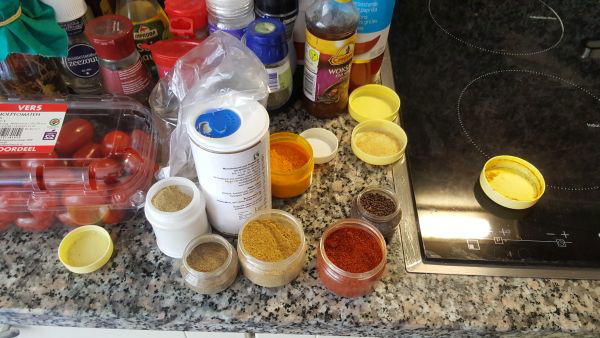 This is a picture from the time when Amruta and I had a cooking contest! The vessel on the left was mine and the other one was hers! Naturally she was on course to winning (she is a better cook!), but she added quite a bit of extra salt. We agreed to a draw! When you are playing a tournament you want to prepare food that would last you two to three meals, so that it doesn't interrupt your preparation. And with such contests we were able to have food resources for nearly two days and save time during the crucial hours before the game.
These Indian restaurants in foreign countries are quite expensive. One vegetable dish costs somewhere around 13 euros. We ordered a small portion for just four euros. We just wanted to eat something more tasty than what we were cooking everyday.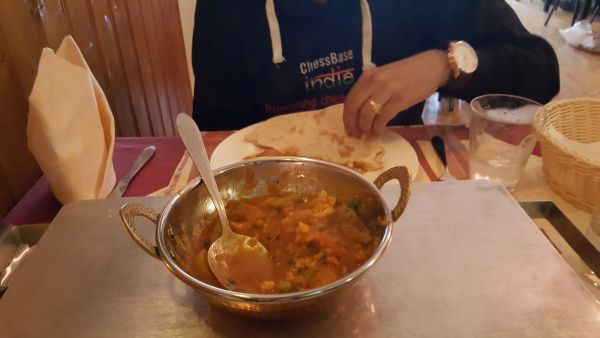 Another nice thing about the Leiden tournament is the free day! And the free day is best utilized by going to Amsterdam which is just 42 kilometres away.
In the last round I was paired against Amruta. When you open the tournament website to check the pairings and see yourself paired against your wife, it is quite a distressing moment. You have travelled thousands of kilometres to play against different opponents from different countries, but there you are, sitting against your better half! A game that you could have very well played in the comforts of your home! At such points it is possible to take the easy path. Decide on a draw, put your mind at ease and just enjoy the day. Why go through all the stress and nervous tension of playing against someone you love and facing the unenviable task of trying to win against them. But we decided to fight it out. Isn't that what chess teaches us – to fight the uncomfortable situations and become stronger. During the game I kept in mind the words of Akiba Rubinstein: When asked who he was playing tonight, Akiba replied, "Tonight I am playing against the Black pieces!" In the end I was able to win but it was a very interesting game that could have gone either way.
In spite of losing to me, Amruta (above) had a good tournament and won the prize of the best player under 2150 for which she received a DGT 2010 clock, while I finished eleventh in the event and won 40 euros.
It's not always that you can have successful tournaments. But you can always learn from your errors. For me and Amruta, the tournament at Leiden is surely one of the most memorable events of our chess career. And we hope that you were able to benefit by reading about our experience.
Contact of Jan Bey – the tournament organizer
(right click and open in new tab to
get the email address of the organizer or click on
the mobile phone to open in your emailing app)
---