Koustav Chatterjee becomes India's 78th Grandmaster
IM Koustav Chatterjee became India's 78th Grandmaster on the final day of 2022. The 19-year-old scored his first GM-norm at Sheikh Russel GM 2021. Then he delivered a stellar performance at MPL 58th National Senior 2022. However, it did not earn him any norm. He rates his performance their to be higher than the other three events where he secured his norms, mostly because it was such a strong field. He crossed 2500 in the August FIDE Rating list. The second GM-norm happened at Asian Continental 2022 in November. Over a month and a half later, he secured his final GM-norm to become Kolkata and West Bengal's 10th GM. Check out a detailed interview of Koustav and his mother Babita Chattopadhyay. Photo: Shahid Ahmed
The transformation to a stronger player
Koustav Chatterjee is a very strong player. Time and again he has proved himself in various formats and stages. However, one challenge he had to overcome - hit fitness and stamina. Till 2020, he admitted weighing around 110 kg. During the lockdown, he took it upon himself to transform himself. He followed several youtube channel to improve his fitness, a year later he became the fittest version of himself which helped him in chess and his life. Improving his fitness, made him a much stronger player than ever before. The results are visible both on and off the board.
First GM-norm: Sheikh Russell GM 2021
Koustav Chatterjee scored his maiden GM-norm at Sheikh Russell GM 2021. He defeated GM Visakh N R, IM Vignesh N R, drew with GM Deepan Chakkravarthy, GM Michal Krasenkow (POL), GM Vugar Asadli (AZE) and GM Stany G A. The teenager scored 6/9, performed at 2597, gained 21.1 Elo rating points and finished 10th overall according to tie-breaks.
Koustav - Visakh, Round 3
16...Ng4 dropped the d6-pawn 17.Bxg4 Bxg4 18.f3 Be6 19.Rfd1 Qb8 20.Qxd6 Qb2 21.Qd2. White eventually won a queen and rook endgame by gaining two more pawns.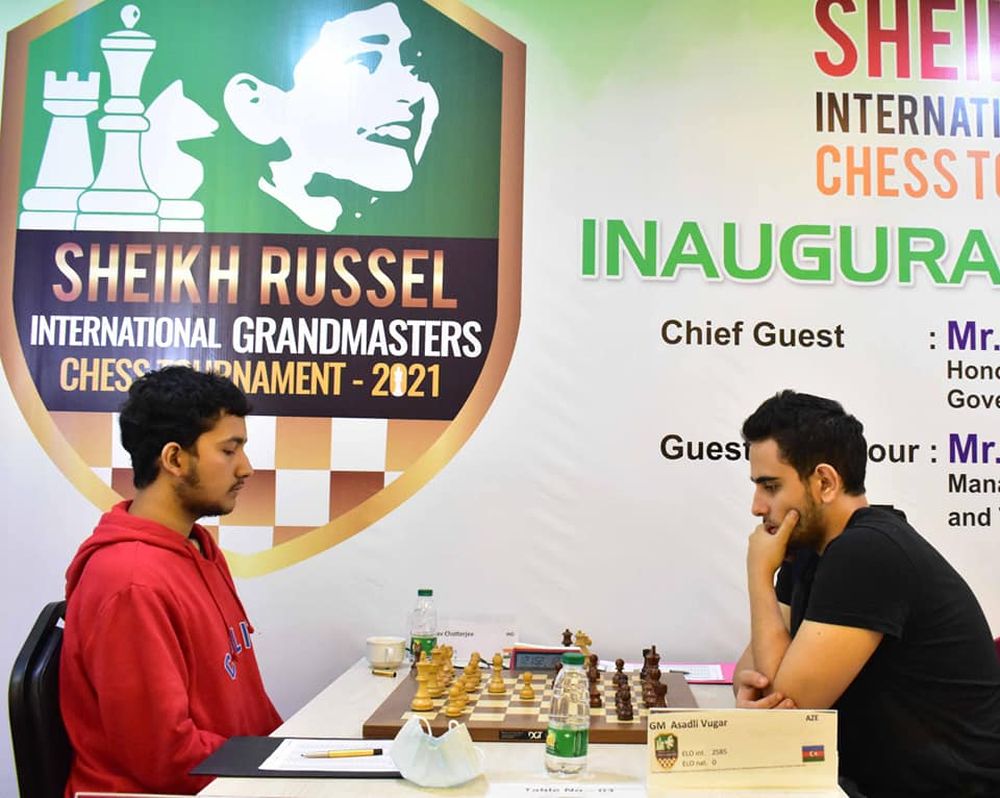 Second GM-norm: Asian Continental 2022
Koustav scored his second GM-norm at Asian Continental Championship in November 2022. Despite missing the first game as his opponent did not turn up, he scored 4.5/8 in the next eight games to secure his second GM-norm. He won against GM Rinat Jumabayev (KAZ), GM Aravindh Chithambaram, IM N Krishna Teja and IM Viani Antonio Dcunha. The sole draw was against GM Karthikeyan Murali. He performed at 2603 and gained 11.9 Elo rating points.
Aravindh - Koustav, Round 7
Almost anything here 53.g6/Be1/Rd7+/Kg4 leads to a draw, However, GM Aravindh Chithambaram opted for 53.Rf7? which allowed Black to push for a win Rf1 54.Ba5 Bd4 55.Rd7+ Ke4 56.Re7+ Kf5 Black's king is much better placed now. 57.Be1 f2 58.Bxf2 Rxf2 and Black went on to win the game.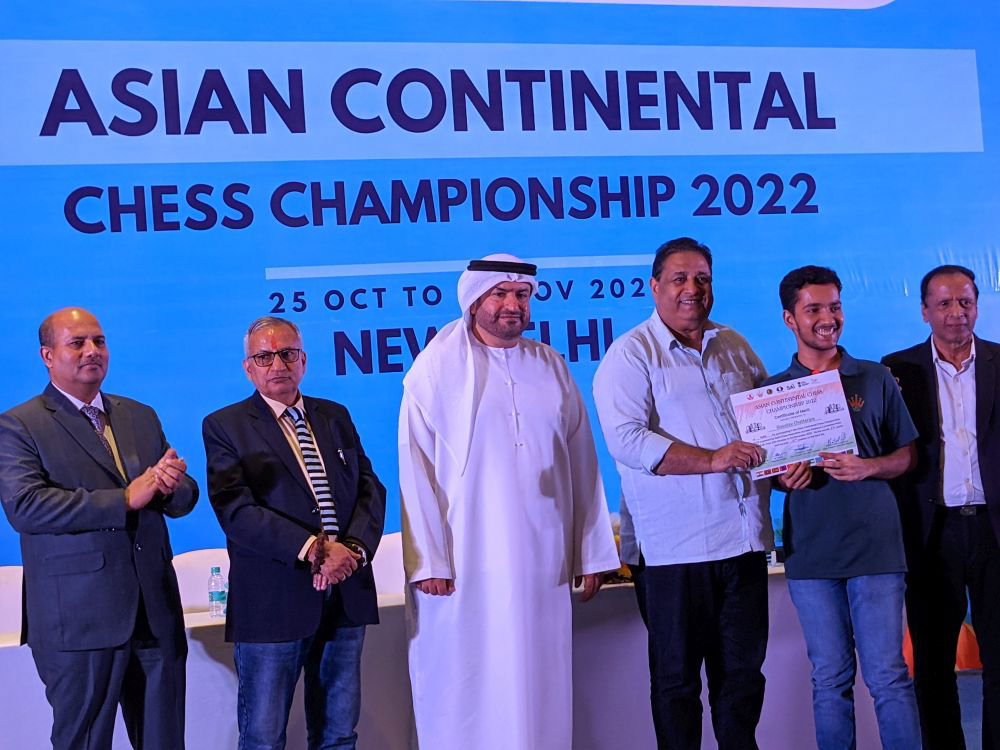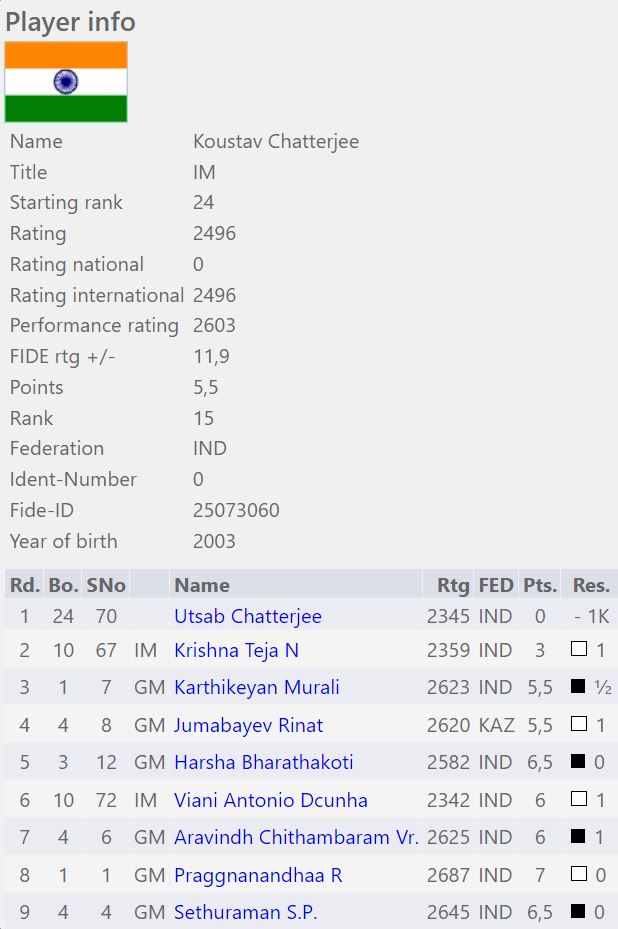 Third GM-norm: MPL 59th National Senior 2022
Koustav earned his final GM-norm at MPL 59th National Senior Chess Championship on the final day of 2022. He scored 8/10 to secure his final GM-norm, finished the tournament with a 9/13 score and he was placed seventh. He gained 11.2 Elo rating points, scored a win against GM Sethuraman S P and drew with GM Mitrabha Guha.
Sethuraman - Koustav, Round 9
Although Black's bishop might seem undeveloped, the position can be opened whenever he wants. White's isolated pawns on a2 and c2 do not help his case either. 29.c3 Bd7 30.f5 e5 31.Rxd5 Bxf5 32.Ra5 Rc6 the knight is stuck defending the c3-pawn. It is safe to say White is positonally lost. Black made no mistakes and went on to win the game comfortably. Eventually, White fell into an unavoidable mating net.
Replay all games of Koustav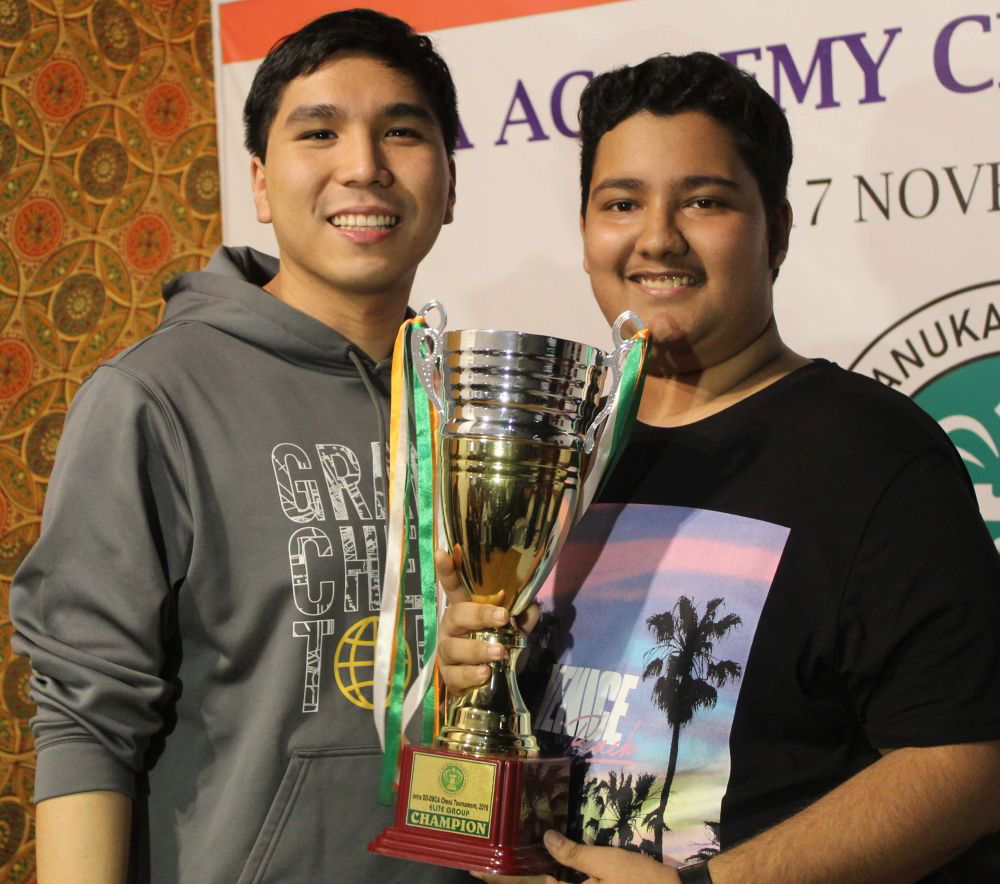 Koustav Chatterjee's Best Achievements
India's 78th GM Koustav Chatterjee has earned a lot of medals in various National and International events. Here are few of his best achievements:
• Gold in Commonwealth Under-12 Open in 2015.
• Silver in World Youth Under-16 Olympiad in 2018.
• Silver in Asian Youth Under-16 Rapid Open in 2018.
• Silver in 43rd National Sub-Junior (Under-15) Open in 2017.
• Silver in 30th National Under-13 Boys in 2016.
• Bronze in Commonwealth Under-16 Open 2018.
• Bronze in National Junior (Under-19) Open in 2019
• Recipient of The Telegraph School Award for Excellence 2021 in Outstanding Talent in Sports category.
• Champion in 44th Olympiad Celebration Rapid Rating Open in 2022.
• Runner-up in Svetozar Gligoric Memorial Masters 2022.
• Runner-up in Summer Prague Open 2019.
• Runner-up in 27th The Telegraph Schools' Chess 2018.
• Champion in 13th Chessmate - Inter School Team Rapid Rating Championship 2019.
• Champion in 1st West Bengal State Youth (Under-25) 2018.
• Champion in West Bengal State Sub-Junior (Under-15) Open 2018.
• Champion in 28th West Bengal State Under-13 Boys 2016.
• Champion in 25th West Bengal State Under-11 Boys 2011.
• Champion in 22nd West Bengal State Under-7 Boys 2010.
• Runner-up in 24th West Bengal State Under-9 Boys 2012.
• Second Runner-up in 4th West Bengal State Rapid 2019.
• Second Runner-up in 46th West Bengal State Junior 2018.
Videos
---